Over the past year, travel restrictions have become a concern for almost everyone – but especially for those who have migrated away from their home country. With borders closed and families separated, the feeling of being stuck has been shared by many living in the UK this year. In the wake of leaving the EU, Scotland is even more at risk of feeling isolated. Yet it remains a prime centre for the exhibition of international contemporary art.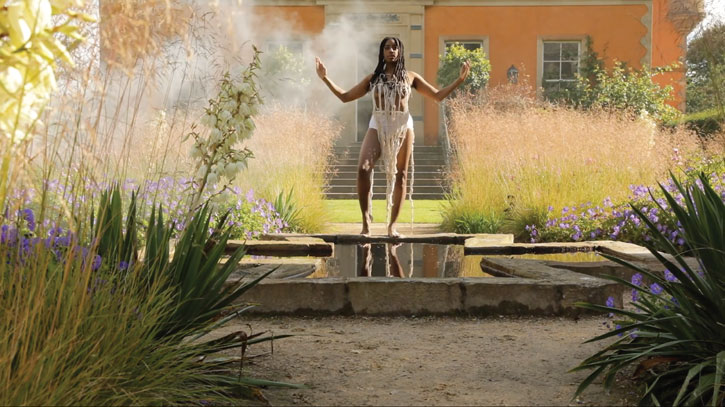 There is a long history of Scotland welcoming migrants and international artists, who have enriched its artistic production. Over the past century in particular, Scotland has attracted waves of European and international migrants, who came initially to seek refuge or to study and then chose to remain.
As Scottish culture diversified, so to have definitions of 'Scottishness', which is shaped by a vibrant contemporary artistic landscape, reflected recently in projects such as the Edinburgh Art Festival that included Nigerian artist Emeka Ogboh's Song of the Union (2021). The sound installation took place in the Robert Burns Monument and featured singers from 27 EU member states living in Scotland today.
In an age of rising nationalism, it is important to reflect on the contributions of creative immigrants in Scotland. Whether they migrated from overseas, or are first- or second-generation immigrants born in the UK, here are a few artists whose family histories or migratory experiences have enriched both their practice and the wider Scottish artistic panorama.
Hilda Goldwag
Hilda Goldwag (1912–2008) was born in Austria and trained as an artist in Vienna graduating in late 1938 despite the Nazi Anschluss. As a Jewish person, Goldwag relocated to Scotland as a refugee in early 1939 to escape persecution. Her family was supposed to join her, but their travel permits were only received on the day the Second World War was declared. They remained trapped in Austria and later died in a concentration camp during the Holocaust.
Located in Glasgow, Goldwag worked as a designer and illustrator for most of her life and only became a full-time painter after retirement. She never abandoned her passion for painting and from the 1950s onwards she executed several portraits of her friend and fellow refugee Cecile Schwarzschild.
Goldwag's practice and subject matter centred on landscapes, cityscapes and scenes of daily life in Glasgow. In her paintings, she uses blocks of colours and visible brushstrokes referencing the style of the Scottish Colourist movement. Her palette choice tended to remain muted compared to the vibrant contrasts proposed by the Colourists.
Deborah Haase, curator of the Scottish Jewish Archives claimed that this stylistic choice should be interpreted as the expression of the sadness Goldwag felt for the loss of her family members.
Sir Eduardo Paolozzi
Born in Leith from an Italian migrant family, Eduardo Paolozzi (1924–2005) is considered one of the pioneers of British Pop Art. Although he is recognised as a Scottish artist, when Italy entered the Second World War against the Allied powers, the artist's Italian origins were enough for him to be labelled an 'enemy alien', justifying his internment at Saughton jail. Meanwhile, anti-Italian riots arose in Edinburgh (as in other parts of the UK) and his father, grandfather and uncle were among the 446 Italians who died while being removed from the UK and deported to Canada on the SS Arandora Star – the British passenger ship torpedoed by German U-boats in 1940.
While Paolozzi explored multiple styles, themes and techniques – collage, sculpture, and mosaic to name a few – works such as Manuscript of Monte Cassino reveal his interest in exploring themes of migration. The sculpture, composed of a bronze hand, foot, ankle, and scattered stones, embodies Paolozzi's reflection on the destruction and reconstruction inherent to his condition and existence as a migrant in an adopted land. The work commemorates the 1944 American bombing of Montecassino, an Italian city located close to the village Paolozzi's family came from (Viticuso).
Besides the fragmentation of what appears to be a gigantic human body, Paolozzi touches upon the theme of displacement, destruction, and rebirth by carefully including visual and literary metaphoric references to migration. For example, the inscriptions on the bronze sculpture are from an eighth-century poem written by a monk from the monastery of Montecassino. The monk, exiled in Germany, celebrated in his words the desire to return to the home he had left behind. Another subtle element included in Paolozzi's sculpture is a lizard without a tail.
The Scottish poet Christine De Luca has interpreted this detail in the poem as a metaphor for the resilience of immigrants, who upon reaching Scotland in order to survive, have sacrificed and left part of themselves behind in their homeland.
Iman Tajik
Based in Glasgow, Iman Tajik (b.1982) is an Iranian artist. Informed by his experience as a refugee, his practice is intertwined with social activism as he uses art as a socio-political tool for change aimed at addressing the contemporary living conditions of migrants and the growth of nationalism. Through his diverse practice encompassing, video, photography, performance and installation, he 'performs the border' advocating for the right of physical movement as well as for the need to overcome everyday barriers implemented socially and politically.
In the Who is? Project – founded in collaboration with Jonas Jessen Hansen in 2017 – the artists urge the audience to deal with the growing fear of the 'stranger' in the face of rising nationalism and the ongoing migrant crisis. The international project installed white flags across 17 different sites with the words 'Who are they? Who are we' emphasising the kind of othering language that creates divides between the known, 'us', and the unknown, the 'them'.
The Mirror is part of Tajik's photographic and video project Calais (2015), partly owned by The Fleming Collection, which documented migrants' lives at the French refugee camp, in their indefinite wait to find refuge in the UK.
Tajik's new photographic series This is Now Not For Me (2020) pushes the audience to apply its renewed understanding of the feeling of being stuck during the Coronavirus pandemic to better understand the experience of refugees during a time of restricted movement.
Sekai Machache
Sekai Machache is a Zimbabwean-Scottish interdisciplinary artist and curator raised in Glasgow who recently relocated to Edinburgh. Machache's art explores the notion of the self and the relationship between imagination, lucid dreaming and spirituality. She draws inspiration from pre-colonial African history, spiritual practices and rituals, as well as her explorations into the incarnate symbolism of the body that she scrutinises through performative gestures characterised in her photographs.
With her works about lucid dreaming – a state of dreaming when one becomes aware of being unconscious – she also participates in and is inspired by her Zimbabwean heritage. In traditional Shona culture, those who embark on dream interpretation are considered gifted and are often healers or diviners.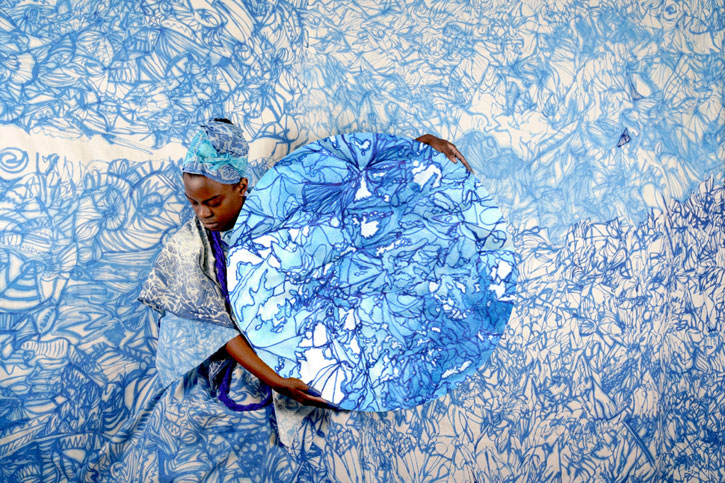 Early on in her career she decided to use only Black models – often including herself as one of them – and takes inspiration from the Black American artist Kerry James Marshall. Although she has created overtly political works about race and the experience of Black communities in Scotland, such as A BREAdTH apart (2020) – part of the BLM Mural Trail in Dundee – she has also expressed frustration when her work is misconstrued as being only about race.
Among the wide range of media she uses, she is mostly known for her photographic practice which is formulated through digital studio compositions, icon-like images using contrasting lighting and body paint. This approach is exemplified by the collaborative work with Nairobi-based artist Awuor Anyango titled Body of Land (2021), which is an exploration of African diasporic femininities in Scotland and Kenya as well as the spirituality of her own Shona ancestry.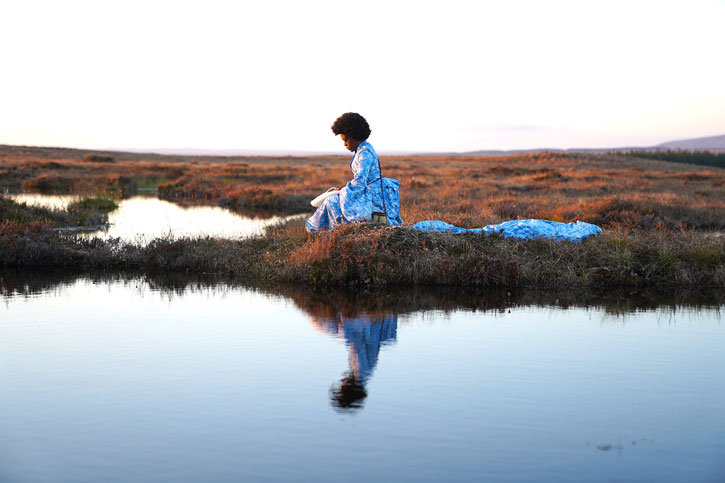 This summer, Machache has taken part in the Edinburgh Art Festival, exhibiting the work The Divine Sky Project (2021). Developed during the COVID-19 lockdown, the work emerged through a process of inscribing and re-inscribing thoughts through automatic drawing using indigo pigment on fabric, ink on paper, layering of images, and performance. The resulting immersive multimedia installations tell a history of ancestral experience as an investigation of the traditional indigo dyeing practices of West Africa.
Alberta Whittle
Barbados-born Alberta Whittle (b.1980) is an artist, researcher and curator based in Glasgow who will represent Scotland at the 59th Venice Biennale in 2022. Working with interactive installations – combining film, sculptures and performances – she creates site-specific artworks.
Her work tackles racism head-on, considering the erasure of Black people in everyday society, the legacies of slavery and apartheid, as well as environmental issues. The interaction with the audience is key to her works as she aims to unsettle people from their privileged and passive position about these issues. 'I hope audiences receive my work as an invitation, and sometimes demand, to respond to ideas in a way in which they might not have done before' she said about her practice in a 2020 interview for studio international.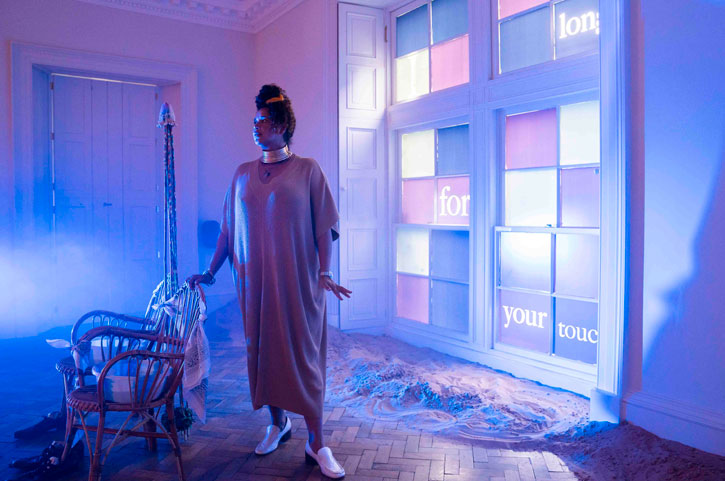 Raised in Barbados for most of her childhood, her experience as a migrant informed her work which is deeply rooted in 'The Luxury of Amnesia', a term that traces how the suppression of memory and the denial of the links of colonial histories and social policies lays at the basis of the all-encompassing hostile environment faced by Black people. Her work, drawing from transnational sources, but firmly rooted in Scotland, explores how artistic strategies of active remembering can bring healing for artists and audiences.
Whittle's latest exhibition and film work: RESET, co-commissioned by Frieze and Forma and on display at Jupiter Artland, combines shots of Scotland, South Africa and Barbados. Whittle's film explores themes that emerged during the lockdown periods, such as the fear of contagion, the rise in xenophobia, Black Lives Matter movement and the climate crisis.
Migrant artists not only enrich the Scottish artistic scene but contribute to a wider culture of representation and language of belonging, one that will resonate with future generations of immigrants and refugees who are able to make Scotland their home.
Sofia Cotrona, freelance writer