During National Volunteers' Week 2022, Art UK is celebrating the contributions made by our sculpture project volunteers. During the first week of June, we will showcase a different volunteer story each day that details why and how they decided to participate.
After many decades pressing a shutter button as an amateur photographer (with some successes), I was wondering where my photographic journey would take me in my retirement when I saw an invitation to take part in a new sculpture project for Art UK.
I volunteered and unbeknown to me, a local friend, Dainis, had also volunteered. We attended the training day together and were allocated... Wales! We were excused The Valleys and the south coast (at least initially). Even so, this was a daunting task involving ten counties and 6,600 rural square miles.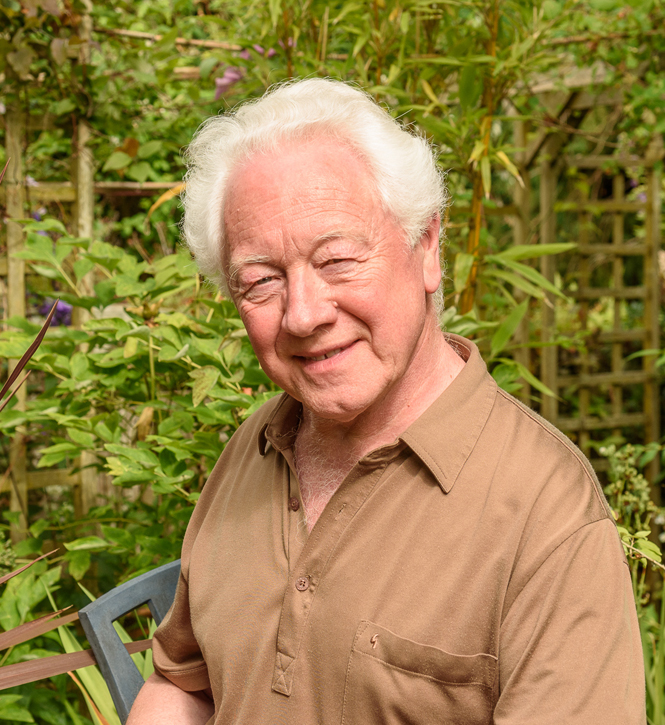 Our starting point was the (outdated) Public Monuments and Sculpture Association's National Recording Project database with at least 330 separate objects to be located and photographed. Thereafter, individual research and chance encounters discovered many more. Dainis and I agreed to divide the work geographically; Dainis took the southern counties and I took the northern ones. So, the adventure began.
At this point, I want to thank my long-suffering partner, Judith, for her navigation skills and unending cheerfulness through many frustrating situations, and shared satisfaction at the end of successful days.
It was simple enough, wasn't it – the database told us where the object was so all we had to do was to drive there and photograph it? Disillusionment quickly set in! The grid reference was to only six digits and even when it was correct (it rarely was), it left us wandering around woodland paths and across fields or driving up and down narrow village streets. Even rural postcodes could cover areas measured in square miles. And object descriptions frequently left much to be desired.
Of course, the 'locals' would help, wouldn't they? 'Just after the second hill on the right', was of little help in hilly Wales! The local postie confidently directed us as he knew the area like the proverbial back of his hand. When we caught up with him again, a fruitless hour later, he confessed he really didn't know its whereabouts. (We did eventually find the object, a broken obelisk, and realised we had driven past it several times – it was hidden against trees and could only be seen from one angle!).
This scenario was typical. Also typical was the couple who were totally unaware of a tall statue on a plinth about 100 metres from where they had lived for many years!
Despite all this and the miles we walked, often through rain, snow and occasional ankle-deep mud, it was fun. Challenging in so many ways, but enjoyable.
Our small part in this project was personally rewarding for us both. We met so many helpful and interesting characters and heard their stories and anecdotes. We visited many villages we would otherwise just have driven through without thought, and invariably couldn't pronounce (sorry, I'm English!). We learned so much history, ancient and modern, and photographed statues of British royalty, Welsh princes and national politicians of yesteryear.
We also photographed apparently mundane objects like water troughs and drinking fountains, but each one had a rich history and deserved its place in the record.
I would like to deal with just one location, because it epitomises the features found, in part, in so many other places – Holywell in Flintshire, a place of fascinating legend and beautiful statues, but close to a heritage site where a dark past is remembered.
In the pedestrian walkway town centre is a beautiful, large, stainless steel welded statue titled The Miracle. I asked the way from a local resident who condemned it as, 'a waste of £36,000 of council tax money'. An opinion certainly, but if you ever get the chance to see it, I recommend you do so. I was impressed!
The statue commemorates Saint Winefride, a virgin martyr beheaded by Caradoc, a local prince in the twelfth century, because she spurned his advances. A spring arose from the ground where her head fell, but she was later restored to life by her uncle, Saint Bueno. According to legend, the spring water could perform healing miracles. The resulting well remains today and Hollywell is known as 'the Lourdes of Wales'.
A beautiful and inspiring legend, but two miles away on the River Dee a much darker contrasting history is revealed at the Greenfield Park Heritage Site, which is well worth a visit. There you will see statues and beautiful mosaics, but also a very unusual ground level, unassuming sequence of bricks. I asked one of the staff what they were and was told they represented the copper rolls that used to be produced on the industrial site.
OK, a piece of industrial history, but there was more. I was told copper ore from Anglesey was shipped here where it was smelted and rolled into copper sheets. The sheet was then used to make shiny copper bangles which were shipped to Africa where one bangle bought one enslaved African.
The enslaved people were transported to the West Indies where they were sold or exchanged for cotton. The cotton was shipped back to the River Dee where it was processed on the same site, and the profitable round-trip cycle was repeated. I confess to have been quite affected by this account as it was told to me.
I have to close with some conclusions. We learned so much of Welsh history and its commemorated characters and events in hundreds of statues. We saw beautiful parts of Wales we would never have had cause to visit. It was frequently hard work, but overall rewarding.
Perhaps most of all, we were conscious that we were part of a team with the responsibility for creating a database of images that would be available for reference in decades to come. We were grateful for that opportunity.
Tony Bennett, Art UK Volunteer
Art UK thanks each and every volunteer that contributed their time to capturing an incredible record of public sculpture in the UK.
More photographs by sculpture project volunteers can be viewed in a Curation: Art UK Volunteer Photographers Gallery