During National Volunteers' Week 2022, Art UK is celebrating the contributions made by our sculpture project volunteers. During the first week of June, we will showcase a different volunteer story each day that details why and how they decided to participate.
Please introduce yourself
My name is Robert H. Taylor and I live on the Norfolk/Suffolk border having moved here in 1972. I've been involved with photography since 1962. Photography has kept me employed directly and indirectly all my working life. It has taken me all over the globe and to the bottom of some of the deepest seas.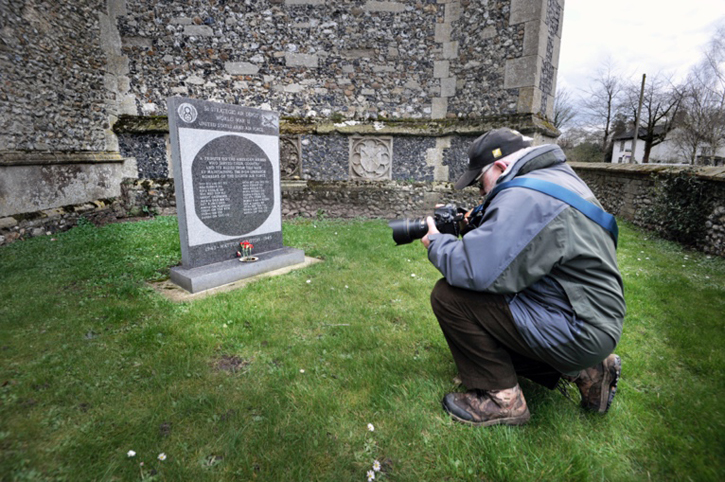 In June 2018 I obtained a Licentiate with the Royal Photographic Society, and this coincided with my introduction to Art UK. I've always had an interest in architecture, so this project appealed to me. I agreed to take on the whole county of Norfolk and the top end of Suffolk, not really realising the magnitude of the project.
Why did you apply for your role within the Art UK sculpture project?
Truth be told, I had been looking for an interesting project since my wife passed away in 2015 and this project appeared to be the ideal opportunity to leave a legacy during my lifetime.
What did you enjoy most within your role on the Art UK sculpture project?
I really enjoyed the challenge and I was not going to be beaten by it, even though it took the best part of three years to complete. I covered more than 3,000 miles, visited over 130 locations, photographed something in the order of 700 items and submitted over 7,000 images.
One element of this project that I particularly enjoyed was the Church Conservation Trust requests and I visited five 'at-risk' churches which contained some magnificent carvings of angels and pew ends.
The most interesting fact that I discovered was that during the carving of the angels, the carver would look across the workshop for inspiration and carve the face of one of the other carvers. So the faces are of real people (or so the story goes!).
Was there anything about your role that you found particularly challenging?
Yes – getting up in the dark and arriving on location before sun-up to ensure I had unrestricted access before most people were up and about! Especially so when using my drone!
What were your favourite sculptures visited/photographed for the project?
There are so many and it's very difficult to make a list of favourites, so I have included a few within this article.
One thing that really stands out in Norfolk is that the county is very poor indeed when it comes to sculptures and statues, and being a maritime county there are lots of references/headstones to marine disasters/rescues, heroes and innovators.
Many of these can only be found in long-forgotten church graveyards. Here are just a few:
This whole project has been very enlightening and I'm so proud to have taken part in it. There have been ups and downs, long days and cold winter mornings, very difficult lighting conditions, but who said it was going to be easy? But very enjoyable it was, and I wouldn't have missed it for the world.
Robert H. Taylor, Art UK Volunteer
Art UK thanks each and every volunteer that contributed their time to capturing an incredible record of public sculpture in the UK.
More photographs by sculpture project volunteers can be viewed in a Curation: Art UK Volunteer Photographers Gallery