During National Volunteers' Week 2021, Art UK is celebrating the contributions made by our sculpture project volunteers. During the first week of June, we will showcase a different volunteer story each day that details why and how they decided to participate.
Please introduce yourself
I am Mike Longhurst – I've been a member of the Royal Photographic Society (RPS) for many years and was intrigued to see a request for volunteers in their newsletter. I tend to generate my own projects within the genres of urban, street and travel photography. I also support RPS projects and exhibitions, mostly publishing them as Blurb books. In 2005 I produced a study of tourists in London, called Doing London, that was widely exhibited in events organised by the Mayor.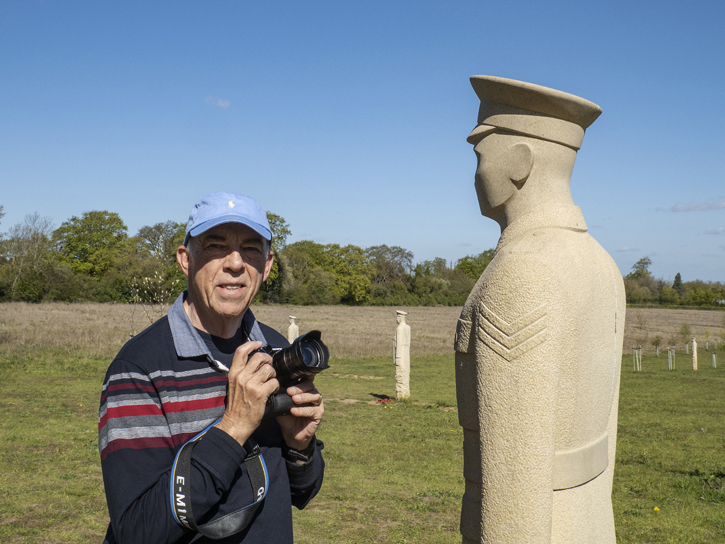 Until the end of December, I was still working and took on many projects for my company, including photographic explorations of areas of London in which their offices were based: Bloomsbury, Bankside and latterly Bishopsgate. Also, I worked at company events and did ad-hoc photography.
Describe your role in the Art UK sculpture project
I was quite happy to take on the role of both photographer and researcher to get me deeper into the project and to help me to identify more closely with what I was shooting, which otherwise, I think, I would have just seen as objects. I can't say I had had any great interest in sculpture before or really appreciated it at any level, but all that was soon to change. I think I had just accepted sculpture as a fact. Someone creates it and sticks it there. How, why, when, were not questions I had ever asked myself.
Why did you apply to volunteer?
At the time (mid-2018), I was recovering from a very rare and debilitating illness. Though I'm never short of personal photo projects to keep me out and about, I thought that having a list of requirements and a purpose, other than my own satisfaction, would be exactly what I needed to keep me going further and longer than I might otherwise have felt inclined to do. It was an inertia-buster, if you like.
I was not allowed to drive for the first few months and getting around the borough to all the locations by bus was a new experience as well.
What did you enjoy most within your role?
I think mostly what I have enjoyed is the exploration of the areas I have been asked to cover, basically most of the western and southern parts of Surrey. They are places I would never have discovered otherwise. I have also enjoyed dealing directly with many living sculptors and liaising with them. Many, of course, have taken copies of the shots for their own use.
Was there anything you found particularly challenging?
I think the most challenging thing was actually finding many of the objects. Lists were out of date and simply wrong, or missed important things that I found along the way. I found it totally essential to plan every foray very carefully on Google Maps first, note all the postcodes for the satnav and mark them on a map to work out the best circuit as soon as I was fully mobile again.
Also, given that most were in urban areas, getting the sun in the right place for all of them was difficult and in many cases, I was unhappy with the results and set out to re-shoot them at a different time of day. Murals, especially north-facing ones, have been particularly tricky to photograph through the winter months.
Did you develop any new skills?
I can't say I developed new photographic skills, as I was very experienced already, but I learned a lot about where to find grid references, etc.
Can you share a favourite memory of your time volunteering?
There have been many funny and interesting incidents along the way. I shot William Newton's wonderful new statue of Lester Piggott at Epsom Racecourse and he asked for copies. A short while later he called me and said the shots are great, but they're all wrong! What I had taken as a lovely greenish patina on the metal, he said, was lawn treatment that they must have sprayed all over it. He said he was going to come up with a sponge and clean it so that I could re-shoot. Unfortunately, lockdowns have prevented that so far, but I must call him to ask about it.
I also shot John Merrill's twelve First World War soldiers at 'The Regiment of Trees' in Langley Vale, and made visits at all times of the day, including at sunrise and sunset to get the right mood. John was delighted with the results but asked me to do a lot of Photoshopping to fill in the bases that had been left open in the first lockdown.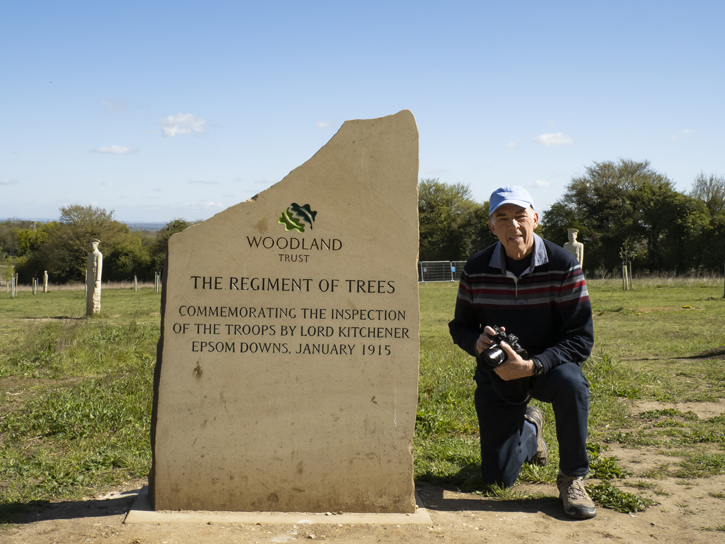 Then, one afternoon in very late summer, he rang me quite urgently. He said he was at the site, fixing a new sign when a BBC Breakfast film crew turned up: they wanted to show how the site had looked months before, surrounded by lovely field daisies, which were now dead and looking very scrubby. He put the Producer on to me and I had about an hour to supply them with a range of shots. The next morning, the BBC had made top and tail sequences for their report to music, showing images of the sunrise and sunset I had shot.
Mike Longhurst, Art UK volunteer
Art UK thanks each and every volunteer that contributed their time to capturing an incredible record of public sculpture in the UK.
More photographs by sculpture project volunteers can be viewed in a Curation: Art UK Volunteer Photographers' Gallery