During National Volunteers' Week 2022, Art UK is celebrating the contributions made by our sculpture project volunteers. During the first week of June, we will showcase a different volunteer story each day that details why and how they decided to participate.
Please introduce yourself
Hi, my name is Helen Crute. I am 74, married for 54 years, with three grownup children, three grandchildren and two step-grandchildren. I have been passionate about photography for most of my life, and as my father was a keen photographer, I grew up thinking every house had a darkroom.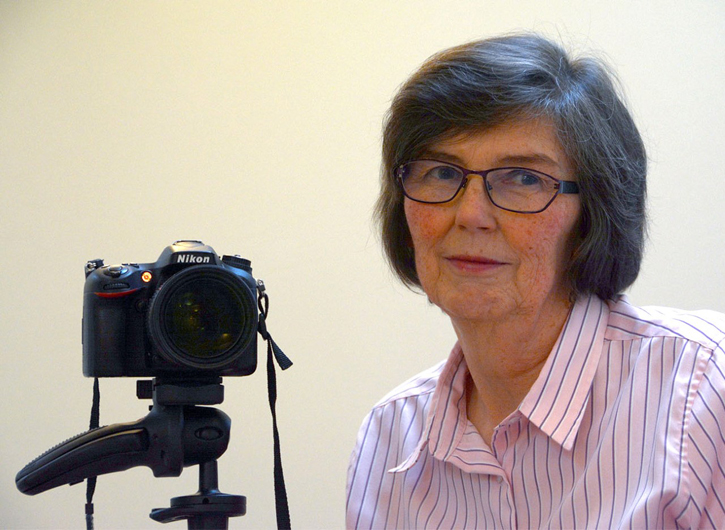 Please briefly describe your role for the Art UK sculpture project
Initially, as a volunteer photographer, I took photographs of statues in my immediate locality, whether they were new creations, or, in some cases, very old pieces. Sometimes they were not on the database despite being very old. I had to provide some basic information, but frequently got carried away on the research and probably both spent too long and submitted too much information!
More recently I had done one or two works that were outside my 'assigned' location. The first was The Boulby Miner. It was unveiled in 2021, and I offered to go and shoot it, as my son was doing the Coast to Coast walk from St Bees in Cumbria to Robin Hoods Bay, where we were picking him up. The Boulby Miner was only a few miles away.
The other was Gan Canny, in Sunderland. They were both magnificent, huge pieces, which were my favourite sculptures I photographed for the project.
Why did you apply for your role within the Art UK sculpture project?
When I was 67 I had a complete flight of fancy and went to college to do a BA in photography. This experience changed my life, and I wish I had been able to do it years ago.
My dissertation was on the importance of memory to social cohesion, and the part public art played in that. I made great use of the book Public Sculpture of North-East England by the Public Monuments and Sculpture Association, and even before I graduated I tried to get in touch with the authors/producers of the book, to volunteer with them and photograph public works of art.
Due to changes in that organisation, and the emergence of the Art UK sculpture project, there was a considerable delay in actually being able to make a start. I graduated in 2017 (and I am proud to boast with a First) but was unable to actually start volunteering for Art UK until I had completed the training course, and there wasn't a session available until November 2019.
What did you enjoy most within your role on the Art UK sculpture project?
I have enjoyed everything about volunteering with Art UK (except the spreadsheets!).
Was there anything about your role that you found particularly challenging?
Using the spreadsheet. The weather was sometimes challenging too!
Were there any new skills you developed during your role with Art UK?
Don't think there are any NEW skills, but I certainly have improved my post-production skills.
Are there any interesting or funny anecdotes that have happened whilst volunteering?
It was all interesting; a lot was challenging, and all really enjoyable. One thing I found quite amusing involved an old Market Cross in the middle of Darlington. It was dated 1727 and an inscription ran around the top of the column giving the name of the person who had had it erected. Her name was Dame Dorothy Browne.
It seems the artist could not spell Brown, or had not left enough space to engrave her full name. Between the last word and the first (where they met) there was a squiggle, and the letter 'e' had been engraved above the letter 'n'. Unless, of course, that was how they wrote the word in the 1720s. I only noticed when I was processing the images.
Helen Crute, Art UK Volunteer
Art UK thanks each and every volunteer that contributed their time to capturing an incredible record of public sculpture in the UK.
More photographs by sculpture project volunteers can be viewed in a Curation: Art UK Volunteer Photographers Gallery