I am a relatively new recruit to the Art UK sculpture project, having been introduced to the organisation by a colleague. I am currently one of only two Volunteer Photographers in Northern Ireland. I usually aim to spend four hours a week as a volunteer. Professionally, I am an independent museum consultant working locally, nationally and internationally on arts and cultural heritage-related projects.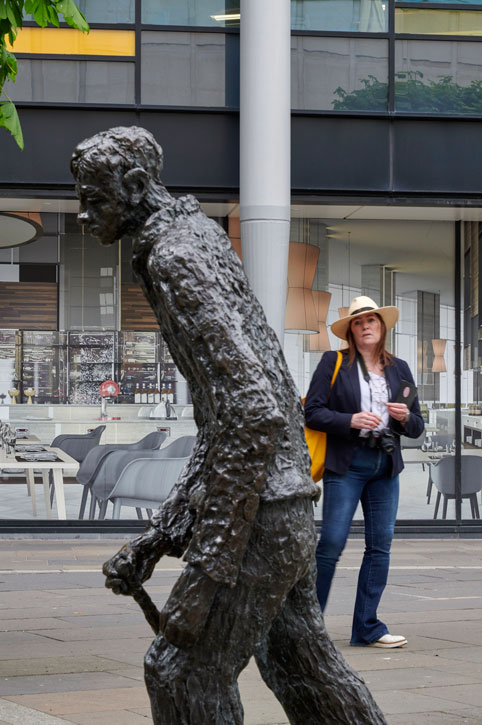 My area for recording sculptures is Belfast, so no pressure there! I honestly had no idea that there were so many to photograph. I usually have to manage my photography around my work commitments and often will miss my slot, so to speak. This means I will often have to abandon my morning photography schedule at short notice.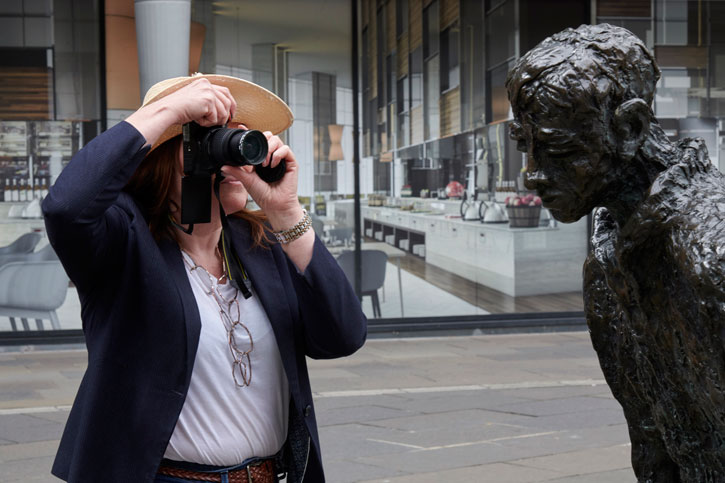 On an ideal day, I will prepare equipment the night before – in the hallway, my big yellow bag contains my camera, clipboard, notes, ID, waterproof with hood, and, most vital... my iPhone for my GPS location app. I have usually done a site visit beforehand, as I like to walk the course. Tadhg, our blue roan cocker spaniel has visited many sites with me on such trips and is used to me checking the location when I troubleshoot any potential issues that might occur. On a photography day, he stays at home! I usually take images first with my phone, get my location and then shoot away.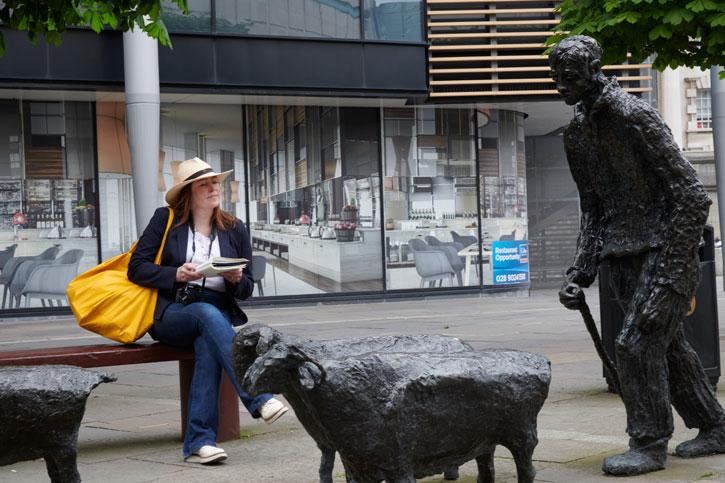 So far my image quality has been varied – I am still adapting to shooting in manual mode, and following up with documentation is easier done in batches as time permits. I now check the weather daily to see if and when conditions will be ideal.
I volunteered as I was so impressed with the Art UK painting project. I have 35 years' experience working in the arts, 23 of them spent at Imperial War Museum London working on major exhibitions. I missed working directly with large- and small-scale objects – I have a curatorial approach to many things and really value the importance of recording works of art that can often be overlooked. I wanted to improve my photographic skills and volunteer my experience to record information about the works that are passed every day by thousands of people.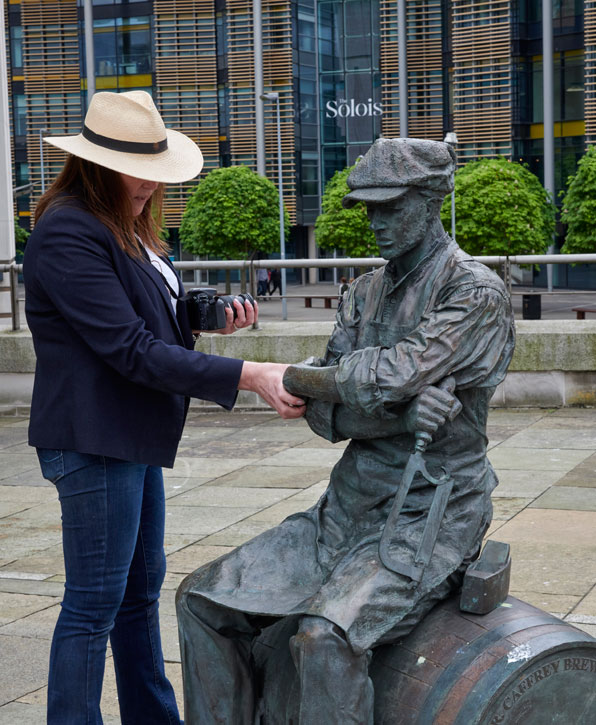 In Belfast, you will never be far from an opportunity to strike up a conversation. I have experienced genuine interest and curiosity to passers-by offering to pose, to help and to enlighten you about a piece of sculpture. Imagine Great Victoria Street railway station on a bustling Friday morning at 7.30am, whilst considering how to photograph Monument to the Unknown Woman Worker by Louise Walsh. Having passed this work for over 12 years I had never really explored the detail and the significance of it. I'm now used to strange glances as I consider how will I take my series of shots from different angles, but I feel this enhances the whole experience.
Every chapter in this project as I gain confidence and actually get on with it, has opened my eyes to what is around me and above me – in the most unexpected places the most exquisite detail and gems are revealed. My biggest challenge will be Flying Figures by Elisabeth Frink, desperately hanging on to the wall of a disused bank and affectionally known here as 'Underdraft & Overdraft'. Usually, seagulls are my biggest challenge – this will be a whole new experience!
Ciaran Doran, Volunteer for Belfast
This story is part of a series commissioned for Volunteers' Week 2019 looking at the roles of volunteers across Art UK