'Unseen Treasures of The Portland Collection' is a major new historical art exhibition at the Harley Foundation in North Nottinghamshire, showing from 25th March 2023 until 2026.
The Portland Collection was built by the Dukes of Portland and their families over 400 years. This world-class art collection contains treasures that reflect the tastes and interests of each passing generation – from Tudor portraits to royal jewels, and from massive silver fountains to intricately woven tapestries.
This art collection has been legendary for centuries. In the eighteenth century, Horace Walpole described it as being full of 'bales of Cavendishes, Harleys, Holleses, Veres and Ogles. Every chamber is tapestried with them and nay, with 10,000 other fat morsels'.
It is still owned by the same family, and its preeminent works are exhibited by the Harley Foundation, an arts charity that was established by Ivy, Duchess of Portland in 1978.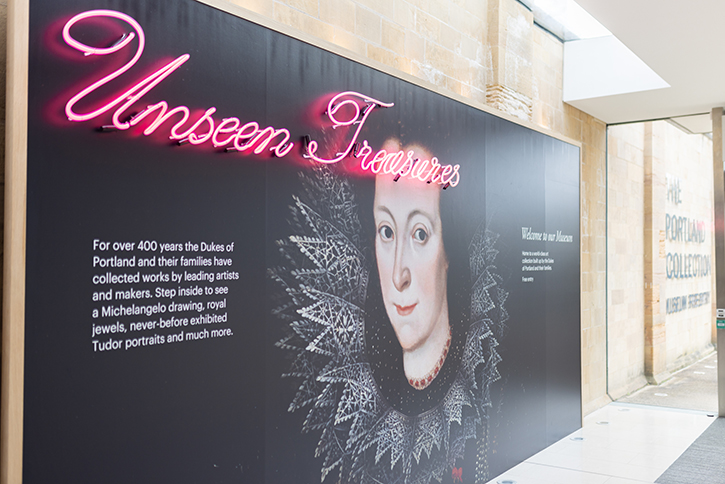 This latest display, sponsored by Bonhams, reveals works which have not been shown publicly before, alongside some of the well-known treasures of this prestigious collection. Some will be familiar – and some will be surprising – with paintings, jewellery, furniture, silver, sculpture, and more 'fat morsels' to discover.
The museum for The Portland Collection opened in 2016 to wide acclaim for its architecture, winning RIBA East Midlands Building of the Year. The contemporary setting offers great opportunities for the creative display of these historic works. For this exhibition, deep blue walls emphasise the works' rich lustre, and unexpected installations showcase their incredible artistry.
Keep reading to discover many highlights of the exhibition.
A portrait thought to be of Frances Howard, Countess of Essex
This extraordinary portrait has never been shown in a public gallery before. It shows a woman at her dressing table, unbraiding her hair. Her gaze is disconcertingly modern. This piece was painted in the 1620s and there are very few similar informal portraits from that time.
The portrait had been attributed to Marcus Gheeraerts the younger but recent research by art historian Karen Hearn suggests that it was in fact painted by George Geldorp.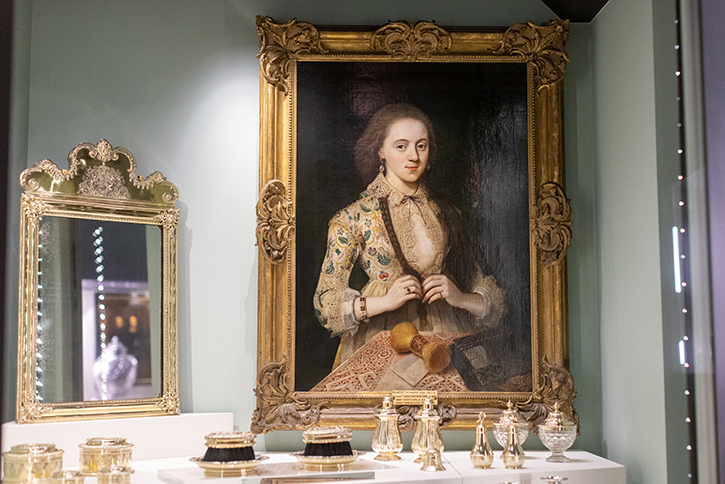 The Portland Collection is renowned for its paintings. The historian Michael Hall wrote: 'The backbone of the collection is one of the greatest assemblies of family portraits in any house in the country.' The exhibition 'Unseen Treasures of The Portland Collection' includes a vast number of these paintings, including a Picture Gallery stacked with Tudor and Jacobean portraits.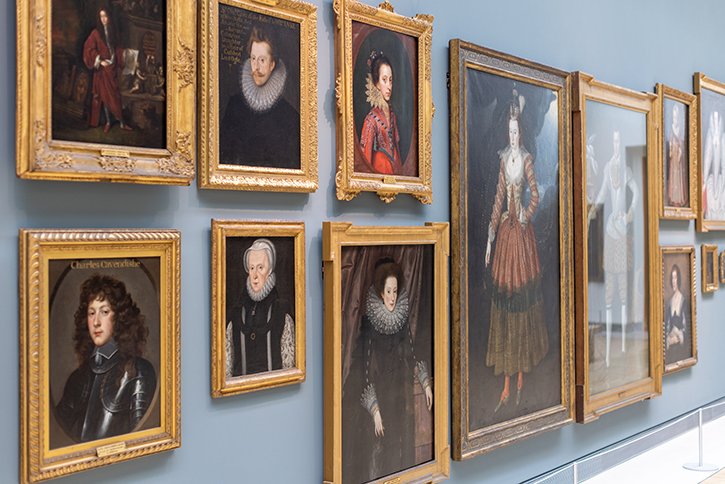 A portrait of Charles II as a child
Visitors can see Anthony van Dyck's stunning portrait of Charles II as a boy. In this portrait, he's aged 8, dressed in a tiny suit of armour.
While there are similar paintings to this in other collections, including the Royal Collection, academics believe that the Welbeck version is the primary painting (in a 1922 Royal Collection catalogue it is noted 'a better version is in the Collection at Welbeck Abbey').
Family ancestor William Cavendish, 1st Duke of Newcastle, was a tutor to the young prince, and probably commissioned this portrait. We know that he had worked hard to secure a position in the royal household, and had spent huge amounts entertaining the King. William was very fond of the young prince who he referred to as 'the handsomest, and most comely horseman in the world'.
Cavendish collected a number of works by Van Dyck, including portraits of himself and of his second wife, Margaret Cavendish, Duchess of Newcastle – author of the groundbreaking sci-fi novel The Blazing World, published in 1666.
Miniature portrait paintings by Jean Petitot
The Dukes of Portland and their families not only collected grand full-length oils but also tiny, intimate miniature portraits. The collection of these is one of three significant miniature collections in the country – along with that of the Royal Collection and that belonging to the Duke of Buccleuch.
In 'Unseen Treasures' you'll find a group of miniatures by Jean Petitot, including a self-portrait. Petitot was a court painter for Charles I in the seventeenth century and was exiled with the royal family after the King's execution. Here you can see his portraits of the family – Charles I, his wife, Queen Henrietta Maria, and his son and heir, the Prince of Wales (later Charles II).
Netherlandish art
Netherlandish art was hugely fashionable with members of the seventeenth-century English aristocracy. Family ancestor Hans Willem Bentinck, 1st Earl of Portland, was a favourite of William of Orange, and so it is unsurprising that the Portland Collection contains many fantastic works of art by Dutch artists.
The exhibition includes stunning cabinet paintings by Bruegel the elder, Brueghel the younger, Hendrick van Steenwijck the younger and Cornelis van Poelenburgh; as well as Lucas van Valkenborch's panel painting of the Tower of Babel, and a stunning selection of Dutch silver.
Jewellery
The jewellery in the collection often speaks of the family's royal connections. One of the star items is the earring Charles I was wearing at his execution.
The iconic pearl drop was taken from the King's head after his death, and is accompanied by a note from his granddaughter which reads 'This pearl was taken out of ye King my grandfather's ear and given to ye Princess Royall'.
Also on show is Mary II's ruby coronation ring – which has never been shown in a public exhibition before. Mary chose the deeply coloured 'pigeon blood' ruby ring to be used for her coronation for its special significance, as it was the first ring that was given to her by William of Orange.
Tapestry
This tapestry is from a set of five designs which are taken from William Cavendish's influential book on horsemanship, from which the modern art of dressage was developed.
It was woven by Wauters in 1660 from the book's illustrations by Abraham Jansz van Diepenbeeck, and it is believed that only eight sets were made.
Visitors can see three tapestries from the Welbeck set in 'Unseen Treasures of The Portland Collection' and the remaining two works on the bookable tours of Welbeck Abbey's State Rooms.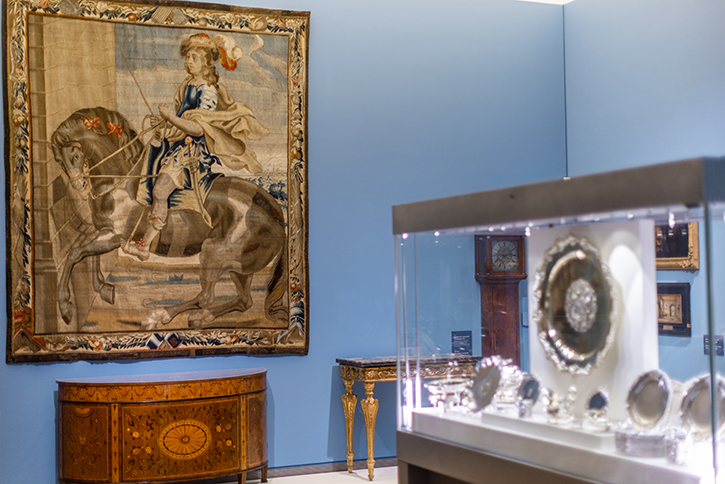 The tapestries are accompanied in the exhibition by a copy of Cavendish's Horsemanship book and five huge horse portraits, made by an unknown artist in 1628.
These gigantic paintings each measure two metres wide and are thought to be unique in British art. We believe that they were commissioned by William Cavendish for one of his riding schools in Welbeck Abbey or Bolsover Castle.
'Unseen Treasures of The Portland Collection' is on show at the Harley Foundation in north Nottinghamshire from 25th March 2023 until 2026. It is open six days a week and is free to enter.
Rebecca Hardy, Marketing Manager at the Harley Foundation
'Unseen Treasures of The Portland Collection' is sponsored by Bonhams