Throw off your winter thermals and step into spring with a look at some of the must-see art exhibitions taking place at our museum and gallery partners across the UK. From Michelangelo to Monster Chetwynd, discover old masters and contemporary classics that are sure to excite and inspire your 2019.
Featured regions:
Channel Islands
Guernsey
Wildlife Photographer of the Year 2018 | Guernsey Museum
Until 17th March 2019
Award-winning photographs illustrate the abundance, majesty, and vulnerability of life on our planet.
England: London
Pierre Bonnard: The Colour of Memory | Tate Modern
Until 6th May 2019
The innovative and much-loved French painter in his first major UK exhibition in 20 years.
Dorothea Tanning | Tate Modern
Until 9th June
Enigmatic paintings and uncanny sculptures from an artist who pushed the bounds of surrealism.
Van Gogh and Britain | Tate Britain
From 27th March to 11th August 2019
Some of Van Gogh's most famous works come together in an exhibition exploring how he was inspired by British culture.
Mimesis: African Soldier | Imperial War Museum London
Until 31 March 2019
A multi-screen installation by artist John Akomfrah, remembering the millions of African and colonial soldiers and labourers who served in the First World War.
Phyllida Barlow RA: cul-de-sac | Royal Academy of Arts
Until 23rd June 2019
Altering perceptions with site-specific sculptural installations made from recycled materials.
Harald Sohlberg: Painting Norway | Dulwich Picture Gallery
Until 2nd June 2019
A major retrospective of the Norwegian landscape painter, showcasing the haunting and mysterious visions of his homeland.
Christian Dior: Designer of Dreams | Victoria and Albert Museum
Until 14th July 2019
Focussing on the fashion and impact of one of the twentieth century's greatest couturiers.
Bill Viola / Michelangelo | Royal Academy of Arts
Until 31st March 2019
Two artists separated by centuries explore themes of beauty and emotion throughout the cycle of life.
The Renaissance Nude | Royal Academy of Arts
From 3rd March until 2nd June 2019
A gathering of great masters who brought the human body to the forefront of artistic expression, with works by the likes of Titian, Raphael, Dürer and Leonardo.
Exotica | Royal Botanic Gardens, Kew
From 13th April to 27th October 2019
A new collection of around 30 paintings by assorted artists, depicting waterlilies, lotus, water hyacinth, passion flowers and more.
Cultural Revolution | William Morris Gallery
Until 27th May 2019
Art of the state, featuring propaganda posters, revolutionary landscapes, and intricate papercuts collected in China during the 1970s.
First Amongst Equals | The Foundling Museum
Until 10th March 2019
Remarkable women who have shaped contemporary British society choose objects that speak to them from the museum's collection, with contributors including Diane Abbott MP and Dr Maria Balshaw CBE, the first female director of the Tate.
Imaginary Cities | British Library
From 5th April to 14th July 2019
Explore fantastical cityscapes and algorithmically generated map images created by artist and researcher Michael Takeo Magruder.
Boilly: Scenes of Parisian Life | The National Gallery
Until 19th May 2019
See revolutionary Paris through the eyes of the gifted and prolific painter Louis-Léopold Boilly.
England: Midlands and East
Birmingham
Drawing out the Sound | The Barber Institute of Fine Arts
Until 19th May 2019
Prints and drawings spanning centuries allow an insight into how – and why – artists have represented sound and music in art.
Sarah Taylor Silverwood: Daphne | The New Art Gallery Walsall
Until 12th May 2019
Considering the relationship between women and language through the prism of the ancient Greek myth of Daphne and Apollo.
Mahtab Hussain: Mitti Ka Ghar | The New Art Gallery Walsall
Until 31st March 2019
Inspired by traditional Kashmiri mud houses, artist Mahtab Hussain has worked with local people to construct and furnish a house within the gallery.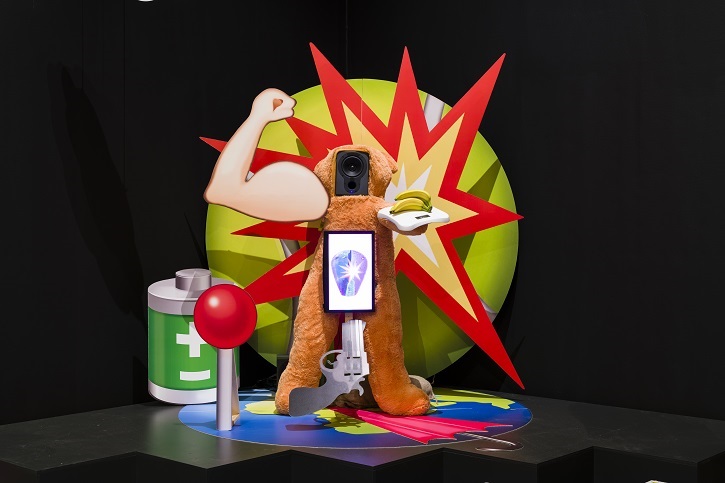 Rachel Maclean: Too Cute! | Birmingham Museum and Art Gallery
Until 12th May 2019
Artist Rachel Maclean curates a critique of cuteness using works from The Arts Council and Birmingham's collections.
Women Power Protest | Birmingham Museum and Art Gallery
Until 31st March 2019
Modern and contemporary works celebrating female artists who have explored protest, social commentary and identity in their work.
Cambridge
Whistler & Nature | The Fitzwilliam Museum
Until 17th March 2019
Around 90 paintings, sketches and prints cast new light on the great late-Victorian master.
Leicester
Siam through the Lens of John Thomson 1865–1866 | New Walk Museum & Art Gallery
Until 31st March 2019
Follow in the footsteps of this pioneering photographer as he explored China and Siam in the nineteenth century.
Norwich
Visible Women | Norwich Castle Museum and Art Gallery
Until 28th April 2019
Taking its title from the seminal book by the feminist artist Penny Slinger, this exhibition explores diverse and wide-ranging themes around female identity.


England: North
Liverpool
Charles Rennie Mackintosh: Making the Glasgow Style | Walker Art Gallery
From 15th March to 26th August 2019
Showcasing Art Nouveau in the UK through the influential work of Mackintosh and his contemporaries.
Leeds
Leonardo da Vinci: A Life in Drawing | Leeds Art Gallery
Until 6th May
Step into one of the greatest minds in history through an incredible selection of drawings in an exhibition marking the 500th anniversary of the death of Leonardo da Vinci.
Manchester
Prints of Darkness: Goya and Hogarth in a Time of European Turmoil | The Whitworth
Until August 2019
Art that dissects dysfunctional societies and two masters of the graphic dark arts, Francisco José de Goya Lucientes and William Hogarth, are together at last.
Facing Out | The Whitworth
Until 2nd June 2019
An exhibition of portraits by Lucy Burscough of people who have experienced facial cancers coupled with their choice of artworks from the Whitworth collection.
Sheffield
Wilhelmina Barns-Graham: Sea, Rock, Earth and Ice | Graves Gallery
Until 16th March
Paintings and works on paper spanning four decades, illustrating Barns-Graham's remarkable gift for capturing the spirit of the world's wildest landscapes.
Who We Are: Photographs by Martin Jenkinson | Weston Park Museum
Until 14th April
A major retrospective of Sheffield-based photojournalist Martin Jenkinson who became known for his memorable images of British protests.
Wakefield
Criminal Ornamentation: Yinka Shonibare curates the Arts Council Collection | Yorkshire Sculpture Park
From 5th April to 16th June 2019
Yinka Shonibare CBE chooses a selection of brave and bold works that embrace colour, ornament and pattern as a means for social and political expression.
Kimsooja: To Breathe | Yorkshire Sculpture Park
From 30th March to 29th September 2019
An enthralling installation using light and mirrors to create rainbow spectrums across the Chapel space.
Magdalene Odundo: The Journey of Things | The Hepworth Wakefield
Until 2nd June 2019
Esteemed ceramicist Magdalene Odundo OBE showcases more than 50 of her vessels alongside historical and contemporary objects that have informed her work.
England: South
Brighton
Tom Hammick: Dreams and Voyages | Brighton Museum
Until 30th July 2019
A display of exquisitely coloured woodcuts and etchings depicting personal interpretations of several operas.
Bristol
Fabric Africa: Stories Told through Textiles | Bristol Museum & Art Gallery
Until 19th May 2019
A stunning snapshot of the diversity of modern and historic textiles from across the continent of Africa.
Chichester
Harold Gilman: Beyond Camden Town | Pallant House Gallery
From 2nd March to 9th June 2019
Over 50 works vividly depict modern urban life in the early twentieth century, all with a vigour clearly influenced by Van Gogh and Edouard Vuillard.
Art Quake: Post-Impressionism and British Art | Pallant House Gallery
Until 1st June 2019
Discover how British artists including Spencer Gore, Duncan Grant, Vanessa Bell and Mathew Smith forged ahead with a new approach to painting.
Cookham
Friends and Family: Portraits by Stanley Spencer | Stanley Spencer Gallery
Until 24th March 2019
Paintings and drawings highlighting Spencer's personal connections with people in the village he loved.
Eastbourne
The Weather Garden: Anne Hardy curates the Arts Council Collection | Towner Art Gallery
From 17th February until 2nd June 2019
Encompassing over 30 artworks in a diverse range of media which Hardy has chosen to create an immersive meditative environment.

Falmouth
Rene Halkett: From Bauhaus to Cornwall | Falmouth Art Gallery
From 4th March until 11th May 2019
A student of Klee and Kandinsky, Halkett escaped fascism in the thirties and continued to create art in Cornwall.
Oxford
Jeff Koons | Ashmolean Museum
Until 9th June 2019
A career-spanning selection of colourful and controversial pop treasures curated by the artist himself.
Plum Blossom and Green Willow: Surimono Poetry Prints | Ashmolean Museum
Until 17th March 2019
See some of the finest examples of nineteenth-century Japanese woodblock prints, combining witty poems with elegant images.
Southampton
Greg Gilbert: A Gentle Shrug into Everything | Southampton City Art Gallery
Until 6th May 2019
Follow the evolution of Gilbert's work from miniature, photorealistic biro studies drawn from photographs to equally intricate but surreal imaginings.
St Ives
Anna Boghiguian | Tate St Ives
Until 6th May 2019
Featuring large-scale installations of cut-out paper figures, this is the first UK retrospective of Anna Boghiguian, an Egyptian-Canadian artist of Armenian origin.
Northern Ireland
Belfast
Fashion & Feminism | Ulster Museum
Until 2nd June 2019
Style and sisterhood combine in an exhibition exploring the roots of the feminist movement through fashion.
Making Her Mark | Ulster Museum
Until 15th September 2019
A display focussing on the contribution women artists made to the print revival of the early 1900s, with works from Agnes Millar Parker, Gertrude Hermes and Thérèse Lessore.
Subject to Change: Loney Abrams and Johnny Stanish | Naughton Gallery at Queen's
Queen's University Belfast
Until 7th April 2019
New York-based artists Abrams and Stanish look at how hybrid bodies – chimeras, monsters, cyborgs, avatars – can be useful metaphors for the 'other' in society.
Scotland
Aberdeen
Paul Duke: At Sea | Aberdeen Maritime Museum
Until 28th April 2019
A selection of work by Scottish photographer Paul Duke, documenting north-east Scotland's fishing communities at a time of sharp decline.
Edinburgh
The Art of African Metalwork | National Museum of Scotland
Until 25th August 2019
See how beautiful works in brass and copper once featured as mediums of exchange, status and power in ninetieth and early twentieth-century Africa.
NOW: Monster Chetwynd | The Scottish National Gallery of Modern Art
Until 28th April 2019
The fourth instalment in a series of contemporary art exhibitions features the exuberant performances and props of Turner Prize-nominated artist Monster Chetwynd.
Andy Warhol and Eduardo Paolozzi: I want to be a machine | The Scottish National Gallery of Modern Art
Until 2nd June 2019
See how the pop masters captured images from photography and advertisements to use within their work.
Glasgow
Stalking the Image: Margaret Tait and Her Legacy | Gallery of Modern Art
Until 5th May 2019
Discover the unique 'film-poems' of Orcadian artist, poet and filmmaker Margaret Tait, widely acknowledged as one of Scotland's most innovative independent filmmakers.
Frank Brangwyn in World War I: Art in Aid of Blind Soldiers and Sailors | Kelvingrove Art Gallery and Museum
Until 25th June 2019
A set of lithographic prints produced in 1915 illustrating the experience of a soldier who was blinded on the battlefield in the First World War.
Wales
Aberystwyth
Print REbels: Haden, Palmer, Whistler & the Origins of the RE | Aberystwyth University School of Art Gallery
Until 3rd May 2019
An exhibition honouring the Royal Society of Painter-Printmakers (the RE), which brings together a prestigious collection of prints.
Cardiff
Kyffin Williams: The Artist and Amgueddfa Cymru | National Museum Cardiff
Until 1st May 2019
A celebration of arguably Wales' most popular and prolific landscape painter of the twentieth century.
David Nash: Sculpture through the Seasons | National Museum Cardiff
From 3rd May to 1st September 2019
The most ambitious exhibition of Nash's work ever presented in Wales, exploring the different ways he has used wood to produce sculptures that sit between the abstract and figurative.
Alec Mackenzie, Project Officer at Art UK