Trompe l'oeil is a term that brings to mind murals in stately homes and cunning effects in classic paintings, yet this refined technique of creating optical illusions has been given a new lease of life by contemporary artist Lucy McKenzie.
From the French for 'to deceive the eye', trompe l'oeil has long been used to add interest, humour and depth. The technique suggests a reality extended beyond the plane of the canvas, wall or ceiling, and can be found everywhere from seventeenth-century Dutch portraits to the interiors of Renaissance palazzi.
For McKenzie, learning this practice after her artistic career had already taken off has enabled her to add a new dimension to her own use of paint, part of a multifarious practice that has encompassed performance, text, video and installation, examples of which are set to be displayed as part of her first UK retrospective, 'Lucy McKenzie' (until 13th March 2022) at Tate Liverpool.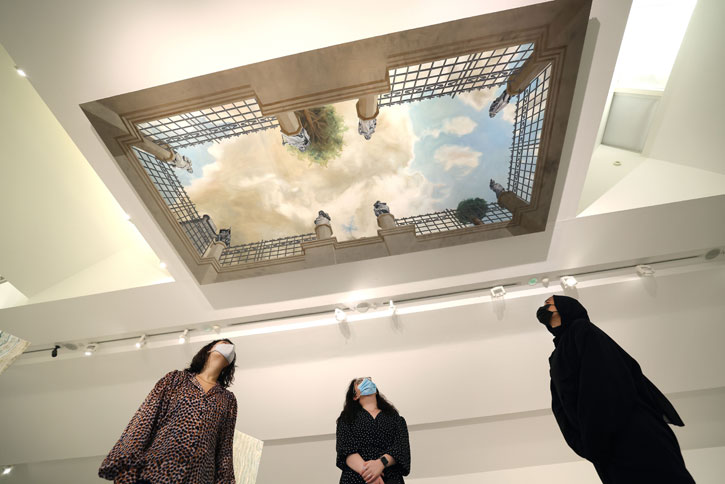 McKenzie's use of trompe l'oeil, a technique widely associated with decoration, reflects her long-standing interest in the relationship and boundaries experts have set between fine and applied arts. As she wrote in Chêne de Weekend: 2006–2009, a book about her early career, an artist should be 'something closer to the classical artisan, but one who nevertheless creates their own language, relationship to commerce and self-definition'.
This has certainly been the case with McKenzie, who explores a wide variety of concerns in her oeuvre, among them politics, gender and how we use décor to display our politics or personalities.
Born in Glasgow, McKenzie studied at Duncan of Jordanstone College of Art, Dundee, where she became interested in the social meaning of art through the work of Scottish muralists commissioned during the 1960s and 1970s to add colour to the areas newly built housing estates.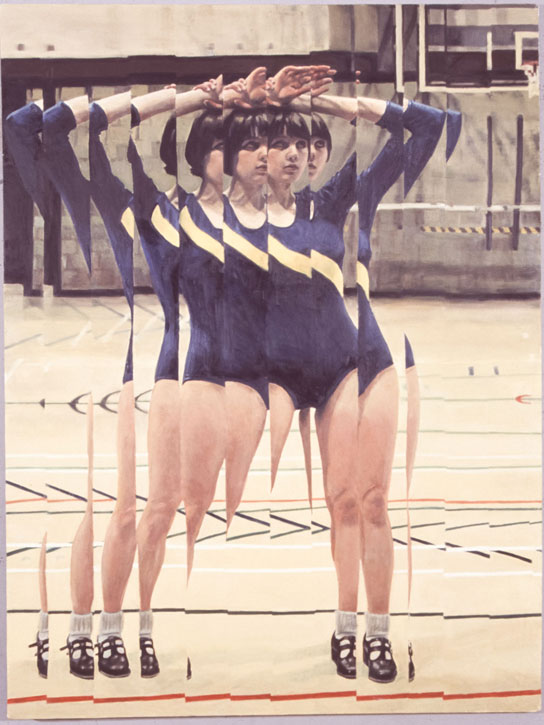 An early fascination with art as propaganda and the representation of women in mass media came together in a series of works that focused on the iconography of international sport, as with this untitled oil painting on canvas from 1997 that seems to portray a vulnerable gymnast – it is in fact a self-portrait. While painting has always been an important part of McKenzie's arsenal, by the time of her 'Art Now: Lucy McKenzie' show at Tate Britain in 2003, she was showing prints and drawings alongside the film of a performance piece conducted with Polish artist Paulina Olowska, the first of many collaborations.
In 2006 McKenzie moved from Glasgow to Brussels and found herself intrigued by the opulence of its Art Nouveau architecture and design, following her previous interest in the socially aware nineteenth-century Arts and Crafts movement that combined a range of practices to eliminate hierarchies between forms of labour. A year later she signed up for an intensive six-month period of study at the Ecole Van Der Kelen-Logelain, a school founded in the nineteenth century and largely unchanged in its methods. Here, McKenzie learnt traditional decorative techniques such as marbling, wood graining and grisaille – imitating stone in paint, reviving these unfashionable skills in her own work.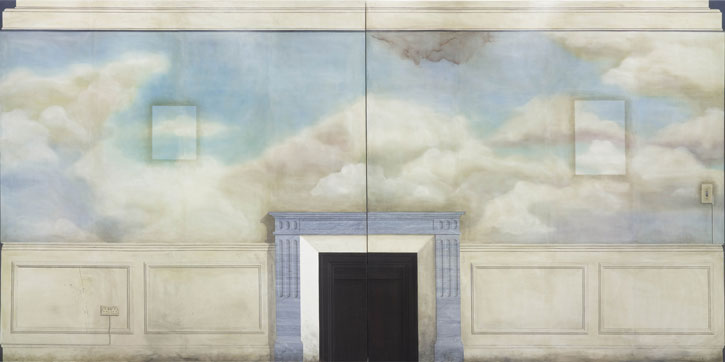 Thus began her extensive exploration of the borders between fine art and design, through a series of paintings of historical interiors, some from direct experience, others inspired by architectural drawings. Some works were painted close to life-size, giving them a theatrical feel to the illusion of realistic space beyond the two-dimensional plane, as in the large-scale May of Teck (2010), which references a home for poor yet respectable young women in Muriel Spark's 1963 novella The Girls of Slender Means. This enabled her to look at how various generations have shaped a house through their respective tastes.
Side Entrance (2011) is part of a series based on the work of Belgian art nouveau architect Paul Jaspar. Here, McKenzie recreates the flatness of a nineteenth-century scale drawing through delineating the space's architectural features with thin black lines, filled in with washes of muted tones in oil paint.
In 2013, McKenzie was selected along with 2006 Turner Prize winner Tomma Abts, Gillian Carnegie, Simon Ling and Catherine Story to appear in the Tate Britain group show 'Painting Now: Five Contemporary Artists'. The exhibition showed how these artists adopted traditional methods to break from the genre's conventions, with McKenzie displaying the likes of May of Teck.
Since then, her approach to painting has grown even more expansive, as shown by an installation first shown in the exhibition 'Inspired by an Atlas of Leprosy' held at Galerie Buchholz, Berlin, where the artist created domestic interiors for a fictional young cultural entrepreneur.
On show was Serrancolin Bed (2015), its metal frame supporting a canvas depicting a faux marble surface where a mattress should be (Serrancolin being a particularly prized type of French marble). Also included were the self-explanatory Shell Light (2015) and the seemingly conventional oil painting Breche Abstract (2015), actually a parody of a generic style of abstract art.
Collaboration has remained a vital part of McKenzie's practice, especially with talented creatives that have helped her complete such pieces. Her most productive relationship, though, has been with Scottish designer Beca Lipscombe as Atelier E.B (the initials standing for Edinburgh Bruxelles). They first formed the group in 2007 with a focus on interior design, gradually evolving the operation into a clothing label.
Atelier E.B is a serious business for both collaborators, with its emphasis on ethical design, production and promotion, though one that defiantly plays by its own rules. Rather than operating through the traditional seasons, Atelier E.B produces ready-to-wear lines at times deemed suitable to the label's founders.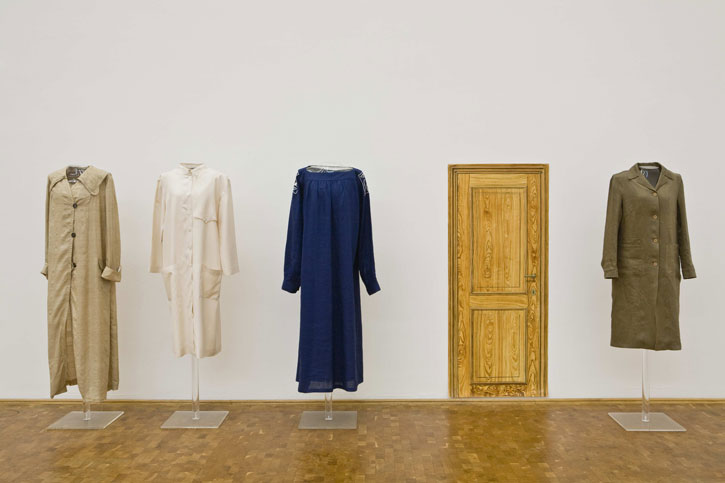 It also serves as a platform to explore the interplay between art and fashion, commerce and display, including how these relationships have evolved through time from World's Fairs and heritage exhibitions to department stores and retail outlets. One particular facet has involved investigations into window dressing, a key feature of fashion retail over several decades, and an inspiration for several of McKenzie's works, such as Arcade 2 (2019), in which she draws attention to the usually unheralded artistry in this craft (note the pejorative meaning attached to the term 'window dressing' as something superficial), even going as far as to devise her own mannequins.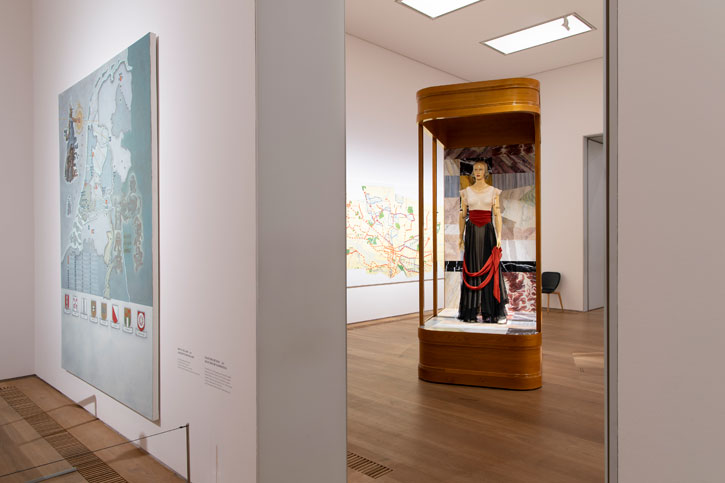 This work is also inspired by the legacy of the French designer Madeleine Vionnet – the dress on show is a recreation of a Vionnet design from 1933. At a time when modernism held sway in both art and design, her neoclassical designs embraced femininity in opposition to the more masculine trends that promoted sportswear and women in trousers. The mathematical precision of her garments also created details that added fine decorative effects.
In Rebecca (2019), the same dress on the same mannequin is recreated in oil on wood in the style of society portraitist Meredith Frampton, whose photo-realist style was also out of step with in-vogue abstraction. McKenzie also includes details from other works, such as a section of the map from Glasgow 1938–1966 (2017), again showing how copying artworks or objects is a key part of her practice.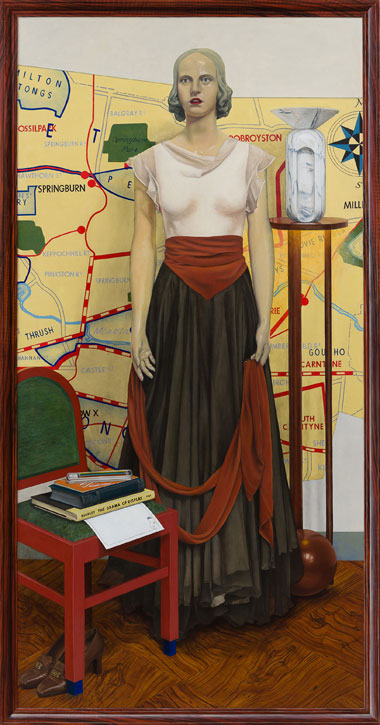 This exhibition has itself come from Germany, where it was shown earlier this year at Museum Brandhorst, Munich. There, it was titled 'Lucy McKenzie: Prime Suspect', an allusion to how the artist often operates as a detective in a crime story, with a fictional premise providing structure for her own investigations that use historical material, such as photos or drawings, to query contemporary society.
For the Brandhorst, there was something disconcerting about the way McKenzie disappeared into the 'dense web of references she weaves into her work', describing her role as a 'pathologist or method actor'. Discussing her work, the artist herself has said, 'If you asked me to just do a painting, spontaneously, from my imagination, I would have no idea what to do. Everything for me is in response to something else.'
It is what McKenzie responds to – and how – that makes her one of the most singular artists of her generation.
Chris Mugan, freelance journalist
'Lucy McKenzie' is at Tate Liverpool from 20th October 2021 until 13th March 2022