Timothy Spall OBE, the acclaimed British actor who once brought J. M. W. Turner to life in Mike Leigh's Mr Turner, portrays the celebrated Salford painter L. S. Lowry (1887–1976) in his latest role, opposite Vanessa Redgrave in Mrs Lowry & Son.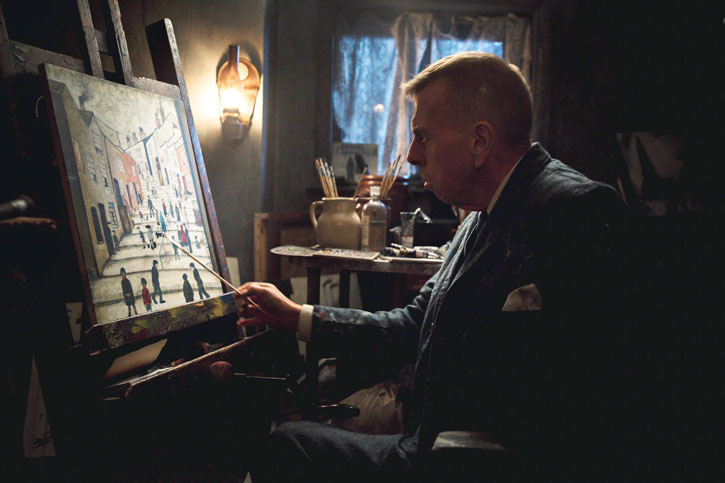 I spoke to Spall to discuss what it was like portraying one of Britain's most cherished artists. Keep scrolling to find out more.
But first, who was L. S. Lowry?
A painter who captured the rough beauty of Lancashire's industrial landscape in the early to mid-twentieth century, Lowry was a truly enigmatic figure. He spent much of his solitary life working as a rent collector and caring for his bedridden, elderly mother, Elizabeth. At night, he retired to his attic where he would paint largely from his imagination.
He once said: 'My ambition was to put the industrial scene on the map because nobody had done it, nobody had done it seriously.'
Although he didn't achieve fame and success until later in life, Lowry left behind an important cultural legacy. Born in 1887, he witnessed two World Wars and died after seeing a great transition in twentieth-century culture, including the arrival of modernism and even the swinging sixties. He never stopped painting and many of his works can now be viewed at The Lowry in Salford, a museum dedicated to the life of the artist.
So what does Spall think of Lowry?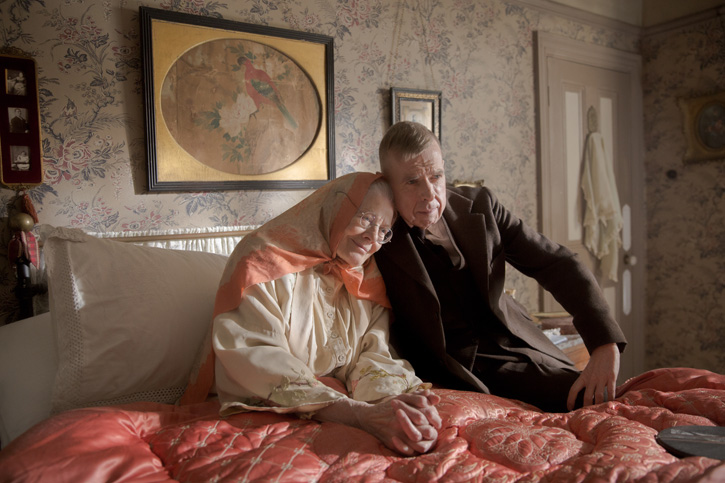 'I always liked Lowry and had an inkling that there was a lot more to him than what first meets the eye,' he remarks when I ask about his prior knowledge of the artist. Spall is an actor known for thoroughly researching his characters in depth, but he is also a trained and talented painter. 'I painted the whole time. On the set, between takes, I was painting.'
In preparation for the 2014 film Mr Turner, Spall spent three years training – learning to hold a paintbrush with ease and how to prepare pigment. Now, he appears as fond of painting as acting, though he modestly says that to be a great artist like Lowry or Turner, one has to dedicate their whole life to the profession.
'Sometimes I wonder what if I had pursued painting rather than acting.'
In fact, current visitors to The Lowry will have the rare opportunity to see 14 of Spall's own works, painted in the style of Lowry.
Spall comments on the differences in technique between Turner and Lowry. Whereas Turner had an ostensibly expressive and freewheeling approach to colour, 'Lowry only used five different colours. He always prepared his canvases with layers of white.'
However, for Spall, Lowry's art is equally as expressive as Turner's, despite his stylised way of painting and his iconic 'matchstick' figures.
Indeed, Lowry's distinctive way of painting has continued to intrigue the British public for nearly a century.
Today, his work sells for record prices at auction. In 2014, a collection of his paintings depicting Salford and Piccadilly Circus in London sold collectively for £15 million, a staggering amount that stands in contrast to Lowry's modest way of living, in a small terraced house in Pendlebury, Salford.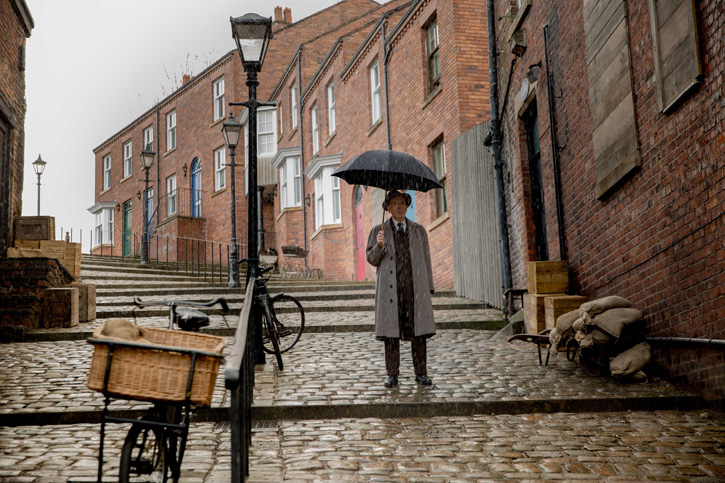 Spall points out that unlike Turner (who Spall jokingly says 'was born with a piece of charcoal in his hand'), Lowry was raised in an environment where there were no expectations on him to excel as a painter.
Although his father had once encouraged his artistic interests, his mother Elizabeth was vehemently against his ambition, perceiving it to be merely a hobby. She never believed in her son's talent.
Importantly, Lowry captured the social reality of Britain during the interwar and postwar years. Spall reminisces about growing up in Battersea, London, when the iconic Battersea Power Station was still in use. 'I can totally appreciate the fondness Lowry had for the industrial landscape of Salford.'
Lowry's works neither romanticise or glamorise the plight of the Lancashire working classes, but they powerfully articulate loneliness and modern alienation – an atomised society, in which individuals are disconnected from those surrounding them. Noting this characteristic of Lowry's work, novelist Jeanette Winterson once observed: 'Lowry paints his figures as repeats because that is what they are – clones for the industrial machine.'
But Spall regards Lowry's solitary condition in a more positive light. 'He was a loner. Being lonely suited him and he liked that.' Indeed, Lowry never had a girlfriend, nor did he ever marry. Some speculate that he remained a virgin until his death, aged 88. Many of his paintings reveal a curious figure called 'Ann', who many believe was a figment of his imagination.
But as Spall observes, something about Lowry's isolated condition allowed him to create truly original work. 'His work maintained a quality of innocence, simplicity, and ingenuity.'
Mrs Lowry & Son takes place mostly in Elizabeth's claustrophobic bedroom.
In the film, Lowry's mother, exquisitely played by Vanessa Redgrave, reads out loud from a scathing review: 'The painting by Mr L. S. Lowry is confusing and appears to be painted by a child. It is an insult to the people of Lancashire.'
In agreement with the critics, Elizabeth never saw the genius of her son's work, something which only compelled Lowry to work even harder in stubborn attempts to win her approval.
'Elizabeth is a rather monstrous character.' Spall says. 'But I can understand where she was coming from. She once had aspirations of her own.'
A middle-class Victorian who once dreamt of becoming a concert pianist, Elizabeth was undeniably a product of her time. She was raised to be conscious of her social status and class, something she felt estranged from by the end of her life.
Spall reflects on why she was emotionally abusive towards her son and so disdainful of his art: 'What he was painting constantly reminded her of the situation they found themselves in.' No longer living in Victoria Park, a leafy suburb of Manchester, Elizabeth found herself in the impoverished industrial town of Pendlebury. Jaded with her life's bleak trajectory, she projected her disappointments onto her son.
Spall is fascinated by Lowry's determination to paint despite the years of criticism he endured from his narcissistic mother. 'His paintings are imbued with a kind of tension – one that was born out of knowing that what he was doing displeased the person he loved the most.' But curiously, in spite of all of this, 'he was desperate to please her and desperate for her to be happy. Everything she required he gave her.'
In contrast to his mother, Lowry found constant inspiration from Salford and the wider region around Lancashire. However, as Spall points out 'contrary to what people might think, his paintings are not representative, in the sense that they are not actual places that exist.' Rather, 'they are composites and assimilations of various buildings and places.'
He didn't paint en plein air, and the paintings 'are largely a product of his vivid imagination.'
For Spall, there is no question that Lowry was a great painter. 'There's an argument that any great painting – no matter how technically brilliant – must have an original voice.'
'When you look closely at Lowry's work, in particular at the background, there is a subtlely and sophistication to the way he paints that people have tended to overlook.'
My final question to Spall was what Lowry painting would he choose as his favourite if he could pick any...
Without much hesitation, he says 'a painting called The Lake [...] I believe this work is actually a self-portrait.'
Painted in 1937, two years before the death of the artist's mother, Lowry created this beautifully bleak landscape, where dilapidated buildings and telegraph poles recede into the industrial, smoky city of Manchester.
'There are no figures in this painting, but the buildings are all evocative of him – lonely, melancholic.'
Lydia Figes, Content Creator at Art UK
Mrs Lowry & Son is showing in UK cinemas from 30th August 2019.
.