Have you heard of Jackson Pollock? How about Willem de Kooning? Or John Bratby?
And have you heard of Lee Krasner? How about Elaine de Kooning? Or Jean Cooke?
17th November 2017 marked the centenary of Auguste Rodin's death. As part of the commemoration of the artist BBC Arts looked at how Camille Claudel, for a long time thought of only as Rodin's muse and mistress, was a talented sculptor in her own right.
Camille Claudel is not, sadly, an exception: art history is full of women whose work has been obscured or belittled in the context of their male partners. The men have romped home with the accolades, the adoring critics and the household-name status, while women have had to push, shove and pray for their inclusion.
In a (small) attempt to redress the balance, here are three women artists who deserve to be brought out of their partners' shadows.
Lee Krasner
Lee Krasner was an artist working in New York from the 1940s through to the 1970s. She was a part of the Abstract Expressionist movement, though she remained slightly distanced from its core.
In 1949, Krasner and her husband – you may have heard of him – Jackson Pollock exhibited their works together, at a show called 'Artists: Man and Wife'. An Art News reviewer, Gretchen T. Munsun, wrote: 'There is a tendency among some of these wives to "tidy up" their husbands' styles. Lee Krasner (Mrs Jackson Pollock) takes her husband's paint and enamels and changes his unrestrained, sweeping lines into neat little squares and triangles.'
It was in an environment of such comments and prejudices that Krasner spent her whole working life. Her career was largely subsumed by Pollock's and the masculine world of Abstract Expressionism; a world she was a part of, but as Pollock's wife, rather than as herself. 'There were the artists and then there were the "dames",' Krasner said of the New York art scene. 'I was considered a "dame" even if I was a painter too.'
Krasner was instrumental in making Pollock a part of the New York art scene. In Gail Levin's biography, she chronicles how Clement Greenberg (an influential critic) would turn to Krasner for 'intellectual, wide-ranging conversations about art' – but in the press wrote exclusively about Pollock's work, ignoring Krasner's entirely.
After Pollock's death, Krasner found new artistic expression, and many critics argue this is when she produced some of her best work – including Gothic Landscape, made in 1961. Yet she continued to be identified more with Pollock's work than her own.
Krasner herself hasn't been forgotten. Her works are owned by major collections and fetch high prices at auction. A 1978 exhibition placed Krasner's works alongside those of Pollock and Mark Rothko, and a 1981 show titled 'Krasner/Pollock: A Working Relationship' showed how the two artists had influenced each other. Despite all of this, she will never be a household name in the way Jackson Pollock is. Ironically, his status today is partly attributable to her efforts to preserve his legacy – Krasner was always convinced of his genius and, after his death, placed his works in the Metropolitan Museum of Art, the Museum of Modern Art and the Pompidou Centre. In 2019 her work was the subject of an exhibition at the Barbican in London.
Jean Cooke
John Bratby is remembered as being at the forefront of the post-war 'kitchen sink' movement in Britain, depicting life in its messy or gloomy entirety. In 2016, Bratby was the subject of a retrospective, 'Everything but the Kitchen Sink' at the Jerwood Gallery.
Jean Cooke, Bratby's wife, has never had a retrospective, despite many critics' view that she is as talented as – or more talented than – her husband.
It seems Bratby recognised this; he forced Jean to start signing her paintings with 'Cooke' (she had previously signed them 'Jean Bratby') when he became too jealous of her success and talent: as put in The Times's obituary: 'he feared and resented the competition she offered to his reputation as the one and only painting Bratby'. Bratby also limited the amount Cooke was 'allowed' to make art, and he would paint over her canvases carelessly when he needed one for himself. Sometimes he would slash at her canvases when he was 'displeased'.
The 120-strong collection of John Bratby's works on Art UK is full of women: Janet, Anne, Aphrodite, Gloria, Patti, Josephine. When he does paint Jean, she appears diminished, sometimes sheepish, as in Jean and Still Life in front of a Window. These images are in stark contrast to the way Cooke painted herself: her self-portraits are weird, funny, interesting, and in Cooke's own words – 'mad'.
The Guardian's obituary for Cooke describes her art: 'There is a disquietingly subtle immediacy and intense sensitivity to nuances of colour in her work, which puts the viewer in mind of other notable women artists – such as Paula Modersohn-Becker and Gwen John – who similarly had to struggle to find their own voice in the face of the formidable egos of close male artistic relatives or spouses.'
Bratby's work divides opinion. He was the recipient of attention and praise when he first started getting noticed, perhaps due to the disruption he created to the art world. Jean Cooke lived and painted in his shadow, and it is a sign of her prodigious output that she is remembered at all, her work surviving against all the odds.
Elaine de Kooning
Elaine de Kooning, born Elaine Fried, moved to Manhattan in the 1930s, took lessons at the Leonardo da Vinci school, and subsequently met, took classes from, and fell in love with, a young immigrant artist named Willem de Kooning.
Elaine was as much a part of the post-war New York art scene as Willem, though she remained more focussed on people and portraiture than pure Abstract Expressionism. She developed the ability, in her paintings, to capture the essence of a person through their figure alone. In her later work, she blurred faces entirely, wanting instead to capture an individual's indefinable essence.
Elaine was personally chosen by John F. Kennedy to paint his portrait, and she created a series of huge, bright canvases depicting the president. Some of these now live in the Truman and Kennedy presidential libraries; pictured below is Elaine with former president Truman and one of the canvases. Elaine worked rapidly, in broad brushstrokes, racing up and down ladders and across her studio during the process, a restless painter for a restless president. She recounted the process in detail in a fascinating interview with Artnews.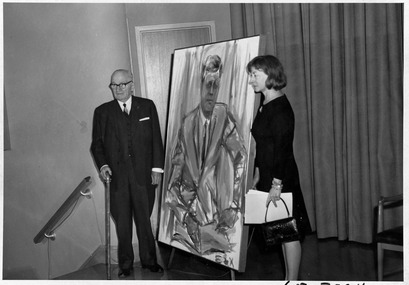 In 2015, the National Portrait Gallery in Washington, DC, held a retrospective of Elaine's work (though the director said it was a 'huge risk' given how little-known she was). Many of her paintings are owned by major American institutions. But it's safe to say that she will never have the same impact or name recognition as her husband. Willem will always be the default de Kooning.
The last word will go to the indomitable Linda Nochlin, who sadly passed away recently. Writing in Women Artists at the Millennium she said: We will need all our wit and courage to make sure that women's voices are heard, their work seen and written about.'
Molly Tresadern, Art UK Content Creator and Marketer