Rachel Maclean creates works that wilfully tread the line between what is comforting and what is scary. The Scottish artist plays with familiar images, warping them into something unsettling and often provoking her audience to rethink their views on gender, politics or identity.
Maclean's two-year-old daughter, Catriona, takes a doll called Mimi to bed with her that was originally made as a prototype for a recent installation. The work is a permanent sculpture at Jupiter Artland called upside mimi ᴉɯᴉɯ uʍop, and features an abandoned toy shop in the middle of the woods in the sculpture garden near Edinburgh.
Through the forest foliage, at the end of a footpath paved with broken love-heart emojis, we spot a bright, candy-coloured shop, luring us in just like the gingerbread house found by Hansel and Gretel.
Inside is a stock of Disney-style dolls and a short film about a twisted princess character, Mimi – a sort of evil Alice in Wonderland in a pink dress with blonde pigtails. It's the same character that Maclean's daughter cuddles up happily to at night.
'I like to use tropes from TV and cinema,' explains Maclean. 'Attractive, obvious, recognisable images that suck you in and are engaging. Contemporary art can be alienating to the point that people disengage. I enjoy playing around with fairytales. As I was working on it, I was also thinking of those Red Riding Hood dolls that you invert and find a wolf underneath her skirt.'
Behind Maclean's hyper-vivid colours and cutesy aesthetic lurks something more sinister. Her elaborate fantasy worlds appear full of magic and whimsy, but they tend to conceal dangers and malevolence.
Behind upside mimi ᴉɯᴉɯ uʍop, there is a dark subtext of consumerism, greed and economic precarity, partly inspired by the fact that many high-street shops were already lying empty before the coronavirus pandemic hit. Many details on Maclean's first outdoor sculpture are upside down, reflecting the topsy-turvy nature of modern life.
'I wanted to create something unnatural that doesn't blend in at all with its surroundings. I like to explore binaries and do something unexpected with them. And I often want to look at oppositional qualities within the same character. Reality is absurd and I want my art to reflect that. I also like to keep things quite tongue-in-cheek.'
Since graduating from Edinburgh College of Art with a degree in drawing and painting in 2009, Maclean has created a signature aesthetic, with themes that have recurred over the years.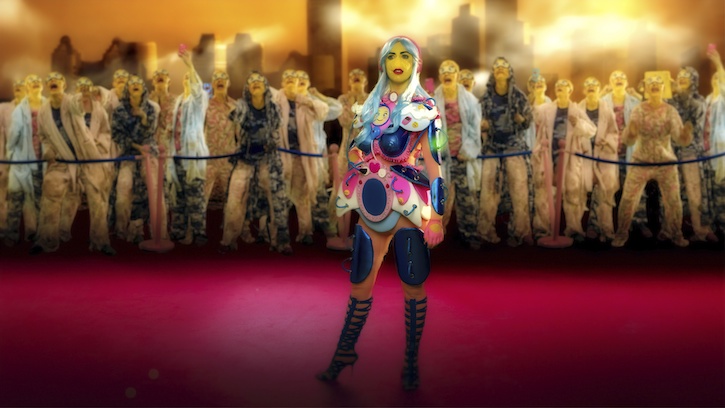 Class, gender, identity and nationalism are examined through her outlandish, ultra-detailed mash-ups of pop culture and computer technology. She often uses a garish, girly palette of Barbie pinks, My Little Pony purples and sunshine yellows, and she boldly mixes the saccharine sweet with the grotesque.
Over the last two decades she has represented Scotland at the Venice Biennale, lived in a shopping centre as part of the Channel Four reality show Artist In Residence, and examined what cuteness means for an exhibition at Birmingham Museum and Art Gallery.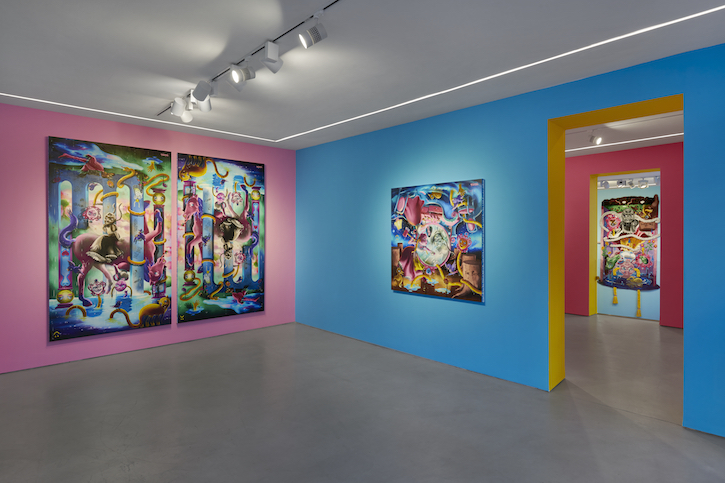 She recently exhibited 'That's Not Mi!', a solo show at Josh Lilley Gallery in London, where Mimi featured again in many of the works on display, gazing into a hand mirror, sometimes upside down, or other times mirrored with a nastier, wrinkled and grimacing version of herself.
The exhibition merged sugary imagery of unicorns and round-eyed dolls with nightmarish dreamscapes – a creepy and troubling collection with nauseating plays on symmetry and the uncanny.
'Young and old, visible and invisible, good and evil – that to me is something I find interesting. On social media and the internet, there is often this desire for visibility but then sometimes a dual desire to be able to disappear.'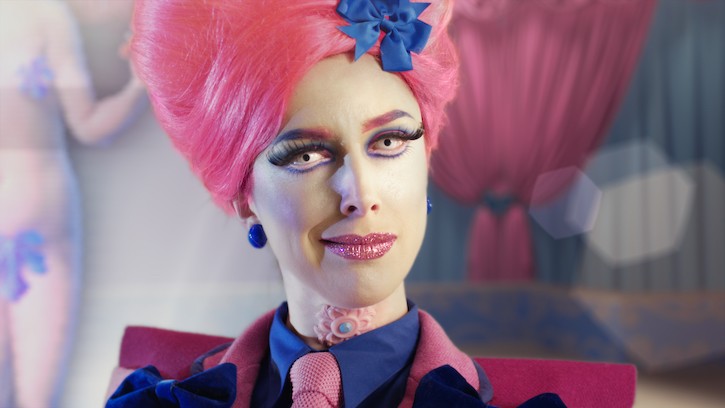 Ageing and beauty are subjects that Maclean has touched upon many times in her work, for example in 2016's It's What's Inside That Counts, 2018's Make Me Up or 2019's Mending a Face.
She often dresses up in costumes to act out some of the characters in her multi-media works, dissecting the pressures placed upon women using her recognisable blend of kawaii and gore, blurring the cartoonish into the terrifying.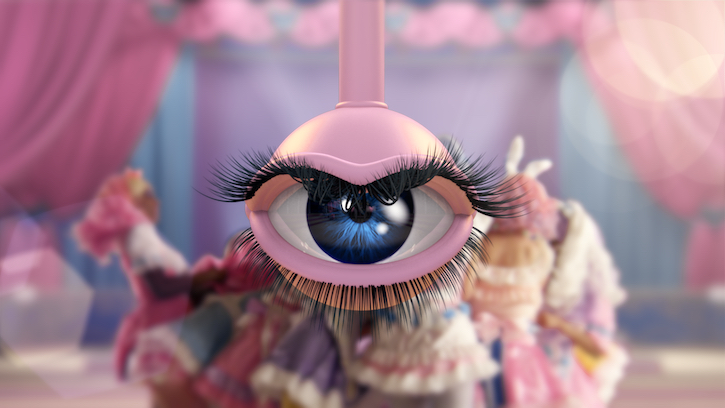 Her works are intended to provoke, and the reactions she gets to them are often very revealing.
'I want people to feel unsettled and I'd like an audience to question why they feel what they feel. If they find my work silly or repulsive, and many people have told me they do, then I want them to examine that reaction. I like to force them to consider why feminine colours aren't taken seriously, for example. Why soft, cute, girly things are irritating and even offensive.'
Maclean's work demonstrates the powerful semantics of colour. Just as her use of stereotypically female colours elicits disgust in certain viewers, her use of red, white and blue also stirs up strong feelings.
In her Native Animals series, some of which has been acquired by Museums & Galleries Edinburgh, Maclean took inspiration from Brexit. On close inspection, her rural tableaux of furry characters dressed in Union Jack suits and upper-class finery juxtapose brutal violence and hatred against scenes of cosy nostalgia.
She had previously used Union Jack imagery in her 2012 film The Lion and the Unicorn, referencing the Scottish and English symbols on the United Kingdom's Royal coat of arms. It was her irreverent look at the relationship between the two nations and the way that collective and individual identities are shaped.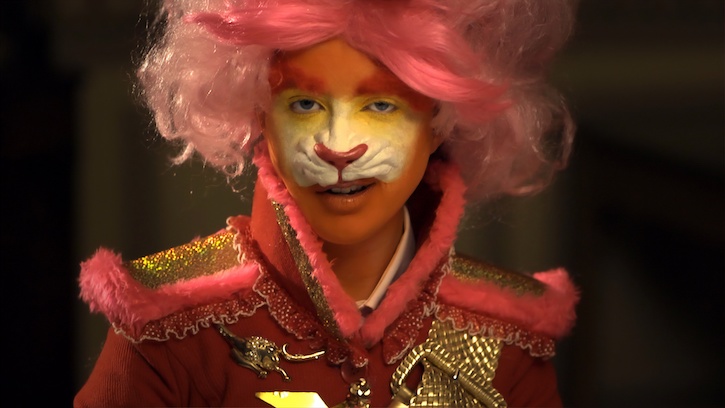 'I was a bit wary of coming out on one side with The Lion and the Unicorn. I think there is a danger of closing down a discussion if you make something as a polemic. I wanted to say something nuanced and non-binary,' she explains.
'I'd rather keep a degree of mystery to my work, to leave a grey area around why the artist is doing what they are doing. It's not spoon-feeding the audience and I think it's a better way to encourage a healthy debate.'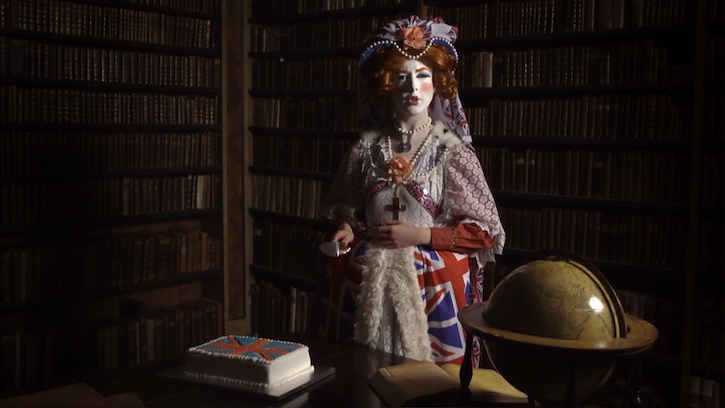 After working extensively as a video artist in the past, Maclean is currently creating her first feature-length film. It's a dark Christmas movie called Melted, which promises to contain her seductive yet sinister mix of humour, fantasy worlds and horror.
'I can't dance and I can't sing. But apart from that I'm comfortable working in most media. I grew up watching a lot of weird art on TV on Channel 4 in the nineties and noughties. Writing a feature film is new for me but I like working to briefs. I'm a maximalist so a lot of the exercise is editing, paring it down.'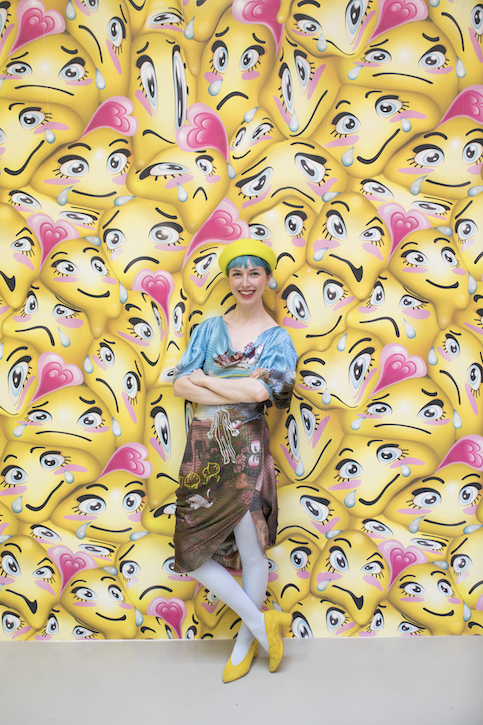 This time, however, she won't be casting herself in the film. 'It's complex directing a film that you're also starring in, so I decided I wanted to use comedy actors instead. I like over-acting. I love shows like The Fast Show, The League of Gentlemen and Garth Marenghi's Darkplace. I love that surreal, experimental approach. Something dark but also accessible.'
She's finishing the script for Melted at the moment and hopes to make a virtual production using a green screen next year. 'When it's finished I think it will be pretty psychedelic. I want people to love or hate what I do, not be indifferent.'
Claire Sawers, freelance writer
This content was supported by Creative Scotland