The artist Maxwell Ashby Armfield (1881–1972) and his wife Constance Smedley (1876–1941), the artist, playwright, feminist and founder of the International Association of Lyceum Clubs for professional women, both deserve to be better known.
An unorthodox couple, they were accomplished in their own right but achieved an even greater degree of success together. This story aims to trace the paths they took and paint a picture of the world they inhabited so as to regenerate interest in their somewhat overlooked lives.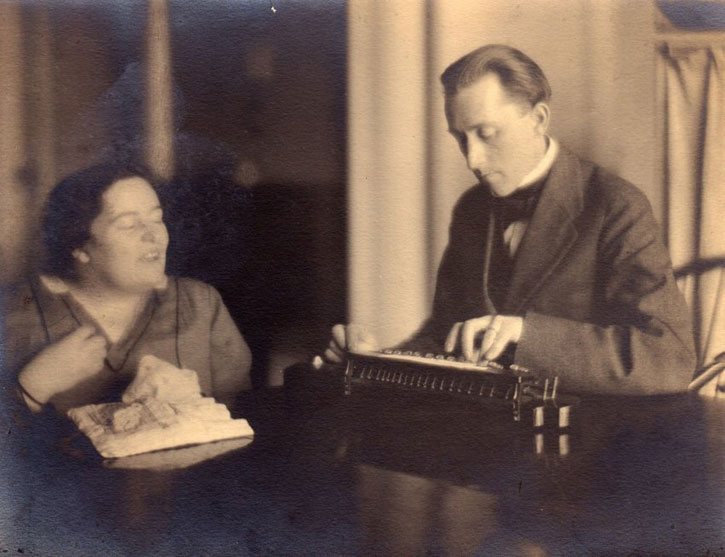 Both Max and Connie enjoyed warm and nurturing family homes. Max was born in 1881 in Ringwood, close to the New Forest, and Connie in 1876 in Birmingham. They were both the eldest of their families, but there was one major life difference in their situation: Connie, while still an infant, acquired a serious illness – perhaps polio – which meant that she was unable to walk unaided. However, her reaction to her chronic condition was to refuse to allow either her physical limitations or the attitudes of others to prevent her from doing what she wanted.
Mrs Smedley introduced her two daughters to her artistic friends, to music, to literature and to the French language. Connie enjoyed the arts, submitting a drawing to The Pall Mall Magazine when she was only 16, where it was accepted and even paid for. This inspired the pursuit of success and Connie did not hesitate to promote herself or get others to do so. She began not only to illustrate and write but was bold enough to approach publishers and performers although she was only in her teens.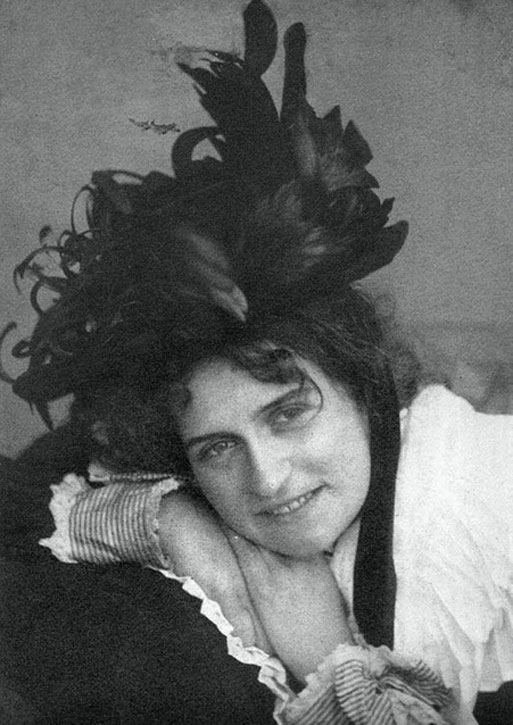 Meanwhile Max, a few years younger than Connie, was growing up with two strong artistic influences – his family and his school. He too was fortunate in having parents who encouraged the arts at home. His niece, the highly regarded artist Diana Armfield, particularly famous for her flower paintings, recalls Max's father encouraging his whole family to join in winter evenings of creative activity.
At his Quaker boarding school, Sidcot School in Somerset, Max came across an excellent art teacher who inspired him to develop his painting talents. After he moved to another Quaker school, Leighton Park School in Reading, for his final year, he had the freedom to pursue his particular interest which at that stage was to design posters. When Max turned 18, decisions had to be made about his future. Once he, feeling rather guilty, and his father, feeling rather disappointed, had agreed that Max's desire was to become an artist, he applied to and gained a place at the Birmingham School of Art, where the influence of William Morris and the Arts and Crafts movement was still strong.
Max metamorphosed from schoolboy to art student in a matter of months. He found a studio and lodgings, and new companions like Arthur Gaskin and Henry Payne who were illustrating, carving wood and making jewellery. Max did not like his classes much, and later acknowledged that he had an arrogant attitude. But he had his own straightforward agenda which was simply to paint and to keep on painting.
This self portrait gives us an idea of the role he was choosing to play in 1901. He carefully planned his appearance – greenish-black jacket, pale silk scarf, neat haircut – and placed himself in a mannered pose with elegantly held brush and palette. His surroundings suggest much more of a sitting room than studio. The artist faces both the viewer and himself with a serious, studied expression, meticulous in its curation.
Once Max had completed the three-year course in Birmingham he visited France in 1902, enrolling at the Académie de la Grande Chaumière, one of the best-known art schools in Paris. This move was to prove a real adventure for him.
What then of Connie? Although the two of them had both studied at the art school, where Connie's interests soon developed towards theatre, they did not meet in Birmingham because Max was several years younger. Had he been there earlier, he might have seen a performance of Connie's first play, The Lay Figure.
Connie had established herself as a writer at the time when the Women's Movement was becoming a positive force, but feminism in her writing emerged only gradually. Her first novel An April Princess concerned a young woman's rebellion against her philistine Victorian family but her later work Women: a Few Shrieks (1907) can be considered a feminist polemic. She wrote for both adults and children and her output was impressive: between 1903 and 1916 she wrote about a dozen books.
Friendly relationships are dangerous
Faustine 1904
Maxwell Ashby Armfield pic.twitter.com/oLXlowICbp

— Irma (@AV_Irma) July 31, 2017
Meanwhile, Max completed his course in Paris just as the French bought his painting entitled Faustine, which now belongs to the Musée D'Orsay. His works began to be exhibited, covering a range of subjects from portraits to landscapes, from figures to mystical scenes. He varied his painting methods, but was a champion of tempera.
Connie, now living in the family home in London, gained even more opportunity to meet artists. She became known as an entrepreneur with a particular interest in writing and in promoting women. Specifically, because professional women were at a disadvantage in not having a club for their own sex, she founded the Lyceum Club with financial support from her father. Undeterred by her disability, Connie made a name for herself, throwing herself into the work of the Lyceum where she was Honorary Secretary with the suffragist Lady Frances Balfour as Chair.
In 1907, Connie and Max met for the first time. They were almost immediately interested in each other and married in 1909. Max took care of all of Connie's needs, a considerable commitment, but theirs was an unconventional partnership due to Max's sexual preference for men. After their marriage, Connie gave up her work at the Lyceum and the couple settled in the Cotswolds where they wrote and illustrated books together. Max continued to paint whenever he could.
They founded the theatre group the Cotswold Players with a philosophy of communal, democratic art and in 1911 the concept of a pageant was put forward. These fashionable dramas told the history of a particular community and it was decided that there would be a local 'Pageant of Progress'. Max was the pageant's official artist and months of planning resulted in a huge success. Following a period in Chelsea where they established the radical avant-garde theatre company Greenleaf Theatre and mixed with an anti-war community including Margaret Morris and Edward McKnight Kauffer, they left for the USA in 1915 to make a life for themselves away from the war.
The move to the USA proved a huge success artistically, financially and socially. The couple were warmly welcomed and based themselves in New York and Berkeley, where they taught the Greenleaf theatre method for seven years and established a popular embroidery group. They organised a successful programme of contemporary dance in the vast Greek Theatre in Berkeley and paid for an adventurous train trip across the USA where they paid the Santa Fe Railway Company in paintings and sketches. Max produced works such as Ice Plant on the Hudson, Cyprus at el Tovar, Grand Canyon and Central Park, New York, the latter being particularly well-liked.
The years spent in the USA were deeply enriching and returning home in 1922 was not easy, especially for Connie, but Max sought greater seclusion. In 1929 Connie published Crusaders, a flamboyant, self-promoting and probably rather exaggerated autobiography, but one which demonstrates her warmth of character. Max too wrote as well as painted, publishing titles such as An Artist in America, and Tempera Painting Today.
After some years of weakening health and diminishing finances, Connie died of heart failure in 1941, having refused treatment due to her strong Christian Scientist faith. After her death, Max continued to paint. He remained in touch with Diana Armfield and her husband Bernard Dunstan, and invited Stuart Armfield, another relative who was a painter, to live with him for a few months. However it was the welcome late-life relationship he had with Alexander Ballard, the owner of a bookshop, which enhanced life for both of them. Max survived a heart attack in 1953, but died in 1972.
Max was devoted in equal measure to his art and to his wife. He left a legacy of hundreds of paintings in public and private collections, whilst Connie's landmark achievement, the Lyceum Club, is still active today. Together, through their many accomplishments in the fields of writing, theatre and enterprise they are proof of a couple who have put down their marker in history.
Tessa West, writer and author of A Pageant Truly Play'd, a biography of Constance Smedley and Maxwell Armfield, available from Brewin Books