The careful arrangement of objects, books or artworks on a shelf, tabletop or mantlepiece offers endless possibilities for reinvention. It can be a physical representation of your accomplishments, interests, pleasures and memories. And that's just the individual items. How they are organised and arranged imparts even more insight.
Ben Nicholson was keenly aware of the spatial and poetic possibilities in the arrangement of objects, whether within a still-life painting, a carved relief or in his studio. Historically, still-life paintings were a showcase for technical virtuosity. Through the specific choice of objects, they spoke of status, transience and mortality. In the early twentieth century, still-life paintings provided an emotional, aesthetic, and spiritual space within which artists could pursue new ideas that challenged artistic conventions. This desire to apprehend a more vital truth was at the heart of Nicholson's understanding of art.
Nicholson was born into an artistic family. His mother, Mabel Pryde, was a painter whose clarity of vision Nicholson greatly admired. His father, William Nicholson, was an established painter of society portraits, landscape and still-life paintings. Although Nicholson regarded the still life theme as an inheritance from his father, he strove to break with his Edwardian style of painting.
Reflecting on what his father's work had contributed to shaping his work, Nicholson wrote: 'I owe a lot to my father, especially to his poetic idea and to his still-life theme. [N]ot only from what he made as a painter, but from the very beautiful striped and spotted jugs and mugs and goblets, and octagonal and hexagonal glass objects he collected. Having those things in the house was an unforgettable early experience for me.'
Nicholson accumulated his own collection of mugs and glassware. By choosing to keep these objects with him in his studio, he transformed them from the general to the specific. By becoming part of Nicholson's visual language, they changed from tangible objects to expressions of a poetic idea.
Nicholson depicted a favourite striped jug in 1914, an early painting made a few years after leaving the Slade School of Art, London. The jug's smooth surface serves as a counterpoint to the drapery and dark background. Nicholson referred to his work of this period as 'slick' and 'Vermeer'. This work demonstrates Nicholson's clarity of observation and his engagement with surface texture, something that had preoccupied his father.
Winifred Nicholson – Ben's first wife – later observed 'for an artist like William Nicholson – his impact with an object, even those he admired, never went below the surface of it. He is dealing with its texture, its shine, its softness or its sharpness, always the surface which strikes the eye of the beholder.'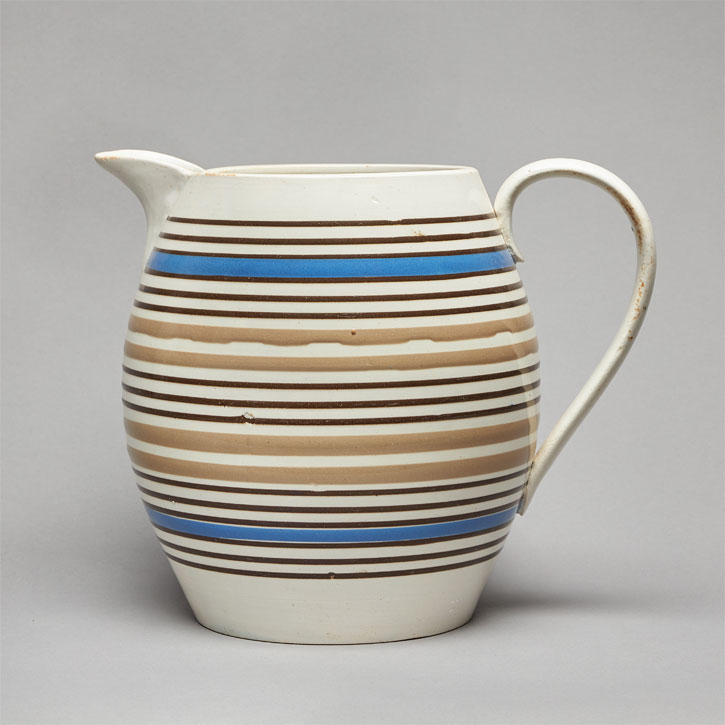 As Nicholson developed as an artist, he dispensed with satin and tasselled curtains. But his close observation of the forms and patterns of simple jugs, mugs and glassware continued to inform his work.
In 1921, on a visit to Paris, Nicholson saw a Cubist painting by Picasso. He remembers 'it was a revelation [...] It was what seemed to be then completely abstract and in the centre there was an absolutely miraculous green – v. deep, v. potent and absolutely real [...] and it still remains the standard by which I judge any reality in my work.' This influence resulted in bold experimentations in painting, with Nicholson creating purely abstract works such as 1924 (first abstract painting, Chelsea).
In 1924, Ben and Winifred moved into Bankshead, a little farmhouse on Hadrian's Wall in Cumberland. While the 1920s and early 1930s were a period of artistic experimentation for Ben Nicholson, Winifred was already resolved in her style and specifically her understanding of colour. She asserted: 'My paintings talk in colour and any of the shapes are there to express colour, but not outline.'
Nicholson acknowledged that he learned much from Winifred. In contrast to her luminous flower paintings, Nicholson was moving towards a balance of painterly mark-making, formal structure, reduction of forms, and a desire to express the object quality of his paintings. The still life with flowers motif was rare in Nicholson's work of the 1920s, especially compared to the paintings of the same period by Winifred Nicholson.
Their son, Jake Nicholson, pointed out that in his father's paintings of flowers, 'the jug is always more important than the flowers'. This jug was a familiar object in Nicholson's studio, while the flowers were transient elements that brought pleasure and enlivened the picture.
When Nicholson moved to Hampstead in the early 1930s, the striped jug went with him, carefully packed and transported into the studio of Barbara Hepworth. Nicholson had met and begun a relationship with Hepworth in September 1931. By March 1932, Nicholson had moved to No. 7 The Mall studio, where he worked side by side with Hepworth.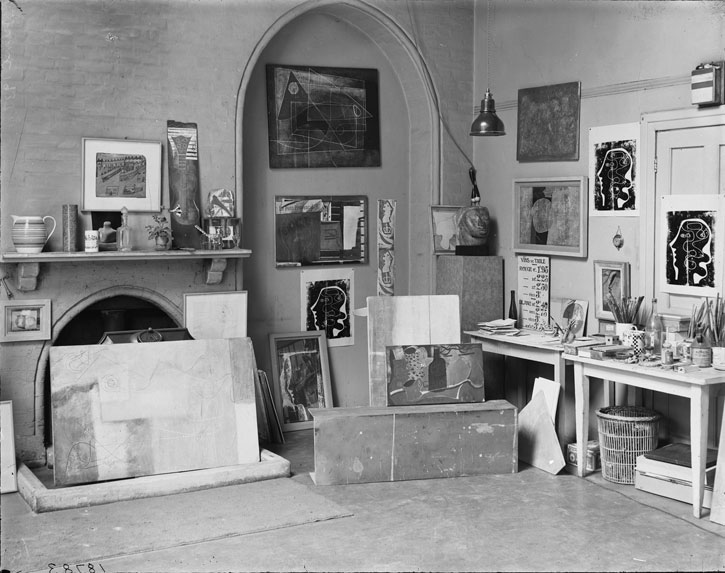 In a photograph of the studio from this period, the striped jug can be seen at home on the mantelpiece, carefully positioned alongside a collection of paintings, prints, drawings and studio items. The arrangement on the mantelpiece includes, in addition to the jug, a selection of studio objects such as a glass decanter that made an appearance in many artworks, a small black and white image of a sculpture by Hepworth and a recent painting of a guitar that Nicholson displayed unframed.
Hanging above the mantelpiece is a picture by Alfred Wallis titled Houses at St Ives, Cornwall, which he presented to the Tate in 1959.
As the photograph demonstrates, the studio that Hepworth and Nicholson created together was a rich and exciting space, full of shared ideas about art and life.
At the end of August 1939, Nicholson, Hepworth, and their young triplets, who had been born in 1934, travelled to Carbis Bay, Cornwall. With the onset of war, the Nicholsons decided to remain in Cornwall, moving later to their own house, Chy-an-Kerris, on the far side of Carbis Bay.
In a letter to H. S. (Jim) Ede, Nicholson described it in rich visual detail, responding to the light and sense of space, and suggesting that it was reminiscent of his studio in London: 'it really might be 7 Mall Studios only with the blue sea outside'.
By the 1940s, Nicholson had a rich vocabulary of reduced lines and overlapping forms from which to create his complex still-life paintings that spoke of landscape and memory.
Nicholson continued to experiment with the placement of the still life on a tabletop, the windowsill, or against an indication of a landscape. He also consolidated the ideas about colour, form, and structure that he had pursued in his abstract paintings and reliefs.
In 1949, Nicholson rented No. 5 Porthmeor Studio, situated behind Porthmeor Beach in St Ives. The studio had skylights but no windows looking out onto the sea, which suited Nicholson's working method. The move enabled him to work on a larger scale than previously possible. Nicholson recognised the relationship between still life, landscape, and architecture that coalesced in his work.
In a letter to Patrick Heron, Nicholson wrote, 'All the 'still-lifes' are in fact land-sea-sky scapes to me.'
In 1957, Nicholson met the German photographer and journalist Felicitas Vogler. The following spring, they left St Ives and moved to Ticino in Switzerland. Their new home, Casa alla Rocca, was just above Brissago, where Nicholson was captivated by the mountainous landscape. During the 1960s, Nicholson also chose to focus on the linear quality of drawing and etching. Nicholson did not regard himself as an etcher but instead saw works such as 1967 (two goblets and a mug in a landscape) as 'drawings on prepared copper'.
Nicholson explained: 'I like very much the clear line and resistancy [sic] of the material and the smooth run of the implement'. Nicholson worked with Lafranca for four years, during which time Nicholson engraved more than a hundred plates.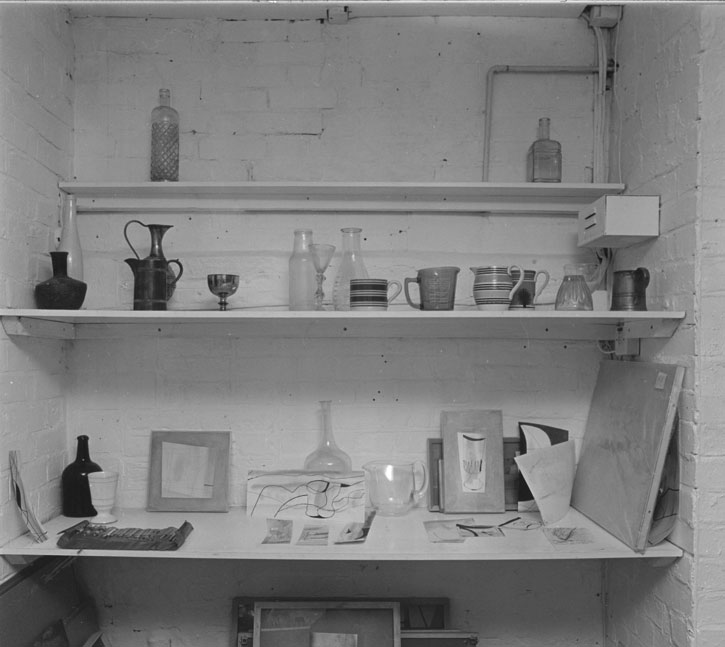 In this photograph of Nicholson's final studio at 2b Pilgrim's Lane, Hampstead, a striped jug can be seen sitting on the studio shelf. Alongside the jug, the glassware, pewter jug and mochaware mugs provided Nicholson with a repertoire of forms that he had deployed with clarity of vision for over six decades. They were an integral part of his visual language.
The striped jug is on display, alongside over 40 still life objects from Nicholson's studio and key still-life paintings and abstract works in 'Ben Nicholson: From the Studio'. The exhibition is at Pallant House Gallery, Chichester from 26th June to 24th October 2021.
Louise Weller, curator and art historian
This text is based on an extract from the exhibition catalogue Ben Nicholson: From the Studio