'Helen Frankenthaler: Radical Beauty' at Dulwich Picture Gallery is the first UK retrospective of Frankenthaler's outstanding body of woodcuts. Opening a decade after the artist's death in 2011, this exhibition illuminates a lesser-known aspect of her practice, offering a fresh lens onto Frankenthaler's work and its contemporary relevance.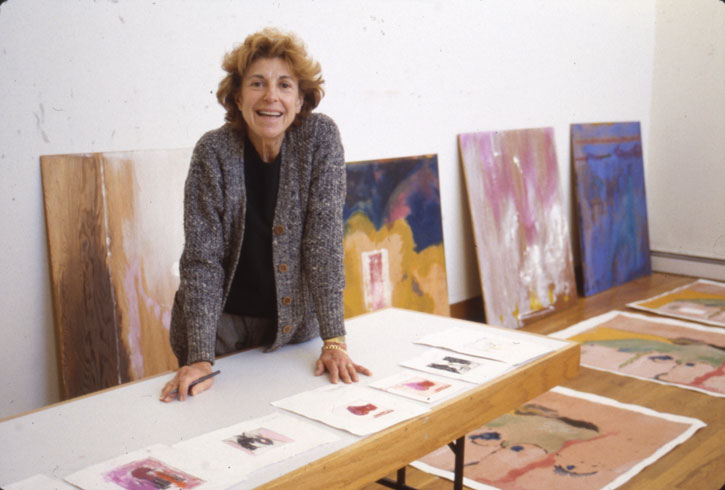 Comprising 36 prints and proofs which span Frankenthaler's career in print, this exhibition powerfully demonstrates the artist's creativity, technical innovation and fascination with – or in Frankenthaler's own words 'romance of' – working in woodcut. As the curator, Jane Findlay tells me: 'For us, it is all about Frankenthaler being a trailblazer and a pioneer. Frankenthaler is very brave, very bold, very herself but she is always pushing at what that means.'
Helen Frankenthaler (1928–2011) was an American artist who first rose to prominence in the late 1950s. Her work spans painting, sculpture, ceramics and a breadth of printmaking techniques including woodcuts, lithography, etching and screenprint. Frankenthaler's practice is characterised by a consistent engagement with abstraction and the creation of works which, in Frankenthaler's own words, appear to be 'born in a minute' yet which meticulously balance control and spontaneity.
Nonetheless, scholarship on Frankenthaler has narrowly focussed on her monumental abstract paintings and the invention of the 'soak-stain' technique in 1952. Soak-stain – a technique of pouring diluted pigments onto un-primed canvas – has often restrictively been seen as Frankenthaler's sole contribution to art histories.
Moreover, Frankenthaler's soak-stain lead to her being described, in a now-infamous phrase, as 'a bridge between Pollock and what was possible' by the artist Morris Louis in 1953. As Findlay reflects, 'lots of emphasis has been placed on Frankenthaler as a bridge and a connector. There is so much more to her than that which we want to celebrate.'
Shifting emphasis away from Frankenthaler's paintings and onto her woodcuts, the exhibition 'Radical Beauty' offers a new lens onto Frankenthaler's status as a 'pioneering and intrepid artist'. Not only does the show celebrate the 'radical beauty' of prints, such as Snow Pines (2004), but Frankenthaler's radical innovation within a medium historically defined by its aesthetic and physical inflexibility.
Frankenthaler's first foray into printmaking had been in lithography, a medium with material properties polarised to those of woodcut. During the American Print Renaissance (1940s–1960s), there was a revival of interest in lithography by artists including Frankenthaler, Joan Mitchell and Robert Motherwell and the newly founded artist print studios such as Tatyana Grossman's Universal Limited Art Editions (ULAE) and Ken Tyler's Tyler Graphics. The soft stone used to make lithographs enabled artists to easily form inky, painterly marks characteristic of contemporary abstract painting.
Frankenthaler's work in lithography acted as an important gateway to her woodcuts. She gained experience in a printmaking process more immediately akin to her paintings and forged strong relationships with Tatyana Grossman and Ken Tyler which would be instrumental to her work in woodcut.
Frankenthaler's first woodcut, East and Beyond (1973), was made at ULAE in 1973. While Frankenthaler had initially been sceptical of woodcut, Findlay comments that Tatyana Grossman created a 'nurturing environment' where Frankenthaler 'wanted to experiment'.
'In many ways East and Beyond is a premonition,' says Findlay. Titles play an important role in Frankenthaler's work and much like her earliest lithograph, First Stone (1961), 'East and Beyond's title predicts a future, it's very prophetic'.
Indeed, there is a palpable sense of anticipation within East and Beyond's sparse composition. The central open void, framed on three sides by transitory segments of colour, acts as a metaphor for the generative and unknown space that woodcut represented to Frankenthaler.
East and Beyond, Helen Frankenthaler, 1973, MoMA: Drawings and Prints pic.twitter.com/VcUEi5adue

— Bill Brookover (@BillBrookover) August 22, 2021
In East and Beyond we see the genesis of several themes which characterise Frankenthaler's body of woodcuts. Notably, Frankenthaler uses the striations of her woodblock to subtly give texture and depth to the print and her composition was influenced by contemporary Japanese woodcuts.
Comparisons can be drawn with Frankenthaler's later woodcut, Cedar Hill (1983), which is also included in Dulwich Picture Gallery's exhibition. In Cedar Hill Frankenthaler manipulates the tight striations of wood to create a grainy diaphanous quality. The effect of the wood striations are further accentuated by Frankenthaler's use of a printed woodblock technique from Japan.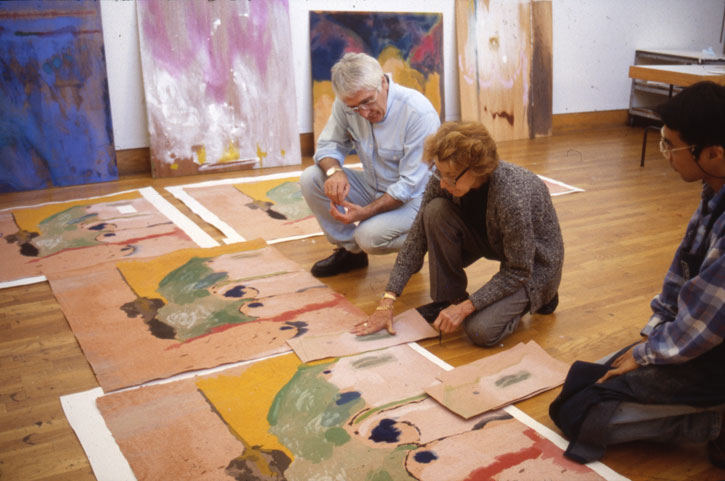 Ukiyo-e was a style of art popular in Japan from the seventeenth to the nineteenth centuries, and can be translated as 'floating world'. One of its main innovations was a method of water-based woodblock printing using vegetable inks which Frankenthaler learned in Kyoto in 1983, and which is used to create transparent washes of colour. Findlay insightfully reflects that Frankenthaler imaginatively synthesised the striations of her woodblock with the ukiyo-e style technique to create a multi-dimensional 'pointillist effect' in Cedar Hill.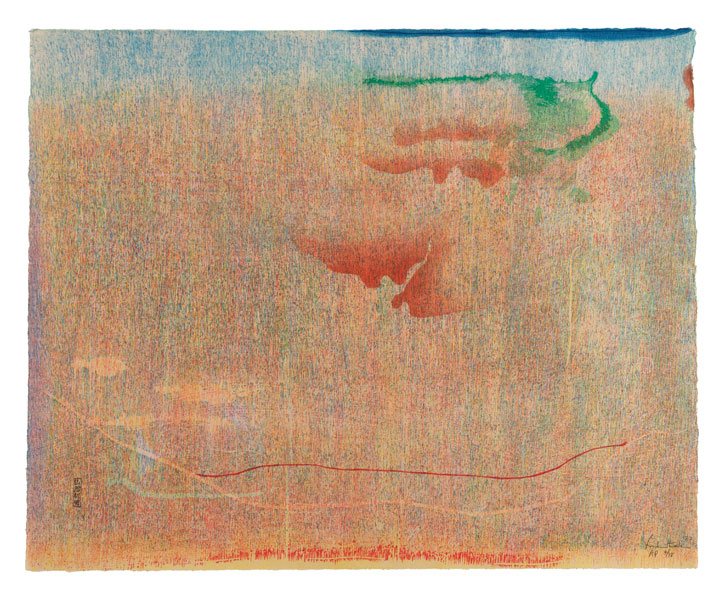 Frankenthaler's process is a central theme of Dulwich Picture Gallery's exhibition. Alongside completed prints, the exhibition includes test pieces known as 'proofs', and a short film comprising archival footage of Frankenthaler at work will be displayed in the gallery's mausoleum. Fascinatingly, Findlay chose to include six of Frankenthaler's proofs for Essence Mulberry (1977) alongside the finished piece. By including this series of proofs, Findlay aims to demonstrate the importance of 'action and reflection' in Frankenthaler's woodcut technique. Essence Mulberry was the first woodcut Frankenthaler created with Ken Tyler and has long been considered her most successful print.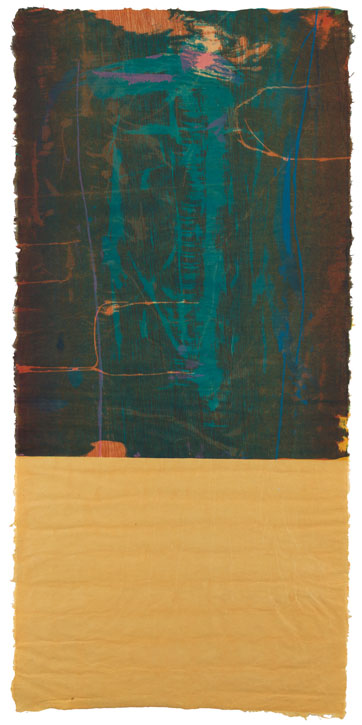 'Proofs tell the story of how she got to the end point,' reflects Findlay, a statement particularly apt in the case of Essence Mulberry. In a much-mythologised narrative, Frankenthaler is said to have been inspired to make Essence Mulberry after seeing juice from mulberries growing in the grounds of Ken Tyler's studio in Mount Kisko, New York. However, Essence Mulberry's proofs move between mulberry-red, umber-yellows and blue-browns, creating a more nuanced 'story' of how Frankenthaler arrived at 'the end point' of this iconic work.
To achieve the evanescent marks, gossamer layers and depth of colour characteristic of her painting Frankenthaler used an improvised and eclectic array of tools in her woodcuts. 'She used anything she could find,' says Findlay, 'the world became her tool box'.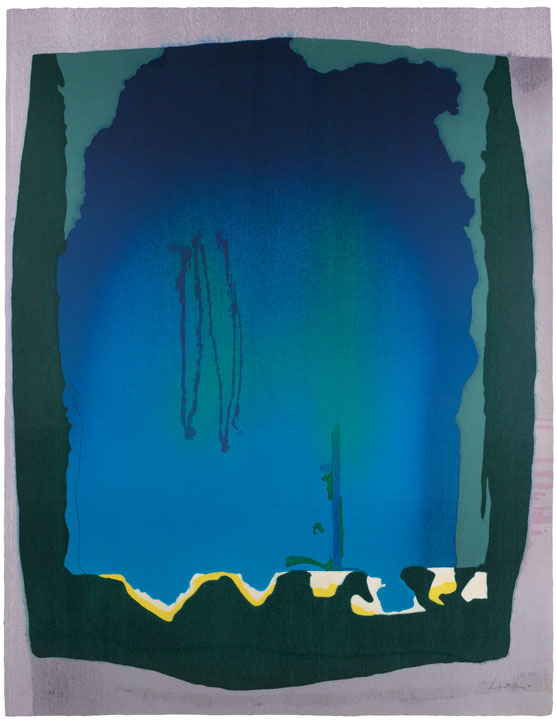 For example, in her majestic Freefall (1993) Frankenthaler used a turkey baster and a surface made from paper-pulp to create complex spatial and colouristic effects which defy expectations of woodcut. Standing at over two metres tall, Freefall simultaneously appears flat and anchored to a surface yet also invokes the sensation of falling into an aqueous blue-green void. Freefall powerfully reflects Frankenthaler's dictum that her work had to be 'flat, flat, flat and also have miles into space'.
Collaboration with print workshops was also pivotal to Frankenthaler's woodcut technique. Printmaking involved a continuous back-and-forth or, as Findlay describes it, 'a dynamic push-and-pull' between an artist and workshop. Artists devised the form and idea for a print which was translated into editioned woodcuts by a team of skilled technicians. Frankenthaler famously stated, 'I want to draw my own images, mix my own colours, approve of registration marks, select paper', yet ultimately the physical construction of her woodcuts lay with the workshop.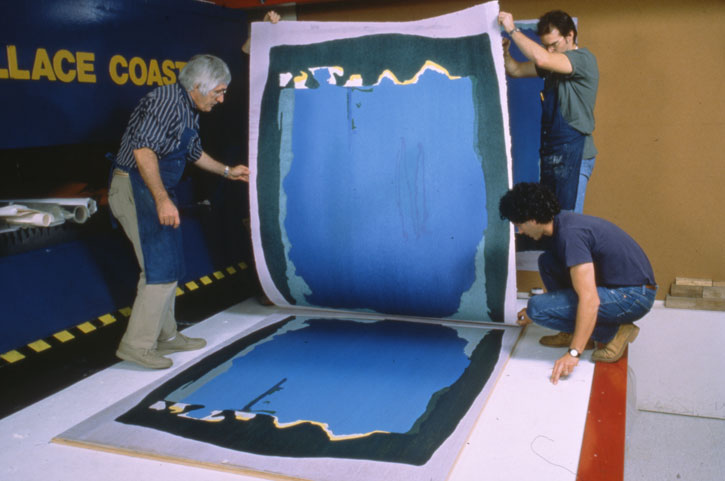 Notably, Frankenthaler's close friendship and long working relationship with Ken Tyler and his workshop Tyler Graphics was central to the development of her work. As Findlay says, 'There was a lot of trust between them – they were in sync: Frankenthaler had the inventive mind and Tyler the technical wizardry. It's magical what they achieved.'
Frankenthaler and Tyler's greatest achievement is undeniably Madame Butterfly (2000), a work of breath-taking and dizzying beauty. Commenting on her choice to display Madame Butterfly in the exhibition's final room, Findlay says, 'we wanted to give it a whole room – to live, to be. It's a fitting finale even though it wasn't Frankenthaler's last print.'
Madame Butterfly was however, the final print Frankenthaler made with Tyler and the apex of their technical innovation. Constructed from 42 woodblocks, made from four different types of wood and printed with 102 colours, Madame Butterfly transcends the possibilities of woodcut. Looking at the print one could easily mistake it for a painting made using Frankenthaler's soak-stain technique, such is the delicacy of gesture and fluidity of thin veils of colour.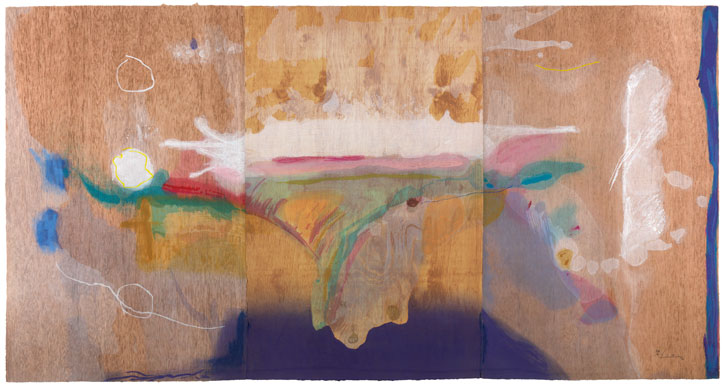 To create Madame Butterfly's remarkably soft surface, Frankenthaler used a technique she had invented called 'guzzying' where she would distress the surface of her woodblocks with dental tools and sandpaper. Madame Butterfly also plays with the boundaries of surface. Our eyes oscillate between the brown coloured paper Frankenthaler printed onto and the exposed grain of the woodblock. For Curator Jane Findlay, ambiguity is essential to the form of Madame Butterfly and the success of Frankenthaler's woodcuts: 'where does one start and finish? That's one of the things Frankenthaler plays with and why her prints are so engaging.'
Dulwich Picture Gallery's phenomenal exhibition takes you through the 36 years of Frankenthaler's career in woodcut and leaves you only wishing there were more of them. Beauty has often been used in a gendered, and derogative sense when discussing Frankenthaler's painting: they have been framed as feminine and, by association, superficial. However, in Dulwich Picture Gallery's exhibition, the beauty of Frankenthaler's work is treated as radical and inspiring.
As to Frankenthaler's legacy, Findlay summarises it like this: 'she teaches us how to be creatively free – that beauty isn't something to shy away from, but is empowering.'
Cora Chalaby, art historian and writer
'Helen Frankenthaler: Radical Beauty' is on at Dulwich Picture Gallery from 15th September 2021 until 18th April 2022