The days have grown shorter, the chilly weather has settled in and the skies have turned a steely grey: it's the end of October and Halloween is just around the corner. It's a time when we choose to suspend disbelief, to indulge in strange ideas and the impossible made – briefly – possible. And where better to bring nightmare visions to life than art?
This Halloween, let's dive into the darker side of our public art collections in search of the gory, the creepy, the visions of witches, monsters and the devil: enduring images that have fired the imaginations of artists through the centuries.
The gory
In the biblical account, Judith, a beautiful widow, enters the tent of Holofernes, an Assyrian general intending to invade her home town: he lets her because he fancies her. Judith plies Holofernes with drink, he passes out, and she beheads him. Boy meets girl, et cetera.
There are numerous works showing us the moment Judith slays her victim. In some, Holofernes is afforded a little modesty, with a cloth draped around his neck.
Other artists have been less reticent and give us a more gory spray of blood; in Johann Liss' painting of the fateful moment, we get a top-down view of the exposed neck. Judith's cool stare back at the viewer is Tarantino-esque, giving Kill Bill's Bride a run for her money.
Most of the paintings have a similar physicality; it looks like Judith is having to work hard to decapitate Holofernes. Yet Lucas Cranach the elder has an alternative take on events, showing Judith looking pleased with herself, relaxing with her sword and her severed head.
The traditional
Every Halloween, we like to surround ourselves with certain images: ghosts, ghouls, monsters, devils and witches.
Myths and legends, favoured inspiration for legions of artists, are the place to turn for monsters. In the story of Perseus and Andromeda, the Greek hero comes to rescue Andromeda from her fate at the jaws of the sea monster Cetus. Most paintings put the sea monster in its natural habitat, but Frederic Leighton shows the monster on land, curled oppressively around Andromeda.
And while we're on Greek mythology: if you go down to Kingston Lacy, you may be greeted by this particularly fearsome depiction of the monstrous Medusa, who was also fought (and killed) by Perseus.
Moving on to Christian tales, the story of the temptation of Saint Anthony has given artists licence to conjure up various ghouls. Anthony, a Christian monk, made a pilgrimage to the desert in his native Egypt, and was reported to have suffered a series of supernatural temptations during his sojourn. Lots of well-known artists have taken up the mantle of recreating these temptations, and it's particularly worth taking a look at the versions by Max Ernst and Salvador Dali.
The painting below, at first glance, looks like a typical narrative scene: and then the monsters in the bottom right hand corner catch your eye...
As far as skeletons go, there are a fair few around on Art UK, particularly from Wellcome Collection.
This collection is fantastic for Halloween exploration, as a repository of the weird and wonderful: there are paintings a-plenty of people having teeth pulled out in primitive ways, surgeons letting blood and monkeys performing alchemy.
However, the UK's efforts at skeleton art are eclipsed by the Japanese artist Utagawa Kuniyoshi, whose triptych presents the moment a 'skeleton spectre' arrives, summoned by the princess Takiyasha to defeat her father's enemies.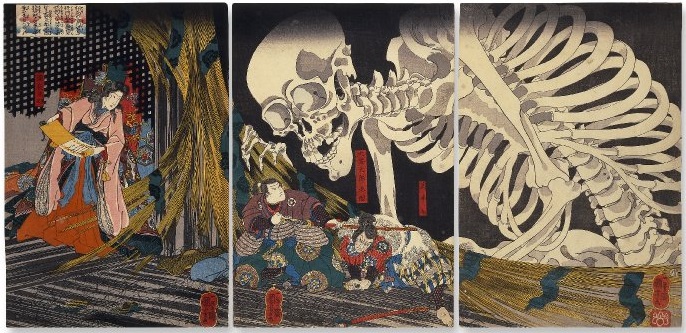 The Wellcome Collection also holds two paintings by followers of Hieronymus Bosch, the Dutch painter whose works have been widely copied. Bosch created visions of hell that are so detailed they take on the feel of a real place, rather than just an ephemeral concept. You can only imagine how terrifying they would have been to look at back in the fifteenth century.
The fantastical
William Blake's Ghost of a Flea is a classic piece of creepy art. At first glance, the title seems at odds with the painting – then you realise that this weird, golden monster is literally meant to be the ghost of a flea.
There is really no greater description of this than the display caption at Tate Britain, where the painting lives:
'John Varley – an artist, astrologer and close friend of Blake – reported... that Blake once had a spiritual vision of a ghost of a flea and that "This spirit visited his imagination in such a figure as he never anticipated in an insect." While drawing the spirit it told the artist that all fleas were inhabited by the souls of men who were "by nature bloodthirsty to excess". In the painting it holds a cup for blood-drinking and stares eagerly towards it...'
Thankfully, the painting is quite small in real life. Coming across a human-size rendering of it really would be terrifying.
The surreal
One strand of Surrealist art aimed to reveal and depict images of the subconscious. The thinking went that, during our everyday lives, our waking minds suppress the images the subconscious mind wants us to see. These subconscious images, when brought to canvas, become eerie and illogical: the dream world imposed on the cold light of day.
Dorothea Tanning's Eine Kleine Nachtmusik is immediately and powerfully dreamlike. It breaks the rules of the real world, with its weirdly large, misplaced sunflower, and the eerie, serene figures. Perhaps most concerning is that light coming through the slightly ajar door: what's behind it?
Tanning herself wrote of her piece: '...at night one imagines all sorts of happenings in the shadows of the darkness. A hotel bedroom is both intimate and unfamiliar... and this can conjure a feeling of menace and unknown forces at play. But these unknown forces are a projection of our own imaginations: our own private nightmares.'
The strangest Surrealist art, like a good psychological thriller, shows that it does not need to depict horror explicitly to spook us: the most effective fear comes directly from within ourselves.
Though perhaps the painting below would beg to differ; surely a competitor for the creepiest painting on Art UK. Titled, appropriately, Nightmare, I wouldn't recommend looking at it too close to bedtime.
Happy Halloween!
Molly Tresadern, Art UK Content Creator and Marketer