How might art hold memories of migration, diaspora and culture? How are these accessed and re-lived by those for whom they are most meaningful? In my role as Associate Curator at Culture&, I explored these questions through an innovative approach to working with Black elders living with dementia: The Memory Archives.
Caribbean Folk Music Workshops by #KeithWaithe and #SandraAgard for 'The Memory Archives' - our #DementiaFriendly #WindrushDay event with @fhalmarchives @ldnmetarchives.#Windrush #BlackHistory #DementiaCare #MusicWorkshop pic.twitter.com/PeFAsvHTyS

— Culture& (@cultureand_) July 1, 2019
Culture& is an independent arts and education charity working in partnership with arts and heritage institutions to develop programmes that promote diversity and expand audiences.
The Memory Archives first launched on Windrush Day 2019, with a dementia-friendly public programme celebrating Black cultural heritage. Held at the London Metropolitan Archives, this intergenerational event invited care home residents, along with their families and support workers, to engage with archives of significance to the city's African Caribbean community.
A programme of visual art, music, storytelling, object handling and cultural food animated the collections with a range of multi-sensory experiences. One highlight, Michael McMillan's immersive 'West Indian Front Room' (an installation evoking a typical British-Caribbean home of the 60s), transformed the venue into a warm, hospitable gathering space for personal and collective histories to be remembered, shared and celebrated.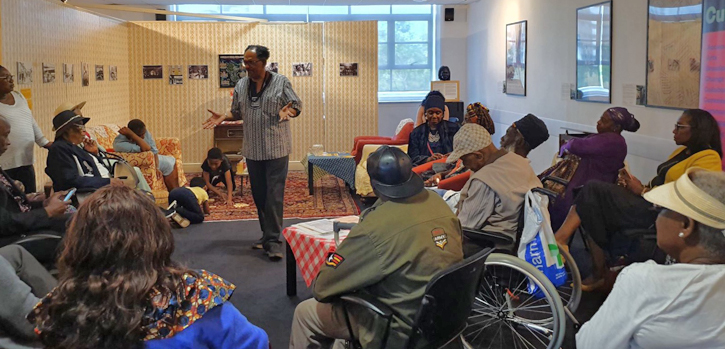 In response to COVID-19, the second Memory Archives instalment was postponed. However, whilst the pandemic raised new challenges, we believed the project also took on greater urgency. As well as a high vulnerability to the virus, elderly audiences and those living in care homes faced growing levels of social isolation.
Reconceptualising the project enabled us to provide it remotely, averting the risks of attending a public event, whilst maintaining connection at a time of increased loneliness.
At the end of 2021, we literally 'repackaged' the Memory Archives programme, posting it directly to London care homes, day centres and sheltered accommodation over the festive period. Taking the form of a 'Memory Archive Box', these creative care packages contained a range of sensory, interactive, and cultural resources, specially designed for African Caribbean elders living with dementia.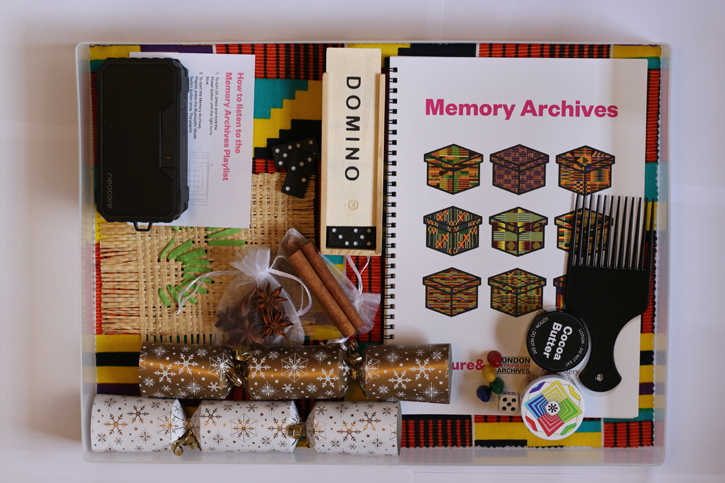 Like the original event, this new iteration was curated around art and archives celebrating the Black cultural experience in London, including materials sourced from project partners, the Guildhall Art Gallery, London Metropolitan Archives, and Art UK.
We brought these collections to life through an interactive resource booklet, a set of tactile and scented 'memory objects', a mini speaker loaded with a Memory Archives playlist, and a QR code to access further online content. In addition, we commissioned two bespoke works by contemporary artist Larry Amponsah and fashion anthropologist Ezinma Mbeledogu.
Each Memory Archives Box included:
Yonka Bia by Larry Amponsah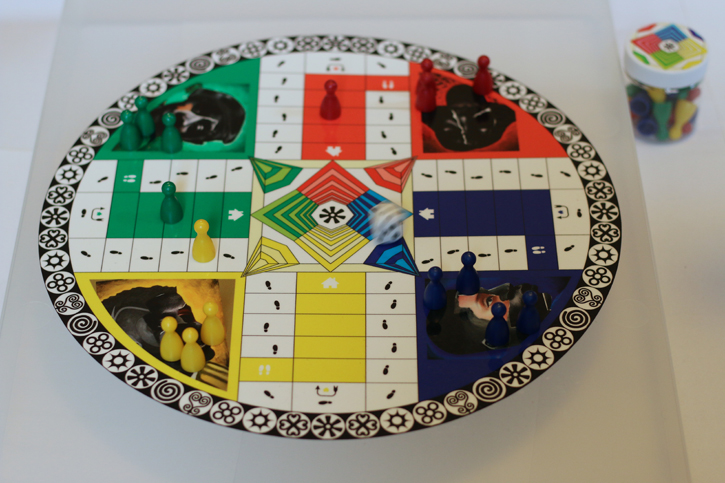 Yonka Bia is a bespoke board game by artist Larry Amponsah, embedded in the box design. Working with collage, Amponsah draws inspiration from archival images and his Ghanaian heritage to explore international Black narratives. The phrase 'Yonka Bia' means 'a place of friendship' in Asante Twi (a dialect of the Akan people of Ghana) – a fitting name to bring people together around the game board.
Raffia embroidery by Ezinma Mbeledogu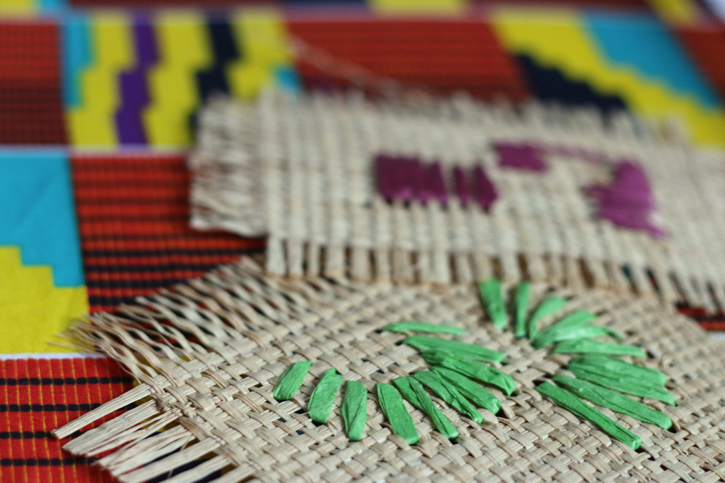 Fashion anthropologist Ezinma Mbeledogu created a series of unique, tactile raffia pieces, exploring the colours and textures of the Caribbean. These were inspired by the traditional craft, often found on 'island souvenirs' such as straw hats, fans and bags.
Kente print lining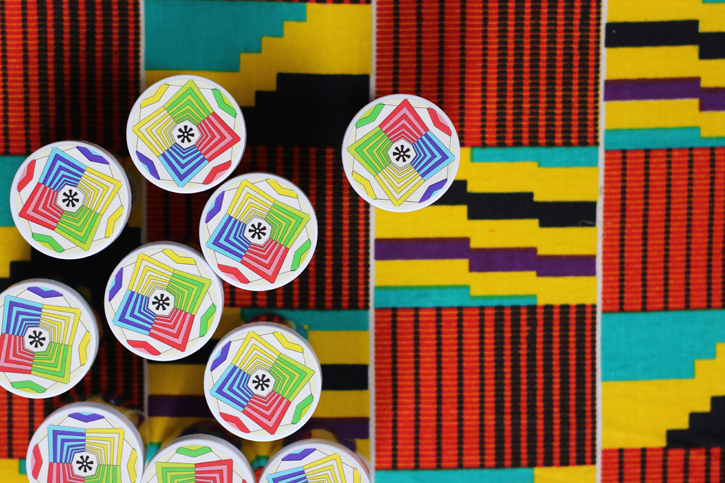 Kente is a traditional Ghanaian textile, handwoven from cotton and silk and normally worn on special occasions. The Memory Archives box was lined with printed fabric inspired by Kente patterns.
Dominoes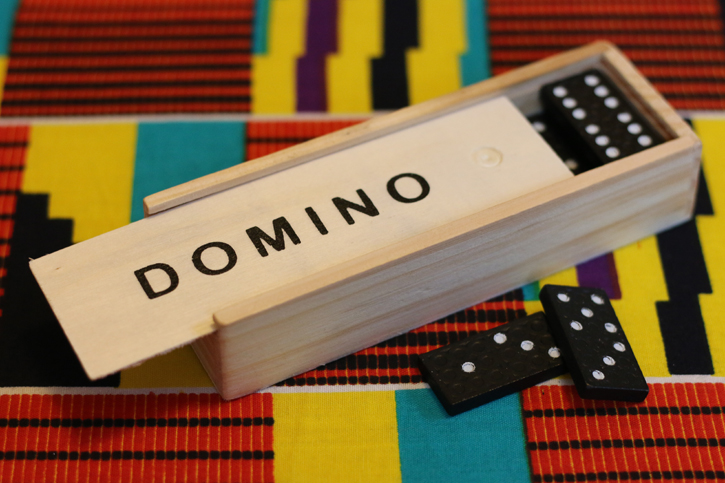 The game of dominoes is played enthusiastically across the Caribbean, with different islands adding their own variations. It is often a loud and lively social event, connecting people of all generations.
Cocoa butter and Afro comb
These 'memory objects' were accompanied by the audio track Reminiscence Session with artist Michael McMillan. In the excerpt, McMillan facilitates a group of Caribbean elders remembering how they used to dress, style their hair and which products and accessories they would wear when going out dancing.
Christmas crackers and sorrel spices (cinnamon and star anise)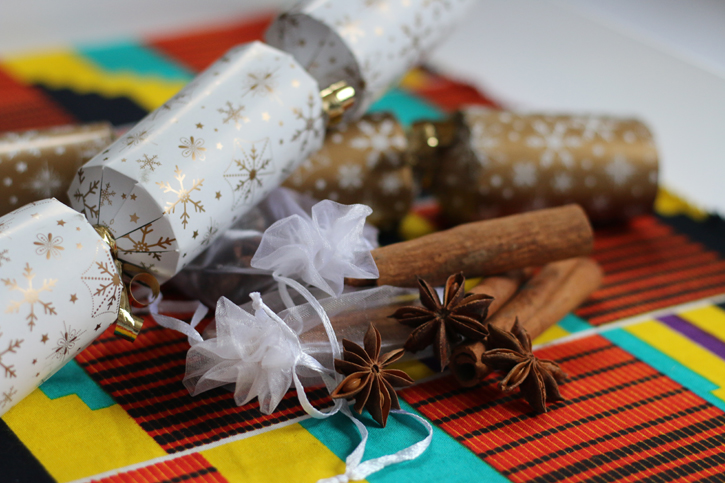 Traditionally enjoyed at Christmas, sorrel is a Caribbean drink made from the hibiscus plant, with spices used to enhance the flavour. These 'memory objects' were accompanied by the audio track Chrismus a Come, a traditional Jamaican song sung at Jonkunnu, a festivity dating back to the days of slavery.
Memory Archives booklet
An interactive resource containing archive photographs, art images, stories and reflections to explore alongside the objects, with additional online content via a QR code. Artwork highlights included:
Tower Bridge (1969) by Nigerian artist Uzo Egonu, whose unique style draws on both European and West African art traditions, capturing the exuberant spirit of London in the 1960s.
Images from Top Shelf (2018) by Ghanaian-Russian photographer Liz Johnson Artur, a series documenting Black communities in South London and described by the artist as an archive of everyday Black life.
Custard Apple (Annonaceae), Breadfruit (Moraceae), and Soursop (Annonaceae) (2021) by Montserrat-born sculptor Veronica Ryan – it is the UK's first permanent, public artwork honouring the Windrush Generation, and draws on memories of Ridley Road Market in Hackney.
Witchdoctor and Untitled (both 1983) by Grenada-born artist Denzil Forrester, whose dynamic works immortalise London's dub and reggae nightclub scene in the early 1980s.
Mini speaker pre-loaded with Memory Archives playlist
The speaker was loaded with a curated playlist designed to be enjoyed alongside the Memory Archives booklet and objects. It featured digitised sound recordings from the London Metropolitan Archives – excerpts from interviews, poems and songs – as well as music by Guyanese flautist Keith Waithe, Calypsonian Alexander D. Great, and Black classical composer Samuel Coleridge-Taylor.
There was also a QR code in the Memory Archives book that linked to this playlist curated by Cedar Lewisohn:
The playlist was originally commissioned by TACO! as part of the event All My Words Taste of Lead. You can find out more at taco.org.uk
These objects, images and sounds reveal the richness and nuance of Black cultural heritage and experiences of migration and diaspora – of the Windrush Generation and beyond. Throughout the Memory Archives booklet, stories were grounded in London locations, from Tilbury to Notting Hill, Brixton to Hackney, and reflected on themes such as Black British music, memories of work and home, Caribbean food and celebration, and Black identity and cultural dislocation.
Responding to the needs of our audience, we placed great importance on the multi-sensory experience of the boxes. Whilst Western collecting practices tend to privilege the visual, engaging all senses not only helps stimulate reminiscence for people living with dementia, but offers a more culturally inclusive approach for people of diverse backgrounds.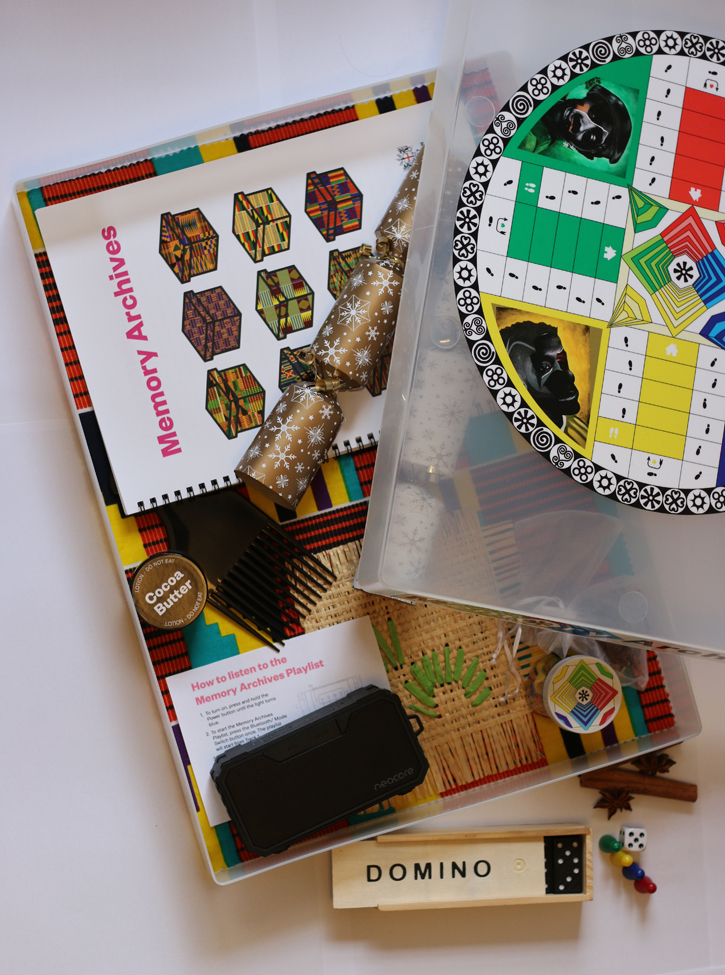 Ironically, amidst discussion of memory, there is a 'forgetting' of Black history and culture by wider British society, and it is therefore rarely acknowledged. The Memory Archives aimed both to address this lack of culturally specific provision, and to increase access to art for those often excluded from cultural spaces. At this key moment, as we rebuild from the impacts of the ongoing pandemic, the project is an example of how art collections can be harnessed as resources for supporting health, wellbeing and cultural connection.
Kirsty Kerr, Associate Curator at Culture&
Further reading
Culture& is grateful to the City of London Central Grants Programme, 'Inspiring London through Culture' for their generous support of the Memory Archives programme.