Man's bid to preserve female subservience extends well beyond any contemporary rebuffs of the #metoo movement. 'Weibermacht' was a popular theme that emerged in sixteenth-century Northern Renaissance art. It translates to 'Female Power' or 'Power of Women'.
It is characterised by images of beautiful women – from history, biblical figures or mythological women – who exert a power over men which leads to their doom. The power that they yield is of an exclusively sexual nature. Consider tales such as Judith and Holofernes or Samson and Delilah, stories where the pursuit and the trust in the respective sirens led to the demise of the foolish hero. Though now we might read these stories as the prequel to the feminist movement, Weibermacht was nothing of the sort. It was a cautionary tale. Beware the she-wolf. Fall for her seductive trap and a nasty fate awaits you.
An example of this can be seen in Lucas Cranach the elder's version of Judith beheading Holofernes. Judith is undoubtedly beautiful. Her charm and allure are captured in a knowing smile. Holofernes' head is elegantly arranged at her side with no dramatic blood geyser or scenes of violence. The calm simplicity of her action composes an image of chilling cruelty. The painter is warning men from being fooled by a pretty face. This Judith was painted in 1530, but the almond-shaped eyes and pale glowing skin had already been established as Cranach's trademark generic female.
Visitors to Compton Verney's latest exhibition, 'Cranach: Artist & Innovator', which opened just before the lockdown forced it to close again, will see her familiar face repeated over and again, especially in his nudes, such as Cupid complaining to Venus, where an idealised version of a woman is painted. In this image, the Weibermacht is particularly blunt. Cupid looks up to Venus in despair as bees sting his face. In his hand, a honeycomb he has greedily bitten into without considering the consequences. Venus, nude but for a necklace and large brimmed hat, is coquettishly inviting the viewer's gaze to her naked flesh. Her body arranged to invite admiration. In the right corner the inscription reads:
'Thus, the brief and passing pleasure which we seek is mixed with sorrow and pain and does us harm. You have been warned.'
Born in Kranoch in 1472, he changed his name from Maler when he moved to Wittenberg. Cranach's father, Hans Maler, most likely taught him to paint. ('Maler' means painter, so denoted his profession.) Cranach grew to be a very versatile artist, and indeed a skilled businessman. He was the court painter to Frederick the Wise, the Elector of Saxony, and the following two Electors, keeping his position for over 50 years. He was a skilled engraver, printmaker and portraitist, and he established various businesses such as a publishing house, a bookshop, a wine shop and an apothecary. He even served as Mayor of Wittenberg for three terms.
Cranach is celebrated for his artistic contributions – however, he was also heralded as the propagator of the then-new Protestant faith. For his services, the Protestant calendar celebrates Cranach Day on 6th April. He was a very close family friend of Martin Luther and shared his views on Christianity and the role of the church. The large volume of painted portraits and prints that Cranach produced of Luther helped disperse his image, fashioning the Reformer into a celebrity. It was Cranach who helped translate the new faith into images and illustrated the new Bible as adapted by Luther. He also created a series of pamphlets that visualised the corruption of the Bible's teachings by the Pope.
Cranach was influenced by the art of the High Renaissance, though the Reformation of the Church (and therefore its art) presenting him with an opportunity to diverge from the style of southern Europe. And so, as Michelangelo was painting the Sistine Chapel (1508–1512) and Leonardo da Vinci was painting the Mona Lisa's smile (1503) and The Last Supper (1505), Cranach concerned himself with rejecting this lexicon, instead establishing a new visual language that turned away from corporal delights and excesses of the Catholic Popes. Indeed, at first the Lutheran Church limited the role of art in churches altogether, allowing for secular images to be displayed only at home. Cranach developed a very stylised and distinctly northern European art, with slender silhouettes, dark grounds, and mythical subject matter as opposed to biblical.
It seems odd, therefore, that in such a pious environment, Cranach would become the artist to produce more nudes than any other established northern European artist of the time, or that Martin Luther would tolerate such sexually overt imagery, especially when considering their popularity. Even to contemporary eyes, Cranach's nudes verge on pornographic.
For their 2008 exhibition on Cranach, the Royal Academy of Arts in London chose one of the nudes as a lead image to advertise the show. The poster was banned from use on the London Underground for contravening advertising guidelines on nudity. Likewise, Compton Verney has shied away from using a nude image in their advertising, though it would undoubtedly attract more visitor attention.
There seems to be an underlying note of hypocrisy that allowed for the swapping of saints for images of Reformation leaders in altarpieces, as was encouraged by the Protestants, but how did Cranach get away with so much nakedness?
It would seem that Cranach was hiding behind Weibermacht. His women, full of titillation as they were, held a moral message, warning the viewers of the dangers of sexual gratification. The message made it possible to overlook the means.
What's more, their slender bodies, arranged to be best displayed to the viewer, had little of the Renaissance concern of realism in them. The limbs are disproportionate, and the figure is more akin to the styling of medieval art, where the heads are large, and shoulders narrow and childlike. The grounds are dark offering a strong contrast to the pallid skin that beams on the canvas like a marble sculpture, further objectifying the subject of the painting. This departure from the type of art the Roman Catholic artists were producing would have softened the blow.
Cranach's Venus and Cupid was a big success. So much so that he painted 27 versions of it of varying quality. As was common at the time, Cranach ran a large workshop in order to supply all that was demanded of him. He worked for both Protestant and Catholic patrons and tried to produce as much print material as possible to emulate Albrecht Dürer's success in spreading his name throughout Europe with the ease of mechanical reproduction. Alas, he was not successful in doing so in his lifetime and after his death in 1553 at the age of 81, though his son would continue successfully running the workshop, Cranach waned in popularity and risked becoming a forgotten artist.
The nineteenth century sparked a renewed interest in the artist's work. His art, especially his nudes, started appearing in exhibitions and being cited as a source of inspiration for artists. His feline forms seemed to be an antithesis to the voluptuous Rubensesque curves of the Old Masters. The escalation of interest continued and soon he would even appear in popular culture. If Cranach's Adam and Eve painting looks familiar, it is perhaps because it was used in the opening credits of the television show Desperate Housewives.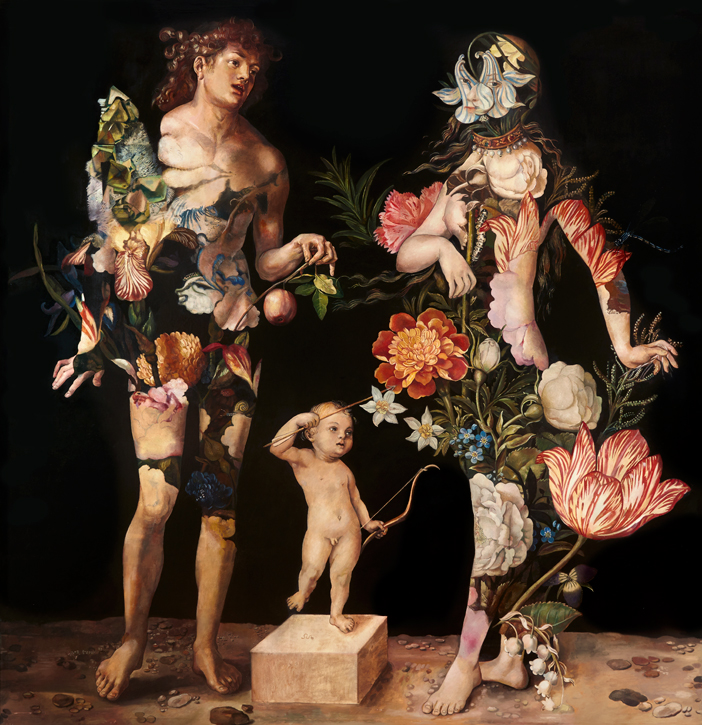 The last room at the Compton Verney exhibition is dedicated to the contemporary artists who have drawn on the language developed by Cranach in their own works. Artists such as Wolfe von Lenkiewicz, Michael Landy, John Currin and Raqib Shaw all turned to Cranach to explore not just his distinctive visual stylings, but also the attitudes that his images have generated and how they fit into contemporary thought.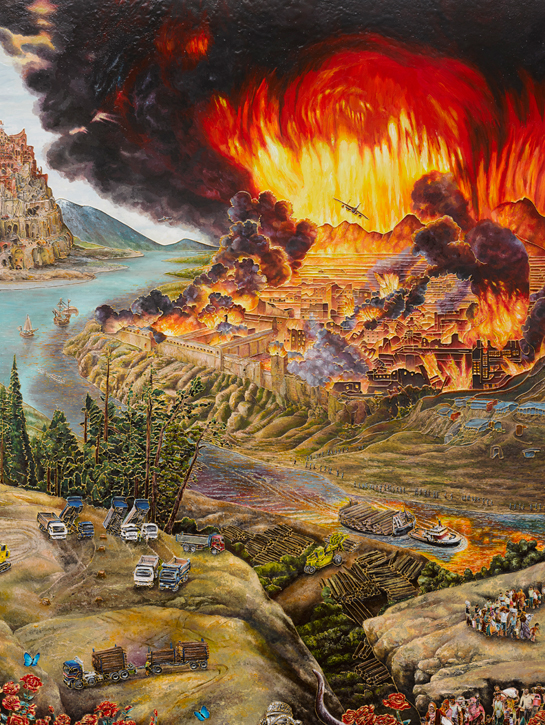 Claire Partington, an artist who uses ceramic figures to explore themes of feminism and power, is particularly erudite in subverting the Cranach nude.
'The isolated nude female figures in Cranach's allegorical paintings are very sculptural' says Partington, who I contacted after the exhibition opening.
'The first Cranach inspired figure I made was Lilith in 2017 which was based on Cranach's various paintings of Lucretia committing suicide (after rape) with a dagger held seductively to her chest. This whole story and Cranach's seductive hairless model really don't sit well with me and I wanted to make a figure that was my incredulous response to this very confusing image – and I wanted to make a defiant and aggressive character.'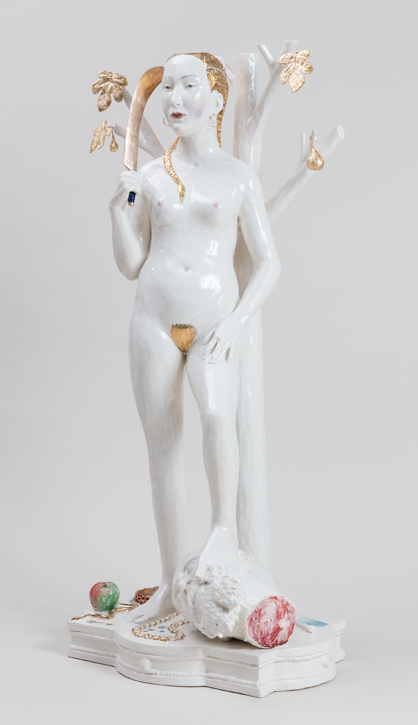 By updating the accessories and body language, her female forms are transformed. No longer submissive and naive, the women are in control and, most importantly, have personality. Though objects, they are no longer objectified. Their moral standings have shifted. The Weibermacht is no longer a warning but a new reality. Women are not a symbol of a man's imminent demise but hold a power in their own right.
Maya Binkin, founder of The Art Pilgrim
'Cranach: Artist & Innovator' reopens at Compton Verney on 7th July 2020 and has been extended until 2021.