As 12th May 2020 marks Florence Nightingale's 200th birthday, we celebrate the legacy of the Crimean War nurse who is often credited as the founder of modern nursing.
Nightingale would rarely sit or pose for artists and photographers, therefore a visual trope of her has persisted in artistic representations: one often showing a woman in long skirts, jacket and a lace cap holding a lamp or light. But who was this 'Lady with the Lamp'?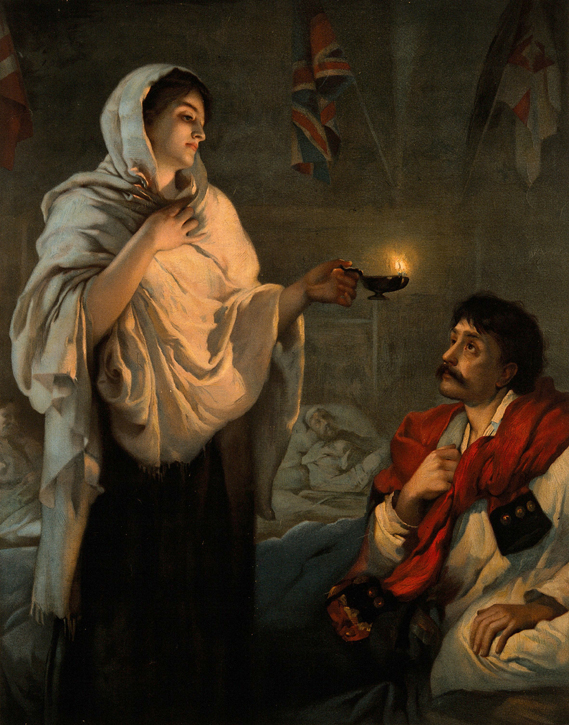 Born in 1820 in Florence, Italy, Nightingale had a privileged childhood, growing up in a liberally minded family and receiving a 'gentleman's education', which was unusual for the time.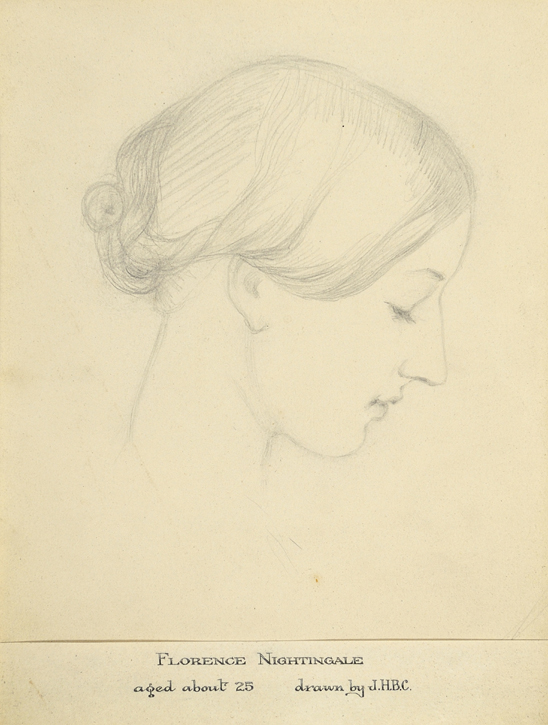 This portrait of Florence and her sister Parthenope was likely commissioned as part of Parthenope's presentation at Court. It's a curious image as Florence is portrayed sitting with needlework while Parthenope holds a book when, in fact, Florence was the avid book-reader, earning the nickname 'Book Worm' by her sister. Nightingale would reflect upon her upbringing as the 'tyranny of the drawing room' suggesting an expectation to take part in frivolous and domestic pursuits rather than on having a career and self-determination.
At age 16, Nightingale recounts experiencing a 'call to service' from God and would later identify nursing as the most appropriate means to fulfil this calling. She faced great backlash from her family as nursing was seen, at best, on par with servitude and, at worst, as prostitution. To add to her family's despair, she would reject at least four marriage proposals as marriage would complicate her ability to follow her calling. Sir Harry Verney was one of the suitors whom she rejected but would introduce to her sister – he married Parthenope Nightingale a year later.
After many years of persistence, Nightingale would eventually achieve her ambition to work professionally in nursing, and a year after securing a role in Harley Street she was contacted by a friend and Secretary for the State of War, Sidney Herbert, to lead a government-sponsored group of nurses to the Crimean War in 1854.
Nightingale arrived in the Crimea, at the Scutari Barracks Hospital in 1854 and it became instantly clear that the conditions of the hospital were appalling due to poor sewage, poor nutrition, limited supplies and no hygiene. Many of the soldiers and medical staff were dying from infections and preventable causes rather than from battle wounds.
Throughout her time at Scutari, Nightingale would also fight a more personal battle as she encountered doctors and other support staff who refused to work with her. There were deliberate attempts to ignore or undermine her with some staff referring to her scornfully as 'the Bird', and Dr Hall, Inspector General of Hospitals, referring to her as a 'petticoat imperieuse'. She would press on determinedly and succeed in making necessary reforms.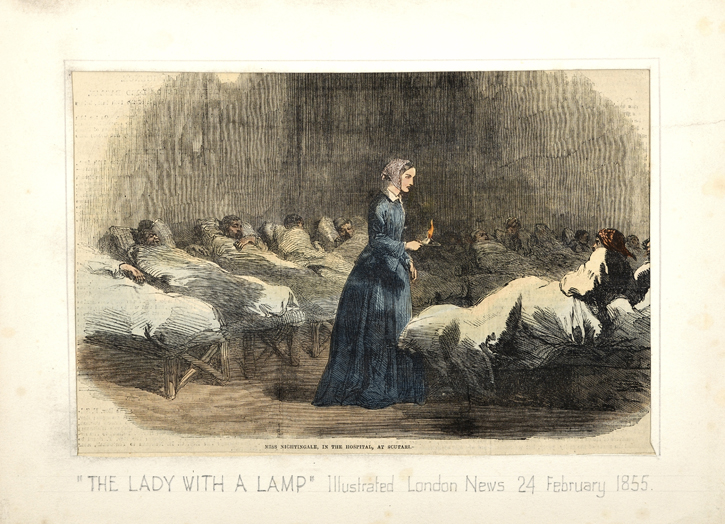 Her time at Scutari is where Nightingale's 'Lady of the Lamp' legend takes hold. We can attribute this to the first artistic representation of her with a lamp that appeared in The Illustrated London News in 1855. Depicting her checking on soldiers at night by lamplight, this romantic image became a metaphor for the ideal of Christian womanhood and resonated with the public. Journalism was changing with articles being sent by wire and artists being sent to the battlefields to create quick sketches that were transferred to woodblocks and published, providing visuals for the public.
Soldier accounts of Nightingale's night shifts not only detail her footsteps and lamplight bringing great comfort 'like a guardian angel' but also indicate a move towards a more compassionate style of nursing care. It's therefore unsurprising that Nightingale returned to the UK in 1856 as a heroine. She abhorred the idea of being 'famous', travelling back under the pseudonym 'Miss Smith'.
Interestingly, Nightingale's famous lamp is misrepresented in virtually every painting, sculpture and monument. She's always portrayed with a candle, torch or genie lamp rather than a Turkish fanoos lantern.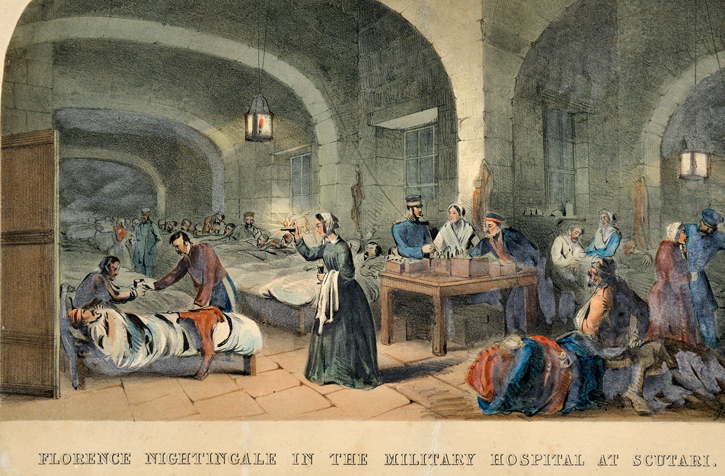 On return, Nightingale used data collected during the war to create reports and infographics to pictorially represent the number of preventable deaths and highlight a pressing and serious need for healthcare reform both within the military as well as in workhouses and hospitals. Her statistical work would lead to her becoming the first woman admitted to the Royal Statistical Society. She published books providing advice and guidance on hospital architectural reform and on providing home health care, stressing the importance of a peaceful environment and the inclusion of hand-washing and hygiene, clean air and water, light, space and quality nutrition.
She set up the Nightingale School of Nursing in 1860 at St Thomas' Hospital in London as a means to professionally and practically train women in nursing, thus enabling women to seek respectable work outside the home. Women from around the world would attend the school and return to their home countries to set up schools of their own, thus catalysing a global change to the nursing profession.
Nightingale returned from the war with 'Crimean Fever', which is thought to be brucellosis. Producing symptoms similar to Chronic Fatigue Syndrome, including muscle and joint pain, the majority of Nightingale's most important and lasting work would be conducted at home and often from bed, her condition and mobility getting progressively worse as she aged.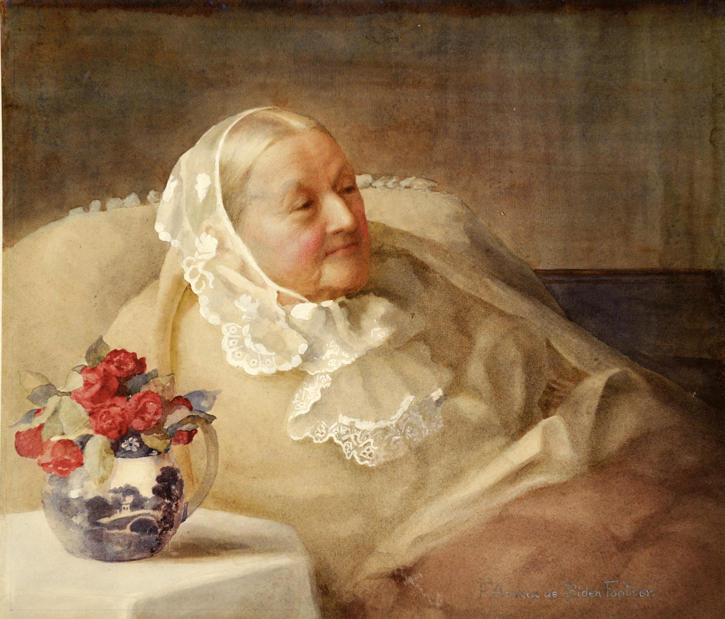 Nightingale lived to 90, dying at her home in South Street in London in 1910. Her housebound nature partly added to the perception of her being an unconventional or eccentric character but whilst strict and matronly at times, Nightingale was also a warm, humorous and generous person, donating money to those in need, signing some of her 14,000 letters as 'Old Flo' and holding a life-long love of animals.
Her legacy in founding the modern nursing profession, pioneering sweeping reforms to healthcare and employing an evidence-based practice approach – whilst battling chronic ill health and societal expectations around her gender – has led to her becoming the female and nursing icon she is today.
The exhibition 'Nightingale in 200 Objects, People and Places: Leader, Icon, Pioneer' is hosted both on-site as well as online from 5th March 2020 to 5th March 2021. The Florence Nightingale Museum, as a small independent charity, faces great challenges ahead. Please help us continue to share the life and legacy of Nightingale and celebrate the history of our nurses by donating to our Go Fund Me campaign.
Thank you for your support.
Melissa Chatton, Assistant Director for Learning and Community Engagement at the Florence Nightingale Museum