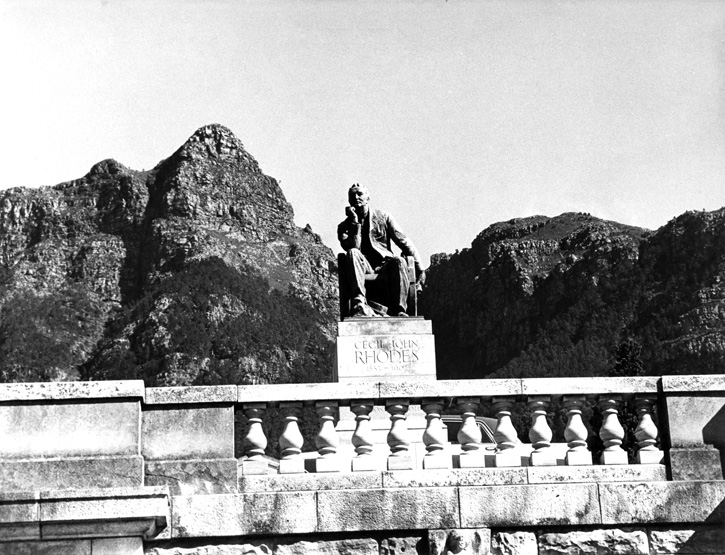 At the end of March 2015, a furore erupted around the statue of Cecil John Rhodes (1853–1902) that has been a landmark at the University of Cape Town (UCT). This is not the first time that the legacy of Rhodes, the British mining magnate, financier and politician whose particular vision of Empire shaped Southern Africa, has been questioned. The #RhodesMustFall campaign called for the removal of the work as a gesture of wider transformation on campus. This soon spread to other campuses and escalated into a cross-country discussion about tangible change in South Africa. Annwen Bates writes in her personal capacity about these recent events at her undergraduate alma mater.
From 1934 to 2015, Rhodes had sat on his pedestal.
In pose, this great hulk of man, the figure of visionary Empire, resembled Rodin's The Thinker. For close on 53 years, he leaned in contemplation over the Southern Suburbs, Cape Flats and towards the Helderberg mountains on the horizon (i). On either side of this vista extends the coastline.
Goodman Gwasira remarks on the statue's location, 'The spatial setting of the statue, with Table Mountain stretching behind it can be read as symbolising Rhodes' dreams. The breadth of the mountain inspired Rhodes' aim of broadening his empire.' A plaque below captioned Rhodes's ambition, 'I DREAM A DREAM / BY ROCK AND HEATH AND PINE / OF EMPIRE NORTHWARDS / AY ONE LAND / FROM THE LION'S HEAD TO THE LINE'.
Today's youngsters at UCT did not buy this vision of Empire. Not a jot. 'There is no collective history here. Where are our heroes and ancestors?' declared activist and political science student Chumani Maxwele (ii), who led the protest and flung excrement, allegedly human, at the statue.
The new voices came with buckets of discontent, marches, sit-ins and the power of social media. They set down the terms of their protest: #RhodesMustFall, #RhodesMustGo.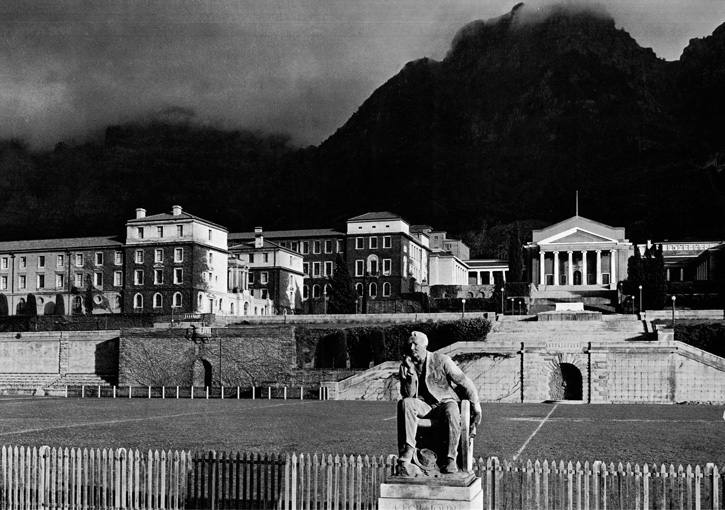 The statue, unveiled in 1934, was commissioned by then-Governor General, the Earl of Clarendon and paid for by the Rhodes National South African Memorial Committee. The sculptor, Marion Walgate, was a British artist who exhibited at the Royal Academy at least three times between 1913 and 1932. She was also an accomplished medallist. Another example of her contribution to South African visual material culture was a five-shilling piece minted in 1952: the obverse carried her design of Jan van Riebeeck's three-master sailing into Table Bay (iii). Her husband, Charles Percival Walgate, was also British-born and an architect who worked as Sir Herbert Baker's assistant.
Sir Herbert Baker's designs for buildings of colonial administration, which drew on the colonnades and symmetry of antiquity, are still to be found across South Africa and in Delhi. Examples of his work on view in London include South Africa House (The South African High Commission) on Trafalgar Square and the Bank of England's current facade, which was part of the revision he undertook of Sir John Soane's design. Rhodes commissioned Baker for a number of projects, including the re-design of his Cape Town residence, Groote Schuur (which is now one of the South African president's official residences).
Since 1934, Walgate's Rhodes statue has been erected at various locations on UCT's main campus. It was only in 1996 that it was positioned at the thoroughfare intersection passed daily by students walking from Jameson Plaza to Grotto Road. In original architectural drawings by Joseph Michael Solomon, this point serves as the campus axis. Gwasira proposes that setting the Rhodes statue here, 'emphasise[d] the role that Rhodes played in the establishment of the Institution'.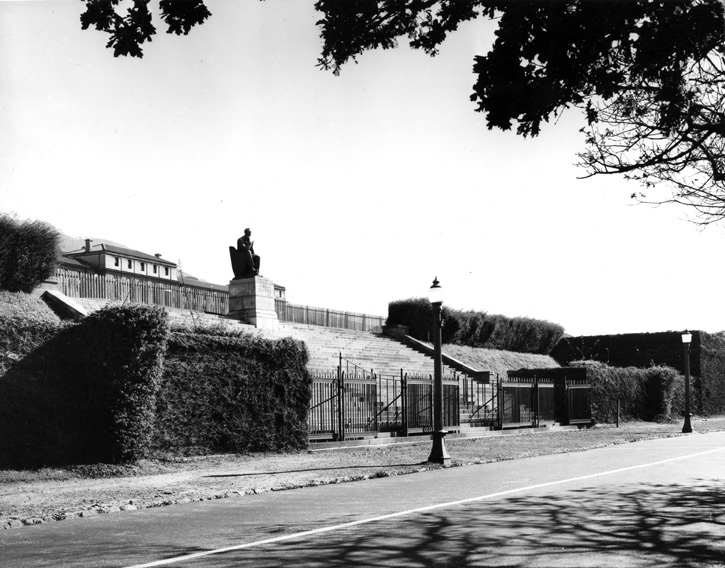 It is worth noting that campus architect Solomon's early career was in Sir Herbert Baker's firm, Herbert & Masey. After Solomon's suicide, Charles Percival Walgate oversaw the building of the new campus on the land provided by Rhodes. These connections between Rhodes, Baker, the Walgates and Solomon underscore the stronghold a notably British-Imperialist visual legacy held over architecture, public space and the representation of patriotic identity in South Africa at the end of the nineteenth and in the first part of the twentieth century. In some quarters, this visual legacy still resonates even in the post-Apartheid democracy of twenty-first century South Africa.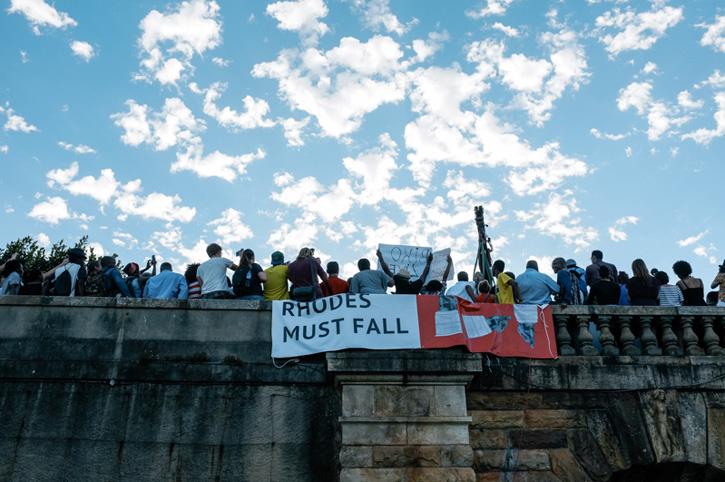 Some quarters suggested that the #RhodesMustGo/#RhodesMustFall call displayed ignorance. However, the students' views reflected an informed understanding of politics and public heritage, as these quotations indicate:
'This movement is not just about a statue. It's not just about a university. It's not just about a curriculum. It's not just about land. It's about reclaiming black history as well.'
'You are African. White, black, Coloured, Indian… If you are a white South African and you can think you can isolate yourself from being African, and that statue doesn't bother you, you need to think twice. Because the future is moving a lot faster than your consciousness.'
It was not only students who voiced critique in the wake of #RhodesMustFall. Professor Zine Magubane, who is based in the Sociology Department of Boston College, Massachusetts and at UCT as a Visiting Professor in the Van Zyl Slabbert Chair, commented in an interview for UCT's Humanities Department newsletter:
'Take the issue of Rhodes' legacy, for example, we are still having discussions where he is called a "humanitarian" or an "entrepreneur"! This, about a person who said that he "preferred land to niggers"! To enter into scholarly dialogue means having not only to engage with things that insult you and your history in very profound ways but also to have to write through and against them. This is not easy.'
It is such that the statues must fall when the regimes change. These recent events are not particular to the Rhodes statue. After 1989, many of the great men of communism were removed from their pedestals in the former Soviet states. There is also the misremembered and misrepresented toppling of the Suddam Hussein statue in Baghdad's Firdos Square on 9th April 2003.
While it is not right to venerate men who oppress others, it is such figures that make up much of history.
Fikile-Ntsikelelo Moya, journalist and editor of the Mercury newspaper, explored Rhodes' contested legacy in his opinion piece, 'How should we remember him?' and concludes, 'We may not rewrite history, but we can choose how we remember the historical figures.'
On the 9th of April, after consultation with the Heritage Western Cape (HWC) the statue of Cecil John Rhodes was removed from its plinth and transported to an unknown location for safekeeping.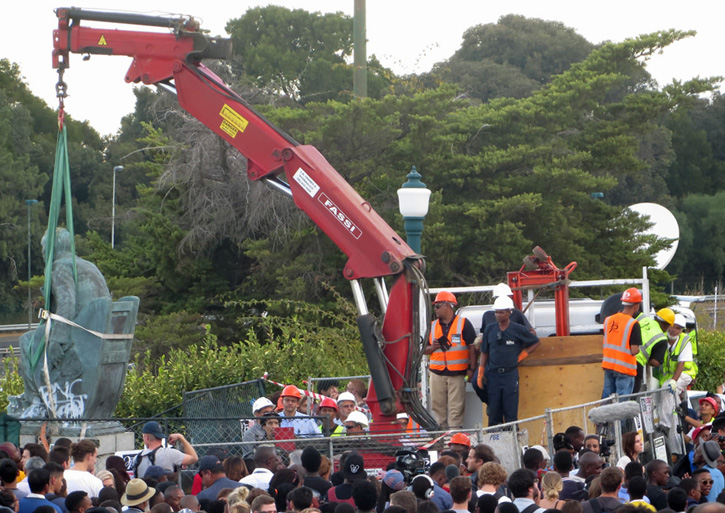 An application to HWC for permanent removal of the statue is in process. In the report, independent heritage practitioner, Ashley Lillie, will review the statue's history, context and heritage significance and consider alternatives for the work. There is still an open call for public comments and an assessment of this consultation will be included.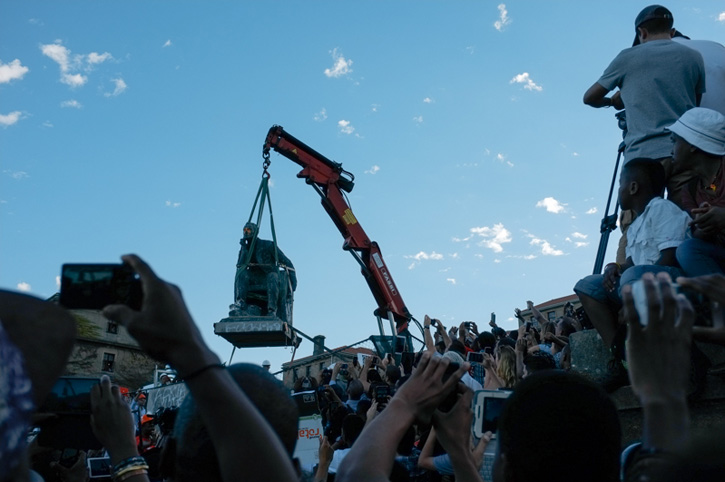 Some of these comments may include those who work at UCT who have also experienced the statue within socio-historical and institutional hegemonies.
The evening after the first day of protest, UCT law student Nik Fitzhenry photographed two men employed to clean the sewage that had been dumped on the statue. With this photograph, Fitzhenry intended 'to remind us of the complex nature of demonstration and the many people involved in and affected by actions taken in the name of activism. These two men are as much a part of the demonstration as the other actors.'
UCT employee Peter Buckton began his career as a cleaner, then progressed to laboratory attendant and is now a sports coordinator. Against the backdrop of the 'white' UCT of the 1970s and 1980s, Buckton studied for a history degree with the support of the then-Dean of Science. After Rhodes fell, Buckton described what it was like not to have to pass the statue for the first time in 44 years, '[I]t it was a good feeling. It prickles the brain when you go past there, especially if you are informed about history and what he stood for. It's like he's talking to you: "Hey, I've got you, I'm watching you!"'
Now that Rhodes no longer watches land or people, what might be the future for the empty pedestal? In a forum held at UCT's Michaelis School of Fine Art first-year students offered their suggestions. Associate Professor Fritha Langerman recounts, 'One idea was that the plinth should become a viewing platform where staff and students would be able to command the view for themselves, symbolically gesturing to their own futures. Another suggestion was that the sculpture be melted down and used to cast a plaque commemorating this "moment of rupture".'
Rhodes may now be absent from the campus intersection, but Sir Herbert Baker's monolith memorial still broods on the mountain above UCT. It is also possible to visit the cottage in Muizenberg where Rhodes passed away of tuberculosis at 49, and his remains are still in the Matopos Hills in Zimbabwe. These monuments would be more difficult to dismantle. While Southern Africans continue to scrutinize the histories moulded and memorialised around them, the now vacant podium at UCT offers a transitory site to contemplate the possibilities of the future. Hopefully, this future of real structural redress will move a lot faster than today's dreams and consciousness.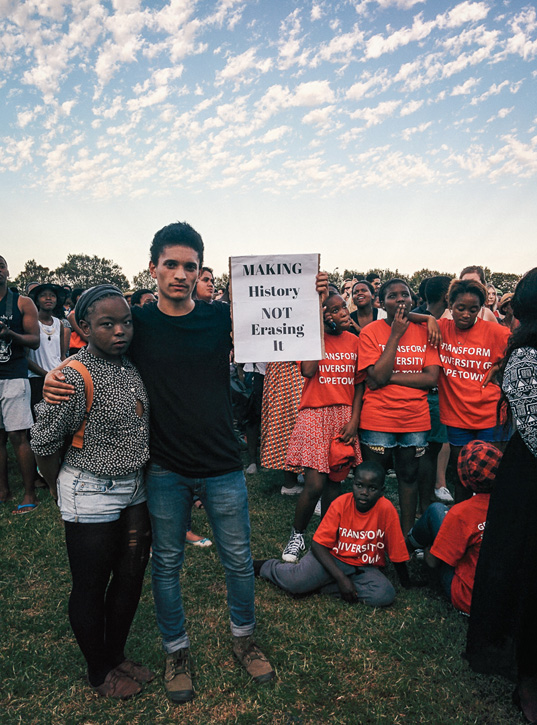 Annwen Bates, Art UK Development and Communications Officer
(i) An explanation about the areas mentioned:
Southern Suburbs: The leafy, once 'white', English-speaking suburbs of Cape Town, including Rondebosch and Rosebank, where much of UCT's campus is located. Olive Schreiner, Lady Anne Barnard, Rhodes and even Rudyard Kipling lived and socialised in these Cape Town suburbs.
Cape Flats: The inhospitable, sandy flatlands to which evicted residents of District Six were sent. The Cape Flats is often, though unfairly, associated with gangs, poverty and social problems.
The Helderberg Mountains: This mountain range heralds the Afrikaans-speaking areas beyond the Southern Suburbs. The area is known for its wine.
(ii) Maxwele has made headlines before. After accused of 'giving the middle finger' to President Jacob Zuma's motorcade, he was beaten by police. Maxwele filed against the Police Minister for wrongful arrest and received an apology.
(iii) In Eurocentric histories of South Africa, Jan van Riebeeck is credited with the 'founding' of the nation in 1652 when he arrived with other representatives of the VOC (Vereenigde Oost-Indische Compagnie) to found a refreshment station.
Further reading
Peter Cheremushkin, 'When monuments fall: the politics of toppling political sculpture', The Unknown War, 2012
Jade Davenport, 'Rhodes Memorial Debate', Mining Weekly, 2014
Nik Fitzhenry, 'Why I photographed these two cleaners at the foot of UCT's Rhodes statue', The Daily Vox, 2015
Goodman Gwasira, 'Reading Between the Lines: Monuments as Metaphors', Southern African Field Archaeology, 2001
Jeremy Harding, 'Rhodes Must Fall', LRB, 2015
Rebecca Hodes, '"The Rhodes statue must fall": UCT's radical rebirth', The Daily Maverick, 2015
Fritha Langerma, 'New articulation for the site', Monday Monthly, 2015
Peter Maass, 'The Toppling: How the media inflated a minor moment in a long war', The New Yorker, 2011