Sidney Herbert Sime is a mysterious figure. The mercurial artist risked a childhood death in a Yorkshire coal pit, spent adulthood among the aristocracy and went on to be described as 'the greatest imaginative artist since Blake'.
Mary Broughton, Trustee of Worplesdon Hall (which includes the Sidney H. Sime Memorial Gallery), joins me in Sime fandom. I caught up with Mary as she was preparing to take a selection of Sime's work away from their 60-year home in Worplesdon to The Lightbox in Woking for a new exhibition, 'The Art of Sidney Sime: Artist and Philosopher'.
Sime had some pretty gruelling experiences in his formative years: as Mary Broughton put it, 'his story reads like a Victorian novel'. The 1860 Coal Mines Regulation Act raised the age limit for employing boys from 10 to 12. Yet this was hard to enforce, and it's possible in 1875, when Sime was only 10, he was at work down in the Yorkshire pits. Once, the boy was trapped in a collapsed pit with only a vacuum of air keeping him from death. Darkness is a predominant element in his painting – often there are cloudy skies with shafts of light beaming through. The imps he reputedly sketched on the pit walls may have kept him company.
Following a period as a signwriter, Sime entered the Liverpool School of Art for his formal training, winning prizes. He soon left for London to find his feet as an illustrator. Yet 'he always hankered after being... an artist, more than just an illustrator'. After Sime received a generous inheritance he lived in Scotland, where at last he could pursue painting while mixing with well-known figures in the arts, such as Baron Howard de Walden and Edward Plunkett, 18th Baron of Dunsany, who certainly saw something in Sime and championed his work.
Another champion of his work was Sime's wife Mary, who bequeathed his work to Worplesdon Memorial Hall in 1949, 'determined that his name should be kept alive'. This was a hard task for Mary Sime: her husband in later life became eccentric and near-reclusive. He lived the remainder of his quiet life drawing caricatures of Worplesdon locals, and was buried with a modest marker in the village graveyard.
Sime's reclusive nature led Mary Broughton to worry what he would think of the new exhibition: 'I think he hated exhibitions... I suspect he could be turning in his grave'. Sime communicated through his work. In preparation for the exhibition, Mary found quite a few references to Sime as a philosopher: 'I think my personal conclusion is that he was extremely interested in philosophy and that's how he expressed it, in his paintings... a lot of them are untitled. He definitely wanted you, as the viewer, to look and absorb and decide what you thought he was trying to express.'
With his modest upbringing, he was not a scholar, but he was scholarly – Sime reportedly read 10 books a week – and those around him were fond of him and recognised his intelligence. Sime was one of the first people to dine at 8th Baron Howard de Walden's Chirk Castle, with renowned actors, singers, poets, artists and writers, such as H. G. Wells. Lady Dunsany said on Sime, 'his conversation is that of a scholar and philosopher. His interest and knowledge vast and varied'.
And the artist is still being noticed by influential people: Marilyn Scott, Director of The Lightbox gallery – was 'taken by surprise' when visiting the Sidney H. Sime Memorial Gallery in 2013. Once introduced, Marilyn went on 'a journey of discovery', finding Sime 'completely fascinating'. Moved by Mary Sime's dedication, Marilyn decided Sime must be introduced to a larger audience, and just two years after his 150th birthday, The Lightbox has succeeded in this aim. (Sime's was birth date recently confirmed as 1865, not 1867 as recently thought – had his early years continued to be obscure, the timing would be perfect!)
But the exhibition has been put together at the right time, Mary considered: fantasy is strong in the public imagination, with the creations of J. K. Rowling and Tolkien becoming so popular in the cultural consciousness. Glasgow University even launched an MA in Fantasy Literature in 2015. Also, some of Sime's works have been restored and prepared for display, including his Bogey Beasts work, sketchbooks and drawings by MA Conservation students Victoria Haddock and Rebecca D'Ambrosio.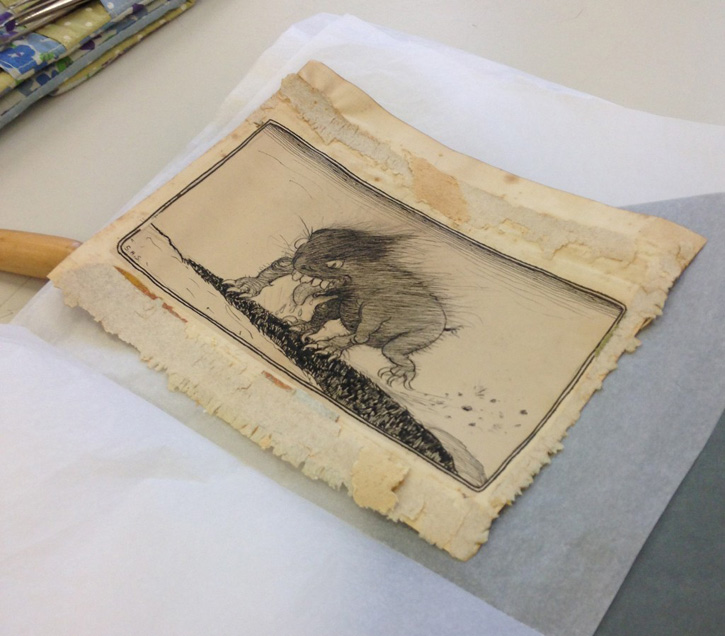 Mary remarked it was brilliant to see the enthusiasm Victoria and Rebecca had for Sime's work. The students described their visits to the Worplesdon gallery as like 'uncovering a treasure that had been hidden for years' and were bowled over by Sime's unique oeuvre. Victoria explained: 'What I liked most about Sime is that he was so surprising and talented – you could look at his landscapes and his illustrations and never know they were by the same person.'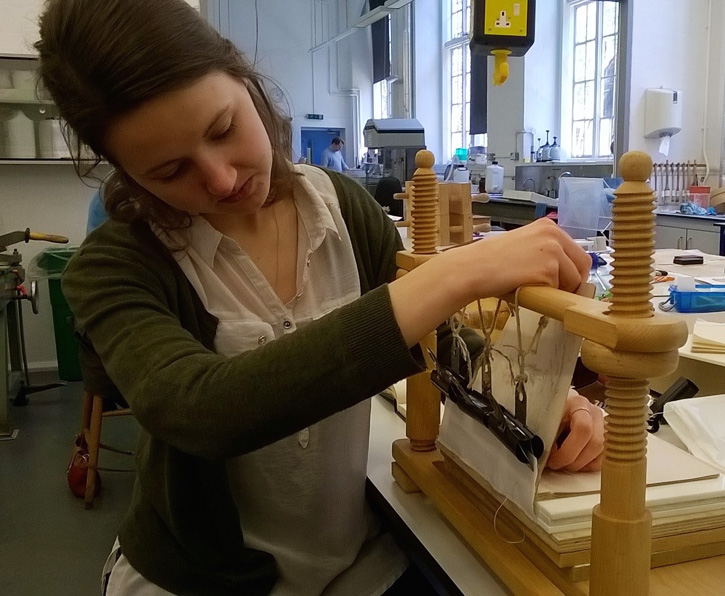 Deciding which pieces from the vast selection to bring was the most difficult challenge, agreed Mary: fans of fantasy will enjoy his large-scale oils, but those local to the area will enjoy the drawings of Worplesdon characters. Hopefully the show will introduce Sime to a fresh audience, or encourage those who like his work to visit the permanent gallery.
The exhibition is mainly a brilliant opportunity to see the works in a new light. For Mary, what has been most surprising is reaching out to three influential descendants of those close to Sime and finding them so knowledgeable and enthusiastic: the grandson of 8th Baron Howard de Walden and the current Lady Dunsany are fascinated by their ancestors' relationship with Sime. Others' involvement also introduces a cross-discipline approach: the grandson of Josef Holbrooke – Sime's friend under the patronage of the de Waldens – has been able to see recorded the Bogey Beasts music that Holbrook wrote. Mary explains, these descendants being 'absolutely thrilled' about the exhibition 'makes it so worthwhile'.
And Mary's favourite piece in the exhibition? A 1903 pen and ink drawing of Old King Cole. 'I think it's the humour' which is admittedly, slightly cynical but 'the detail is so fantastic, and now we've had it all reframed it just looks so lovely.' I'll be looking out for that one on display at The Lightbox. The exhibition is sure to breathe fresh air into the rich and somewhat overlooked collection.
Jade King, Art UK Head of Editorial
'The Art of Sidney Sime: Artist and Philosopher' was on display at The Lightbox, Woking, from 15th April to 28th May 2017.
The Trustees of the Sime Gallery are indebted to Ewbank's Auctioneers who have sponsored the Exhibition, to the Director and staff at The Lightbox gallery, Woking and to the many donors and grant bodies who have assisted in funding the restoration and conservation of all the pictures exhibited. The Trustees also thank art restorers, Tim Dolby, Hazel Neill and Julian Spencer-Smith; as well as the wonderful students from Camberwell College of Art, Victoria Haddock and Rebecca D'Ambrosio whose enthusiasm and talent saw them achieve well-deserved credit for the works undertaken, kindly supported by a generous grant from NADFAS.