As part of the exhibition 'Barbara Hepworth: Art & Life', staged to celebrate the Hepworth Wakefield's 10th anniversary, the sculptor Veronica Ryan was invited to create a new work inspired by Hepworth's practice.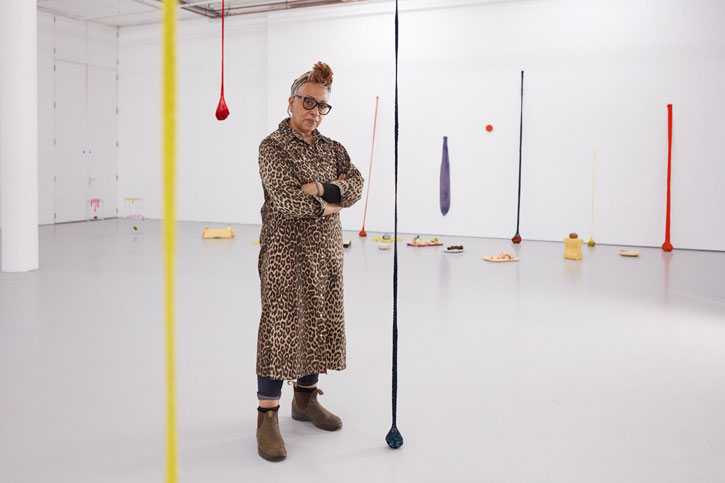 Her interest in Hepworth is longstanding: she was artist-in-residence at Tate St Ives from 1998–2000, working directly in Hepworth's Palais de Danse studio and using donated pieces of the artist's unused marble.
Two works made during this residency, Quoit Montserrat (1998) and Mango Reliquary (2000), are indicative of Ryan's wider experiments with materials and her continued interest in natural forms.
Quoit Montserrat is composed of a large slab of Carrara marble, the top of which features 13 carved indentations cradling rubber inserts in the shape of the soursop – a tropical fruit found on the Caribbean island of Montserrat, where Ryan was born in 1956.
Alluding to the first time Ryan tasted the fruit, on a short stay back in her birthplace in the mid-1960s (her family left for the UK when she was 18 months old), the work also draws on devastating volcanic eruptions in the Soufrière Hills that coated the island in ash just before Ryan began working in St Ives.
The title's reference to quoits, megalithic chamber tombs found across Cornwall, situates the lives lost under lava and ash in the displaced context of these ancient burial sites. Cornwall echoes throughout her intervention at the Hepworth Wakefield in the hand-crocheted net pockets that are hung using fishing lines from the ceiling and walls.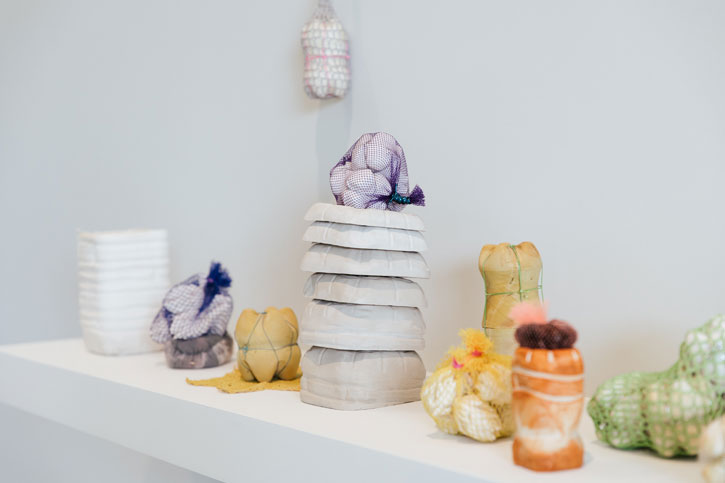 Ryan became interested in fishing nets following a residency at Porthmeor Studios in St Ives in 2018, during which time she saw fishermen making domestic nets using methods not dissimilar to traditional crochet or knitting techniques.
Nestled inside these net pockets are sculptures summoning the fruits and flowers of a magnolia tree that Ryan discovered in Hepworth's garden at St Ives – calling to mind the soursop fruit.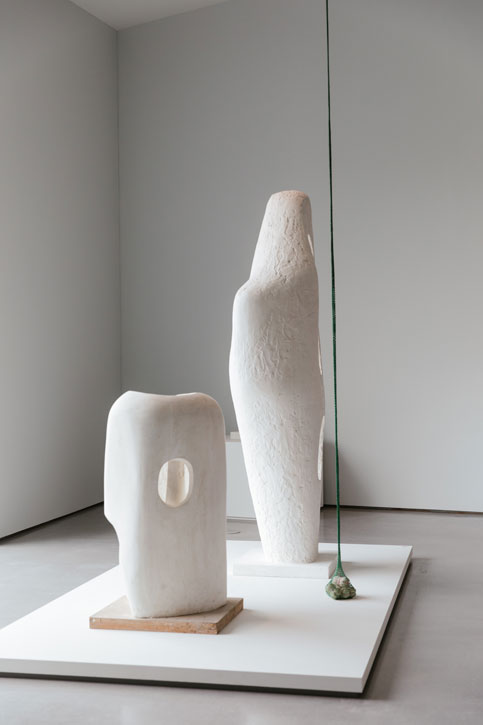 An earlier work from 2017, Particles, continues Ryan's relationship with Hepworth in its display of fruit moulds including soursop, which she has spoken about as having a formal connection with Hepworth's own structures.
Neon versions of these fishing-line pouches, as well as the recurring motifs of fruit and seeds, can also be seen at 'Along a Spectrum' at Spike Island in Bristol, which is currently hosting a major exhibition of Ryan's work (until 5th September).
The show is the result of her Freelands Award residency – an initiative that supports mid-career female artists – and which, thanks to the pandemic and the fact Ryan divides her time between the UK and New York, has been completed periodically over two years.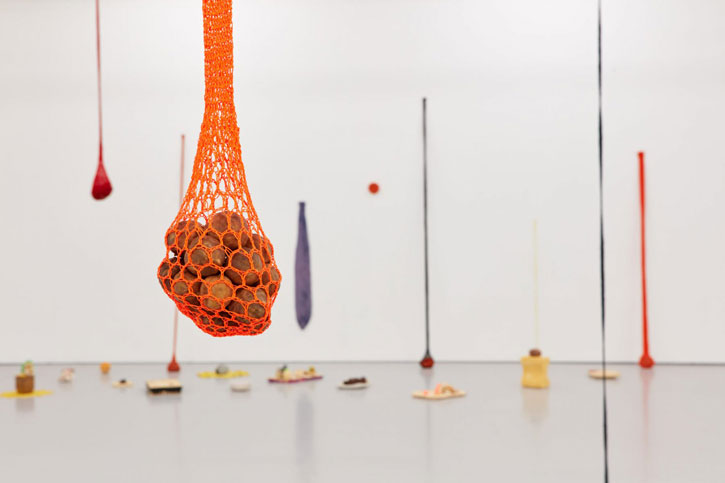 Ryan has shown in Bristol before, when the Arnolfini mounted her first solo show in 1987. only a decade after her degree course at Bath Academy of Art (where she discovered the work of Lynda Benglis, Louise Bourgeois, Eva Hesse and Hepworth).
Following the completion of her MA at the Slade School of Art from 1978–1980, Ryan began playing with diverse materials, including plaster and clay, becoming interested in vessels and pod-like structures. Untitled (1985) depicts a large, divided seedpod (reminiscent of the natural forms Ryan found in Montserrat) with each compartment nestling a number of bronze objects.
Following her time at the Slade – and just before she would begin an MPhil in African art at SOAS ­– Ryan travelled to Nigeria where she found everyday objects, such as human hair and nuts, reused for ritual purposes.
If Untitled, in its use of assembled objects housed within a larger structure, speaks to this experience, it also points to Ryan's fascination with ancient sarcophagi and entombment, inspired by her trips to the British Museum.
Relics in the Pillow of Dreams was also made in 1985. Like Untitled, it features a larger object into which smaller objects are embedded. Despite being made of hard plaster, the pillow Ryan depicts is nevertheless inviting and conveys a sense of softness – as well as a dream-like sense of longing.
Both of these works – alongside Territorial from 1986, which seems to spill outwards – are displayed on the ground, inviting the viewer to interact with them, and further emphasising the idea of an earthly connection.
Like these earlier works, many of the new pieces on show at Spike Island are situated on the gallery floor, including clay works cast from medical foam pillows that are precariously arranged in piles.
Suggestive of rest, they appear here uncomfortable and resistant to their therapeutic function.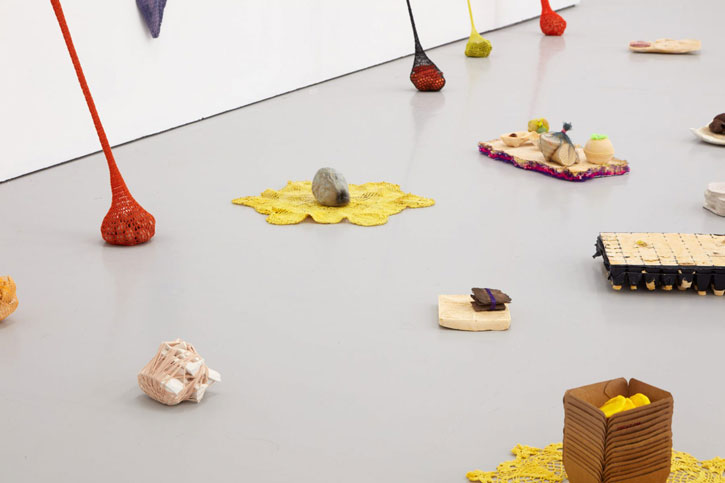 Nursing pillows were a feature of Ryan's 2017 exhibition 'Salvage' at the Art House in Wakefield, the result of a residency during which she spent time at a nearby psychiatric prison. The display of hand-dyed pillows and quilts – which call to mind Louise Bourgeois' soft, womb-like sculptures – alludes to padded cells and Black incarceration, and probe what it means to protect.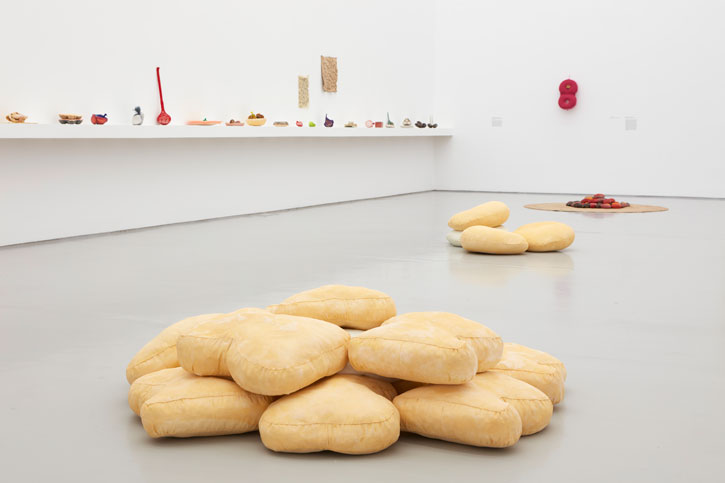 The 1980s were a fruitful time in Ryan's career. In 1988 she was awarded a Henry Moore Foundation Award and had a solo show at Kettle's Yard in Cambridge, where she experimented with lead. She was also included in a number of exhibitions curated by Lubaina Himid, including the landmark show 'Thin Black Line' at the ICA in London, which championed the work of Black women artists.
Following a move to New York in 1989, Ryan's exhibition 'Compartments/Apart-ments' at the Camden Arts Centre in 1995 tapped into the gridded architecture of the Big Apple – the show included a number of geometric, divided sculptural forms that conjured the minimalism of Donald Judd – yet the works' overarching sense of absence spoke to the alienation she felt in an unfamiliar urban landscape.
The Camden show coincided with the volcanic eruption that obliterated Montserrat's capital city of Plymouth, an event which continues to exert a profound impact on Ryan. Works at Spike Island incorporate ash from the disaster as a means of connecting with the devastation and her own ancestral history. Sculptural gestures such as binding or casting, as well as Ryan's wider examination of the themes of protection and concealment, may be seen as a way of coming to terms with the feelings of loss and trauma engendered by the disaster.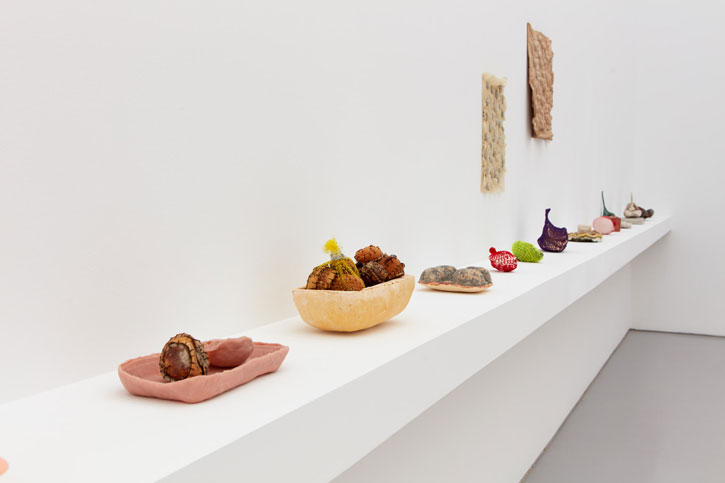 'Along a Spectrum' also draws on Bristol's historic links with the slave trade and Spike Island's former use as a tea packing factory. Tea-stained fabrics cascade down the walls (her interest in textiles can be traced to her mother, a talented seamstress), while the history of global trade and personal migration is evoked in works made up of avocado and mango stones, orange peel, cocoa pods and drift seeds.
Elsewhere, the inclusion of food stacking containers (her work frequently uses everyday containers and packaging to examine emotional states such as entrapment) also connects to work Ryan made in the 1990s, much of which was lost in the 2004 warehouse fire at the art handling company Momart – another personal trauma that entailed an examination of what it means to make.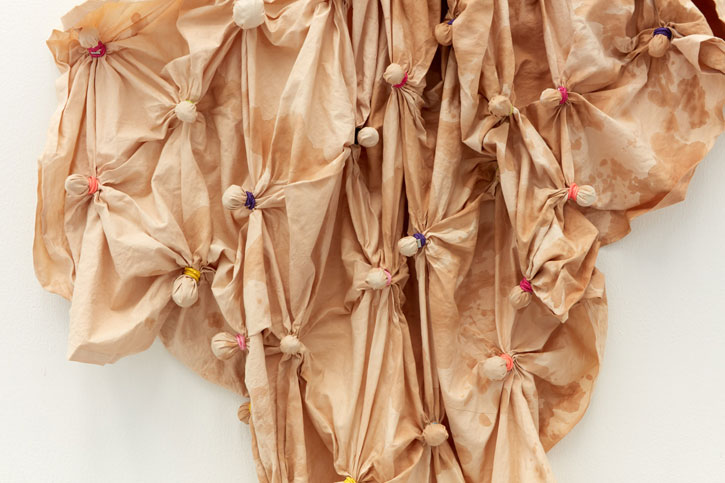 Ryan's interest in the movement of fruit and vegetables across the globe, and the associated concern with origins, finds further expression in her sculptural commission to honour the Windrush Generation. Commissioned by Hackney Council and to be unveiled in October, Ryan's work will draw on her memories of visiting Ridley Road Market with her mother and will feature marble and bronze sculptures of tropical fruits, including soursop.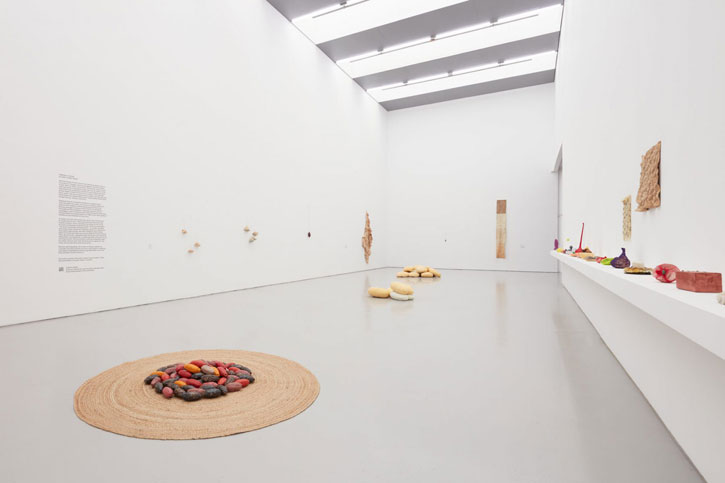 It comes at a time when conversations around public sculpture are especially charged following the toppling of a statue of slave trader Edward Colston in Bristol. While Ryan's work often engages with contemporary socio-political realities, it does so in subtle and allusive ways – always with one eye on memory and material.
Imelda Barnard, freelance writer and editor
'Along a Spectrum' is at Spike Island, Bristol, until 5th September 2021. Ryan's commission as part of 'Barbara Hepworth; Art & Life' is at the Hepworth Wakefield until 27th February 2022.