'If I were not a Jew, I would not be an artist at all, or I would be someone else altogether' were words once uttered by Marc Chagall, one of the most famous avant-garde painters of the twentieth century.
Whether or not there truly exists a 'Jewish art' is still debated and a rather complicated matter. It is important to note that many assimilated Jews did not strongly identify with the religion or culture, but were racialised and systematically labelled as such by the Nazi regime.
Yet it holds true that modern British artistic culture has been shaped by prominent artists of Jewish descent. From Frank Auerbach, Mark Gertler, Leon Kossof, David Bomberg to Lucian Freud, and the art historian E. H. Gombrich (who came to England from Vienna in 1939), our public museums and collections house many works by prominent Jewish and refugee artists.
Many of these individuals arrived on British shores just before, or after the rise of Hitler's regime in the 1930s, which culminated in the Holocaust of the 1940s. Yet long before these rupturing historical moments, a Jewish artistic culture had flourished in Britain dating as far back as the eighteenth century (though the earliest known Jewish community in Britain dates back to the time of the Norman Conquest in the eleventh century).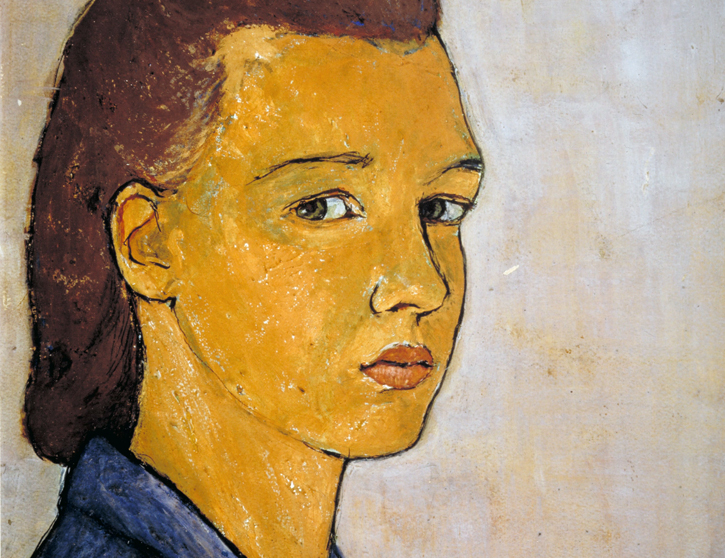 In 1915, Ben Uri Gallery and Museum (then known as the Ben Uri Art Society) was founded in Whitechapel to support the Jewish émigrés and craftsmen from Russia and Eastern Europe who had settled in the impoverished slum areas of East London. In 1932, the Jewish Museum was founded, followed by the Museum of the Jewish East End in 1983, both of which attempted to celebrate and preserve the disappearing Jewish heritage.
Recent exhibitions such as 'Charlotte Salomon: Life? Or Theatre?' at the Jewish Museum have shifted attention towards the subjectivities of marginalised Jewish women artists.
A Berlin-born artist who sought refuge in France during the war, Salomon herself did not survive the Holocaust (she was killed in Auschwitz in 1943, along with her unborn child). But her powerful and poetic work and legacy remind us of the importance to appreciate surviving artists who lived to convey their experiences, often centring their art on the themes of exile, loss, and survival.
Let's go back in history, to trace the lineage of Jewish women artists working in Britain, many of whom struggled to find the same recognition as their male peers.
Rebecca Solomon
Born in East London in 1832, Rebecca Solomon was born into an artistically inclined middle-class Jewish family. Both her parents were painters, and her brothers were the artists Abraham Solomon and Simeon Solomon.
Although she was barred from a formal artistic education, she was affiliated with the Pre-Raphaelites and worked in the studios of John Everett Millais and Edward Burne-Jones.
According to Robert C. Ferrari, Rebecca exhibited regularly at the Royal Academy summer exhibition between 1852 and 1869. She was deeply concerned with inequality in Victorian Britain and campaigned for social justice and the representation of women artists at the Royal Academy, where both her brothers studied.
Lily Delissa Joseph
The younger sister of the portraitist Solomon Joseph Solomon, Lily Delissa Joseph was born in Bermondsey, London in 1863. She attended Ridley School of Art followed by the Royal College of Art and she later exhibited at the Royal Academy, the New English Art Club, the Society of Women Artists and at Paris salons, where she won a silver medal in 1929.
Like her close contemporary, Rebecca Solomon, Lily was an avid women's campaigner and deeply involved in the suffrage movement. She was even detained in Holloway prison in 1912, meaning she was unable to attend her own private view at the Baillie Gallery.
This work combines Lily's interest in portraiture and interiors with an observance of the Jewish Sabbath, indicated by her covered head and the two Sabbath candles.
A committed member of London's Jewish community, she was a close friend of the artist and poet Isaac Rosenberg, who was killed in action during the First World War. In her 50s, Lily remarkably learned to fly aeroplanes and became one of the first women to drive and own a car.
Flora Lion
The portraitist Flora Lion was a relative of Lily Delissa Joseph. Flora also received an artistic education, attending St John's Wood Art School followed by the Royal Academy of Arts Schools, where she was tutored by John Singer Sargent.
In the late 1890s, she moved to Paris and attended the Académie Julian, which, unlike the École des Beaux-arts, opened its doors to women at that time.
During the war, Flora was hired by the Ministry of Information to paint labour on the homefront and factory scenes. In 1918, she captured women workers in a canteen at Phoenix Works, Bradford.
Flora had also been involved with the women's suffrage movement. In 1936, she painted Flora Drummond. Nicknamed 'The General', Drummond was one of the leaders of the Women's Social and Political Union (WSPU).
Rose Henriques
Born in Stoke Newington, Rose Henriques was raised by an Orthodox Jewish family and later became a social activist and artist. She trained as an artist when living with relatives in Upper Silesia (modern-day Poland) where she also learned to speak fluent German.
Much of Rose's work depicts daily life in London's East End, in areas such as Aldgate, Whitechapel and Spitalfields. These were areas which, by 1914, housed 90 per cent of all English Jews and was referred to as the 'Jewish ghetto'.
After the war, Rose went to work in Germany, working with Holocaust survivors at the former Bergen-Belsen concentration camp. In 1964, she received the Henrietta Szold Award for services to the Jewish community, and in 2019, the British Government honoured her with the 'British Hero of the Holocaust' award. You can read more about the artist's remarkable life in 'Rose Henriques: philanthropist, activist and painter of London's Jewish East End'.
Lotte Laserstein
The German-Swedish painter, Lotte Laserstein, was born in East Prussia and grew up in an assimilated household. One of the first female students to study at the Berlin Academy, she set up her own studio in Berlin and exhibited regularly throughout the 1920s and 1930s, during which time she painted this striking Self Portrait with a Cat.
In 1934, she was barred from exhibiting in public due to the Nazi regime's new laws, and in 1935 she had to abandon her studio. Two years later, she emigrated to Sweden, leaving behind her family members who unfortunately did not manage to escape.
Grete Marks
The German-born artist Grete Marks – also known as Margarete Marks or Margarete Heymann – was a ceramicist who was one of the earliest female students affiliated with the Bauhaus school.
In 1923, Grete and her husband, Gustav Loebenstein, founded the Haël Pottery factory at Marrvitz and employed around 120 staff. In 1934, Joseph Goebbels personally derided her vases in a published article and her work featured in the Nazis' Degenerate Art exhibition of 1937.
The following year, she emigrated to England with her children (her husband died in 1928), settling in Stoke-on-Trent where she designed for Minton & Co. and became known for her 'Grete Pottery'.
In 2019, Pallant House Gallery in Chichester exhibited 'Grete Marks: An Intimate Portrait'.
Lucie Rie
The potter and ceramicist Lucie Rie was born into a Jewish family in Vienna at the turn of the century. She trained in pottery at the Viennese School of Art and Design, before she emigrated to London in 1938.
Relatively unknown as an artist in the UK, to earn a living she made ceramic buttons for the couture fashion industry, which eventually allowed her to return to making ceramics. She shared a studio with the fellow émigré potter Hans Coper until his death in 1981.
Rie is often credited with giving ceramics and design a new meaning, and her minimalist designs inspired creatives outside of pottery, including her close friend, the Japanese fashion designer Issy Miyake, who integrated many of Lucie's ceramic buttons into his collection. In 1991, she was made a Dame for her services to British ceramics.
Milein Cosman
The German-born artist Milein Cosman emigrated to England in 1939. She studied at the Slade School of Art, which was housed in Oxford during the war.
She exhibited regularly during her lifetime, at least 30 solo exhibitions in the UK and abroad after the war. Known for her idiosyncratic sketchy style, she drew some of the most famous cultural figures of the twentieth century, from Benjamin Britten to T. S. Eliot and Barbara Hepworth.
In 1985, she painted Hans Keller, the well-known writer and musicologist, who she married in 1961.
Hilda Goldwag
Hilda Goldwag was a Glasgow-based artist who was born into a Jewish family in Austria. She escaped the Nazis in 1939, but lost members of her family to the Holocaust – they were trapped in Austria, attempting to leave the country six months too late.
Hilda painted her companion and fellow refugee Cecile Schwartzschild in 1999. Hilda met Ceci in 1939 and the two became inseparable for life.
Although Hilda did not paint full-time until after her retirement, she painted Ceci many times from the early 1950s until Ceci died in 1998 – this work was painted one year after her death.
Eva Frankfurther
Eva Frankfurther was born in Berlin in 1930 and grew up against the backdrop of rising National Socialism. Her family found refuge in England in 1939, and Eva was evacuated to Hertfordshire for four years during the Blitz.
She trained at St Martin's School of Art, where she met Leon Kossoff and fellow refugee artist Frank Auerbach. Her signature style was loose brush strokes and subject matters that displayed sympathy for 'outsiders' or immigrants workers in London, in particular, the West Indian 'Windrush' generation.
Inspired by fellow German artist Käthe Kollwitz, Eva offered a compassionate vision of stoical, working-class individuals living in alienating urban centres. Eva took her own life in 1959, aged 29. She had been suffering from depression and had quite possibly not recovered from the trauma of leaving Germany.
Lydia Figes, Content Editor at Art UK