Whether you're a Bonheur fanatic or have only just heard of her, here are ten reasons to adore Rosa Bonheur, the fabulously defiant Victorian-era animal painter.
1. She was a wild child who forged her own path
'The [boarding school] refused to harbour any longer such a noisy creature as I and sent me back home in disgrace... my tomboy manners had an unfortunate influence on my companions, who soon grew turbulent'
Born in 1822 in Bordeaux, Rosa Bonheur was one of four artistic siblings, and offspring of a painter and piano teacher. She was unruly at school, didn't enjoy reading, but showed a huge talent for drawing, encouraged by her mother to learn the alphabet by sketching an animal for each letter.
Having been routinely expelled from schools, and suffering the loss of her mother at just 11 years old, Rosa's early life wasn't so stable. However, her father encouraged her to develop skills in art. Bonheur was largely self-taught, spending many hours studying Dutch animal paintings in the Louvre.
2. She was a hugely successful woman artist in her lifetime
'Art is a tyrant. It demands heart, brain, soul, body. The entireness of the votary. Nothing less will win its highest favour. I wed art. It is my husband, my world, my life dream, the air I breathe. I know nothing else, feel nothing else, think nothing else.'
Bonheur became the leading animal painter of her era, admired in Britain and in America (Queen Victoria was even a fan of her work). Her art fetched high prices, and she was the first woman to receive the Legion of Honour, the highest French order of merit.
What may have added to her success was the growth of a prosperous middle class in England after the 1850s, keen to display art and other cultural artefacts in their homes. The artist's dealer Ernest Gambart was also savvy in the concept of artist rights, and was sure to get Bonheur the best reproduction fees for her works.
3. She was a feminist
'To [her father's] doctrines I owe my great and glorious ambition for the sex to which I proudly belong and whose independence I shall defend until my dying day.'
During the time in which she lived, for a woman to pursue a profession they needed familial encouragement and support. Luckily for Bonheur, her father was a follower of French social philosopher Saint-Simon, and as such believed in equality for women.
Bonheur was a precursor of early feminists, working before the term was widely used. Her work stylistically fell in line with the realism of the day: one critic praised her epic work The Horse Fair, saying with wonder that 'so masculine a work is the production of a feminine hand'. Her subjects did not align with those of other female artists such as Berthe Morisot, who painted languid women in pretty but restrictive clothing, situated in domestic environments. Bonheur painted on her own terms, on the subjects of her choosing.
While her art in itself doesn't overtly emit a rallying feminist cry, it is more the story of her lifestyle and attitude that prevails and marks her out as a feminist hero. She smoked, cut her hair short, rode astride horses, wore whatever clothing she wanted, made her own living, and was proud to be a woman. In this way, she made headway for women artists of the twentieth century, who refuted gender norms, and demanded their achievements were equally assessed to those of men.
4. She had a doll made in her likeness
Now very hard to track down, a porcelain bisque-style doll modelled on the artist was once hugely popular with Victorian-era girls. It featured her cropped hairstyle and masculine dress, sometimes being referred to as 'the German gentleman' to collectors.
The doll surely helped to inspire generations of girls – including Anna Klumpke, who was later Rosa's second significant life partner (more on Anna later).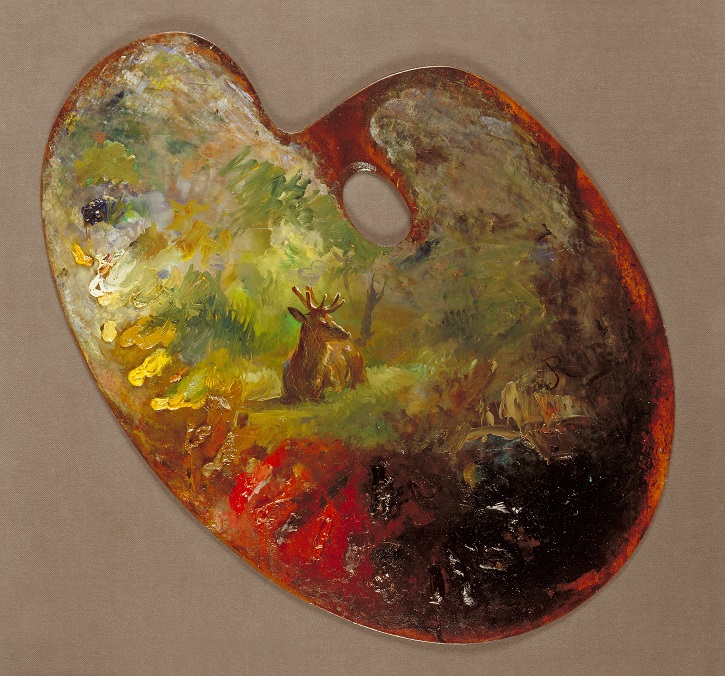 5. She loved animals and was devoted to representing them...
'To perfect myself in the study of nature I spent whole days in the Roule slaughterhouse. One must be greatly devoted to art to stand the sight of such horrors.'
Rosa Bonheur was a devoted animalier (animal painter). Animals were a huge part of her life, and she must have been very determined to develop her skills, considering how brutal nineteenth-century slaughterhouses must have been.
Fortunately, her life study locations extended beyond slaughterhouses, and she spent vast amounts of time sketching in markets and menageries too, or out in the woods. Before she was even 20 years old, Rosa's father set up an apartment where she was able to keep a number of animals, such as a goat, chickens and other birds. Her later, much larger, menageries included otters, cows, horses and even a lion.
Rosa's style was derived from very close observation, and as such her work often lacks the sentimentalism seen in other naturalists' art. The thriving Victorian era animal trade, and contacts with other menagerie-keeping artists meant that Rosa could even paint exotic animals with great accuracy. In this sense, her painting of a group of lions avoids wider imperialist connotations.
6. …and she was really good at painting animals
'My dream is to show the fire which comes out of the horses' nostrils; the dust which rises from their hooves. I want this to be an infernal waltz.'
Bonheur's five-metre-wide painting The Horse Fair takes up a huge wall at the Metropolitan Museum of Art in New York, and a smaller copy can be seen at The National Gallery in London. The large original was personally praised by Queen Victoria, reproduced widely and inspired many copies.
It shows a Paris horse market, and adopts every trick of painting to induce dynamic movement and depth. Preparations for the work took 18 months, and Bonheur described the result as her own 'Parthenon frieze'.
This video is well worth a watch, especially if you find the vastness of The Horse Fair overwhelming – painter Wayne Thiebaud breaks down the artistic tropes used and examines smaller details of this much-loved masterpiece.
7. She defied gender norms
'I was forced to recognise that the clothing of my sex was a constant bother. That is why I decided to solicit the authorisation to wear men's clothing from the prefect of police.'
Rosa Bonheur was one of a handful of women who obtained a special permit to wear men's clothing. In nineteenth-century Paris, a formal decree meant that only women with this special permit – which needed renewing – could forego the typical dresses and fussy headwear of their gender. The reasons for this might have been to halt gatherings of feminists or queer women, who may have been inclined to dress in a masculine fashion.
As for Rosa, it suited her work, as trousers would allow a person to freely traipse about farms, the countryside and muddy streets. She also found that people bothered her less if they thought she was a man.
It's hard to retrospectively understand if Bonheur's masculine clothing choices resulted from her dedication to her art, or if she would have dressed in trousers anyway, even if she didn't have the reason of working outdoors. In any case, despite her unconventional clothing for the era, she enjoyed considerable social success.
8. She represents a queer art history
'As far as males go, I only like the bulls I paint.'
Bonheur's unconventional manner, dress and lifestyle signify her as a queer woman in art history. While the terminology of 'queer' is problematic to apply to a person living in the Victorian era, we can know from her writings and her biographies that she chose to live fairly openly in two significant relationships with other women.
Rosa met Nathalie Micas while still a young woman, and the two lived closely together for many years. Nathalie assisted her partner with artistic matters and household chores, and remained Rosa's solid supporter until her death in 1889. Rosa then met American painter Anna Klumpke, and the two formed a relationship for the rest of their lives. All three women were buried together in the same cemetery plot, under the message: 'Friendship is divine affection'.
9. She might have put sneaky self portraits in her paintings
'I became an animal painter because I loved to move among animals.'
It has been postulated that Bonheur put discreet self portraits of herself in her work.
The Walker Art Gallery's La retour du moulin could be one such example. The collection explains that the androgynous-looking figure could be the artist in her trademark masculine dress, face obscured by the shadow of the hat.
It seems evident that Rosa had an open and playful approach to her portraits, particularly portraits of herself made by other people. She reputedly asked Édouard Dubufe, who painted a portrait of the artist with a palette, if she could turn a table in the picture into a bull.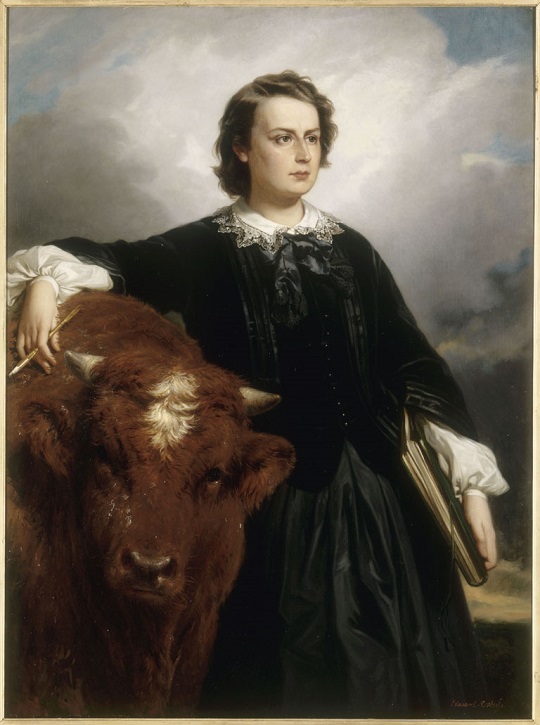 The artist accepted her offer, and his later copies of the work kept the friendly looking animal. Rosa also added the dog into her portrait by Consuelo Fould (and Consuelo's sister, Georges Achille-Fould, also painted Rosa).
10. She left a huge legacy: a substantial body of work, an art school... and inspired a pet cemetery
'... no man could write my biography...'
Rosa Bonheur has left not only significant works of art but also a huge quantity of art – at the time of her death, nearly 2,000 finished and unfinished pieces sat in her studio. Her painting style intended to reflect reality to the best of her ability, and as such was not so fashionable in the years to come, but her method of working outside was popular with later art movements such as the Impressionists.
The strength of her personality can be seen in her writing, and in her skill as an animalier demonstrated on her canvases. Her emancipated lifestyle was an example to other women, and her work as an educator surely left an impact on others after she succeeded her father as the director of an art school for girls. Along with telling Bonheur's story in her biography and managing her estate after her death, Anne Klumpke established the Rosa Bonheur Memorial Art School for women.
35 years after her death, another surprising (but sweet) establishment was inspired by Rosa Bonheur: a cemetery in Maryland, USA. The Rosa Bonheur Memorial Park was the first of its kind to allow humans to be buried alongside their animal companions. The variety of occupants – from champion horses to dogs, birds, monkeys and even a lion – would rival the artist's own menagerie.
Jade King, Head of Editorial at Art UK