It is a truth universally acknowledged that women have been underrepresented in the arts throughout history. Having faced exclusion from art schools, had work ignored or falsely attributed, and been forced into compliance with society's antiquated views on appropriate behaviour and gender roles, it's hardly surprising to find so few women artists represented in museums, galleries and art history texts.
Thankfully and rightly, the narrative has been slowly changing. In celebration of Women's History Month, we're highlighting some of the fantastic paintings by both popular and lesser-known women artists whose work deserves wider appreciation. From stunning abstract paintings to subtle landscapes and intimate portraits, here are our top picks of prints by women artists from the Art UK Shop.
Wilhelmina Barns-Graham
Wilhelmina Barns-Graham (1912–2004) was one of Britain's most significant twentieth-century abstract artists. Her unique, expressive brushwork and colourful palette give her paintings a beautifully strong and bold aesthetic.
Prints such as Afghanistan and Easter are perfect for adding an invigorating splash of colour to a neutral space, while Expanding Forms Black and White and In Tension 1968 make a wonderfully subtle addition to any room.
Annie Louisa Swynnerton
Manchester-born Annie Louisa Swynnerton (1844–1933) was a pioneering British artist, and the first elected woman member at the Royal Academy of Arts. She challenged convention and passionately supported women's right to vote.
Best known for her portraits, symbolist works and landscapes, her varied style and subject matter was heavily influenced by time spent living in Rome. Choose from a wide range of prints, from beautiful Italian landscapes such as Rain Clouds, Monte Gennaro to the vibrant and sensuous Oceanid. Her Montagna Mia (meaning 'my mountain') may allude to the struggles she faced as a female artist.
Mabel Frances Layng
Born in Cheshire, Mabel Frances Layng (1881–1937) studied in London and lived most of her adult life in Ealing, where she worked as a professional artist.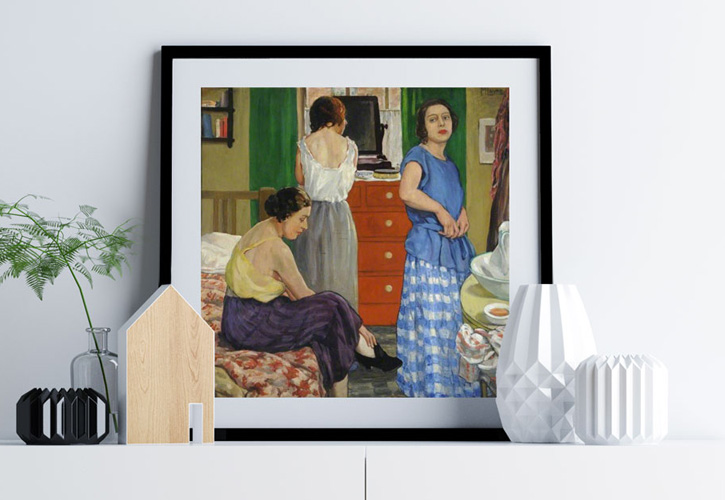 Her best-known paintings show scenes of everyday life in London, with works such as The Omnibus and Crossing the Street displaying a style and subject matter rooted in the 1920s, lending the perfect vintage touch to any interior.
Gwen John
Welsh artist Gwen John (1876–1939) is best known for her portraits of mostly anonymous female sitters, and for her distinctive use of closely related, subtle colour tones.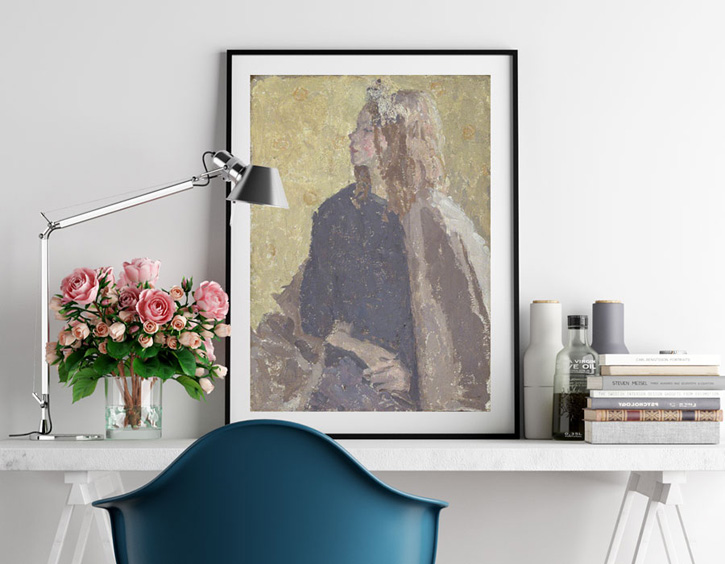 Prints of works such as The Letter, Flowers and A Corner of the Artist's Room in Paris bring a quiet calmness and contemplative feel to the home.
Georgina Moutray Kyle
Belfast-born Georgina Moutray Kyle (1865–1950) was a watercolour painter and pastel artist best known for her distinctly modern palette and a Post-Impressionist approach characterised by heavy outlines and a strong emphasis on shapes.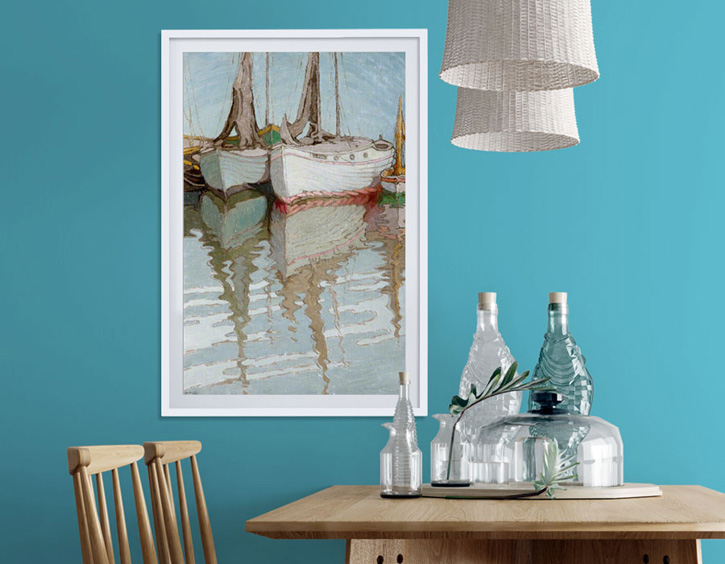 Her subjects included portraits, still life, landscapes, harbour views and market scenes, with works such as A Market in France, Evening at Camaret, France and The Incoming Tide perfectly demonstrating the charm and beauty of her progressive style.
Angelica Kauffmann
Angelica Kauffmann (1741–1807) was a Swiss Neoclassical artist. Known primarily as a history painter, she was also a skilled portraitist, landscape and decoration painter and one of the two female founding members of the Royal Academy in London in 1768.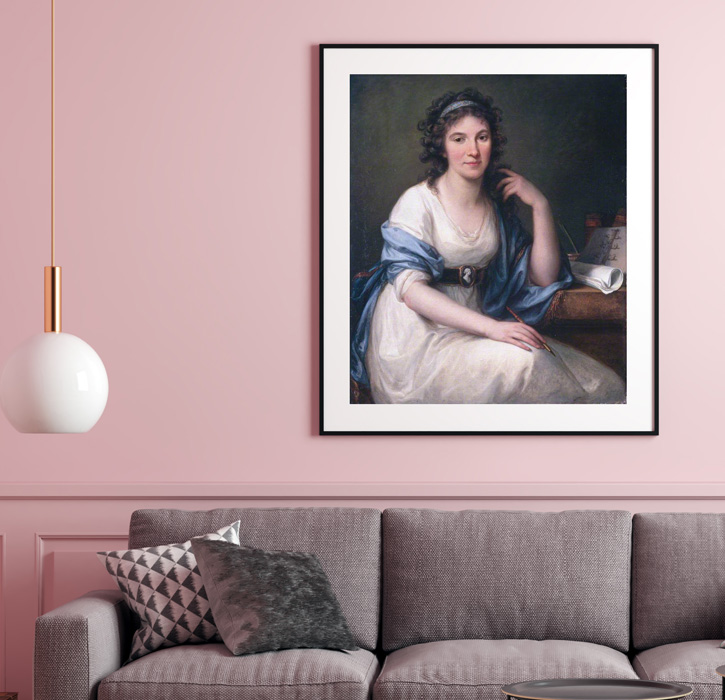 At a time when most women were denied the opportunity for the level of academic study that history painting required, Kauffmann built a strong reputation and saw significant success in her lifetime. Beauty Tempted by Love, Counselled by Prudence, Maria and her portrait of Ellis Cornelia Knight reveal her considerable technical skill and make beautiful prints.
Mainie Jellett
A pioneer of abstract painting, Mainie Jellett (1897–1944) is recognised as one of the most important figures in Irish art history. After initially adopting Impressionism, she later developed a distinctive and individual painting style which was both abstract and strongly inspired by Cubism.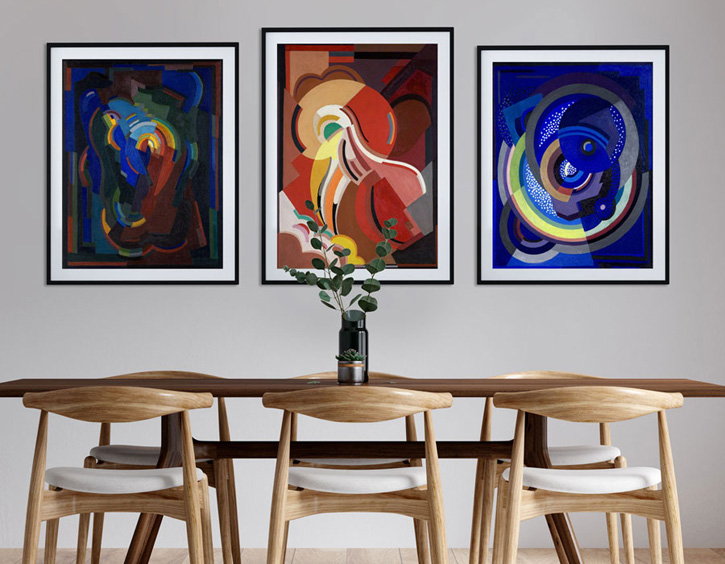 At first, her paintings received a frosty critical reception, but after her death at just 46, she ultimately gained recognition as a champion of modern art. Paintings such as Seated Female Nude, Painting and Composition work beautifully as art prints for the home.
Beatrice Offor
Known primarily for her portraits of young women, Beatrice Offor (1864–1920) was a British painter who trained at the Slade School of Art in London. A very popular artist in her day, she exhibited regularly at the Royal Academy of Arts.
Her beautiful portraits, such as Contemplative Woman, Girl and a Witch, and the lovely Two Dogs, make fantastic art prints.
Louise Pickard
Louise Pickard (1865–1928) was an English painter of still life, landscapes and portraits. After studying at the Slade School of Art in London, and later in Paris, Pickard had her studio in Chelsea and worked on both the French Riviera and in North Yorkshire.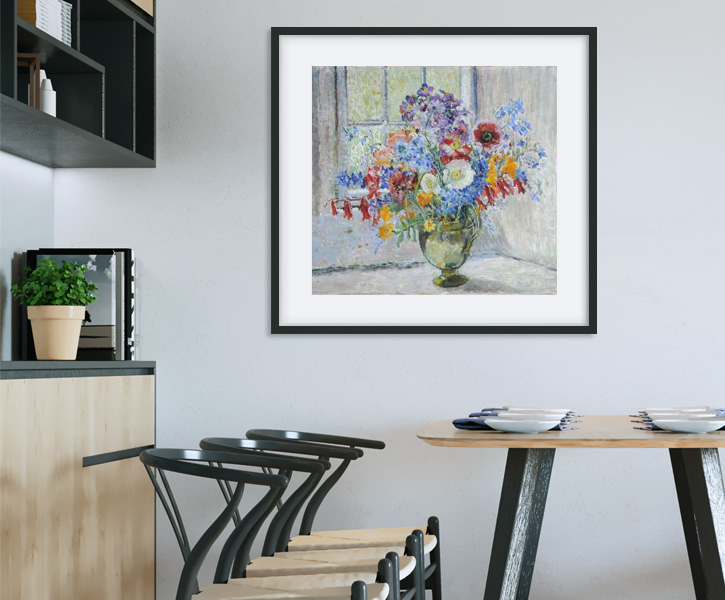 Her subtly detailed style has a stunning lightness of touch, with works such as Still Life, Flowers, Still Life, Vegetables and A Gloucestershire Village being wonderful examples.
Rosa Bonheur
Best known for her paintings of animals, Rosa Bonheur (1822–1899) was a French realist artist and sculptor who was widely considered to be the most famous female painter of the nineteenth century. She lived unconventionally for the time, wearing her hair short, smoking, and living with her female companion. In doing so openly, and through achieving such significant success, she opened many doors for the women artists who would follow.
Bonheur was a master of her craft, and art prints of her technical yet beautiful depictions of animals, such as the magnificent Ploughing in the Nivernais, France or The Lion at Home, make a brilliantly bold statement for your home.
These fantastic art prints by women artists are our top picks, but this list is by no means exhaustive. Join us in celebrating Women's History Month by browsing prints by women artists on the Art UK Shop to find your favourite.
Alexandra Colton, Online Shop Officer at Art UK