Showcasing textile art, weaving, fibre art, printmaking and drawing from over 60 years of making, the exhibition 'Tadek Beutlich: Innovations in Textiles and Print' at Morley Gallery is a testament to the creativity, versatility and experimentation of the Polish artist Tadeusz Franz Beutlich (known as Tadek Beutlich).
All works in the exhibition – with the exception of Grasshopper, loaned from Ditchling Museum – come directly from Beutlich's family archives, which Emma Mason has been managing for the past seven years. Many of the works are on show for the first time, and it is the last time the collection will be together in this way, before being dispersed into private and public collections.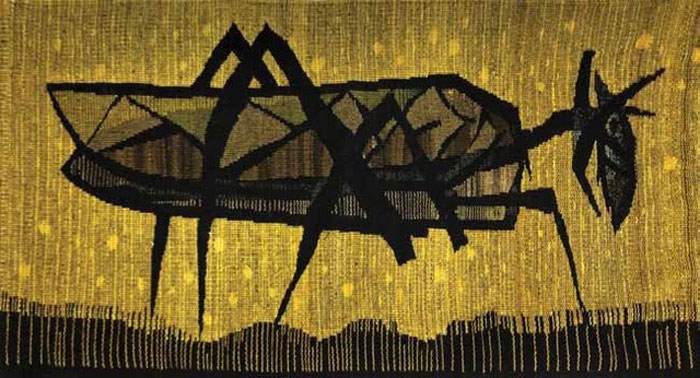 Born in April 1922 in Lwowek, a small town 55 kilometres from Poznan in Poland, Beutlich was born to a German father and a Polish mother. The family moved to Poznan when he was eight years old and in 1937, at age 15, he enrolled at the State Institute of Fine Arts (now the Magdalena Abakanowicz University of the Arts) where he studied painting, ceramics, weaving stained glass and sculpture.
His studies were abruptly halted by the outbreak of the Second World War, and in 1942 he was conscripted – against his will – into the German army and was sent to the Russian Front. He called these 'the worst days of his life', a sentiment that is undoubtedly reflected in his later work. When later taken prisoner by the Allies, he volunteered to join the Polish corps of the British Army, serving in Italy. After the war, he studied briefly at the Royal Academy in Rome, before moving to the UK to study, thanks to a grant for former soldiers.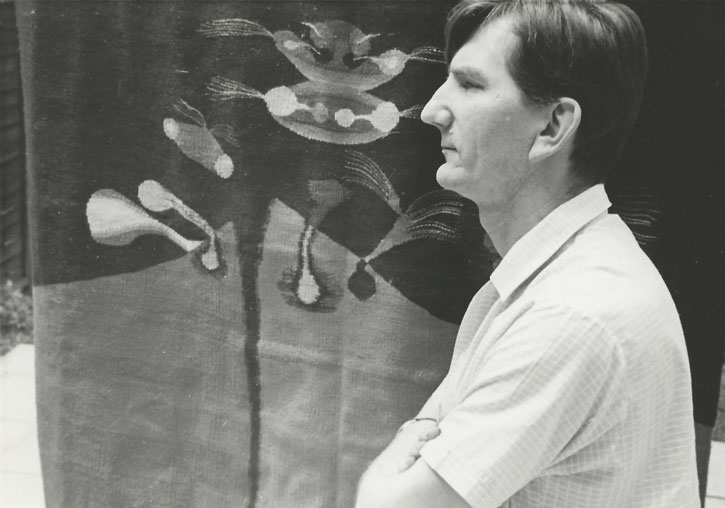 In 1946, England became Beutlich's home, and he began studying painting and drawing at the Sir John Cass Technical Institute. Two years later, a breakthrough moment occurred. Beutlich attended an exhibition of French Tapestry at the Victoria and Albert Museum, which included tapestry artists weaving in the museum, working in full view. This inspired him so greatly that he spent hours there each afternoon, observing the artists at work.
He purchased a weaving frame and started creating his own works, using darning wool bought at a Woolworths store. Abandoning painting for textiles, he began studying weaving that year at Camberwell School of Art (1948–1950) where he would subsequently teach for the next 24 years (1951–1974).
At first, his artistic pursuits were largely traditional, consisting of flat-weave tapestries, influenced by his upbringing in Poland and Polish folk tradition, whilst often incorporating motifs of insects. These works were made of wool or cotton, using a vertical frame, such as Grasshopper (1955–1958), and Magic Pool (1964), one of the largest tapestries in the exhibition.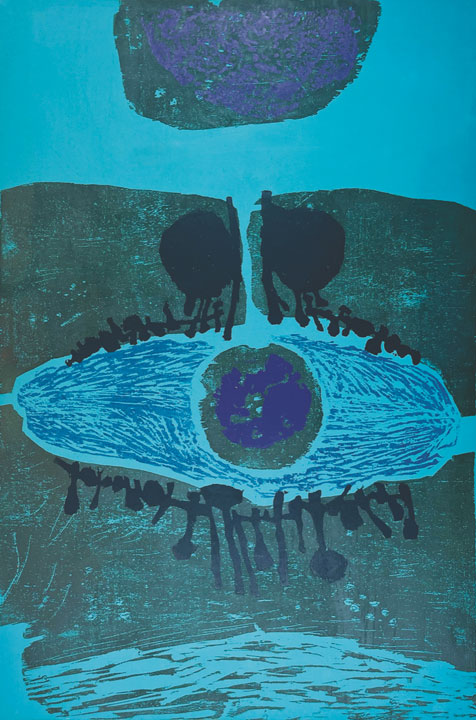 Later, deviating from convention, he created open weave hangings using unprecedented materials such as horse hair and burnt wood in Wall Hanging, (c.1963).
Beutlich began making relief prints in the 1960s. His method was unorthodox – he printed without a press. Instead, the artist would walk on the surface, standing and stamping as he went. Also renowned for his highly experimental use of unusual materials, he would incorporate materials such as Lycra, plywood and slices of tree trunks from his garden to add texture to his prints, as seen in The Earth (1963–1964).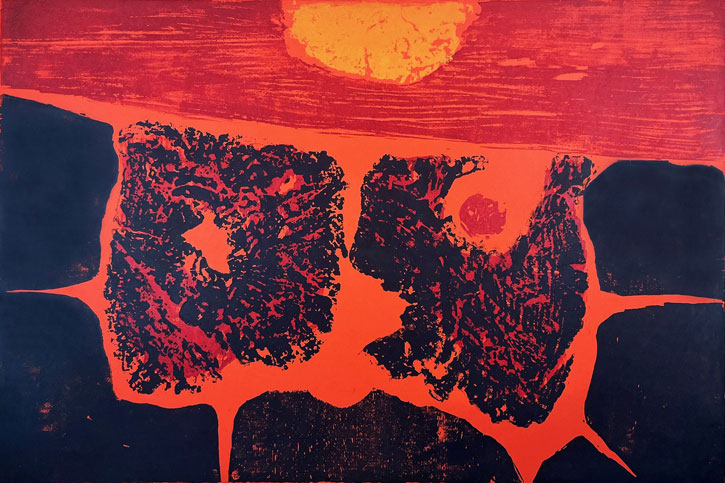 Beutlich sold most of his prints through Editions Alecto, the pioneering print publishers, which enabled him to make a steady income from printmaking over a ten-year period. Between 1963 and 1974, he had regular exhibitions at the Grabowsky Gallery in London, and his work became very popular, selling well in the United States, France and England.
When British weaver Ethel Mairet died in 1967, the trustees who managed her house and studio Gospels wanted it to pass on to another weaver. Beutlich seized the opportunity and moved from Bromley to Ditchling in Sussex with his wife Ellen and young son, Matthew.
The large studios facilitated a new artistic chapter for Beutlich, as he was able to be even more experimental. He moved away from flat weave tapestries, taking work off the loom and working with different materials, creating spectacular large pieces and wall hangings using materials such as acetate and camera film in Sunset (c.1968), and sisal and jute for his heavily twisted monumental hangings such as Winged Insect (1967) and Legend (c.1973).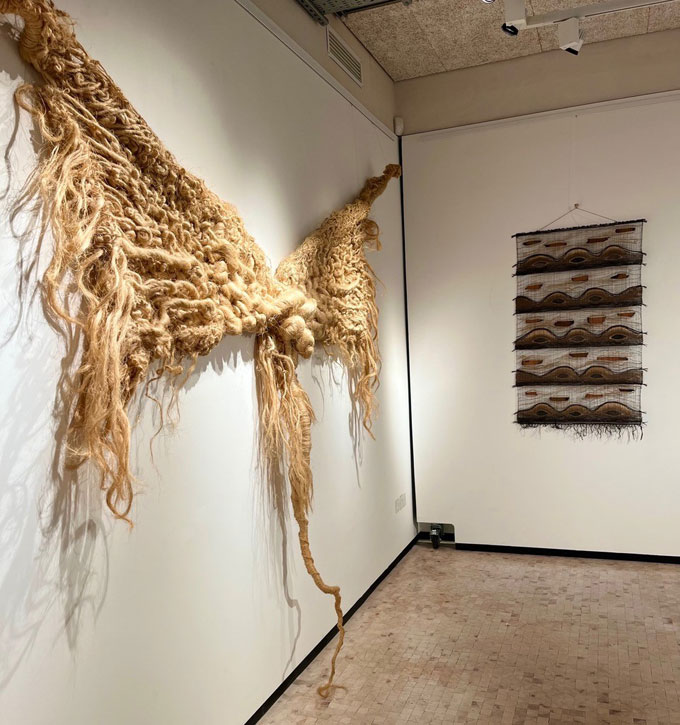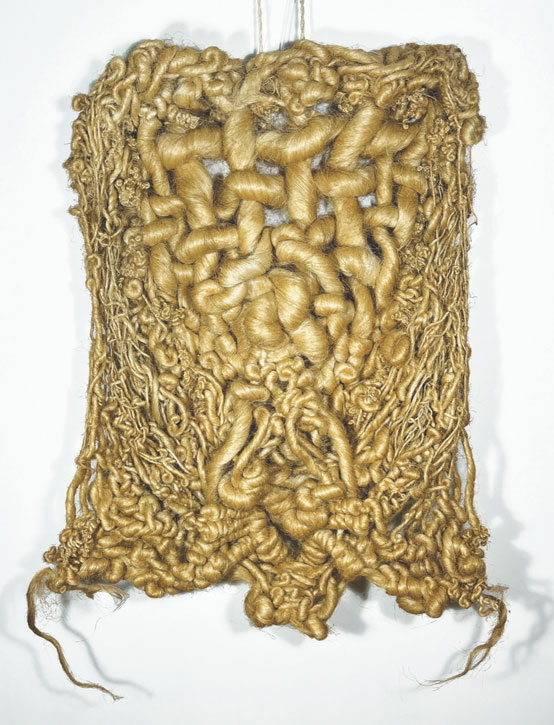 Several of his other large works were exhibited in Europe and America, many of which sold to American collections. Ever the innovator, he also invented his own roller which he used by hand – a small box weighted with small stones, which his colleague Michael Rothenstein would affectionately call 'the babies coffin'. As Beutlich's reputation grew, he employed several studio assistants. However, an introvert by nature, he eventually found Ditchling claustrophobic, and craved solitude and a place where he could focus purely on his work.
At the peak of his career, Beutlich sold Gospels and moved to Alicante, Spain, with his family in 1974. Once again, this move heralded a new a period of his work and he moved away from exhibiting and selling to focus solely on making.
Wanting to use his own hands as much and as directly as possible, he resisted the use of equipment or looms. He became very interested in the materials around him, particularly sisal and acrylic wools from local markets – which retain their vivid colour – and esparto grass, which grew freely by his house.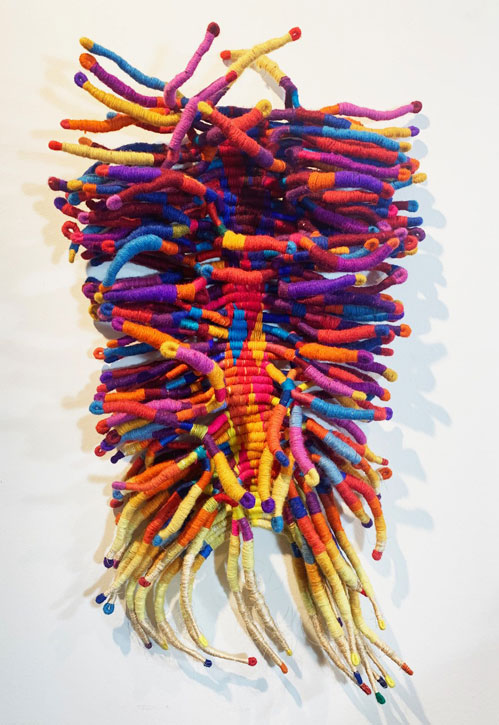 Working by hand and on his own, he used an off-loom technique he dubbed 'Free Warp Tapestry', which he wrote an unpublished manuscript on. This technique gave him the freedom to experiment, as it meant that he could create any shape, and he would typically make multiples and then move on to construct them into finished pieces. Many of his free-standing pieces resemble living organisms and Insect (c.1981) – made up of woven pieces – is typical of this period, as is Seeds (c.1976), created using a wrapping technique.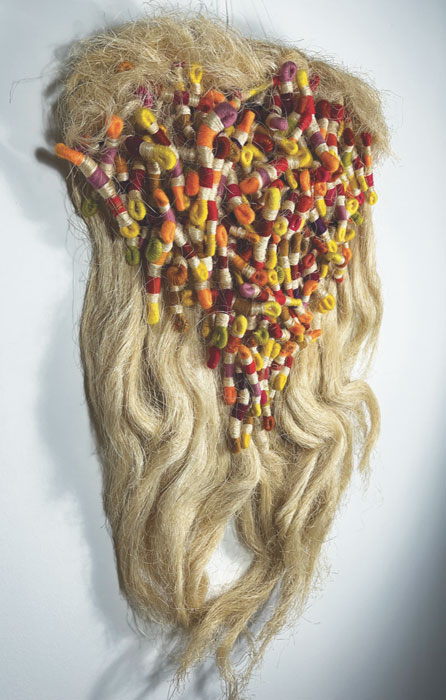 Partly due to his desire to sell and exhibit his work once more, Beutlich moved back to the UK in 1980, settling in Folkestone, Kent. He continued to find inspiration in nature and organic matter, making multiple trips back to Spain during this time. However, he did not return to making large, monumental forms.
In these years, he was active in showing his work, and had an exhibition at the Grabowski Gallery in London, as well as several exhibitions in America, where there was a far greater appetite and scene for fibre art than in the UK. He also exhibited at the 1967 and 1969 Lausanne Biennale, thus gaining international recognition.
The 1990s saw Beutlich experimenting with more figurative works, including drawings. Although he did not talk openly about the meanings behind these works, we can assume that they relate back to the trauma of his early wartime experiences. His drawings, heavily drawn with biro and ink with repetitive marks evoke an uneasy sense of anguish.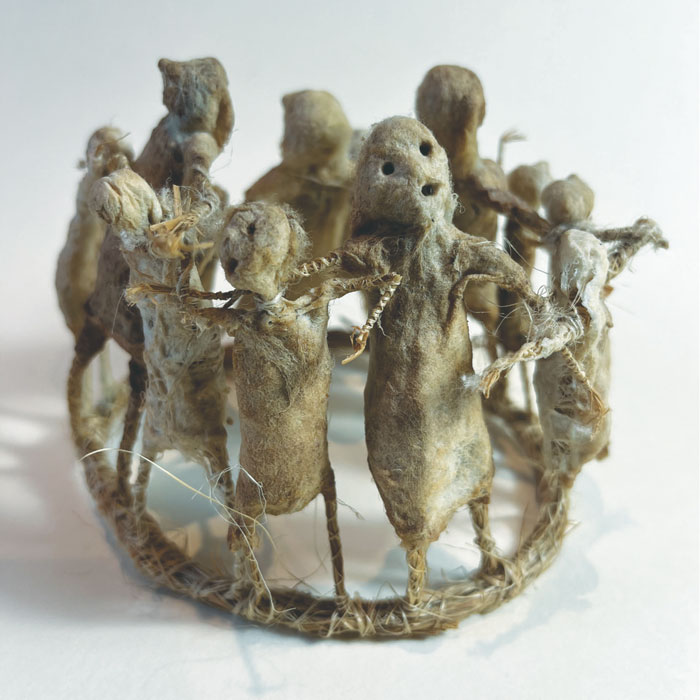 His smaller sculptural works include individual figures, eventually woven together to make a collective crowd, such as Ring of Figures (1997), where he experiments with materials such as cotton wool and PVA glue to form the figures' faces. The figures' nightmarish expressions are palpable, yet their uniformity rids them of individuality, rendering them anonymous, a possible comment on collective consciousness – and helplessness.
Beutlich continued to work tirelessly almost every day in his two-bedroom flat in Folkestone until his death in 2011. As someone who was so often on the move, this was also reflected in his interior world, as noted by the artist himself: 'My trouble is that I have so many ideas. Every time I start something I think about how it could be done differently – my wife tells me that I've got the brain of a grasshopper.'
Today, many of his works can be viewed in the V&A. Victoria Bradley, Textiles and Fashion collection, V&A says: 'The work of Tadek Beutlich first entered the V&A collections in 1960 when two prints were acquired, one linocut and one woodcut. Two further acquisitions were made during the 1960s including the wonderful Moon wall hanging.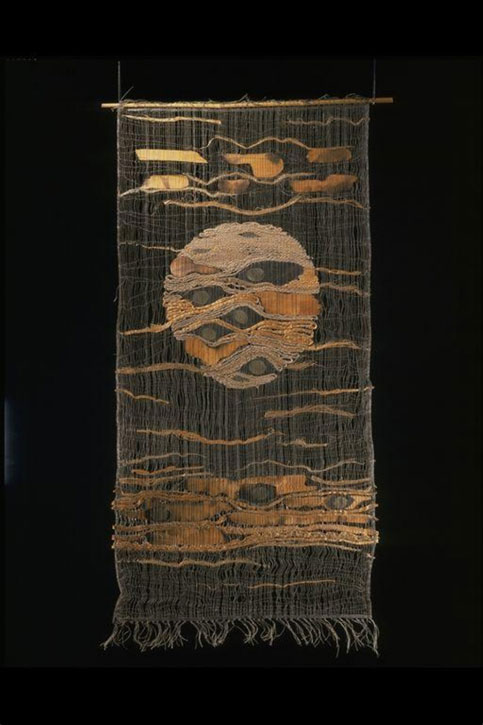 'This delicate hanging has a weave so open the eye can follow every single warp and weft and be led to intriguing inclusions of charred wood, honesty seeds and x-ray film miraculously suspended between the threads. The collection today includes a good selection of the ranging techniques employed by Beutlich. Pollination, a traditionally woven wool tapestry, will be included in the opening display at Young V&A in summer 2023.'
Ceaselessly experimental and bold in his approach, Tadek Beutlich led many artistic lives, and in doing so, leaves behind a gloriously rich legacy of innovation.
Melissa Baksh, art historian, freelance writer, and Gallery and Exhibitions Officer at Morley College
'Tadek Beutlich: Innovations in Textiles and Print' is on until 30th November 2022 at Morley Gallery, in collaboration with Emma Mason Gallery.
Enjoyed this story? Get all the latest Art UK stories sent directly to your inbox when you sign up for our newsletter.