Imagine that you are studying in one of the most beautiful spaces in London, learning with inspiring teachers from one of the world's great art collections, and being offered the chance to gain qualifications in one of the great humanity subjects – and all for free!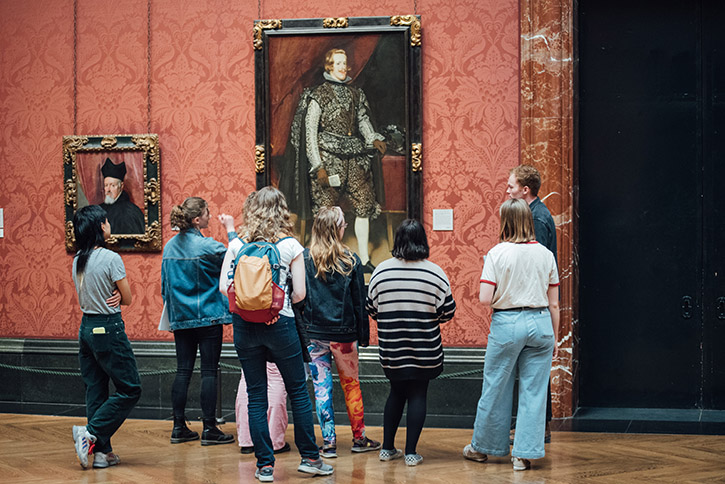 From 24th September you could make this dream a reality, with Art History Link-Up's free hybrid Art History A Level and EPQ (Extended Project Qualification) courses. This is the first class of our new academic year at Art History Link-Up's new base, the Courtauld Institute of Art at Somerset House, on either term-time Saturday mornings or afternoons.
Our courses are hybrid so the sessions are also taught online, to give students from across the UK the same opportunities as London-based learners. The courses are for state-school, sixth-form students. Application takes just five minutes online: the deadline is 9th September, so hurry if you'd like to join our 2022–2023 cohort.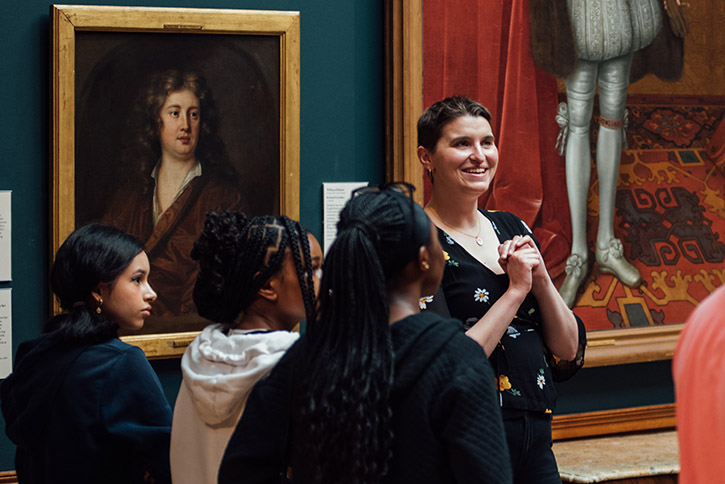 In the seven years since Art History Link-Up (AHLU) was founded as a charity, we have taught art history to hundreds of students from over 70 state schools across the UK in museums and galleries, and online. We value all students and all levels of achievement, however this year in particular our students have achieved outstanding results, with the majority of A Level and EPQ results graded A*.and A. AHLU alumni are currently studying art history at Russell Group universities across the UK, including the Universities of Oxford, Cambridge and the Courtauld Institute of Art, and entering careers in the arts.
Although fewer than eight state schools offer Art History A Level, our student body demonstrates that the reason for this is not a lack of interest. Studying art history is transformational for our students in many ways – they tell us so themselves – and our students, in turn, have the potential to transform the sector.
If studying sounds like a dream to you, it can feel like a dream to us also. Art History Link-Up started in September 2016, with a small class of students from state schools studying AS Art History for free on term-time Saturdays in the basement lecture theatre at The Wallace Collection. The Wallace Collection generously gave the space free of charge with funding via The Band Trust and core costs from The Rothschild Foundation.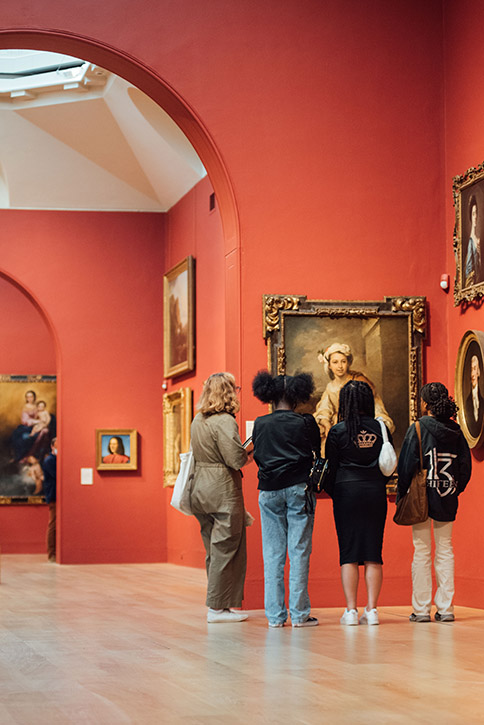 However, in November 2016, Art History A Level was 'cancelled' by the AQA exam board. The subsequent outcry and campaign saw AHLU catapulted from The Wallace Collection's basement to a place on the national stage, with our course and charity receiving extensive media coverage, including a leader article in The Times and several mentions in Houses of Parliament debates.
Fortunately, A Level Art History was 'saved' and is currently offered by the Person Edexcel Board. Six months later, by September 2017, we had applications from over twice the number of students we could accommodate at The Wallace Collection. And so The National Gallery generously gave us teaching space free of charge so that we could offer two courses. The National Gallery's Director, Dr Gabriele Finaldi, explains: 'We are proud to support the great work that Art History Link-Up does in making art accessible to young people from a broad range of social backgrounds'.
And so we remained at both centres, The National Gallery and The Wallace Collection, adapting to deliver a full A Level Art History course over two years, based around the gallery's collections and those on view in other publicly accessible museums and galleries. We taught the A Level alongside a one-year EPQ course, in order to ensure that all students have the opportunity to gain a qualification. (An EPQ is a self-directed project which is equivalent to up to half an A Level in UCAS points and is very well-regarded by FE/HE admissions officers.) Each student is supported by the AHLU teaching team, at weekly homework clubs, and by individually assigned specialist volunteer mentors.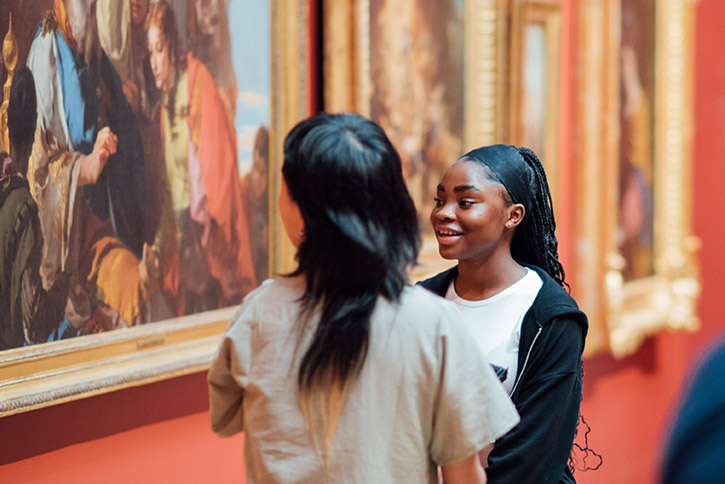 In March 2020, public spaces, including museums and galleries, closed as a result of the pandemic and so we pivoted our classes online, which worked remarkably well – even better, in some ways – although obviously there is no substitute for looking at art in person. By September 2020, it was clear that returning to teaching in the galleries was not going to be possible anytime soon. And so we started our 2020–2021 academic year entirely online, with double the number of students (over half from outside of London), supported by teaching assistants in Zoom break-out rooms.
In March 2022 we returned to in-person teaching at The National Gallery, with some students and teaching assistants in our dedicated teaching space with the teacher, while the majority joined class online via Zoom, supported by an online teaching team. We streamed some teaching time directly from The National Gallery, to give all students a sense of the gallery experience, and over the course of two terms, many students were able to travel to London to visit for themselves.
Now Art History Link-Up is embarking on a new chapter at the Courtauld Institute of Art. This is partly because The National Gallery is refurbishing the Sainsbury Wing in preparation for its bicentenary and so our room is no longer available. However AHLU's partnership with the Courtauld is also an important part of the next stage in AHLU's journey. We want to collaborate with this world-famous centre of art history teaching and excellence, in order to build on what has been achieved to date and to offer more opportunities to study art history to more young students across the UK. Professor Deborah Swallow, Märit Rausing Director of the Courtauld, comments: 'We think what Rose and her team at AHLU does is fantastic in opening up the world of art history to a whole new generation of young people'.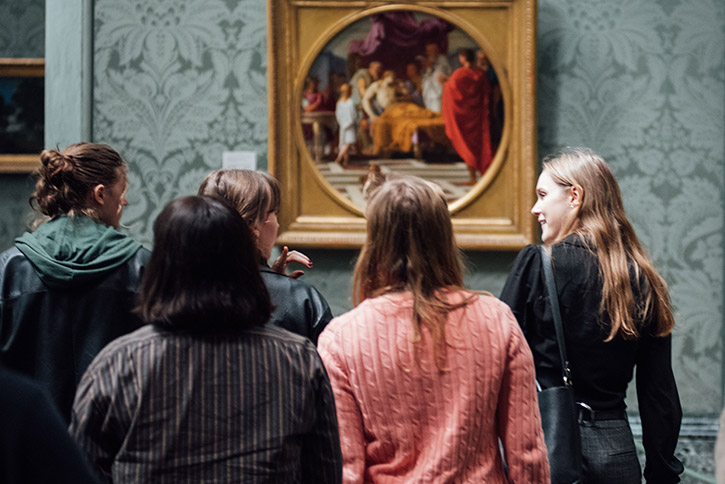 This year, AHLU piloted an Introduction to Art History course for students from state schools aged between 13 and 15 years old, with great success, at the Courtauld, Dulwich Picture Gallery and The National Gallery. AHLU is keen to expand and develop this initiative in order to further widen access to art history.
From September 2022 our hybrid Art History A Level and EPQ courses will be based in the elegant Leon Kossoff Learning Space at the Courtauld Institute of Art, overlooking Somerset House's beautiful courtyard. Students will have the opportunity to study the Baroque period and A Level Nature theme in the morning, or the Nineteenth Century and Identities A Level topic in the afternoon. All students are supported by AHLU's experienced team of teachers, student officers, teaching assistants and EPQ mentors. Classes are engaging and fully interactive, with all resources being distributed in advance and shared afterwards via Google Classroom. Professor Alixe Bovey, Dean and Deputy Director of the Courtauld, says: 'Teaching in this way, AHLU can open up their amazing courses to students from across the UK including those with disabilities.'
AHLU has an active alumni organisation, coordinated by our student officer, so our students can keep in touch and receive careers and educational opportunities. And it's all for free – even exam and EPQ entry, which is generously supported by our partners at James Allen's Girls' School – so really it is something of a dream.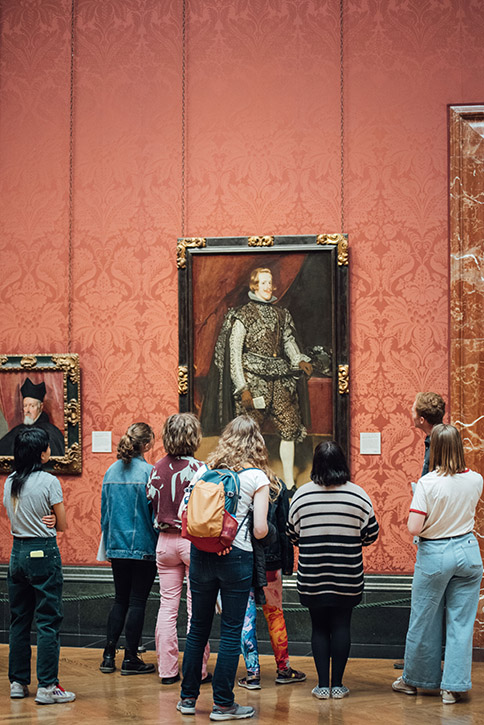 Of course, none of this would be happening without our extraordinary partners and supporters, or the amazing collaborative work of our trustees and team. The Rothschild Foundation has supported AHLU since the very beginning. Hannah Rothschild explains: 'The next generation of academics, curators, thinkers and practitioners will include many of AHLU's alumni'. Christie's auction house supports AHLU's teaching costs and provides a myriad of opportunities for the charity and students, including educational training scholarships, work experience placements and apprenticeships.
Above all, Art History Link-Up wouldn't exist without the determination and commitment of our students to study the arts, and art history in particular, in their own time. It is our students' passion and energy that drives AHLU and makes dreams a reality, and we hope can join us.
Rose Aidin, Founder and Chief Executive, Art History Link-Up
With thanks to Ed Hands, photographer
Art History Link-Up is a registered charity (no. 1172792). To find out more about Art History Link-Up, visit the website or follow Art History Link-Up on Twitter and Instagram
Apply for AHLU's free Art History A Level and EPQ hybrid courses from the Courtauld Institute of Art by 9th September 2022
Find out how to support the work of Art History Link-Up