By 1980, the rivalry between Steve Ovett and Sebastian Coe at the pinnacle of world athletics dominated the headlines in Britain and around the world. They were very different personalities with different styles. Ovett's raw edge and power contrasted with the smooth, floating elegance of Coe. Ovett was BBC Sports Personality of the Year in 1978 and Coe in 1979. As the Moscow 1980 Olympics approached, excitement was high. Twenty-four-year-old Ovett had captured the world mile record and equalled Coe's 1,500 metres record but Coe remained favourite for the gold in the 800 metres. The Olympic final at the shorter distance came first.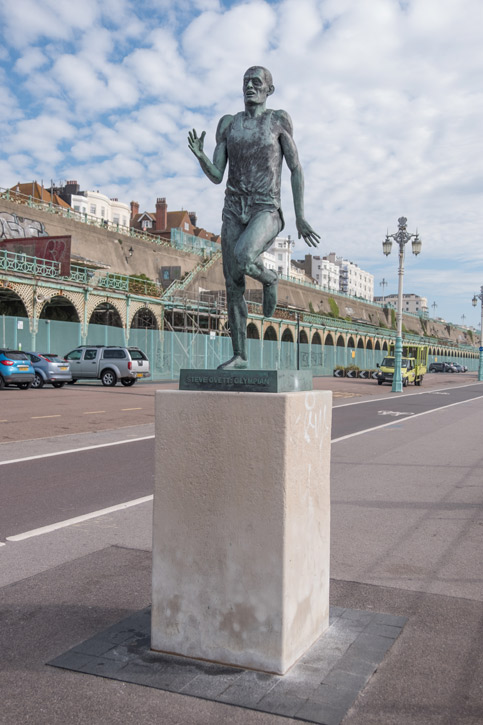 Along the south coast, in Brighton, there is a lasting memory of that iconic race in Moscow when Britain's two world-class middle-distance runners competed for gold in the 800 metres, head-to-head for only the second time in international competition. It was a robust, bumping and pushing contest, made for a racer. That racer was Brighton-born Ovett. Boxed in behind a group of strong East German runners, Ovett forced a way through with absolute determination. BBC TV commentator David Coleman observed: 'Ovett, those blue eyes, like chips of ice.' Once in front, Ovett cruised to the line and raised a clenched fist in victory.
The triumph that day belonged to him, but he had to concede to Coe in the 1,500 metres six days later. The following year, Ovett and Coe exchanged world records in the mile three times during a ten-day period. A sporting rivalry had taken each athlete to a new peak.
In Brighton, following a campaign led by a local schoolteacher, a life-size bronze was commissioned by the council from local artist, Peter Webster. It depicted Ovett in that final, bursting stride to glory in the 1980 Olympics. Erected in 1987 in Preston Park where Ovett frequently used to train in his home town, it was sadly stolen in 2007, sawn off from its plinth above Ovett's right ankle. Police later recovered a leg and a few small pieces, the rest feared sold for scrap.
Five years later, the London 2012 Olympics inspired a campaign for a replacement and, shortly before the start of the Games, a fine new sculpture to the same design and by the same artist of Brighton's great athlete (made an OBE in 2000) was erected in a different but prominent location by the seafront. The distance from the statue to the pier and back is 800 metres.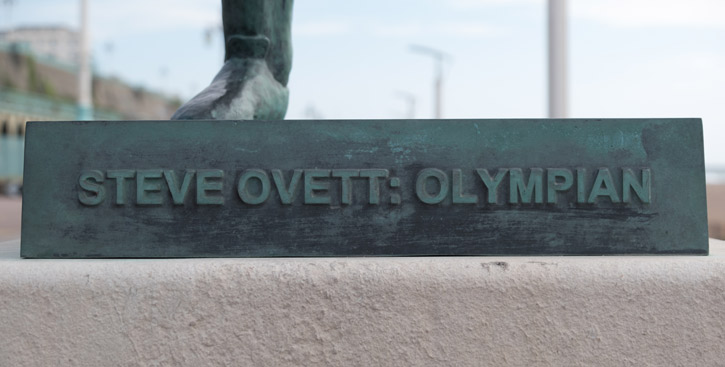 The base of the sculpture is simply inscribed 'STEVE OVETT: OLYMPIAN'. Permanent is the memory of Steve Ovett's triumph and those glory days of British middle-distance running.
Ian Hewitt, author
The book Immortals of British Sport: A celebration of Britain's sporting history through sculpture by Ian Hewitt and Sampson Lloyd is published by Vision Sports Publishing (2013)
.