It was 1994 when Stephen Finer first met David Bowie.
Stephen describes it as a casual first encounter: 'We were the only two members of the public at a commercial exhibition in London, in Cork Street…we just happened to walk in within five minutes of each other'.
Bowie already knew of Finer's work. In 1978 the musician had appeared alongside Marlene Dietrich in what would be her final film, Just a Gigolo. In the film, Bowie plays a Prussian officer, returning home to Berlin after the First World War, where he becomes a gigolo and encounters Dietrich's character, Baroness von Semering. Bowie had seen Stephen's portrait of Marlene Dietrich while it was on loan to an exhibition called 'The Portrait Now' (1993–1994) at the National Portrait Gallery.
The nature of the pair's relaxed first meeting was emphasised by Bowie himself, who simply said – as remembered by Finer – 'I like your paintings very much, Stephen. I'll certainly be in touch. Shall we go somewhere and have coffee?' The rest, as they say, is history, and Finer's portrait of Bowie was hung in the National Portrait Gallery c.1995 – with Bowie several years later praising it to a curator at the NPG as a 'wonderful painting'.
The Bowie portrait is the only one of the musician featured on Art UK, but Finer went on to paint Bowie and his wife Iman a number of times: some of the other portraits can be seen on Stephen's website here. A double portrait of the couple, entitled David Bowie and Iman, was borrowed for the exhibition 'Painting the Century: 101 Portrait masterpieces 1900–2000', at the National Portrait Gallery.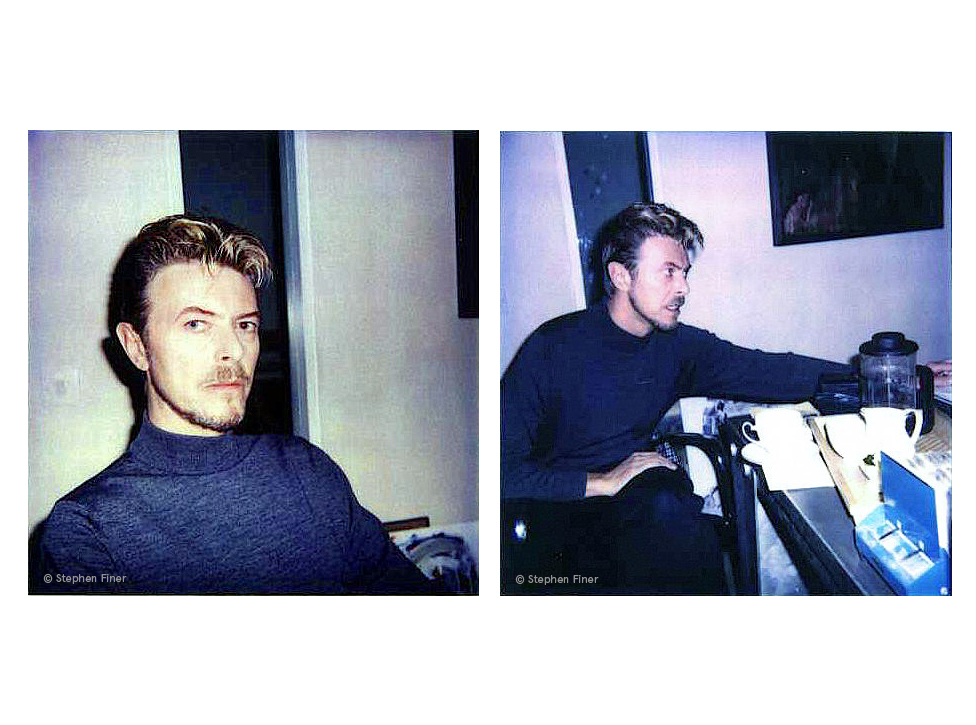 In both of these photos, taken by Stephen and never published before, the portrait of Bowie can be glimpsed on the floor in the background – before it was framed and hung in the National Portrait Gallery.
Following Bowie's death at the beginning of 2016, Finer's portrait was included, with 39 others, in the Rolling Stone critic Brian Hiatt's book, A Portrait of Bowie. In his introduction to the book, Hiatt noted that: '…the image that might come closest to capturing Bowie in his world-changing totality is an abstract painting by Stephen Finer, built upon the very impossibility of nailing him down. In the portrait, Bowie's face splays kaleidoscopically outward, as if caught between phases, as if he's the Sixties folkie, the Seventies glam alien, the clean-cut Eighties hitmaker and more, all at once'.
Bowie's own interest in the visual arts has become clearer after his death. A large part of his private collection was put on show for the public at Sotheby's in November 2016, including works by Frank Auberbach, Jean-Michel Basquiat, Peter Lanyon, Ivon Hitchens, Winifred Nicholson, Damien Hirst, Tintoretto – and Stephen Finer.
While his collection was undeniably impressive, Bowie kept it to himself, perhaps demonstrating his highly personal (rather than commercial) attachment to it. Reportedly, on first seeing Auerbach's paintings, Bowie's immediate reaction was to exclaim: 'My God, yeah! I want to sound how that looks!'. Alongside the Damien Hirsts and Jean-Michel Basquiats sat works by less well-known artists that Bowie had taken a liking to.
The collection was auctioned at Sotheby's, with just under 300 works selling for a total of £24.3 million.
Finer's portrait of Bowie captures the man who expressed himself constantly through music, costume and endless re-invention. The Guardian has put together an excellent graphic charting his prodigious output. But he also painted, influenced by those whose work he admired and including numerous self portraits. And a year on from his death, his loss is still felt keenly by his legions of fans and admirers.
Molly Tresadern, Art UK Content Creator and Marketer