'Speech Acts' is an exhibition that contributes to the ongoing debates around the function of art collections and museums in public life.
The origins of Manchester Art Gallery, as the Royal Manchester Institution, lie in the institute movement of the Industrial Revolution, with a clear mission to provide creative education and discourse for all classes in the advancement of a healthy society. Inspired by such work, today we
maintain the traditions of an active and progressive public forum, at the heart of the city – co-creating with our publics the story of our culture and assimilating new ideas to shape the future of civic life.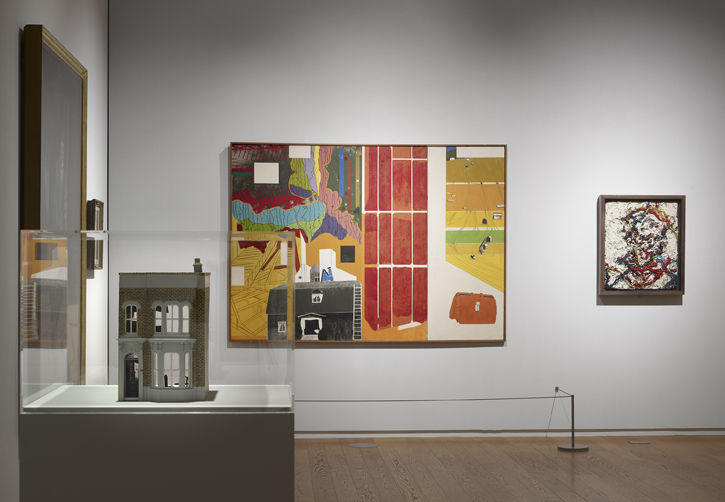 The partnership between Manchester Art Gallery and the Whitworth, also once founded as an Institute dedicated to social change, and now part of the University of Manchester, enables us to present the city's art collections in dialogue with each other, to reveal new stories and broaden existing ones.
The archives at John Rylands Library, also part of the University of Manchester, have provided us with the material to tell the inspirational story of the LYC Museum and its creative spirit.
We are grateful for the support of the John Rylands staff and also to Cartwright Hall, Bradford who have generously lent so much of their incredible collection.
We jumped at the opportunity of being included in the Black Artists and Modernism audit as it chimed with our ambitions to research overlooked, or even ignored works in our collection, and think again about how we genuinely represent the reality of our histories. Creating this exhibition has enabled us to make that research public and contextualise our municipal holdings within wider stories from other regional collections.
Thank you to the BAM team and especially Hammad Nasar who has curated this exhibition so thoughtfully with my colleague Kate Jesson.
Speech Acts has much resonance with our long-term re-examination of Manchester's collections – collections that were established with social intent. As such it is vital that we continue to provide a platform for us to ask questions about power, representation and the civic role of public
museums and galleries in the twenty-first century. This will shape our future direction, the way we use our collections, displays and acquisitions and we look forward to seeing what new knowledge 'Speech Acts' will generate next.
Alistair Hudson, Director of Manchester Art Gallery and The Whitworth
The free exhibition 'Speech Acts: Reflection-Imagination-Repetition' was on at Manchester Art Gallery from 25th May 2018 to 22nd April 2019.
The exhibition is presented in partnership with the Black Artists & Modernism (BAM) project. BAM was a three-year research project funded by the Arts and Humanities Research Council lead by UAL in collaboration with Middlesex University.
This text has been reproduced with permission from the publication produced by UAL with Manchester Art Gallery to accompany the exhibition, curated by Hammad Nasar with Kate Jesson.