The career of Simeon Solomon (1840–1905) was dramatic and full of incident – he met with both fame and infamy at different stages of his life.
He was born in London into a well-off, assimilated Jewish business family. Two of his older siblings had artistic careers. His brother Abraham (1823–1862) was a prolific history and genre painter, while his sister Rebecca (1832–1886) exhibited at the Royal Academy and the Dudley Gallery. In this artistic setting, Simeon Solomon was regarded as a child prodigy, not only by his family but in the wider Pre-Raphaelite circle to which his brother belonged.
His juvenilia – such as Eight Scenes from the Story of David and Jonathon (1858, Tate Britain) – promised much and heralded many of the themes and preoccupations of his mature career.
He studied at the RA Schools and exhibited in London galleries from the age of 18 onwards. Although influenced by Dante Gabriel Rossetti (1828–1882), Solomon took a different angle, equally inventive and novel – he represented figures who are still and introspective rather than active and overtly expressive, even when they are involved in historical events.
In The Mother of Moses (1860, Delaware Art Museum), for example, the figure of Jochebed simply stares in love and tenderness at her infant son.
View this post on Instagram
The viewer is left to contemplate the momentous story, recounted in the Book of Exodus, that follows this intimate scene. Solomon takes care with accurate historical details of clothing and accessories.
Rather than representing Old Testament subjects using academic painterly conventions, he reimagines them within specific Jewish contexts, often in simple settings. The use of appropriate racial types to depict the characters is key to a sense of authenticity.
His religious and cultural background is apparent in highly finished drawings such as Babylon Hath Been a Golden Cup (1859, Birmingham Museums Trust) and in some modern-day subjects, too, notably the series of drawings illustrating Jewish rituals and customs engraved for the magazine Once a Week in 1862 (copies of which can be viewed in The Jewish Museum, London and in other collections).
During a period of great experimentation, he exhibited numerous pictures often depicting rituals from various world religions, for example A Deacon (1863, Birmingham Museums Trust), which represents the new Catholic Ritualistic tendencies of Anglicanism.
In other works, such as Love Dreaming by the Sea (1871, Aberystwyth University School of Art Collection), Solomon pursued a more personal mixture of religious faith and physical beauty.
His many works exhibited throughout the 1860s and early 1870s demonstrate that he was at the forefront of the new 'aesthetic' painting, tending to employ unusual colour harmonies and odd compositional effects as well as to emphasise 'intense' emotion. His experimentation with subject matter and the expression of an individual point of view were to lead him to depict subjects that suggested his sexual orientation.
In depicting his own desires, he invented an androgynous beauty – reflecting a taste for both Botticelli and Leonardo – combining it with a novel treatment of religious and mythical imagery. This tendency can be seen in the drawing Until the day break and the shadows flee away (1869, British Museum).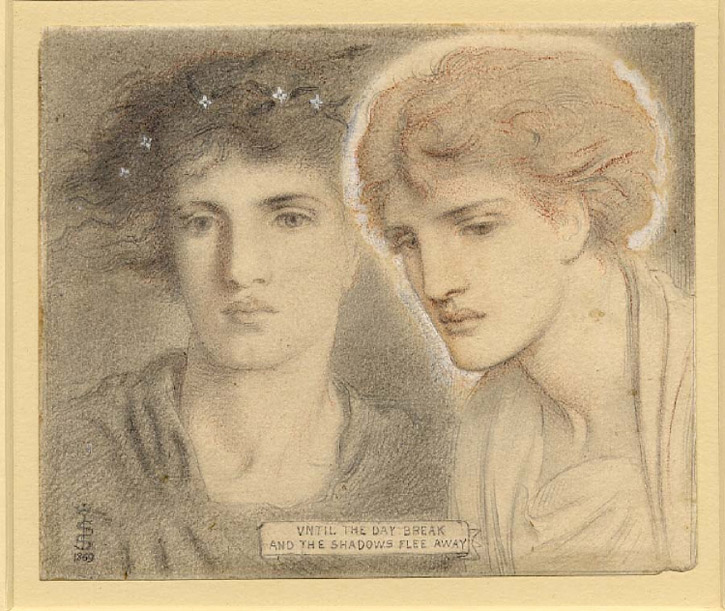 Friendships with Edward Burne-Jones (1833–1898) and writers such as Walter Pater and Algernon Charles Swinburne allied him to new developments in painting, art criticism and poetry. However, his work began to be greeted with some hostility in press reviews by those who detected 'effeminate' elements in them.
Then, at the very height of his success, in February 1873, Solomon was arrested in a public lavatory and charged with the crime of 'attempted buggery'. His career over, he began a precarious existence on the fringes of society. Subsequent criminal activity – his destitution drove him to burglary, for example – only increased his scandalous reputation. Nonetheless, he continued to paint in oils – a good example is The Moon and Sleep (1894, Tate Britain).
His later works are most often pencil or crayon drawings, typically representing intensified heads, sometimes incorporating quotations from poetry or the Bible, often depicting transitional states, as in Night and Sleep (1888, Birmingham Museums Trust).
His death in the St Giles Workhouse was followed by a gradual increase in attention to his work. He has gained a place in the history of Victorian art as a gifted and highly original artist. Several of his images featured in the first, scene-setting room at Tate Britain's 2016 exhibition 'Queer British Art 1861–1967'.
Colin Cruise, Emeritus Professor of Art History at the University of Aberystwyth