In the series 'Seven questions with...' Art UK speaks to some of the most exciting emerging and established artists working today.
While completing her fine art degree, Vanessa Raw was training to be an Olympic triathlete. The artist's two loves in life: sport and painting may seem irreconcilably different, yet she has managed to find the common thread between the two – she transfers the same physicality of running and swimming to the process of painting. Only in the last couple of years has she returned full-time to painting, which in the form of 'psychological landscapes' take on a surreal and dreamlike quality.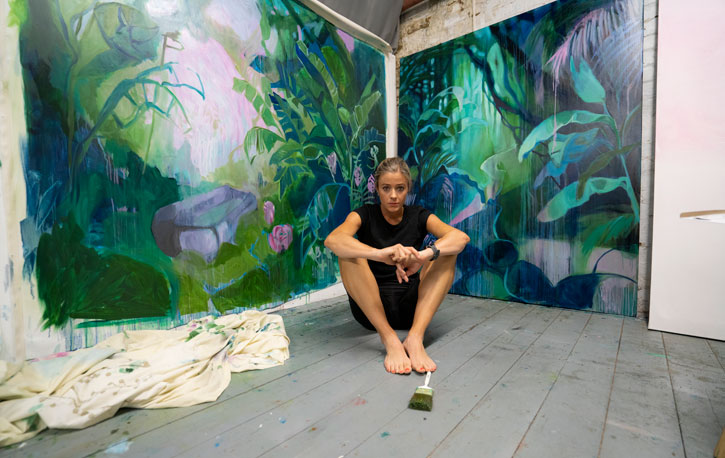 I spoke with the artist about her work and most recent show (now closed) 'I Dreamed I Touched the Land You See' at Margate's Neon Rooms.
Lydia, Art UK: Your career as an artist didn't take a traditional route. Could you explain your return to painting after many years of being an athlete?
Vanessa Raw: As a child I was always good at both sport and art, and was told by everyone that I would either be an artist or sportsperson. Art was something I always loved, it calmed me down. So I went to Loughborough University to study fine art. To keep myself fit I joined the Triathlon club at lunchtime. I was spotted by the coaches and eventually joined the GB team to train in the Olympic squad.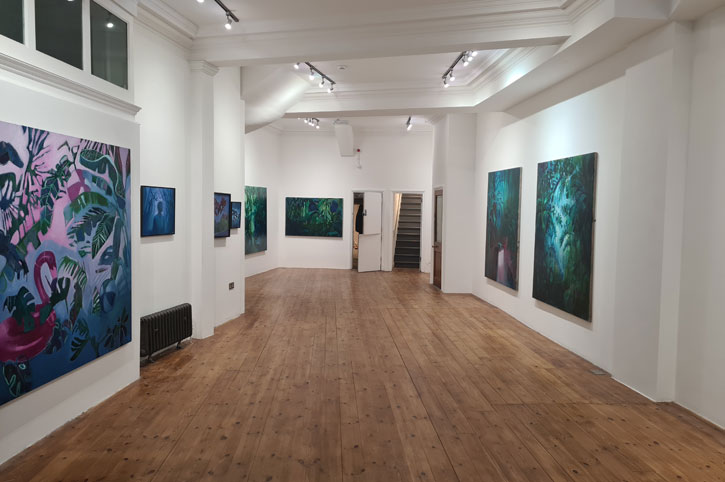 Although I wanted to be an artist, I was good at triathlon and felt obliged to fulfil my potential, but I always had the desire to return to art. My aim was to get to the Olympics and then quit. Loughborough Uni was very accommodating and allowed me to have two years out before my third year in an attempt to qualify for the Beijing Olympics, but without the balance of my art I ended up injured.
The problem was that I didn't enjoy the journey, I was too focused on the results, desperate to finish on a 'high' and fulfil this 'elusive' potential. I kept saying one more year, one more year, but it took twelve years until I decided to give it up completely and focus on being a full-time artist. I finally moved to London and focused on painting, but was still running on the side.
Lydia: Do you find that the discipline you once developed as an athlete crosses over into your life and work as an artist?
Vanessa: I think the drive I had for the triathlon is the same motivation I have for painting. Whether I was born with that drive or learnt it through triathlon I'm not sure. Even at uni, I was training 20 to 30 hours a week, but I was still seemed to be in the studio more than most. I have an intense personality that crosses over into my motivation, I have to do everything fully. You have to be so determined to be both an athlete and artist, you have to keep going. I feel even more energised through painting than I did from sport, I guess because I enjoy the journey, it's not based on getting anywhere. I still run regularly and used to run every day to my studio – along the coast in Margate. I'd have an endorphin high from running that would influence my painting.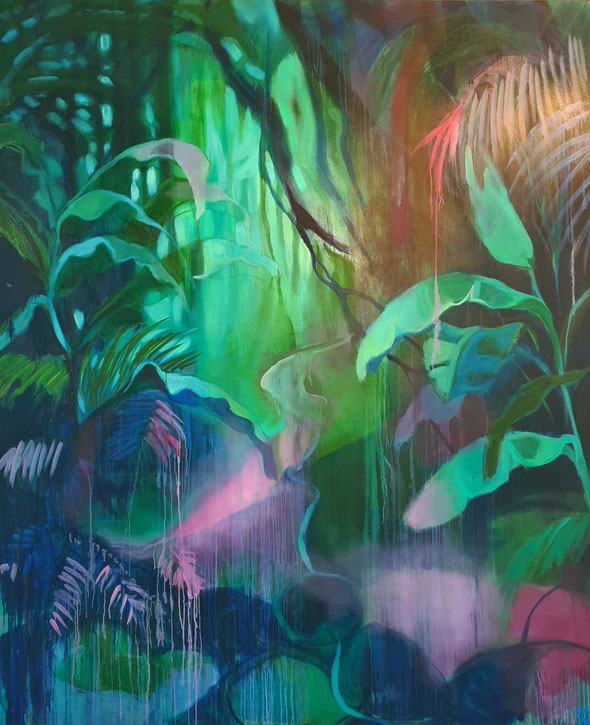 Lydia: Your work has evolved from portraiture into landscapes that take on an abstract and ethereal quality. What prompted this shift in aesthetic and subject matter?
Vanessa: I've always been interested in the human psyche, the ego, the self, and the connection between us all. The work I've been developing in the past year has continued this interest but through a different vehicle – I didn't feel like portraiture conveyed what I was trying to say. I quickly realised that a better way to be authentic as an artist is to reveal my internal psyche, rather than try to capture other people's. I guess my dreamscape works I exhibited in Margate are psychological landscapes of myself. But the experience of the viewer also comes into play as I'm trying to capture a moment in which I feel we are all connected.
There were palm trees on nearly every corner where I used to live, so the references to trees derive from the real landscape around me. But they also originate from my mental landscape – they are the motifs I see when I let my head go and I'm free of thought. For me these images are connected to survival – the moments when I could release myself from the mental chatter that was destroying me. From struggling with depression I've had to become conscious and mindful of my own thoughts. Painting these dream-like landscapes reflects real dreams where I'm cocooned in a dense landscape, which I supposed you could describe as a tropical landscape. It's an imaginary place I've never visited yet feels familiar.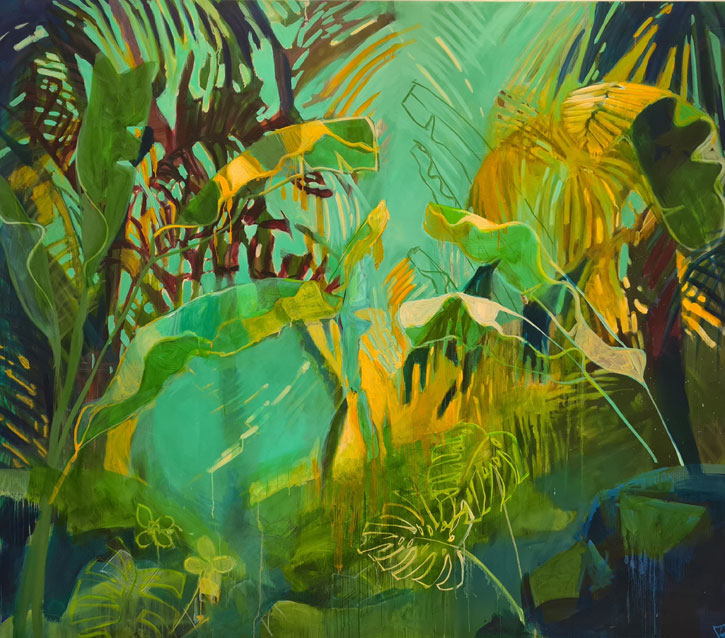 Lydia: Dreaming and the subconscious are important themes in your work, and you describe yourself as an 'intuitive' artist, but does intuition dictate the entire painterly process?
Vanessa: I make decisions based on how I'm feeling at the time – allowing my intuition to be the driving force. But I've also tried to strategise more. From looking at artists who I really love, for example, Justin Mortimer, Jennifer Packer, Phil Hale, it's clear that they are planning their work. Ironically, if you have created some strategy for your work in advance, you can then work more freely.
I think if I want to produce the kind of work I really want to create, I have to allow a degree of planning to come into my work without relying completely on intuition for each individual piece. I don't think it's possible to be completely intuitive while painting unless you're creating purely abstract work.
Once I've completed a piece I feel quite detached from it – I move on from that work. It's hard for me to see my work objectively, although it helps to exhibit my work and see the paintings through others' eyes. My next work is going to be different. I've allowed figures to emerge in the landscape.
Lydia: Could you tell us more about the materials you prefer to use?
Vanessa: First of all oils – the oily, flesh-like substance, tactile, that can be moved around – is important. I tend to use linen or even flax (which is super thick and raw). It creates a lot of texture, although it's quite hard to paint on. Painting is about the physical process. I feel like emotions in my work often derive from muscle memory in my body, so there's a gestural and performative aspect to the work, so the physical effort is part of that. Right now I'm painting in the house as I no longer have a separate studio, and I've covered the walls in canvas so I can loosen myself up and just go for it.
Lydia: What is your daily routine?
Vanessa: I'm an early riser. I try to get started as soon as I can, after at least three coffees! When I had the studio in Margate it helped because I would run to the studio in the morning – it would wake me up and become part of the routine. I could apply the same energy in the studio. Now that I'm in the house I get straight into it, but I don't feel quite as energised as before. I'm hoping I can get a studio back in Margate, and hopefully join Tracey Emin's studios that she's opening!
View this post on Instagram
Lydia: What advice would you give to aspiring artists who may be considering a career change?
Vanessa: Keep drawing, keep painting – use any spare time you have. Show your work, even if just on Instagram or to friends. By showing your work you learn how to see your work more objectively, how it flows together and what the next step is. Obviously the feedback is important also. It helps to feel like you have the ball rolling. Even if you don't believe in the work yet, you should believe in yourself as an artist, that will keep you pushing on, to improve.
Lydia Figes, Content Editor at Art UK