In the series 'Seven questions with...' Art UK speaks to some of the most exciting emerging and established artists working today.
Travel and the intermingling of cultures are essential components of Tunji Adeniyi-Jones' practice, especially as the British-Nigerian artist has studied and worked in Europe, but also America and Africa.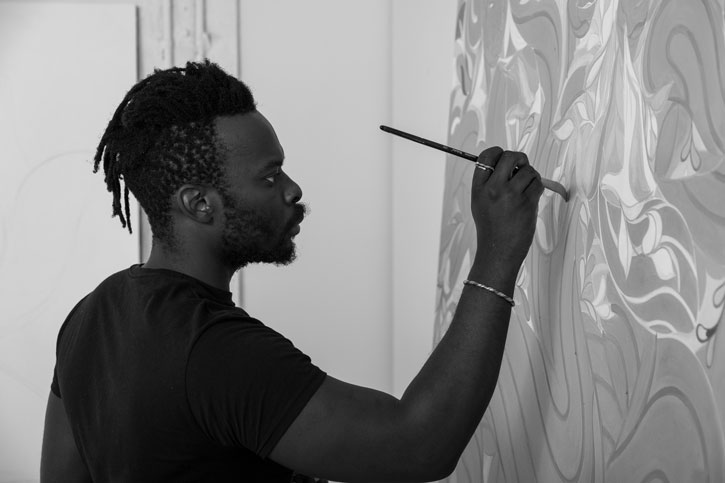 Adeniyi-Jones studied at the Ruskin School of Art, University of Oxford, before moving to the United States to embark on an MFA in Painting and Printmaking at the Yale School of Art. His time in America revealed to him the richness and uniqueness of Black art history, with the dynamic works of artists such as Bob Thompson and Kerry James Marshall inspiring him in new ways that allowed him to forge his artistic vision.
Known for his vibrant, fluid figures that dance across the rich landscapes of his sprawling canvases, Adeniyi-Jones's work displays a vast array of visual references from everywhere he's been in the world – from the chromatic designs found in Mexico City's architecture, to the cooler palettes of Dakar, Senegal.
In his latest exhibition 'That Which Binds Us', at the White Cube, Bermondsey, Adeniyi-Jones' works evade neat categorisation, but reference his extensive travels and experiences. The exhibition runs alongside his first solo UK exhibition, 'Astral Reflections', at Charleston, Lewes. I spoke to the artist about the development of his work throughout the years, as well as the influence of music and West African culture on his aesthetic practice.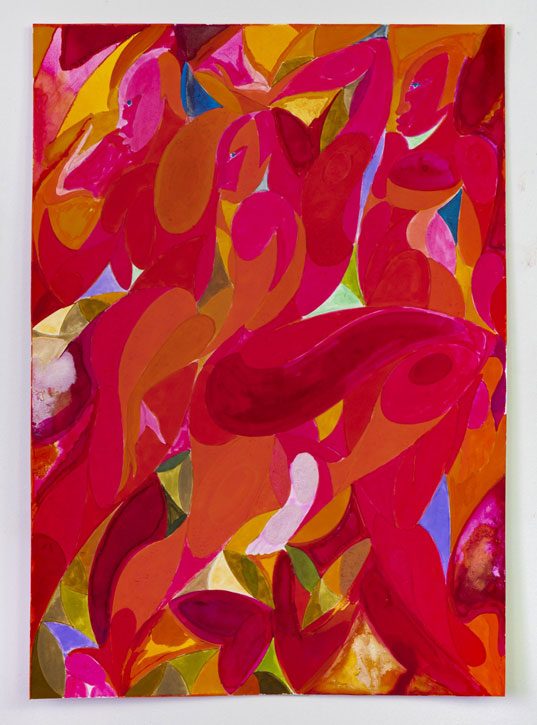 Ashley Tan: Can you tell us about the significance of the title 'That Which Binds Us'?
Tunji Adeniyi-Jones: The title is largely inspired by travel, both recently and throughout my life. I've moved between England and Nigeria, before moving to America nearly seven years ago. My migrations between each of these places have involved a lot of starting and stopping, picking up and putting things down. During that time I also travelled to places like Mexico, Senegal and to China as well.
'That Which Binds Us' came from thinking about the intangible things that make us feel we're home in foreign places. When I went to Mexico and Senegal, I found that even though I had never been to these countries before, I felt completely at home. I was welcomed and enveloped by the environment, so much so that I felt I could live there. There were various factors that made me feel that way: art, culture, architecture, people, food, climate – all of these things suddenly become accessible and familiar.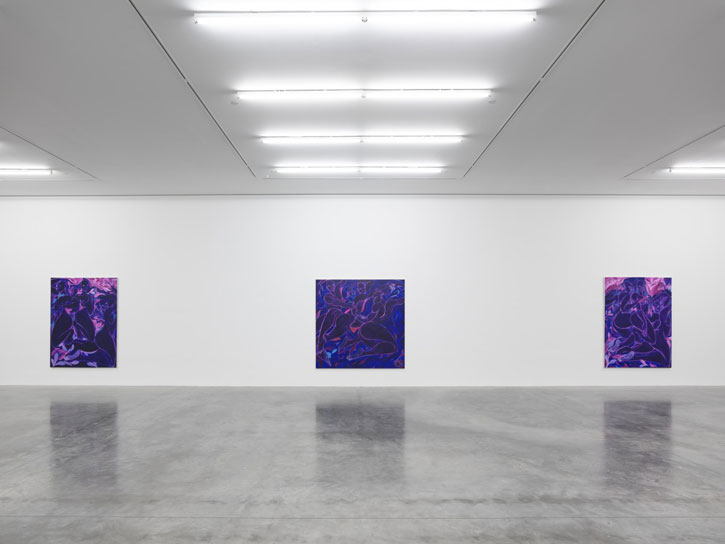 The show also symbolises a return to the city of my birth – London. It takes on a specific and personal resonance in London, being a place that has a lot of people from different cultures who shape the fabric of the city. The title is an expression of that, and a celebration of the things that bring us together, making us feel at home or in the right place, or in the right environment.
Ashley: The works featured in 'That Which Binds Us' feel actively revisionist, in the sense that they reframe a wide variety of European modernist movements, from Matisse's cut-outs to the overlapping forms of Cubism, as well as being influenced by West African visual culture. Previously, you've spoken about the lack of West African history being taught in the continent. So how did you build an education and vocabulary in West African art outside of the institutions you attended?
Tunji: That's a good question. I've been fortunate enough to have lots of family in Nigeria, who have been able to introduce me to my own background. I have an uncle who's a photographer, and we took a particularly significant trip to Lagos, Nigeria back in 2012. He introduced me to a plethora of Nigerian artists – really the most prominent and masterful artists who've led the country's creative spirit for the past 50-plus years. That experience was enlightening – I was exposed to something that I previously would not have had access to. I was able to unpack the history that I had been taught in the UK, which was insufficient. So I recontextualized it within a space that I found to be more appropriate, more appealing, and one that spoke a bit more directly to me in terms of the references.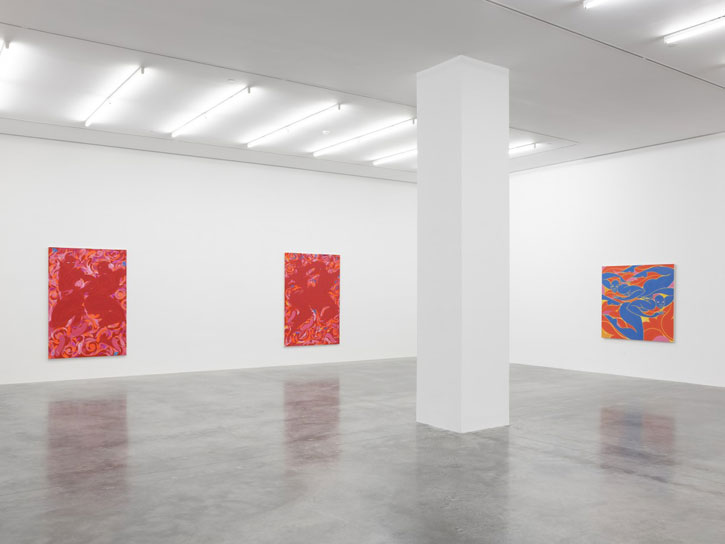 So yes, it's a lot of revision, and a lot of reimagining. Less so to do with Matisse, I actually haven't spent any time studying Matisse over my career thus far. I think it's interesting, though, that it might be the first thing that comes to other people's minds. My references tend to have a bit more breadth to them, like the Negritude movement that emerged out of francophone West Africa and then France.
The Harlem Renaissance movement has also inspired my work, in particular, artists like Aaron Douglas. I've been thinking a lot about those kinds of artists, in conjunction with the traditional Nigerian practitioners who I was exposed to in 2012. By joining all of these histories together, you begin to see that they do connect quite clearly at various points.
But I'm keen to keep the references broad and culturally expansive. I think that is also empowered by travel. All of this was a result of me being able to move around and experience and see different things. And that has definitely led to, or has helped me to develop, my aesthetic.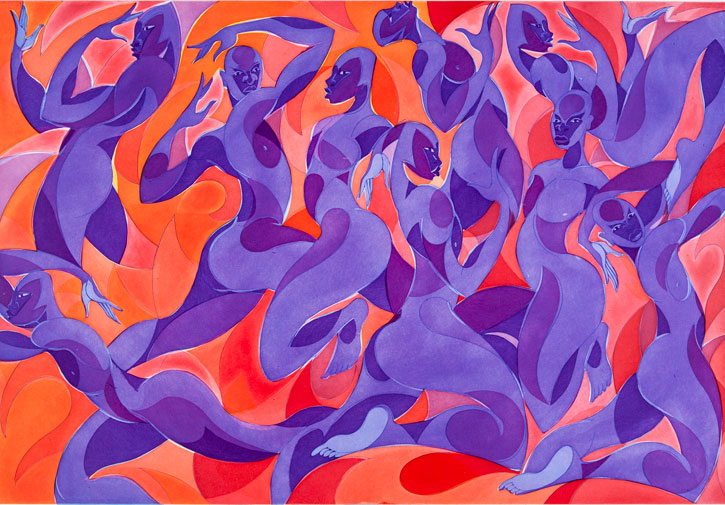 Ashley: Speaking of travel and movement, you've mentioned that moving to the US introduced you to the works of influential Black artists such as Bob Thompson and Barkley Hendricks, and you wrote a reflection on the impact of the works of Bob Thompson on your own artistic practice. Having lived there for several years, how has life in the US influenced your artistry and works?
Tunji: In terms of learning and exploration, it opened a doorway into a whole new universe. When I arrived in America, I suddenly realised that my job was to be a student of this practice of painting – to learn and to allow myself to grow and develop as much as possible. Being introduced to someone like Bob Thompson, and Kerry James Marshall, kind of gives you an indication that there's a lot of work left to be done.
They are masterful painters who have shown the way – but I have to take myself down that path, I have to work my way through these ideas myself. It gave me an indication that this was going to be a long and prosperous pursuit, but a pursuit nonetheless.
Before I moved to America, I didn't fully understand that journey. I don't think I understood what the career trajectory of a Black artist was, especially one who was thinking about travel and Blackness in contrast to the traditional Western or European art historical canon. So it seemed like these ideas were suddenly linked to a history and lineage of Black expression through painting. Moving to America was instructive for that.
I'm still in that mode and it feels exciting: it's an entirely unique and individual art history compared to European art history or any other kind of art history. It's the way artists in America – across the East Coast, West Coast, wherever you want to call it – have responded to art from the rest of the world. It has been a nice moment of me entering a conversation that I otherwise wasn't privy to, and learning what I need to learn as I go. Everything changed from there.
Ashley: Apart from working with paint, you're also a printmaker, having produced several aquatint etchings. What made you decide to venture into the realm of etchings?
Tunji: Something that happens, not too often – but can happen – is that I'll get stuck. I can't quite think of a new composition or a new body of work. Printmaking has proven itself to be a really useful tool for me to get out of my creative block. It lends itself to drawing and draughtsmanship, and all of my work really comes from draughtsmanship. So it's a wonderful way for me to push the genesis of how all my work comes to be, and while doing so, create an entirely unique work that can stand in its own right.
Because prints can be so complex and dynamic in their makeup and subsequent visual matrix, they can really be quite intricate. The detail can be really rich and deep. It requires a certain level of patience, which lends itself to painting. I can get quite impatient myself and printmaking really helps me slow down. It's the perfect accompaniment to the practice on the whole.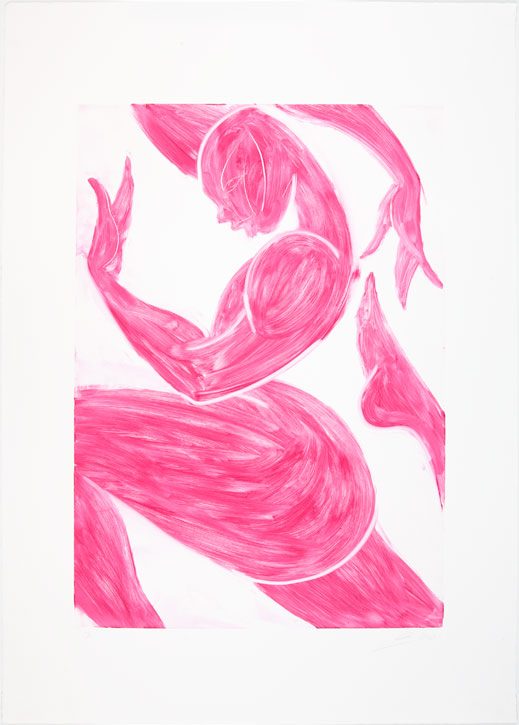 Ashley: A recurring figure in your works is the curvaceous, muscular and androgynous dancer. Can you expand on how this depiction of the dancer came about?
Tunji: I think it's a tricky one because as I'm still working with this form, things are changing and developing. So over the past five years, the form has swollen and shrunk and contorted and grown and become more versatile and more elastic. It's quite hard to pinpoint where this figure came from, because when studying painting and learning art history in the UK, I was very loyal to a certain kind of representational figurative painting like Jenny Saville, or Lucian Freud, or painters like that.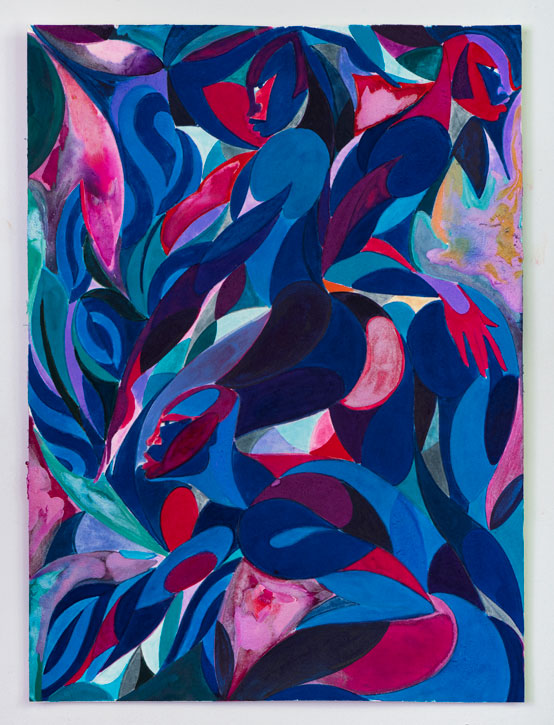 When I moved to America, I sort of understood (as mentioned before with Bob Thompson), that there were other ways to make figurative paintings. So this character is this very open-ended project that is both me addressing the history that I'm coming from, and the history that I'm currently entrenched in. I don't want it to be too specified. It's quite clearly dealing with Black bodies, ones that can be located on the African continent. But they can be from the North or South American continent as well, or anywhere in the world. I am working on making it as open as possible and making the figures subsequently as accessible as possible.
Ashley: Birds, flora, and nature are recurring motifs in your work, and these are symbols that are important in Yoruba cultures. Are there any particular mythologies that you refer to in your works?
Tunji: I think there used to be exclusively Yoruba deities and mythical figures in my early work, but over the years I've wanted the conversation around my work to be a bit more open, and slightly less focused and specific. I'm not strictly a Yoruba historian myself. I'm trying to be a worldly traveller with my work, and allow for things like different places to have impact.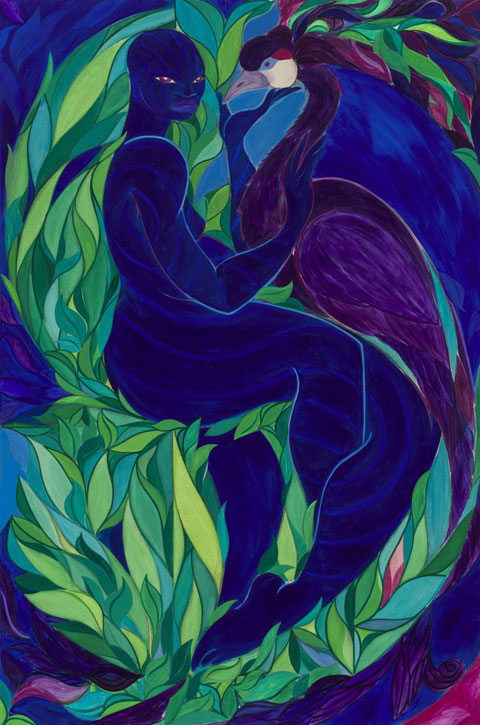 More recently, those specific aspects have been muted. They're still there, under the surface, but really, I'm interested in the architectural chromatic designs that I see in Mexico City, and then the counter-chromatic designs that I'll see in Dakar, where there is a slightly cooler palette. And then this, of course, speaks to the foliage and the flora that's in my work as well.
There are still characters, specifically in the show at White Cube, that reference the traditional heads from the Kingdom of Benin, the Ifè bronze sculptures with scarifications across their face – tributes and odes to nobility and royalty that were memorialised. These ancient sculptures are still found in quarries today, but we have no knowledge of exactly how many there are. But aside from that, things will become a bit more open, which I'm really happy about, because from what I've gathered, people are able to bring a lot of their own personal feeling and source material to the work. Then it becomes more of a conversation, where I'm learning just as much as I'm giving.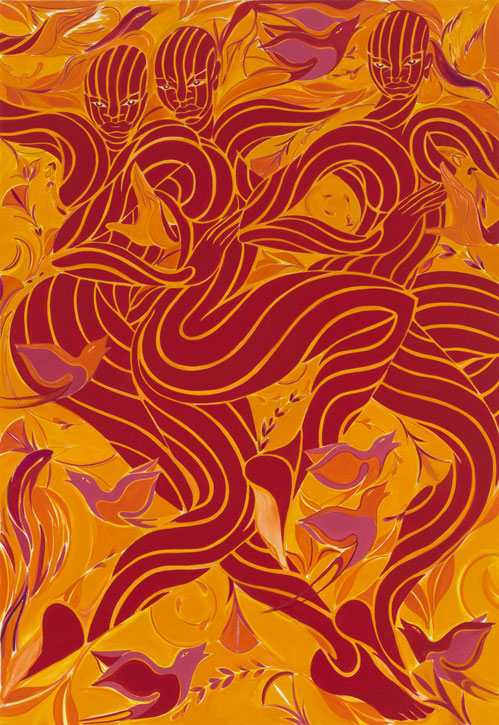 Ashley: You created playlists to accompany your show at Charleston, and you've also spoken about how you've played instruments, including the piano and tuba for years. How does music inform your art?
Tunji: I think I need to be listening to music while I'm working, not through all aspects of the process, but for most of it. I never found a way to balance both practices, so now my commitment is truly to art and painting.
I listen to something like a very multi-instrumental sort of jazz composition, so I feel that I'm keeping that aspect to myself alive by really listening to music that is just as expressive as my painting – very colourful, bright and exciting. And it ends up being another wonderful accompaniment to the work.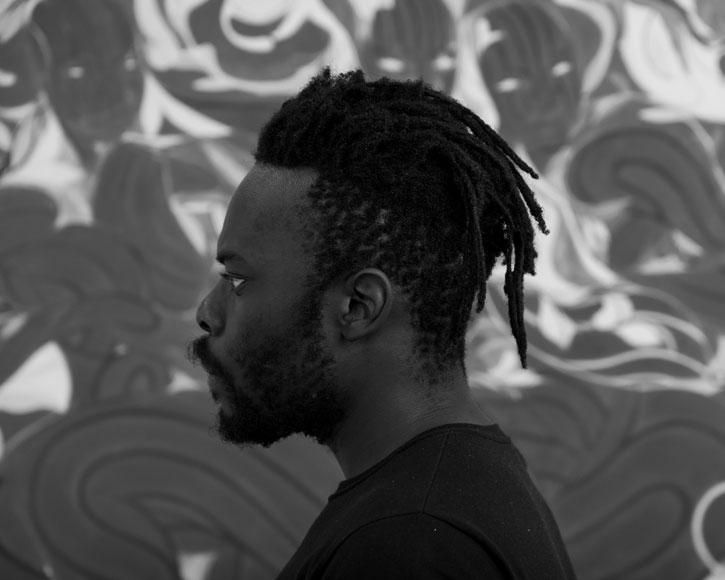 People have said that they feel a fluidity, rhythm and a tempo to the paintings. That's good, because that's usually the condition under which they're made.
Ashley Tan, freelance writer
Tunji Adeniyi-Jones 'That Which Binds Us' is on until 9th January 2022, and 'Tunji Adeniyi-Jones: Astral Reflections', Charleston runs until 13th March 2022