In the series 'Seven questions with...' Art UK speaks to some of the most exciting emerging and established artists working today.
The work of Iranian-born, Canada-based artist Shahrzad Ghaffari is inspired by poetry and mysticism, so she was a natural choice for a commission in the modern section of Leighton House Museum, Kensington, the former home and atelier of the artist Frederic Leighton. Ghaffari is the first contemporary artist to be invited to create work for the interior of the historic museum, as part of its redevelopment plans which involves the creation of a new exhibition space.
Situated close to Holland Park, Leighton House was designed by its owner, who apart from being an influential nineteenth-century artist, was also President of the Royal Academy of Arts between 1878 and 1896. Leighton House marries Leighton's love for British as well as Middle Eastern design, in what could be described as a quintessential orientalist interior.
Leighton travelled the world exhaustively visiting Austria, Algeria, Egypt, France, Germany, Greece, Ireland, Italy, Lebanon, Morocco, The Netherlands, Scotland, Spain, Switzerland, Syria and Turkey. In his late twenties, he began buying Middle Eastern artefacts and built up a collection of tiles, ceramics, around sixty carpets, woodwork, textiles and metalwork. The collection was used to create the stunning Arab and Narcissus Halls at Leighton House, which defy their era and combine styles and cultures in a way that was very ahead of its time.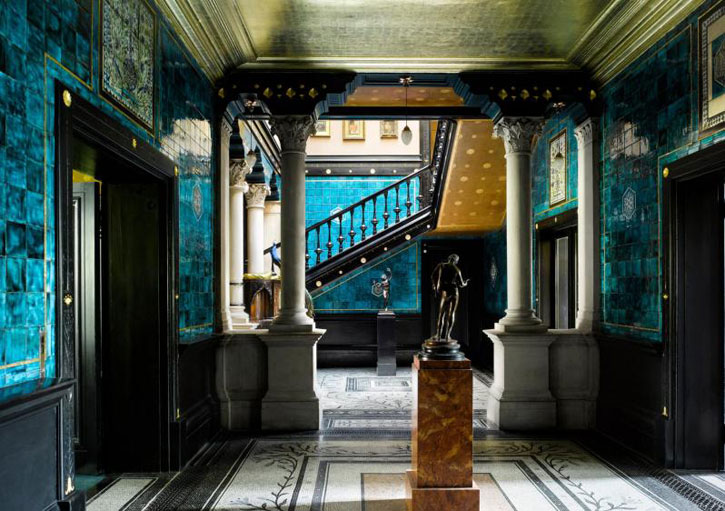 Inspired by the colours of the tiles in the hall, Ghaffari's site-specific work, Oneness, is an 11-metre-high contemporary mural that merges East with West, in the spirit of Leighton's vision. She also looked to the Persian poet Rumi for inspiration – the work takes its essence from his poem of the same name: 'I have put duality away, I have seen that the two worlds are one; One I seek, One I know, One I see, One I call.'
Sitting in the tower at Leighton House, I asked Ghaffari seven questions about Oneness, her inspirations and how she brought them all together to make this work.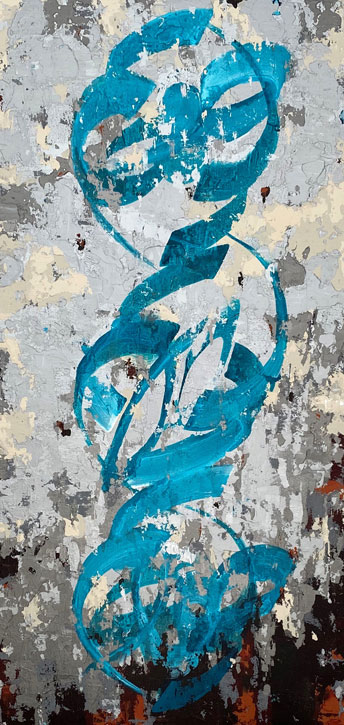 Amah-Rose McKnight-Abrams: What was the starting point, conceptually, for Oneness?
Shahrzad Ghaffari: I was invited, amongst others, to give a proposal for the upcoming major renovation at Leighton House. I decided to go and look at the space to get a connection and a feeling for the place. Just walking in and seeing all those Victorian paintings and the craft of the building and those blue tiles, I immediately connected to the place and felt at home. At that point, I knew what I was going to do, everything was in front of me – they needed something modern but with history woven into it as well.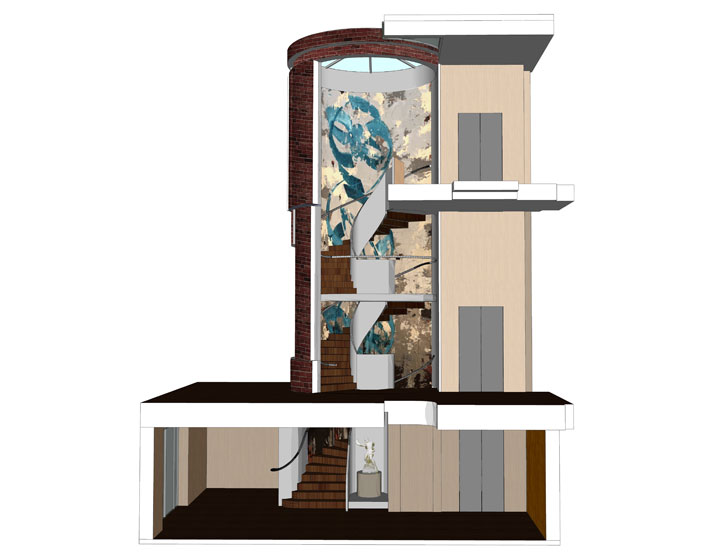 Amah-Rose: Technically, where do you start with realising a mural like this? How do you take it off the page and into reality?
Shahrzad: I started by doing lots of sketches and I worked with the words from Rumi's poem. The words formed an abstract shape, as if they are a bridge between literature and art. This double helix starts from the base and comes towards the skylight, one represents East and one West and together they shape a new form, like DNA. I've chosen silver because it is a spiritual colour for me. It reflects everything like a mirror and this mural reflects everything within Leighton House, especially with the colour turquoise – it's using those tile colours from the house and the brick colour. You can see those burnt oranges and browns in the mural as well.
Amah-Rose: You have said you have a strong connection to language and poetry. What was it about Oneness that gave you the inspiration for this work?
Shahrzad: The idea for Oneness originated from a poem by the Persian poet Rumi. The poem itself is about 'oneness', and about how it doesn't matter which religion or culture you come from, exactly like the vision of Leighton. He had a vision that brought together East and West under one roof. My work, Oneness, is repeating the same idea. The words are visible in the work but in abstract form.
Amah-Rose: You have spoken in the past about calligraphy and that there is a relationship between calligraphy and your work, is that right?
Shahrzad: Not really, it's just words that inspire me. Maybe they've become just strokes for me, like I freed them from their static form. So, it's not too much like calligraphy. But I wondered, can I get these strokes to dance? I use them to dance on my canvas and especially in this mural, the dance starts from the base of the tower towards the skylight.
Amah-Rose: You come from a long line of artists and creators, and I wonder what it's like to have that history as an artist?
Shahrzad: I come from a family with a couple of master Iranian-Persian artists. The support of my family has always been very important for me, and to be able to continue this journey.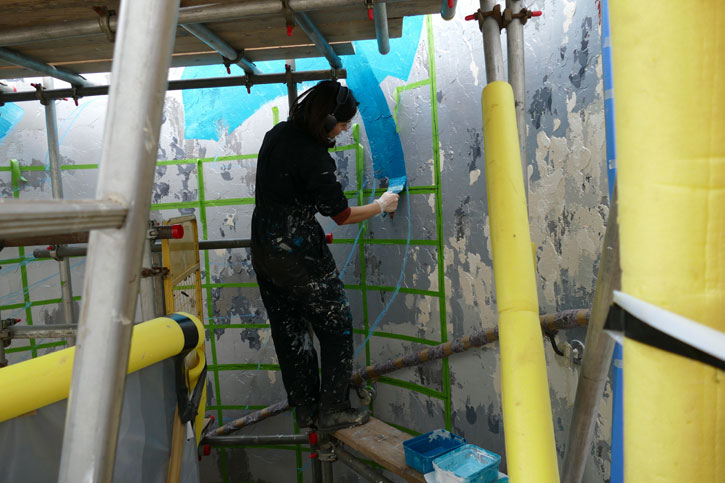 Amah-Rose: What is it like to be working at Leighton House? What's it like working in a space like that? It was designed essentially as a studio...
Shahrzad: Yes, it's amazing I've been able to use the winter studio, which has been a great experience for me. They have a great team here, it's very supportive. This place is quite dear to me. I don't know, maybe it is having both West and East together, coexisting so peacefully, it's quite heart-warming for me to see. When the viewer walks from the base of the tower up the stairs, the colours are quite dark but as they ascend the colours get lighter and lighter, becoming more blissful. It interacts with the visitor because it's a mural. At each level the visitor can feel more connected with the work, they experience it at every level.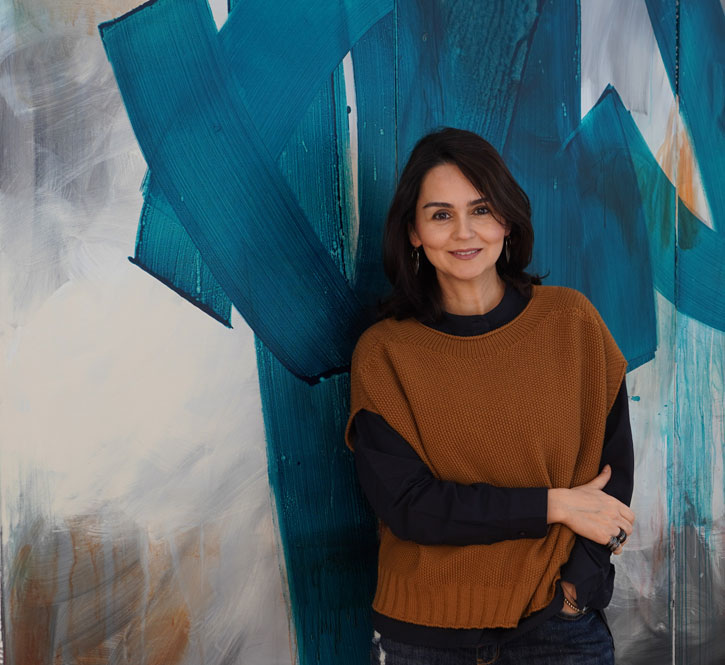 Amah-Rose: It's not just colour though, it's texture as well?
Shahrzad: Yes, I built up the background texture of layers like a wall which has been painted many times over the years. It represents history, that background and it adds to the work. The future grows from the past.
Amah-Rose McKnight-Abrams, freelance writer