In the series 'Seven questions with...' Art UK speaks to some of the most exciting emerging and established artists working today.
The practice of Rosanne Robertson spans performance, video, sculpture and drawing, and intimately works within the natural landscape. Embodying the energies of the sea, they draw parallels with this vast expanse of water and the fluidity of Queer bodies.
In 2019 Robertson was a Yorkshire Sculpture International Associate Artist, resulting in a new body of work which was displayed at The Hepworth Wakefield. The culmination of this work, a large steel and jesmonite sculpture Stone (Butch), is now exhibited in Sculpture in the City in London.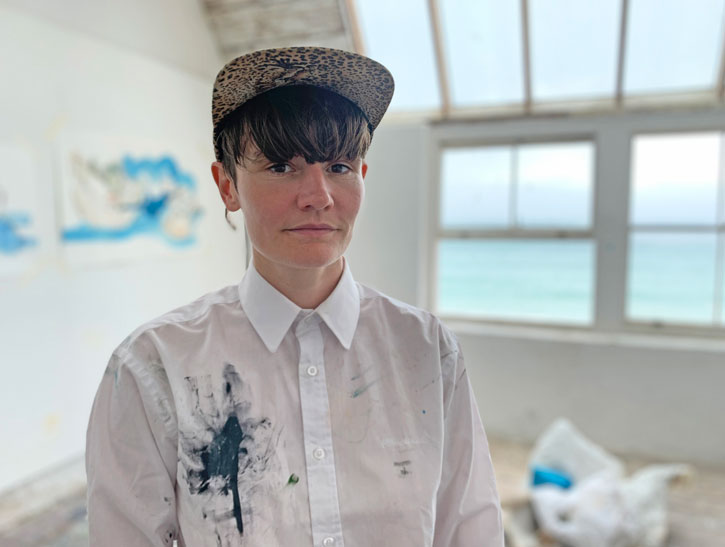 Born in Sunderland, Robertson studied Fine Art at Manchester School of Art. They have recently moved from Yorkshire to West Cornwall. As resident at Porthmeor Studios, St Ives in 2020, Robertson created the video work Packing. Packing was one of three works acquired by the Contemporary Art Society for The Hepworth Wakefield. It is included in Robertson's first solo exhibition in London at Maximillian William.
I spoke with Robertson about these projects and how their work expresses the fluidity of gender identities and confronts Queer histories.
Tania Moore: The title of your exhibition at Maximillian William is 'Subterrane'. What does this term mean to you?
Rosanne Robertson: 'Subterrane' is a geological term for the bedrock or underground layer beneath our feet. The choice of title has a connection with the caves, pools, and crevices of the coastal landscape I have been working in, which are more hidden from view.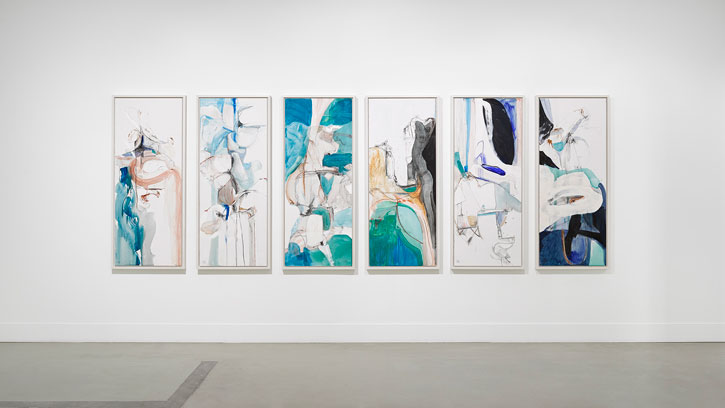 I have been exploring a rocky headland at the easternmost point of St Ives Bay called Godrevy Point, where at low tide you can see and climb around all the creations of the sea and swim in the naturally occurring tidal pools. The whole body of work for my solo show has drawn from this one place.
The title 'Subterrane' is two-fold as it also brings in the idea of the underground in terms of Queer history. A lot of our history as LGBTQIA+ people has been underground; our spaces have been hidden and kept from view and there are big gaps in our histories due to homophobic and transphobic laws. The whole process of making this work is about bringing darker marginal spaces into the open and the light.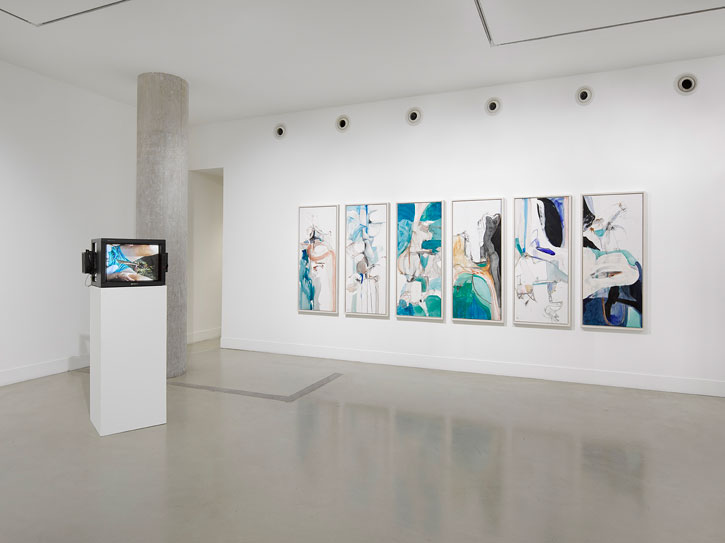 Tania: There are some recurring motifs in the exhibition, of the sea and clothing. What do these symbolise?
Rosanne: I've used items of clothing in performances such as white vests, sports socks and shorts for a long time and sometimes I've incorporated them into sculptures. Sometimes these items are the most obvious connection to the body within the work. The items can be read as masculine underwear and they reference what I describe as my base layer.
My masculinity as a young girl was responded to as unnatural. When people see my name and then my work with these masculine items of clothing, they think I am referencing something outside of myself such as gay male culture, but I am not: I am revealing part of myself. I am referencing butch culture, lesbian identity, female masculinity, gender Queerness and non-binary gender.
I began to use these items to reference the body and my own experience but have gone on to understand the significance of the repetition of these three items in relation to the (US) masquerade laws that criminalised LGBTQIA+ and gender non-conforming people and were used to enforce normative gender. The masquerade laws required people to wear three items of clothing that apparently matched their assigned gender at birth to avoid arrest. Trans and gender non-confirming history is a violent history, it is laid out in the novel Stone Butch Blues by Leslie Feinberg which I draw on for inspiration.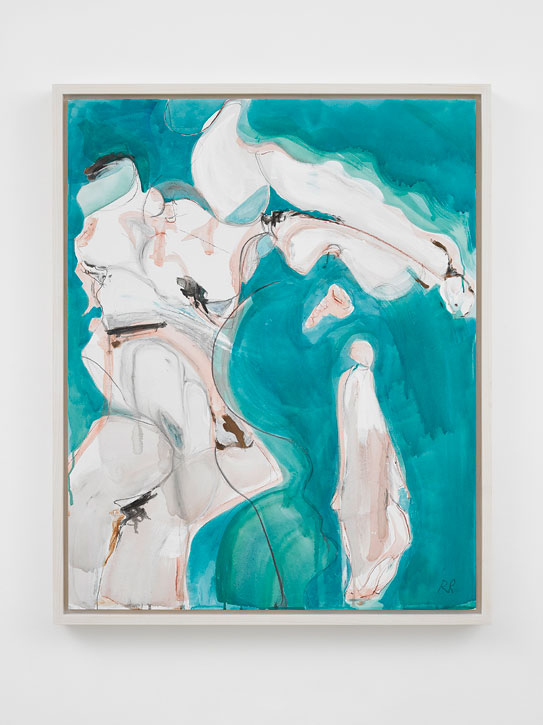 The sea entered my work mainly in 2020 when I moved to Cornwall and had a studio at Porthmeor Studios in St Ives, which faced the sea. For quite a long time, making the work was a process of just taking in the sea. The motion of the sea and its changing colours throughout the seasons have made their way into the compositions. I think it's impossible not to accept its energy into the work: I absorbed it like a sponge, and the exhibition feels like wringing it back out again. The sea brings a transformative energy, a constant movement that continuously shapes the land and resists all attempts of containment.
Tania: How have you worked directly with the landscape when making your sculpture?
Rosanne: I lived in Hebden Bridge in West Yorkshire, which is at the bottom of a dramatic valley, and I started to look at the shape of the landscape. I began to set out on a six-hour walk to and from a set of stones called 'The Bridestones' and experiment with performance in the waterways that ran through the side of the valley.
I began to focus on the cracks in the rocks and had the idea to cast the negative space. I mixed plaster on the Moors and cast it quickly. It was satisfying because it quickly turned from this liquid material into a solid structure. There's a moment where you pull it from the space, and you can hear this noise as it comes away. It became a chance composition because I didn't know what it was going to look like. It was a process of discovery for me, I was learning from the landscape.
Tania: How do you employ automatic techniques in your work?
Rosanne: I describe my performances as semi-improvised. I purposefully only have half an idea because I want to respond to the moment and to the environment. With drawing, I spread large watercolour paper across the studio floor. During the first stages of mark-making, I have my eyes closed and feel through the body and remember physical sensations or the experience of discovering something, like walking around a bay, swimming around a stack of rock or seeing a cove for the first time.
Automatism for me is the act of trusting in my deeper psyche which is less tainted by the hostile binary structures I have bent myself around.
Tania: What medium came first for you?
Rosanne: I studied painting originally, and performance came after that. It was a surprise to me that I ended up doing live work. I was influenced by where I studied, as Manchester is massive for music and live performance, and I was part of an improvisation collective. Through that, I started to experiment with sound, and then more physical live performances. For a period, a lot of my practice was live performance, but now it's more performance for camera.
Drawing is always the thing that runs through everything and always has from the start. The other media have stemmed from drawing, but they're in a cycle all the time, so I can't really separate them.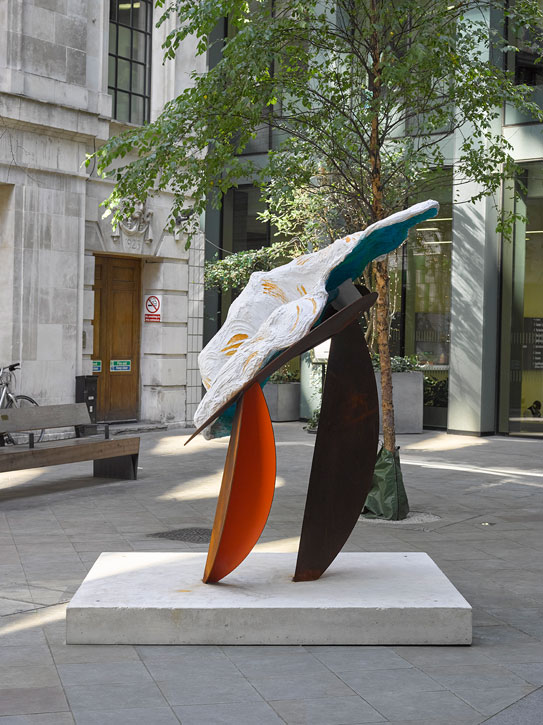 Tania: How has the public context of some of your recent sculptures changed how you consider the work?
Rosanne: I've previously avoided some materials that are rigid, but more recently I've been working with steel to make public sculpture. There's a real satisfaction in trying to get fluidity through a material that is so rigid. When making a work for outdoor public space it must stand up to the elements and so the process is changing my relationship with materials – from the ephemeral to that which can occupy space physically.
Stone (Butch) is now in the City of London. Its title directly links it with Leslie Feinberg's novel and the Queer and trans context for the work. When I was setting up for a performance with the sculpture for Whitechapel Gallery's Nocturnal Creatures Festival, a woman came across the work by chance and she was visibly so excited to see the title of the work and a public sculpture that referenced her identity. For somebody to stumble across that in the City... that's really special.
Tania: Which artists do you admire?
Rosanne: I've been thinking more about artists who have worked in Cornwall since I've lived here and Ithell Colquhoun has been ever-present in my mind. I feel like I have been seeing her work and what she saw in the landscape – the colours and the seaweed.
When I made Packing, I was in the bottom of a very dramatic crevice in the rock and I was looking out at what looked like Colquhoun's painting Scylla, I could see the opening into the sea beyond my legs which were half submerged by water. It is both surreal and enriching to see other artists all around me in the landscapes they too worked in.
Tania Moore, Chief Curator at the Sainsbury Centre
'Subterrane' is at Maximillian William until 27th November 2021. Stone (Butch) will be at Sculpture in the City until spring 2022.