In the series 'Seven questions with...' Art UK speaks to some of the most exciting emerging and established artists working today.
Michael Craig-Martin is celebrated for his large-scale wall drawings, paintings and prints, which combine hand-drawn outlines and intense, unnatural colour palettes to interrogate the relationship between everyday objects and their representation. Characterised by precise draughtsmanship, his instantly recognisable images subvert the prosaic and make the familiar strange.
The artist's vocabulary of household items – including buckets, torches, lightbulbs, shoes and phones – appear at varying scales, isolated against flat monochrome planes, or overlapping in complex constellations. Showing no signs of wear or damage, they exist in what he describes as 'a philosophically defined space somewhere between the particular and the general', a utopian vision of the world where nothing is ever broken or spoilt in any way.
Sometimes Craig-Martin references works by other artists, most notably Georges Seurat's Bathers at Asnières (1884), which he has reimagined several times since 2004.
For his latest exhibition at Cristea Roberts Gallery, 'Past Present', he again turns his attention to the art of the past, paying homage to his favourite artists, including Leonardo da Vinci, Hans Holbein the Younger, Piero della Francesca and Diego Velázquez, among others. He spoke to me about deconstructing and translating their masterpieces into his distinctive graphic style and what the process has taught him.
David Trigg: You have said that Georges Seurat's Bathers at Asnières (1884) is one of your favourite works of art. What is it about this composition that so fascinates you?
Michael Craig-Martin: I still recall seeing Bathers at Asnières for the first time when I was taken to the Tate Gallery as a child in the 1950s. It was still in their collection as it had not yet been nabbed by The National Gallery. In that extraordinary way that only a work of art can, it resonated with me profoundly then and still does today.
It is an unusual painting in many ways. Despite its size and complex composition, one is first struck by its quality of complete calm, stillness, and peace. The light is soft, with the slight haziness of a hot summer day. It is a painting of ordinary life, working-class people at leisure, but presented at the scale and with the dignity of a great history painting. I am happiest with my work when I feel I have established this sense of still centre.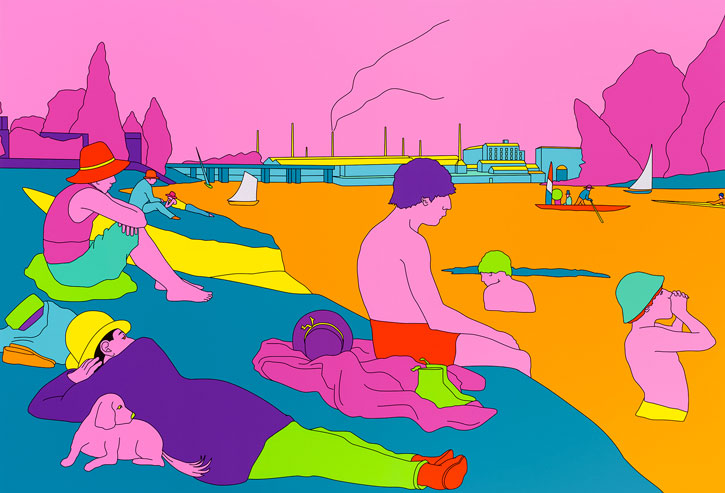 Obviously I identify with Seurat's desire to honour the ordinary, but I became particularly fascinated by the way that he structured this work by drawing each figure separately and then assembling them to create the scene we see. This is exactly how I work: I draw each object separately and then construct an image from them.
David: Hans Holbein the younger's The Ambassadors (1533) seems like a natural choice for your series of deconstructions, given the number of everyday objects in the painting. But what about the other Old Master works you have chosen?
Michael: My choice of Old Master paintings is based on ones that I love, some of which I've played with a little bit before in previous print series and paintings, such as Seurat's Bathers, and others which sit firmly in our psyche, such as Leonardo da Vinci's Mona Lisa; it seemed to me that I couldn't really work with all these other images and not confront the icon of all icons.
The Mona Lisa is not a favourite of mine, but I decided that its uniquely iconic status made it a necessary challenge. Its grating overfamiliarity makes it almost impossible to see afresh, but that was my intent.
Las Meninas (1656–1657) by Velázquez is a painting which captured my imagination as it has done with many artists before me. This is a composition of great originality and complexity and I have simplified my version in a significant way.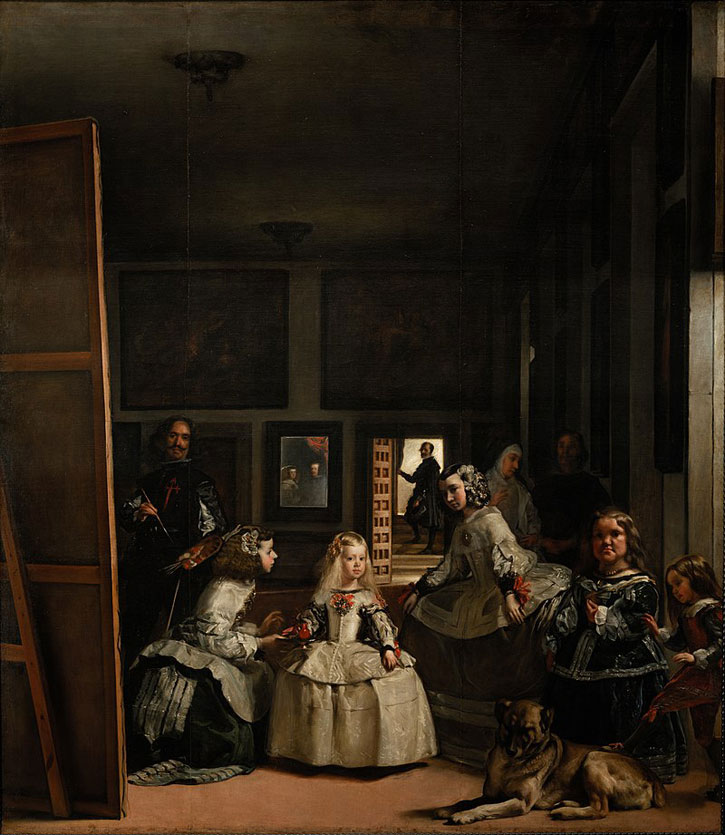 Originally, I drew all of the figures in the painting, including two secondary figures in semi-shadow behind the line of principles and, at the far right, a young prince with his foot resting on the dog's back. But I felt, in my pictorial language, they became too dominant and distorted the focus of the painting, so I removed them. I believe my present version with the deletions is now more true to the character of the original. The colour is of course entirely my own.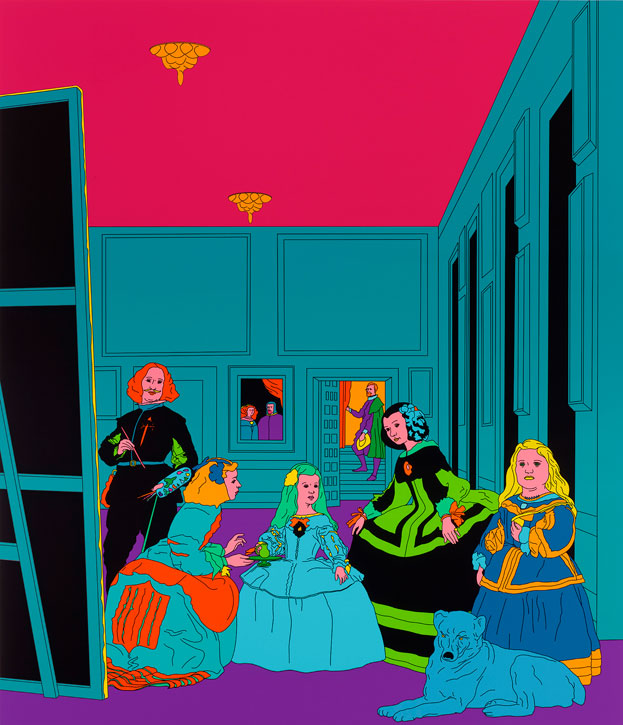 David: You have treated these historical works in the same way as the everyday objects that are the mainstay of your practice, redrawing them in a reductive style that gives all areas of the images an equal weight and importance. What unexpected discoveries did you make?
Michael: My prints are exceptionally detailed, but none come close to the detail of the originals. I have left out at least as much as I have included. Sometimes this has been a matter of choice, but often simply a consequence of the limitations of my pictorial language. I began by drawing the images in exactly the same way I would draw a shoe or a table. It is all done through line and then the colour comes later. However, none of the paintings that I am drawing have lines in them.
To translate the Mona Lisa into line alone was almost impossible. Her 'enigmatic' smile has long been a cliché. What I discovered was that the painting itself is 'enigmatic' in virtually every aspect, both its content and process. Perhaps this is why it has such a hold on us. Everywhere I sought to focus I found what I was looking at would dissolve and slip away.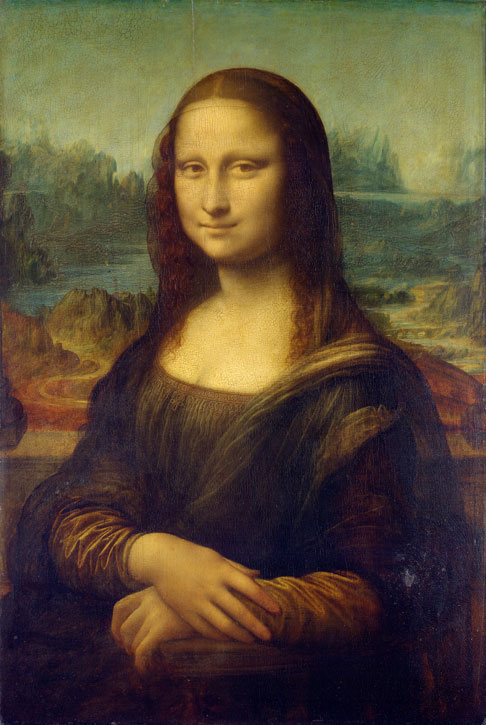 Her face is unusually featureless, animated only by her small eyes and mouth. I discovered it was often impossible to tell precisely where something began or ended. What appeared to be a particular part of her draped clothing would morph seamlessly into another. I discovered important things I had never properly noticed, for instance, that she is leaning on the arm of a chair, just visible beneath her hand. But this fragment quickly disappears into darkness: where does it start, how does it continue? When I drew only what I could see, it looked ridiculous, so I added.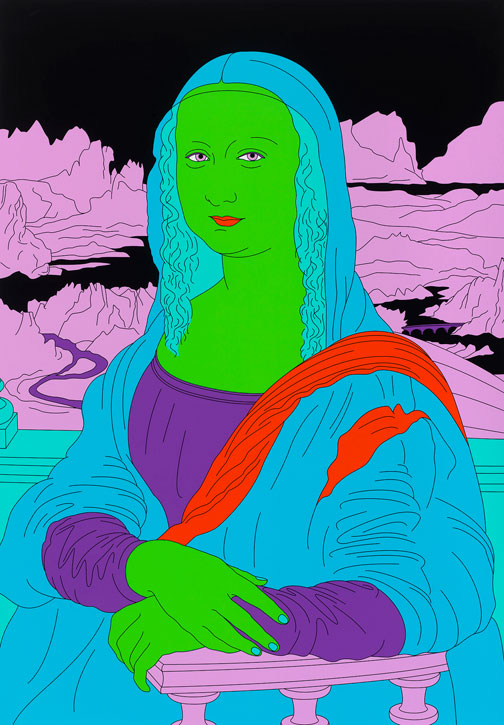 To draw anything as accurately as possible is to become intimately familiar with it, to internalise it, whether it be an object, a place, a person, or a work of art. I think art is essentially about observation; artists notice things and draw our attention to what is already there, which you haven't noticed because you weren't focusing, like the potent image, easily missed, of the half-obscured crucifix in the top left corner of The Ambassadors.
Drawing these Old Master paintings as I have, has given me greater understanding than my best efforts by simply looking. I know them now in a uniquely intimate way.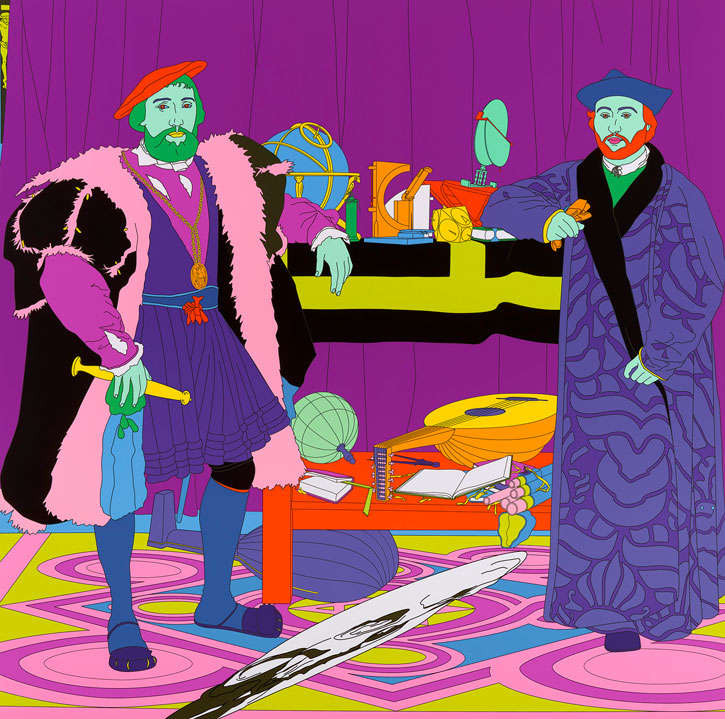 David: Faced with limitless possibilities, how do you choose which colour combinations to use?
Michael: I have a rigorous palette of very intense colour. You must maintain a certain level of intensity in order for colours to sit comfortably with each other, which I place intuitively. Just like the objects, my formula is to never use a colour you can't name: pink, turquoise, purple and so on.
Each colour carries within it the capacity to reveal the full range of emotional, descriptive and psychological potential of all the others. So I try to push every colour in a work simultaneously to its highest pitch. Colour allows me to alter the emphasis. My idea is to try and make visible something which is in the original, but people don't always recognise. It is the colour more than anything that can do that.
David: In Piero, which references Piero della Francesca's complex painting The Flagellation of Christ (1468–1470), you have chosen to leave large portions of the image white. How did you arrive at this decision?
Michael: The painting is notable for its exceptional quality of balance, stillness and equanimity. In the original, Piero made most of the architecture white. I found that whatever colour I tried to replace it with made the space claustrophobic and airless, so I decided to keep it white as he had.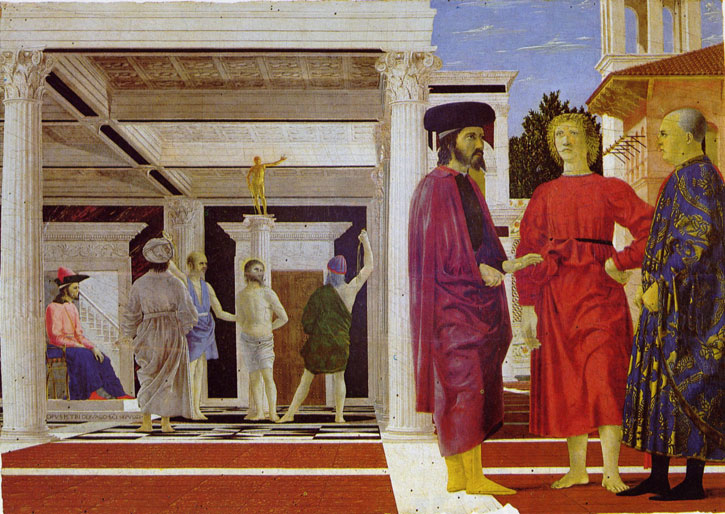 I am drawn to this painting because of its unique hold on the viewer's imagination. It is a painting of two contrasting scenes, each occupying half of the work, unified by a classical architectural space of exquisitely depicted detail.
On the left, in the 'background', set back inside an open-sided building, we see a group of figures enacting the beating of Christ with whips. By contrast, to the right of the painting, standing just outside the building but within its clear sanctuary, stand three large-scale figures in conversation, defining the foreground of the painting. They are, however, completely indifferent and oblivious to the scene of physical violence and immense religious significance being played out in their presence.
Though it is not even clear who these figures are or represent, it is they, not the flagellation, to whom Piero has given pictorial prominence. This dramatic reversal of relative importance flouts convention and common-sense expectation. The result is one of great visual and psychological power and mystery, enhancing rather than diminishing the subject.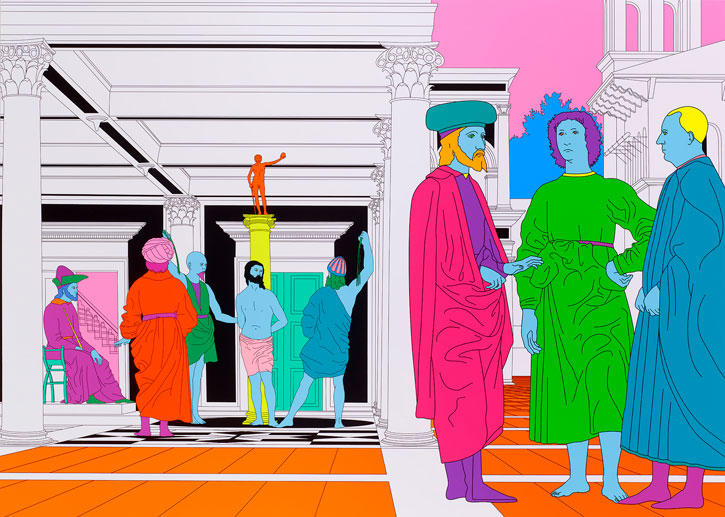 David: In your recent prints of everyday objects, mass-produced items such as iPhones and laptops, as well as trainers and watches, are joined by a new subject matter: flowers. Can you explain the relationship between the organic and inorganic in your work?
Michael: The impetus for this new subject matter was lockdown in 2020. We were so isolated and uncertain about what we could and could not do, the only direct shopping that was possible was at the supermarket. I found myself looking at flowers, fruit and vegetables in a new way and began to draw them.
View this post on Instagram
I have always tried to focus on unromanticised objects that are so ubiquitous we take them entirely for granted. The flowers, fruit and vegetables I depict, which we think of as being part of the natural and organic world, are actually part of the manmade world. We have domesticated and bred them to become what we want them to be. They are in fact as much mass-produced objects as iPhones. Their most unique and touching aspect is their very short lifespan.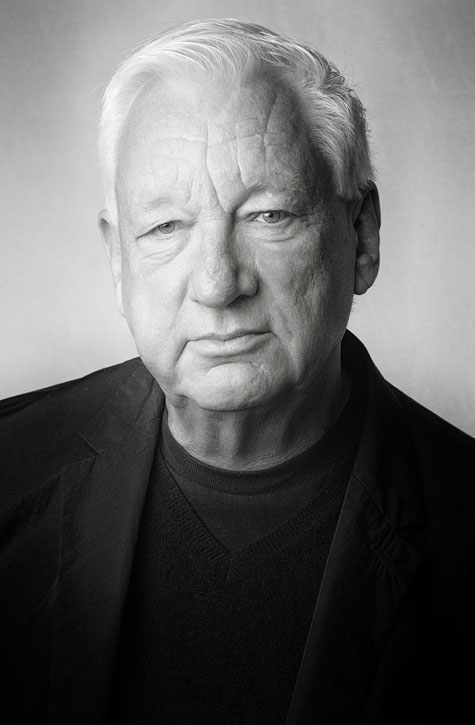 David: As an influential educator, you have helped nurture several generations of younger artists, including the so-called Young British Artists (YBAs) at London's Goldsmiths College in the 1980s. What advice would you give to today's aspiring artists?
Michael: I would never advise anyone to become an artist. If you have another option, take it. Most people who end up as artists rarely feel they had an option. By far the most important characteristic for anyone wanting to be an artist is desire: the passionate, inexplicable desire to make art. This desire is more important than talent.
To have enviable talent but qualified desire is not enough; to have little obvious talent but overwhelming desire may lead to success. Desire can be encouraged but not taught. In my experience, a driven person lacking any recognisable talent may, out of necessity, invent a way to work at which they excel. This is what we call originality.
David Trigg, writer, critic and art historian
'Past Present' at Cristea Roberts Gallery runs until 5th November 2022