In the series 'Seven questions with...' Art UK speaks to some of the most exciting emerging and established artists working today.
Reflecting the tropical warmth of her native Dominican Republic, the artist Hulda Guzmán is concerned with creating art that captures the verdant terrain of the Caribbean island, while elevating the spirit of her viewers. Guzmán's vibrant paintings pay homage to the naïve, tropical landscapes of Henri Rousseau, but also take inspiration from myriad artistic sources: ancient Chinese art, Japanese ukiyo and the colourful works of Mexican muralism.
A delight to the eyes and senses, Guzmán's latest body of work in the show 'Meet Me in The Forest' at Stephen Friedman Gallery transports viewers to Santa Domingo and the surrounding natural landscape of the island. By adding surreal and unexpected figurative elements – animals, human figures, mythical creatures – Guzmán adds compelling and playful narrative elements to her practice.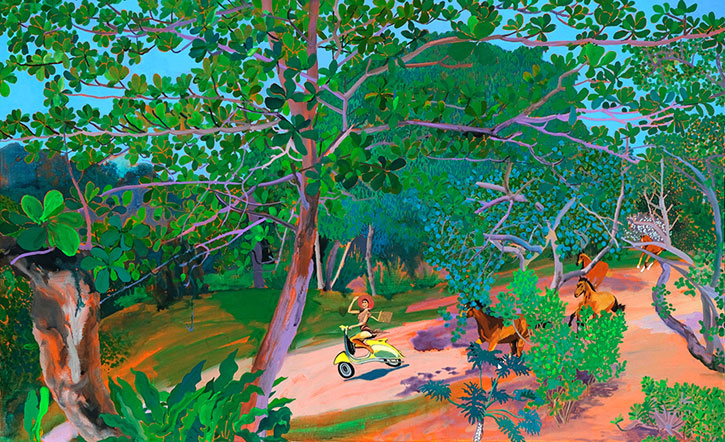 Lydia Figes, Art UK: Your work has evolved a lot over the past decade. Your work was once more centred on portraiture, now you appear to be focusing on surreal landscapes as seen in your latest exhibition at Stephen Friedman Gallery. How have you arrived at this unique style and subject matter?
Hulda Guzmán: I used to be a lot more interested in portraits and drawing in particular, especially drawings of the human figure, the contours of faces and anatomy in general. Now I'm more interested in landscapes and nature, but also how narrative and storytelling enter my work. I would say during the pandemic I really dived into portraying landscape. I found that contemplating nature and painting plants and trees helped me bring my attention back to the present moment. Nature diverted my mind from fear and anxiety.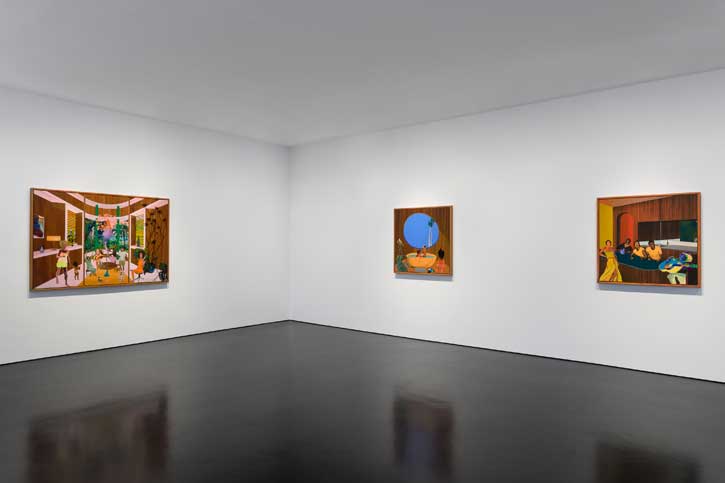 Lydia: Your work feels playful and perhaps even escapist – is this how you are feeling when you are creating them?
Hulda: I think fears are often imaginary, so it wasn't so much about escapism but the opposite – I was concentrating on my real surroundings. Where I live is surrounded by nature. For the past few years I've been designing my new studio with my father who is an architect – it's deep in the countryside by the coast. At the beginning of the pandemic, I was ready to move back and be completely immersed in nature, but the construction of the studio got delayed. I stayed in the city, but coincidentally I had moved into a new apartment also surrounded by trees, so this naturally entered my work. This is the first exhibition where I was able to paint in my new studio – it's very remote on the north coast of the island. Our neighbours are at least a couple of kilometres away.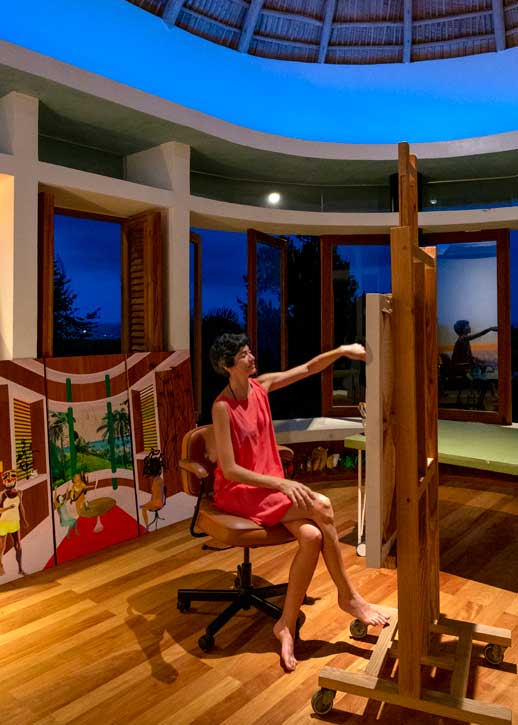 Lydia: Is being that remote and away from urban, city life helpful to you creatively?
Hulda: Definitely. It's complete peace. There are many sounds but they are natural sounds that are soothing. The city really gets to me. I think I'm more sensitive than other people – these noises affect me a lot. I really need to be in a very peaceful state in order to paint. My teacher in school used to say 'whenever you are angry or frustrated pour those emotions into your work'. But I've never been able to do this.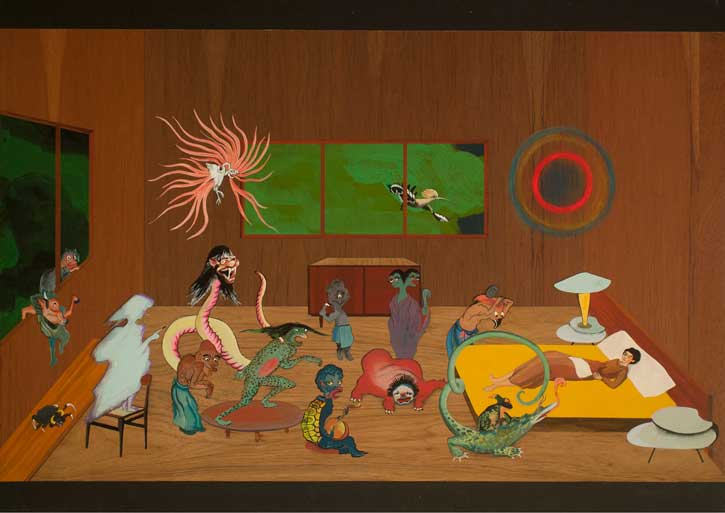 Lydia: Do you want your viewers to also feel peaceful and uplifted?
Hulda: Yes, absolutely. But I also can't perform or paint if I'm not in that headspace. When I'm painting and experiencing positive vibrations, I believe they transfer into the painting and the viewer afterwards. Sometimes when people tell me how they feel when they look at my work, I realise it's exactly how I feel when I'm painting. It's a beautiful thing, and it makes me relate to people in that way. I would never want to transfer any negative emotions.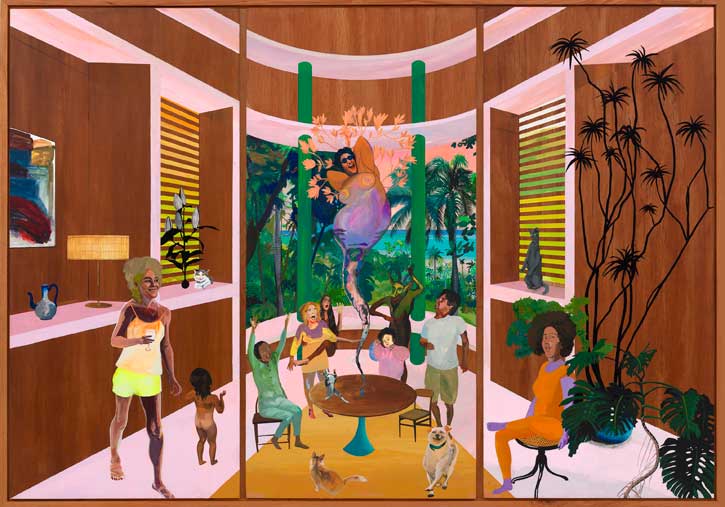 Lydia: A diverse number of artistic influences are often attached to your work, for example Surrealism, Mexican muralism, Japanese ukiyo, pointillism, but also Henri Rousseau – who also painted tropical scenes but largely from his imagination. Which of these art historical references inspire you the most?
Hulda: Rousseau is certainly one of my biggest inspirations. There is a naïve quality about Rousseau which I like – and his compositions are amazing.
I would say that I'm not trying to be surreal in the same way the Surrealists were working – they were referencing dreams and other states of consciousness. I'm more interested in trying to express the unfathomable parts of life. All those energies that come into play, the things that are not perceivable to our senses.
I take a lot of influences from Japanese ukiyo, or ancient Chinese art. Van Gogh is one of my favourites, I have so many references. There's one Dominican artist who influenced me, and who was a friend of my father's, Adolfo Nadal Walcot. But apart from that, I would say I'm not very influenced by Caribbean folk traditions.
As for pointillism, once I was trying to capture rain. I noticed that by putting different colours together, specifically complementary colours, it created this vibration within the work. It was interesting to see so I started using it in a less literal way. I used the technique to describe states of being. You can see it in a couple of my portraits, where the dots replace the edges or borders of my figures.
I studied muralism and photography, but these practices and mediums have only remained in my work technically. Conceptually, they had a way of representing narratives and subject matters that intended to send political messages to the masses – that was never my interest. My work is contemplative and based around emotions, narratives.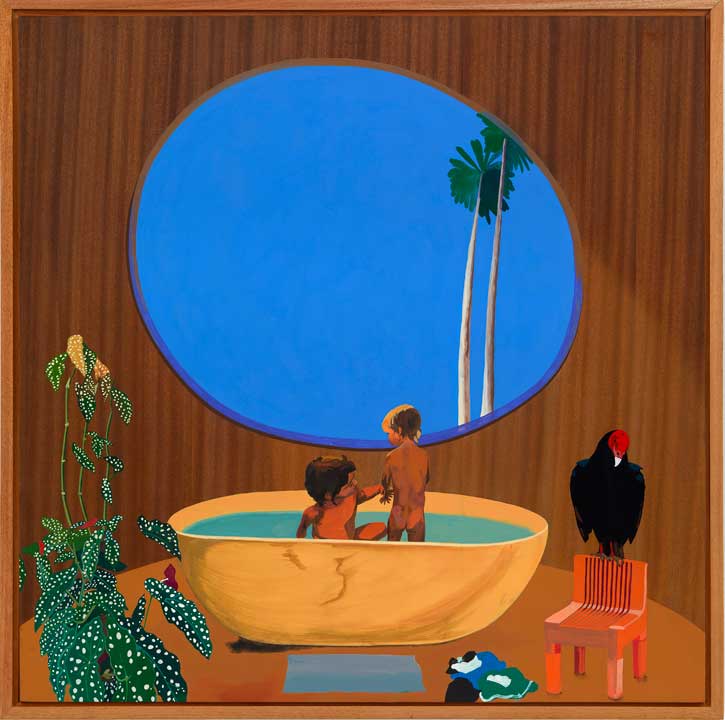 Lydia: Do you paint intuitively or do you know how the painting will turn out?
Hulda: I never know, and I feel like what is the point if I know how it will end up. I prefer to let the painting unfold by itself. When I start the painting I have an emotion, or a sense of what I want to happen. But I never have a clear vision, it's blurry at best.
I always start with the background and setting – it's a depiction of nature or landscape with trees. Then after I have this complete, I integrate the narrative and character, based around thoughts like 'what conversations should we be having', or 'what feels important.' I used photoshop to situate my figures inside the landscape – I have a bunch of cropped characters on my computer: humans, animals, elements. I play around with these figures like a collage, thinking about composition and the story. This is why the work can look very meticulous and precise, even though I paint intuitively.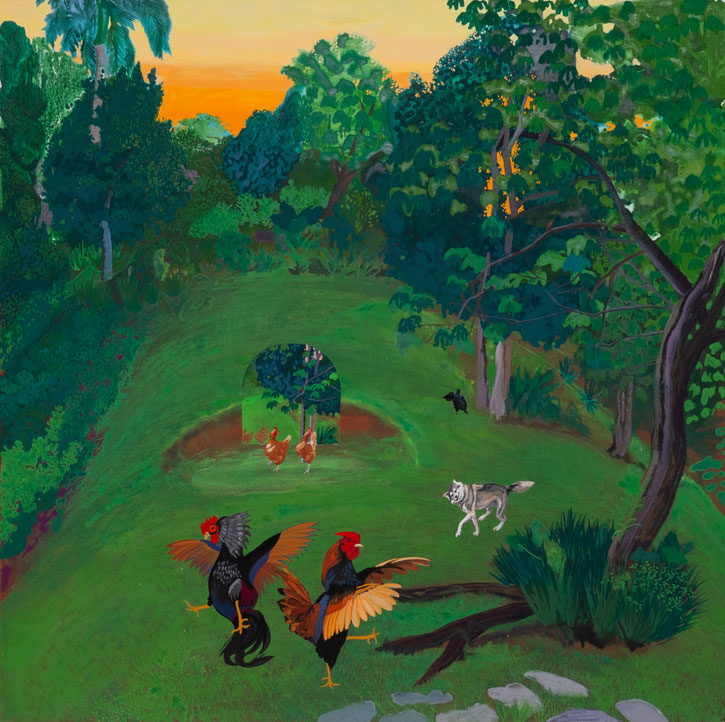 In Dancing Cocks, one of my favourite works that sadly can't be included in this show, I started the painting with burnt umbre based colour – a solid colour. I wanted to paint something with a very green landscape, but the soil in the Dominican Republic is very red. I wanted that redness to be present underneath the greenery – to achieve a visceral sense of the landscape. The roosters illustrate and symbolise the dance of nature – they are the real roosters that come to my bungalow every morning.
Lydia: Do you have any daily rituals or routines that help you work?
Hulda: I get up very early (to feed my kittens), and I like to make sure everything is very tidy. I have rituals like practicing yoga, which I would like to integrate into my daily routine. I think my work would really benefit from that. At the moment I practice yoga a few times a week – it's completely necessary for my mind, and to get my creativity flowing.
Lydia Figes, Content Editor
'Hulda Guzmán: Meet Me in The Forest' at Stephen Friedman Gallery is open until 14th April 2022