In the series 'Seven questions with...' Art UK speaks to some of the most exciting emerging and established artists working today.
Composed of Luca Colagiacomo and Francesco Pasquini, Luisa Me (in Pesarese dialect, 'him with me') is a London-based conceptual artist duo. Having worked together since relocating to the UK in 2016 from their native Le Marche, Italy, the artists rely on their craft that explores both painting and sculpture and pays homage to the cultural and aesthetic traditions of their Italian heritage.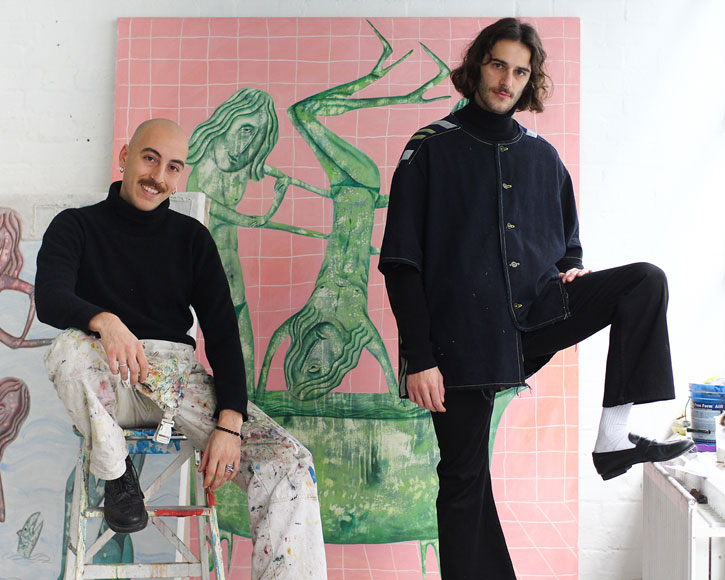 The duo's latest solo show, 'The Crab Chair', curated by Hector Campbell, runs at Oneroom Gallery until 27th November and immerses the audience in a surreal atmosphere suspended between childhood memories and dreamy visions. Presented by BeAdvisors Art Department, the exhibition plays on storytelling, religious references and profane symbolism, highlighting the theme of water as a vehicle for purification from the threats of urban life.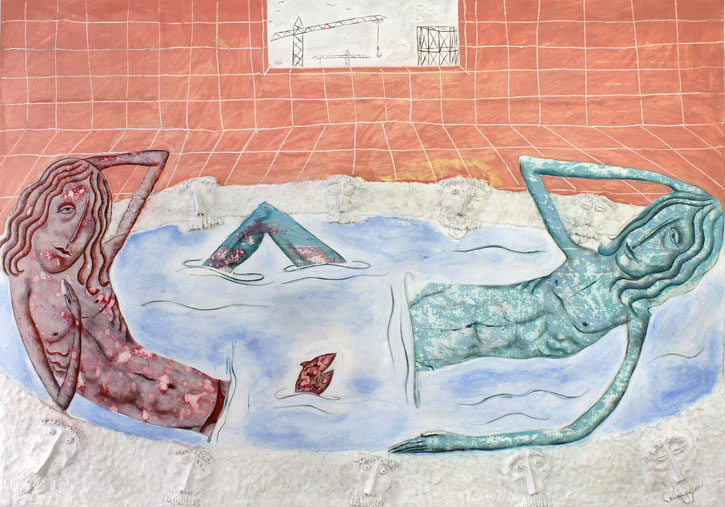 Luisa Me talks to Gilda Bruno about the ins and outs of navigating London's art scene as a duo, their main inspirations, and how their latest show combines their sensory memory of Italy with present-day experiences of Britain's cultural melting pot par excellence.

Gilda: How did you come to be an artist duo?
Luisa Me: As two graduates of Urbino's Academy of Fine Arts, we dreamed of bursting the wonderful Italian bubble which we had, which until that point was our home. More than anything, we dreamed of London. Our artistic collaboration began inside the four walls of the tiny kitchen in our first London flat. We were in Mile End, when one day we started drawing together: we have never stopped since.
Gilda: If you were to pick one artist whose artistic influence, whether strongly or subtly, permeates your artworks, who would that be and why?
Luisa Me: Lately, we have been particularly inspired by Piero della Francesca and Francis Bacon. The former taught us the importance of balancing lightness and solidity – he did so with artworks in which the majesty of his subjects' gazes is enclosed in transcendental images. Time stands still and the air is clear and mild. Bacon, because he informed our interest in the creation of psychological architectural spaces.
Gilda: Over the past few years, many publications have compared the human figures in your artworks to those present in Christian iconography. To what extent is this reference casual and, if wanted, where does your desire to combine 'sacred' and 'profane' stem from?
Luisa Me: Human activities have managed to affect the geological processes of the earth: the unstoppable building, razing and the exploitation of the planet's resources are creating a hostile context wherein people move further and further away from everything that is natural, animal, wild and, therefore, sacred. Drawing on our cultural identity, we turn to the power of Christian iconography and its symbols as a means of reacting to the restless rhythms of 'contemporary, liquid, and throwaway society' as defined by Zygmunt Bauman.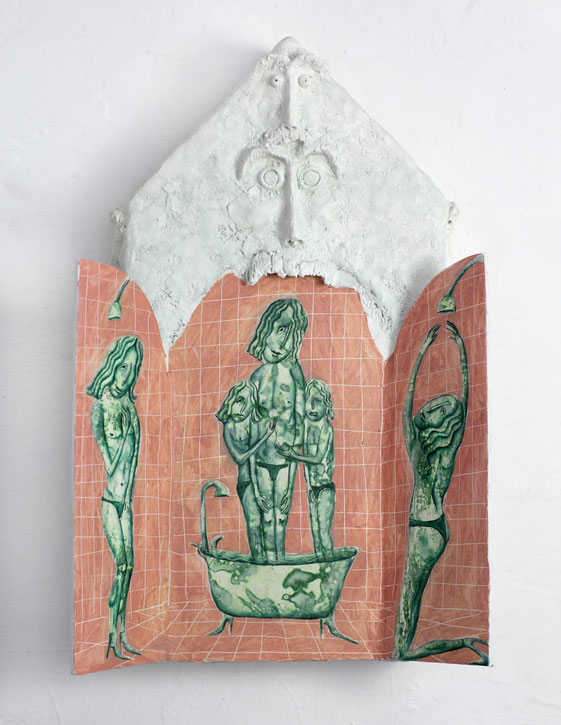 Through ritualistic actions, such as the recurring baptism scenes that inhabit our works, we try to get closer to the primordial, to water and nature. The silent faces and the static, almost statuesque positions of the characters that live through our artworks are our symbols, our myths. They are a way of stopping the chaos coming from the construction sites that surround our studio.
Christian iconography also offers us fertile ground to turn our fictional characters into something more than mere drawings: by adopting its repetitive, consistent way of representing the human body and gaze – just as it happens in Piero della Francesca's paintings – we breathe actual life into the bidimensional silhouettes of those that animate our creations, hence allowing them to captivate the public with their adventures.
Gilda: Titled 'The Crab Chair', your latest body of work is a sociocultural exploration of London's ever-evolving urban landscape, as lived, felt, and narrated by yourself in relation to the distant memory of your childhood and coming-of-age years in sunny Italy. How did you come up with the idea for this series?
Luisa Me: In 'The Crab Chair', we felt the need to create a world that could question, or escape, what we have been forced to witness in recent years. Our South Bermondsey studio has large windows which extend across its entire perimeter. From those exact windows, we witnessed the demolition of the warehouse that used to stand in front of us – a venue for parties that offered moments of aggregation and lightheartedness to the whole neighbourhood and local community.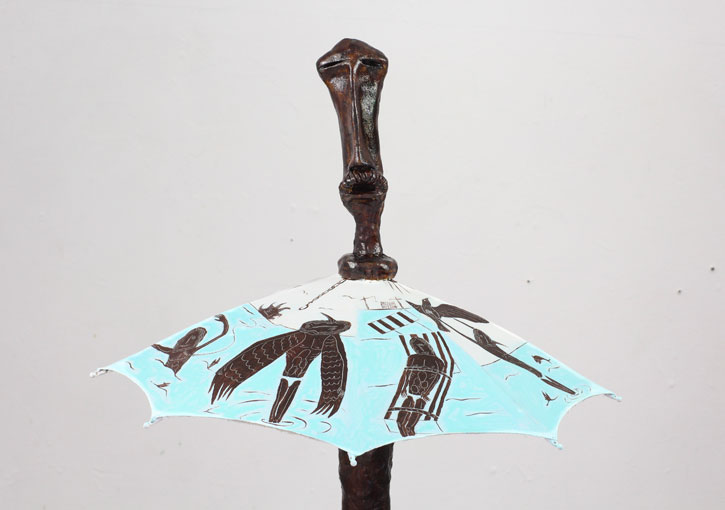 Now this building will be turned into a 10-story flat complex, just like the one that will replace the former V22 Art Studios, located on the street corner. Within this context, 'The Crab Chair' is our way of reacting to gentrification programs as well as to the distancing of the original communities; the series serves this purpose by condemning today's mania for construction in the name of 'progress'.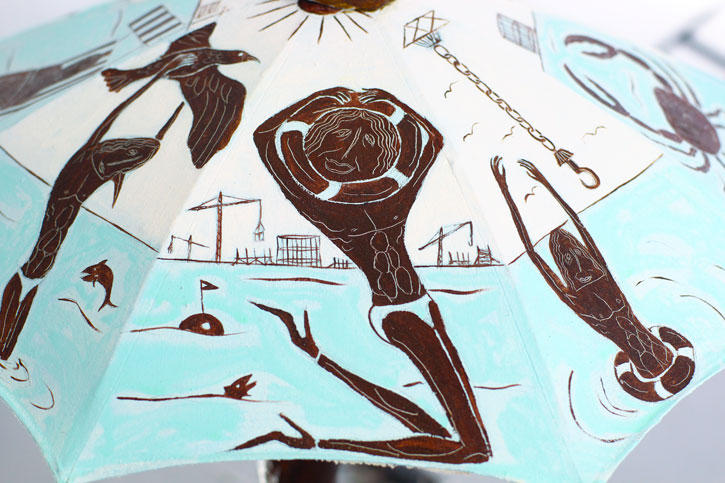 Gilda: Thinking about the way the characters interact with each other in 'The Crab Chair', to what extent would you say their interactions reflect your way of thinking about and participating in the concept of community?
Luisa Me: The concept of community is something that permeates our collaboration. As we work together on each one of our works, being dependent on and supporting each other represent the ideals that underlie the themes dealt with in this new exhibition. It is no coincidence that the three largest paintings of 'The Crab Chair' depict couples who, by putting their arms together, offer the push necessary for metamorphosis to happen.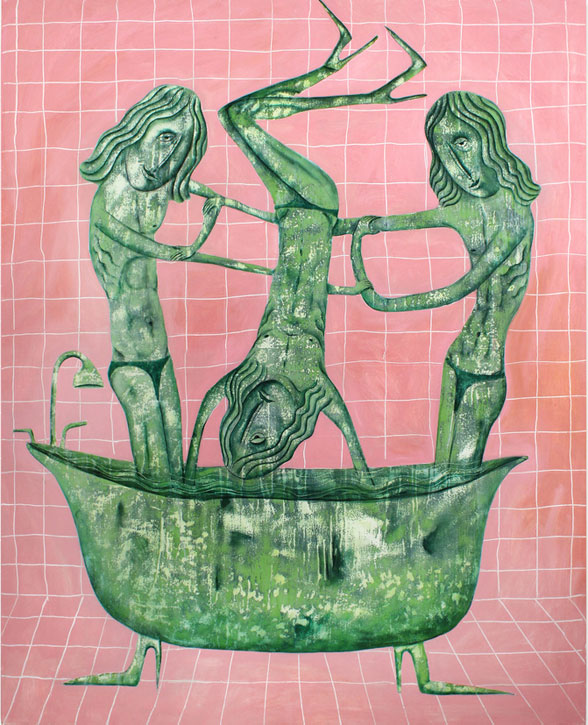 They also symbolise dualism – solid and liquid, stability and precariousness – which is an inseparable characteristic of contemporary society. As mentioned above, the figures of this new series of artworks support each other by using their arms so as to form a chair, mimicking the gesture that our parents would make while joining us for a swim in the sea when we were kids. Back then, mothers and fathers would let children sit in their arms as they helped them to dive into the water. It is one of the most precious memories we keep from our childhood, an image that reappears cyclically in many of our paintings and sculptures.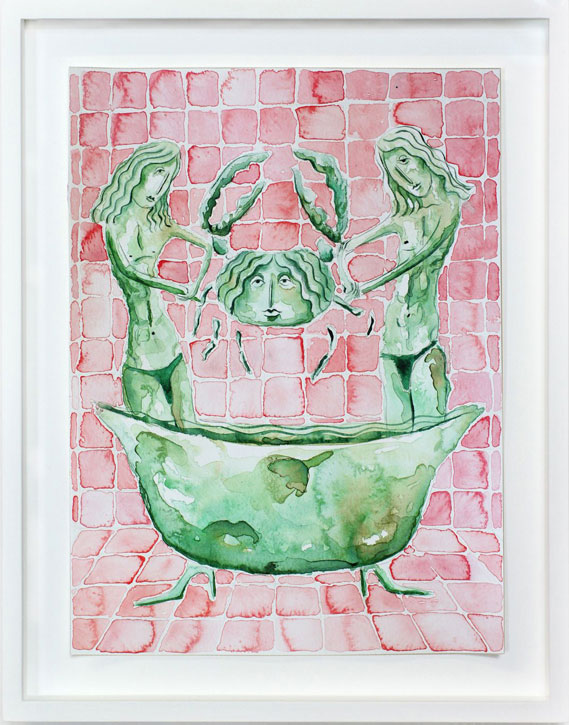 Gilda: As a collaborative artist duo, you spend most of your days creating new artworks in your studio. Could you give us any insights into the process that lies at the foundation of your artistic production? What's your preferred way of approaching the development of a new body of work?
Luisa Me: Just like with anything else in life, even in art sometimes you are called to understand your own limits. Acknowledging what each of us can, or can't do, and taking that as a starting point from which to establish the balance between the two parts composing Luisa Mè, is something crucial to our artistic practice. Our collaboration stems from a desire to fill each other's gaps of knowledge, or practical skills, so as to enable both to grow and work organically.
This is something that is reflected in our daily routine: rather than working on the same piece simultaneously, whenever we create a new artwork what we do is 'have each other's backs' by letting half of Luisa Me supervise the progress from a more detached perspective. This sort of approach could almost be seen as some sort of artistic direction that helps us acquire an objective standpoint on the piece we are producing. Being together allows for a wider perspective on our own artistic production while also encouraging us to experiment, and improve our skills, which are often different from one another.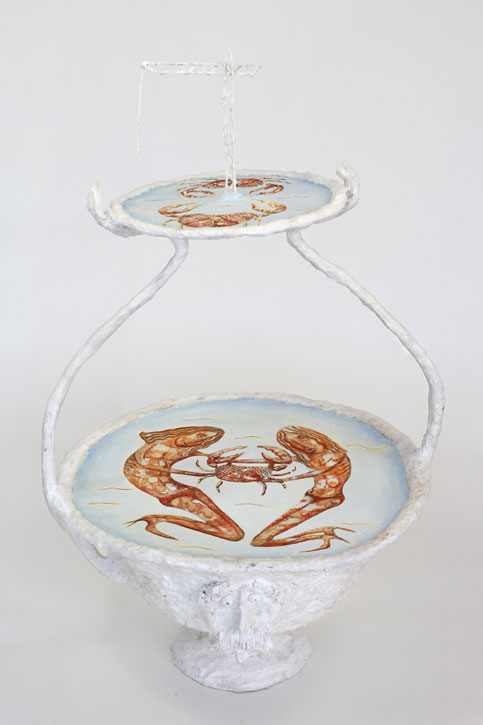 We think that specifying 'who does what' is something superfluous, if not even a superficial way of looking at our artistic collaboration. There definitely is a part of us that is more pragmatic but, to us, this sort of difference isn't of relevance. We often feel as if we were working for a third person: we find ourselves in our studio, often in silence, as we no longer need to communicate to know how to proceed with everything side by side. We even draw together, taking turns to develop the sketches that will serve as the foundation for our new artworks.
An interesting aspect that comes into play in this process is the concept of misunderstanding. Sometimes one of us comes up with an idea and shares it with the other half of the duo, who might misinterpret it. Still, the chances are that the misinterpretation of the original idea is even better than the original itself. So after discussing both versions, we always go for whatever feels best.
This specific aspect of our artistic production exemplifies the degree of uncertainty and unpredictability given by being part of a duo. And it's this element of chance through collaboration that guides us throughout our intimate, enduring exploration of painting and sculpture.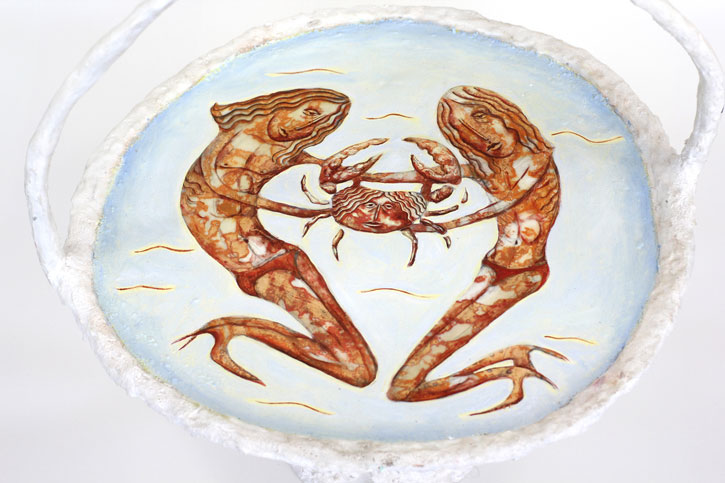 Gilda: What would you like the public to take from your latest series, and what can we expect from Luisa Me in the coming months?
Luisa Me: Visiting 'The Crab Chair' is an attempt to make someone slow down, both physically and mentally, through a new cycle of works that we like to describe as 'horizontal', in the sense that they contrast with the verticality of large sprawling cities.
The tribe of 'The Crab Chair' does not need to wait until a specific time of the year to enjoy some holiday. In the temple they live in, they are constantly on vacation. A vacation where the soporific power of the sun creates a slow but safe, recognisable, and metaphysical atmosphere that, somehow, succeeds in making us forget about the discomfort that thrives outside of the window.
In terms of our upcoming projects, we have a busy agenda for the last few weeks of 2021, as well as for the start of next year. From 27th November our work will be included in 'Sacred and Profane', a group at Marignana Arte, Venice which brings together a handful of artists, including Alessandro Pessoli, one of our most esteemed contemporary artists.
On 9th December, we will inaugurate another group show at the soon-to-be-launched, London-based gallery Des Bains, joined by painter Nana Wolke and video artist Bryan Giuseppi Rodriguez Cambana. This will be an ice-breaker ahead of our solo show scheduled in the same exhibition space for March 2022.
Next year we will also be amongst the personalities selected to participate in a residency at PLOP, the Oli Epp-created cultural hub. It strives to nourish the talent of a new generation of artists by providing them with career advice from industry professionals and serving as a bridge between established and emerging creatives. We can't wait to see what's next!
Gilda Bruno, freelance arts journalist
'Luisa Mè: The Crab Chair' is at Oneroom Gallery, London until 27th November, 'Sacred and Profane' at Marignana Arte, Venice will run between 27th November until 19th March 2022.