Within our current society, we are constantly bombarded with imagery. Social media, adverts, television, our phones – these technological devices have developed our visual literacy skills, meaning we are now capable of swift image comprehension.
However, the playful Op Artists still challenge us. Their optical illusions, proving troublesome to comprehend, instil within us the desire to solve the dizzying puzzle their work presents. For their hallucinatory, disorientating and thought-provoking works, those who shaped (or were inspired by) the Op Art movement deserve recognition.
Op Art, meaning 'Optical Art', gathered momentum as a movement in the 1960s. An explosion of bright, psychedelic colour, geometry and stimulating pattern, Op Art offers abstract compositions that engage the viewer by creating the impression of movement, whether this is through flashing, vibrating or swelling illusions.
Leading figures in the movement include Bridget Riley, Victor Vasarely and Jesús Rafael Soto. However, their experiments with colour and geometry have inspired the work of many other artists. Here's an exploration of the work of these key figures, and a look at those who were inspired by similar principles and techniques.
Bridget Riley
Bridget Riley (b.1931), arguably the most well-known Op Artist, was truly experimental, exploring the way in which she viewed the world through her work.
Fall offers the viewer a true optical illusion – the longer we look at the piece, the more distorted our vision becomes. Cascading illustrative lines ripple down the piece, in a curving and swirling dance of black emulsion.
In the late 1960s, Riley began to experiment with colour. Having previously found comfort in the strict binaries between black and white, she was cautious with colour, something she felt offered less stability. However, she eventually embraced this instability, creating the illusion of movement through an exploration of form, space and colour.
Victor Vasarely
Hungarian-French artist Victor Vasarely (1908–1997) is considered a paternal figure in the history of Op Art. He originally began studying Medicine at university but abandoned this in 1927 in order to learn the techniques of traditional academic painting. In 1928 he enrolled in a private art school to concentrate on applied art and typographical design.
Interested in graphic design, and the ways in which art could communicate messages, Vasarely started to experiment with abstraction, reducing his work to simple textures and patterns.
Iaca incorporates opposing circular shapes with horizontal and vertical lines, creating the impression that these shapes are patiently rotating, as if hung from the ceiling on a mobile and spinning in a cross-breeze. His piece makes use of visual kinetics, the study which relies on the viewer perceiving a piece as if it were moving.
Jim Lambie
Curling layers of spray-painted chrome encroach on a central panel of polished stainless steel. Asymmetric folds bring to mind a pile of schoolchildren's paintings drying at the back of a classroom, curling at the edges under the weight of thickly applied acrylic.
Yet these peeling layers are the work of no young child, but contemporary installation artist Jim Lambie (b.1964), whose work was shortlisted for the 2005 Turner Prize. Lambie presents an accessible style of contemporary installation, with his piece A Forest drawing his viewer into the mirrored surface, while bright flashes of colour frame the space.
Born in Airdrie, Lambie studied Environmental Art at Glasgow School of Art. His work is playful, imaginative, bright and geometric, generating a huge visual impact for the viewer. Known as an installation artist, Lambie's sculptural work engages with and embellishes his everyday surroundings, using materials including vinyl tape, mirror and paint.
Richard Allen
Born in Worcester, Richard Allen (1933–1999) studied at Bath Academy of Art and was later awarded a fellowship at the University of Sussex. In 1962 he started to work at the Croydon College of Art, where he taught for the next eight years, alongside Bridget Riley.
Allen's work pulls us in, an elegant composition of geometric purity in mesmerising pattern. By using oil on linen as a medium, Diacrosse contrasts material fluidity with the strict geometry of folds and gathers, formulating a diamond and star in a sea of pink.
Jesús Rafael Soto
The practice of Jesús Rafael Soto (1923–2005), the Venezuelan-born French artist, is characterised by illusion. Fascinated with the idea of sensory vibrations, he developed his work from small-scale paintings to larger installations, which the audience could pass through and interact with.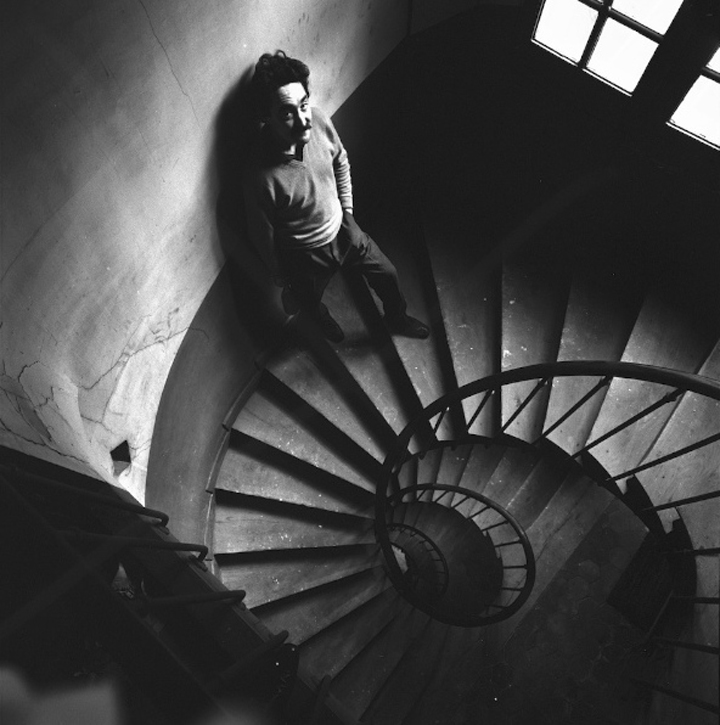 Blurring the boundary between artwork and audience, Soto's viewers are no longer passively watching but are each potential collaborators. His work, therefore, surpassed Op Art, formulating a new, participatory style of such art, which did not just figuratively draw the viewer in and encourage them to question what they were experiencing, but physically permitted them to enter the space of the work and manipulate the illusionary setting themselves.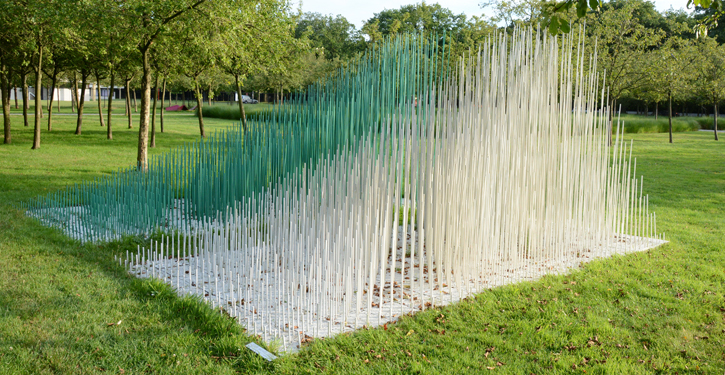 Angela Bulloch
Angela Bulloch (b.1966) is best known for her fluorescent light sculptures, such as Aluminium 4, which explore the digital identity of the pixel. However, Canadian-born Bulloch also fabricated a sculptural series which adopted the illusionary tendencies of the Op Artists.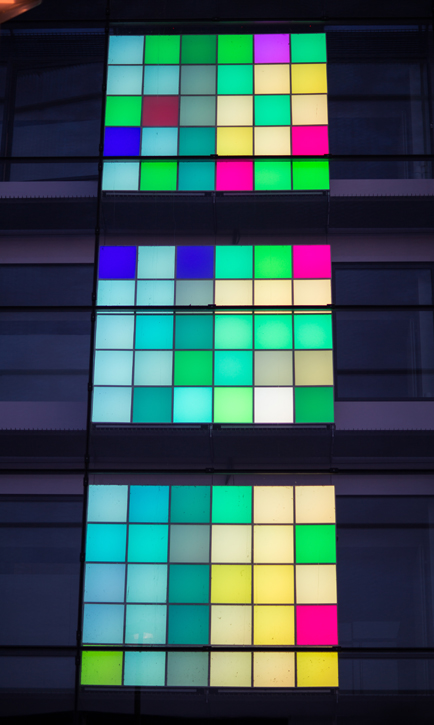 Exploring pattern and perspective in three dimensions, her Heavy Metal Stack series is composed of powder-coated steel structures which reach over six feet in height. Commanding the viewer's attention, the sculptures seemingly occupy both the two-dimensional and three-dimensional simultaneously. This juxtaposition makes Bulloch's sculptures incredibly intriguing.
Damien Hirst
Contemporary British artist Damien Hirst (b.1965) is famed for his provocative works, which often explore life and death. He grew up in Leeds and completed his studies in Fine Art at Goldsmiths in London.
In Apotryptophanae, a rainbow of coloured dots spans an expansive white canvas, leaving the eye desperately searching for meaning in the pattern. Known as one of Hirst's 'Pharmaceutical Paintings', the work is composed of a measured grid of multi-coloured circles. These colours were selected for their reference to medical colour codes, revealing a connection with Hirst's fascination with death and illness.
Within graphic design, images are constructed from thousands of dots closely printed next to one another, and the mind automatically 'solves' the puzzle by formulating an image from these. An impossible task in this case, however, as these circles are in fact simply and colourfully random.
It is possible to experience the distorting and playful effects of Op Art yourself at Tate Liverpool's 'Op Art in Focus' exhibition. Open until 17th January 2021, this group show features the work of Riley, Vasarely and Lambie, among others. In an explosion of pattern, you'll be greeted by rainbows of colour, vibrating and oscillating across the space. The highlight is perhaps Lambie's disorientating installation, which tricks the eye into believing the floor is melting, swirling and bending beneath your feet.
Molly Evans, freelance writer