While the queens of the RuPaul's Drag Race phenomenon have brought it to the runway on screens worldwide and Pose has shone a light on the trans and gay communities who vogued the house down at the Paris is Burning balls in 1980s New York City, a London-based alternative beauty pageant took Shakespeare's Globe by storm in 2018, having grown from its first humble outing in a former puzzle factory in Hackney in 1972.
Inspired by Crufts dog show, Alternative Miss World is a fancy dress competition that encourages anyone of any gender, race or sexuality to express themselves freely and creatively in the hope of being crowned the winner.
The cultural impact of this hallowed event cannot be overstated. Subversive stars in attendance at the first competitions included Divine, Leigh Bowery, Grayson Perry and the cast of The Rocky Horror Picture Show.
Contestants were judged by the likes of Ossie Clark, Zandra Rhodes and David Hockney. The first event even appeared as the party scene in the iconic Hockney documentary A Bigger Splash. The man behind it all? Sculptor, jeweller and performance artist Andrew Logan who turns 75 in 2020.
I came upon Logan through my research into Aberdeenshire-born fashion designer Bill Gibb, who was one of Britain's foremost designers in the 1970s, alongside contemporaries Clark and Rhodes. Following the award of a Scottish Book Trust Robert Louis Stevenson Fellowship in 2018, I've been working on creative projects inspired by Gibb's life and career which led to a spoken word film and exhibition, 'The Bill Gibb Line', first shown as part of Aberdeen's Look Again Festival in 2019, and set to be re-exhibited in one of Aberdeen Art Gallery's newly renovated galleries from 22nd February to 24th May 2020.
Gibb often incorporated Logan's jewellery into his fantastical designs. These unique pieces were usually made of mosaicked shards of glass and mirror which is common to many of Logan's larger sculptural works to this day, such as The Lulu Fountain (a portrait of artist Luciana Martinez De La Rosa) on display in the Andrew Logan Museum of Sculpture in Berriew, Mid-Wales – perhaps incredibly, the only museum in Europe dedicated to a living artist.
Like Gibb, Logan's process has often involved collage to create an otherworldly presence. While Gibb merged historical and ethnic references in his designs to make women feel like they'd been transported to some other place or time while wearing his clothes, Logan brings together found objects and bric-a-brac to give everyday items an almost sacred feel, such as the record player at the base of Arum Lily Record Player.
Collaborating on looks for the fashion runway wasn't the only way in which Gibb and Logan worked together. In 1973, at the second-ever Alternative Miss World at Logan's studio in Downham Road, Hackney, Gibb created host Logan's 'half-n-half' look, combining one of his evening dresses with a tuxedo, a look Drag Race fans will be familiar with when Season 7 queens were challenged with wearing a half-man, half-woman outfit.
Personally, I found Gibb's connection to Logan's Alternative Miss World event inspiring and it influenced the direction of my Gibb project. It led me to collaborate with fashion students at Gray's School of Art to create garments which I wear in my spoken word film, altering my voice and accent to match the persona and gender of the poetic voice I'm performing and the clothes I wear.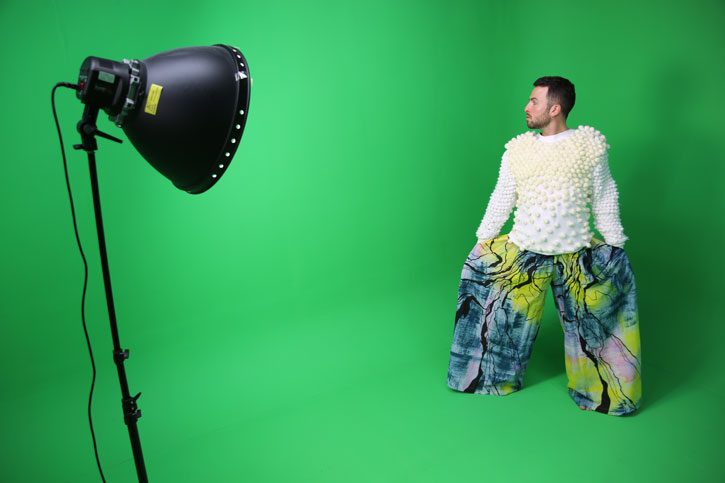 At the third Alternative Miss World in 1975, Zandra Rhodes reworked the original half-n-half dress, combining one of her dresses with Gibb's.
While Gibb sadly passed away in 1988, Rhodes and Logan have continued to collaborate, with Zandra often being a muse of Logan's – no surprise given their mutual love of bright colours, sparkle and glamour. This is evident in Rhodes' fantastic 50-year retrospective recently on display at the Fashion and Textile Museum, and in Logan's artworks, which often blur the lines between clothing and sculpture (as did many of the looks at the 2018 Alternative Miss World at Shakespeare's Globe).
While a lot has changed for queer people since 1972, often we're reminded that things haven't moved as far forward as we'd like. In 1985, Gibb reflected on why it is important for creative innovators and radicals like himself and Andrew Logan to bring some light, fun and glamour to the world through art and design:
'Reality is so horrific these days that only escapism makes it bearable at times. So the more glamour the world can provide, the better people will like it. However fashion changes, glamour will never go out of vogue.'
Shane Strachan, Learning and Engagement Officer (Scotland and Northern England) at Art UK