In the seventeenth century, it was the custom of Islamic rulers to bestow a robe d'honneur (robe of honour) on favoured courtiers, or as part of a ceremony of appointment to a public post. More properly this was a 'wardrobe' of honour, a sumptuous set of garments, consisting of an inner and outer robe, a wide sash and a turban length of the finest striped silk.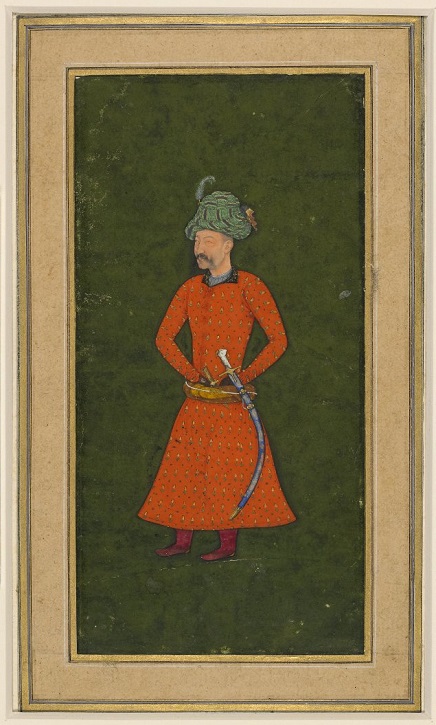 Shah Abbas of Persia (1571–1629), the great Safavid ruler, had reputedly learned to weave in his youth, and he skilfully built up the silk trade, transporting weavers and designers from all over the empire to his capital Isfahan. These silks were woven using every technique from plain weaves to rich velvets and lustrous brocades to cloth-of-gold. The beautiful designs often used small florals with delicate sprays. On the more luxurious and heavier textiles they frequently showed heroes, princes and beautiful maidens, suggesting a different interpretation of the representation of figures in Islamic art. These splendid garments made Persia renowned for its luxurious textiles, which became in demand at European royal courts.
There was a rivalry between Sir Robert and Naqd 'Ali Beg. They were both silk trade entrepreneurs and ambassadors from Shah Abbas.
Shah Abbas was essentially the chief merchant of his country, and the sale of silk made up an important part of his revenue. He was intent on building trade links and expanding his empire. To further these aims he sent ambassadors to various European courts. It was only appropriate that they should showcase the range of his silks by flaunting a robe d'honneur.
In a 1622 painting by Anthony van Dyck, the adventurer and diplomat Sir Robert Shirley (1581–1628) is portrayed wearing the robe d'honneur given to him by Shah Abbas. This was when he was first sent on a diplomatic mission to Rome, where he met and was painted by the artist.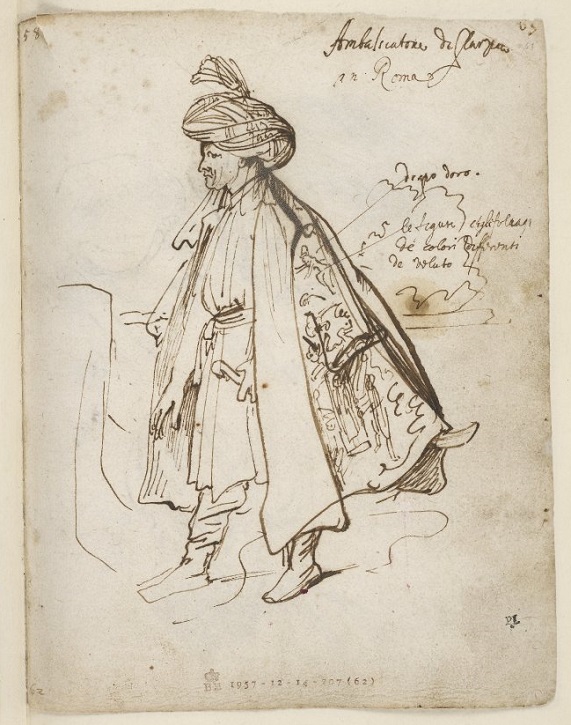 Van Dyck's preparatory sketch notes that his robe was drappo d'oro (cloth of gold), and that le figure et gli foliagi de colori differenti de veluto (the figure and foliage are in different colours to the velvet). The angle of this drawing, showing a sleeve, clearly reveals the outer robe to be a coat, slung over the shoulder, and not a cloak as it might appear to be in the painting.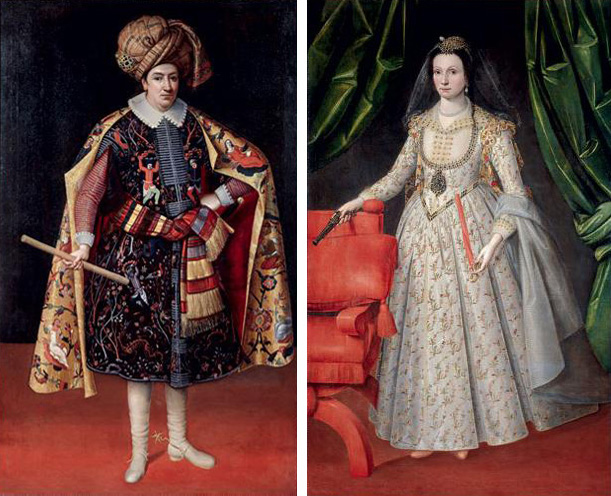 Sir Robert was painted again by an anonymous English artist (probably in the 1620s) wearing his robe d'honneur with the same huge and elaborate turban, and the same glorious cloth-of-gold outer robe. In this portrait, the large pattern is clearly delineated to show reclining maidens flourishing wine-flasks surrounded by large intertwining flowers. The Van Dyck portrait shows him in a pale silk brocade under-robe fastened by pink bows. In the later portrait, his dark under-robe is fastened by frogging, and the fabric portrays a legendary hero who is holding aloft the boulder he will hurl to slay a dragon, which is writhing (at the hem) among luxuriant foliage and blossoms. The under-shirt of ribbed silk with starched white collar and cuffs is purely European.
Another example of a portrait featuring a robe d'honneur, is this one where it is worn by Naqd 'Ali Beg. His sash and turban are similar, but his floor-length under-robe of shimmering pale silk brocade with a delicate floral pattern is wrapped right over left as is traditional. His cloth-of-gold coat, again slung over his shoulders, shows a large-scale pattern of Persian princes wearing long robes and admiring the flowers.
There was a rivalry between Sir Robert and Naqd 'Ali Beg. They were both silk trade entrepreneurs and ambassadors from Shah Abbas. The story ended badly when they both appeared simultaneously in England. Sir Robert had been personally well received by James I, although less successfully from a business point of view, since James was trying to start his own silk industry by planting mulberry trees in what later became Hyde Park. When he next came to England, Charles I was on the throne, and when 'Ali Beg appeared too, also claiming to be an envoy from Shah Abbas, Charles sent them both packing back to Persia, ordering them to resolve matters between themselves and the Persian ruler! Naqd 'Ali Beg was so distressed by his failure, and so fearful of Shah Abbas's reception, that he took his own life on the voyage home. Sir Robert returned to Persia, but died soon after.
We are fortunate to see three such magnificent studies of a robe d' honneur. Sweden has an original garment, gleaming in magnificence with large-scale princely figures not unlike 'Ali Beg's. The Hermitage has a glorious ecclesiastical cope, transformed from a robe d'honneur, covered with spectacular leopards. It is hard not to mourn the loss of such remarkable textile skills, and sad to compare the drab uniformity of modern formal dress with the brilliant spectacle these costumes must have presented when worn en masse, at court.
Penelope Woolfitt, clothing historian