As with fellow Pop Art pioneer Andy Warhol, Richard Hamilton's roots in commercial art would have a major impact on his artistic career. Its influence is apparent in early collages that often featured kitsch elements drawn from advertising and other print media, as in the photomontage Just what is it that makes today's homes so different, so appealing? (1956), often considered to be the first 'Pop' artwork.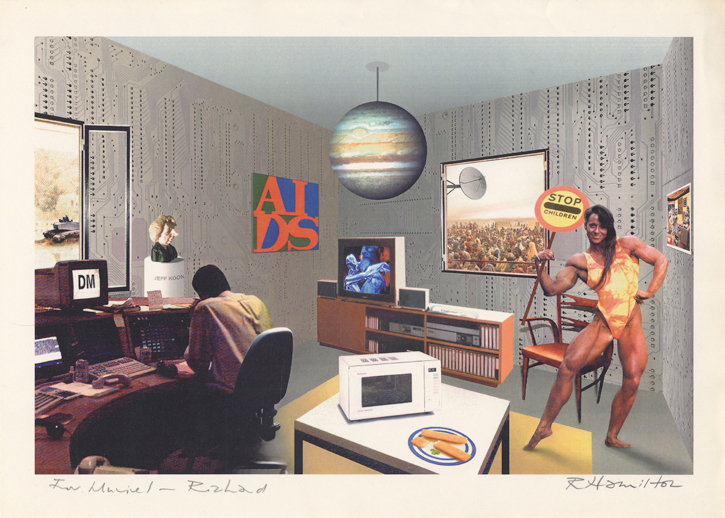 Hamilton's journey to this point, though, was far from straightforward. Born in London in 1922, he left school without formal qualifications, discovering an aptitude for draughtsmanship at an electrical components firm. He began painting at evening classes before enrolling at the Royal Academy Schools in 1938. He left after two years to work as a technical draughtsman during the Second World War, but returned to the Schools in 1946. However, he was soon expelled for, as the institution claimed, 'not profiting from the instruction being given'. After National Service, Hamilton became a student at Slade School of Art from 1948 to 1951.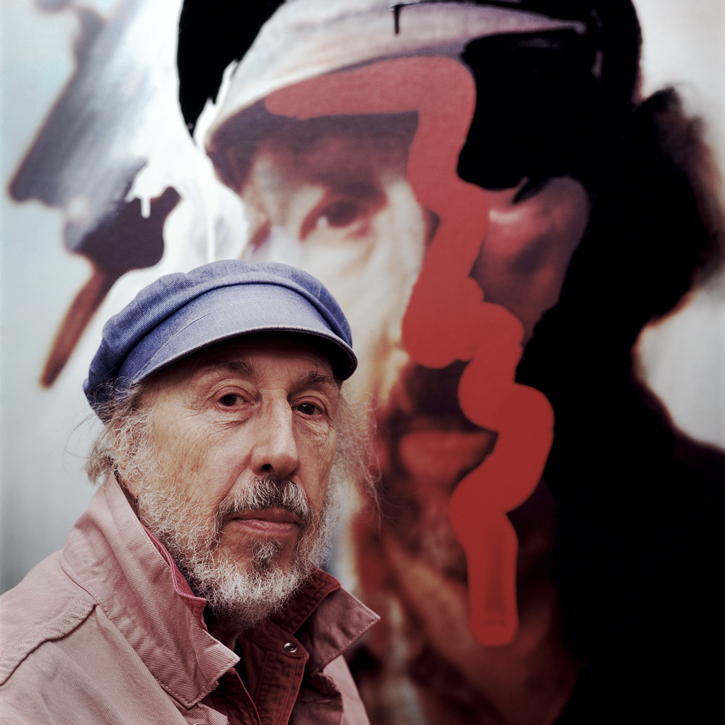 In his final year of study, he began exhibiting in London. An abstract oil painting from this period, Respective (1951) shows Hamilton's early interest in visual perception. His fascination with wider cultural developments emerged as a member of The Independent Group (TIG), a gathering of young artists, writers and critics who met at the Institute of Contemporary Arts, London, to challenge the perceived elitism of highbrow modernism.
Hamilton was a key member with fellow artists Eduardo Paolozzi, Nigel Henderson and William Turnbull, along with architects Colin St John Wilson and Alison and Peter Smithson.
In 1957, Hamilton defined the term 'Pop Art' for the Smithsons in a letter that included the description 'Popular (designed for a mass audience), Transient (short-term solution), Expendable (easily forgotten)'.
TIG organised 'This is Tomorrow' at the Whitechapel Gallery, London, in 1956, a landmark exhibition that explored links between art and popular and commercial culture. For the show, Hamilton produced Just what is it..., also used as its poster. He revisited the work later in his career, using computer technology to reflect on how life had changed materially and politically – note the removal of 'so appealing' from its title, making it Just what is it that makes today's homes so different? (1992).
Such a range of motifs also reflected Hamilton's passion for the work of the conceptual artist Marcel Duchamp, something that blossomed into a fond relationship. This began in 1956 with the British artist's response to the latter's The Green Box, a selection of notes and diagrams relating to the development and function of his magnum opus – The Bride Stripped Bare by her Bachelors, Even (The Large Glass) (1915–1923). Hamilton's attempt to decipher how these notes related to each part of the original work met with Duchamp's approval and encouragement to work on an English translation, published as The Green Book in 1960. More can be read about Hamilton's reinterpretation of Duchamp's work in this Tate paper, 'From the Green Box to Typo/Topography: Duchamp and Hamilton's Dialogue in Print.'
Hamilton went on to assist the Tate Gallery with its major Duchamp retrospective in 1966. Realising the original Large Glass was too fragile to move from its American home in Philadelphia, the artist spent a year creating a full-scale replica, though not an exact copy, based as much on Green Box instructions as examining the original.
The work involved the production of a number of studies, among them Oculist Witness (1967), made of silvered mirror and glass on an aluminium plinth. When a publisher sought to make multiple editions based on Large Glass, Duchamp suggested these glass studies, which he considered to be new works and co-signed with Hamilton.
In the same year as Duchamp's Tate show, Hamilton gave up his influential teaching post at Newcastle University, where his students had included the artists Rita Donagh, Tim Head and Mark Lancaster, plus Bryan Ferry, later frontman of 1970s group Roxy Music.
Now Hamilton's friendship with his art dealer Robert Fraser brought him into contact with the cultural stars of the age, notably The Beatles and The Rolling Stones. For the former, the artist would devise the famously monochrome cover of the 1968 LP officially titled The Beatles, though better known today as The White Album. For the Stones, Hamilton would react angrily to the over-zealous prosecution for possession of illegal drugs of their singer Mick Jagger (along with Fraser) in his series of works Swingeing London 67.
Hamilton took as source material a photograph of the accused handcuffed together as they arrived at court in a police van, creating a series of works that transposed the image across a variety of media. Hamilton's focus on the impact of photography on art continued throughout his career, along with an interest in the effects of print technology.
This experimentation extended into the use of computers, as seen in Testament (1993), in which he digitally captured and re-tinted an official image of the Crown Prince of Japan's wedding. He printed the image on canvas before painting over the top in almost imperceptible brushwork that added a layer of irony as he teased out the couple's stiffness in their traditional garb.
Hamilton went on to enjoy a late-career revival marked by a Tate retrospective in 1992 to follow his first show there in 1970. A year later, he represented the United Kingdom at the 1993 Venice Biennale. By the time of his death, he had left an indelible impression on a generation of younger artists, including his pupils and the Young British Artists (YBAs) who came to prominence in the 1990s.
'Richard Hamilton: Respective', an exhibition of his work runs at Pallant House Gallery, Chichester, until April 18th 2021, though is temporarily closed to the public due to COVID-19.
Chris Mugan, freelance journalist