After a major refurbishment, The Burrell Collection in Glasgow is now open. More objects than ever are on display across the new galleries, with some pieces on show for the very first time. Here, some of The Burrell's curatorial staff explain more about the collection, and select 12 highlights from the newly reopened museum.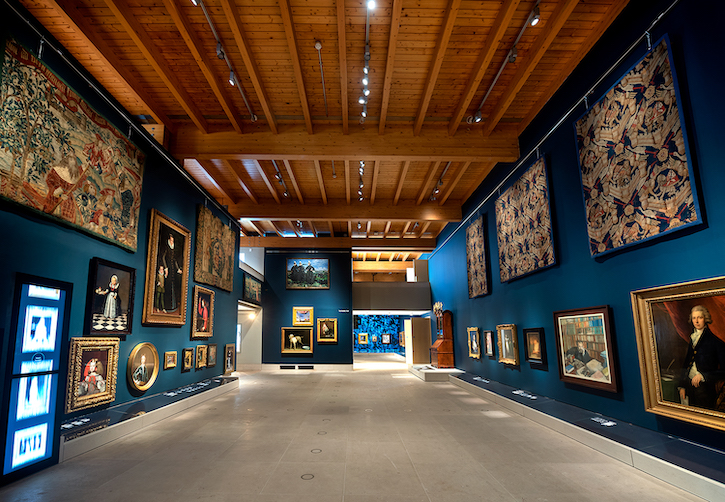 Working in partnership with our local communities, the museum's new displays look to represent and reflect the interests of our diverse audience in an engaging, welcoming and accessible way.
New, innovative approaches to the displays, supported by interactive and immersive experiences, help open up the collection and encourage visitors to connect with the fascinating stories of the people associated with these amazing objects, not least Sir William Burrell (1861–1958) himself.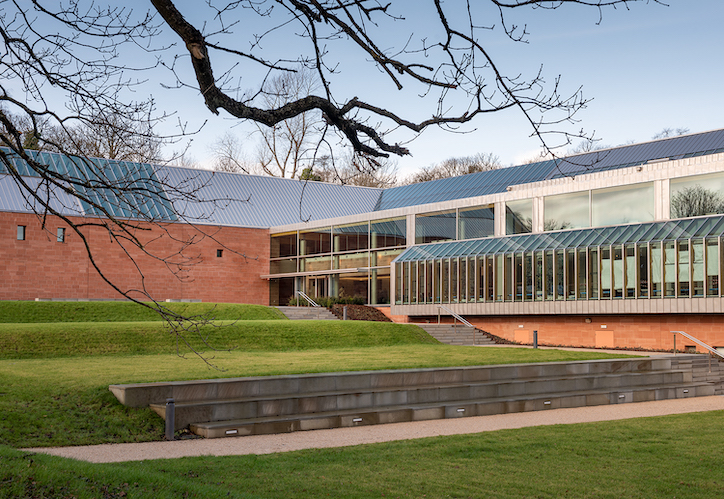 This unique and varied collection, donated to the City of Glasgow in 1944 by Sir William together with his wife, Constance, Lady Burrell (1875–1961), is representative of over 75 years of collecting.
It contains treasures from all over the world, with highlights including one of the most significant collections of Chinese art in the UK, paintings by renowned nineteenth-century artists such as Manet, Cézanne and Degas, and Burrell's beloved medieval collection, including world-class tapestries and stained glass.
Surrounded by the beautiful parkland of Pollok Country Park, and run by Glasgow Life Museums, this magnificent collection in its purpose-built home is ranked amongst the most significant civic museum collections in the UK.
George Henry (1858–1943), Portrait of Mrs Burrell, 1903
The new Burrell Collection brings fresh focus on William Burrell and his family, as well as Glasgow, the city in which he lived and made his money. It highlights the female members of the family who have so often been forgotten, such as his mother, Isabella Burrell (1834–1912), née Duncan Guthrie, whom Burrell credited with instilling in him a love of art and collecting.
With her black chatelaine bag and keys at her waist and her hand proprietorially on a walnut and cane chair, in this portrait Glasgow Boy George Henry shows her still very much in charge.
Juan Bautista Martínez del Mazo (1612–1667) (after), The Infanta Margarita, c.1665
This portrait of the Infanta Margaret Theresa (1651–1673), the daughter of Philip IV of Spain and Mariana of Austria, has been transformed by Glasgow Life Museums' conservation team, old yellowed varnish removed to reveal dazzling white lace, crimson fabric and sparkling gold jewellery.
Behind the Scenes: One of our painting conservators has completed work on 'Margaret Theresa, Infanta of Spain' including cleaning away a layer of old varnish to restore the colour in the painting to its original state #behindthescenes #museums pic.twitter.com/BOgnvmMlrJ

— Burrell Collection (@burrellcollect) February 7, 2020
The 14-year-old was betrothed to the Emperor Leopold of Austria, whom she married in 1666. The painting forms part of a display looking at the changing lot of children historically, children who had to earn a living and children who had to behave like adults before their time. The portrait is hung low to allow young visitors to look at it face-to-face and imagine themselves in her place.
Martin Zürn (c.1590–1665), Saint Walburga and Four Nuns, c.1600–1625
The Burrell redisplay provided an invaluable opportunity to reassess and research the collection. As a result, our understanding of this sculpture attributed to Martin Zürn has been transformed since the museum closed in 2016.
Recent research has revealed the central figure is that of Saint Walburga (c.710–779), an eighth-century West-Saxon missionary, who, along with her brothers, saints Willibald (c.700–787), and Winibald (c.702–761), travelled to Francia (Southern Germany), converting the local pagans and establishing religious communities.
A similarly carved group, possibly depicting one or both of Saint Walburga's brothers, is held in the Suermondt Ludwig Museum in Aachen, Germany. Both are thought to have originated from the same early seventeenth-century altarpiece.
Gainsborough Dupont (1754–1797) (and studio), William Pitt the Younger, c.1790
The Burrell redisplay has prompted new collection and provenance research, and resulted in objects being brought out of the stores for the first time in many years. This portrait of Britain's youngest Prime Minister, William Pitt the Younger (1759–1806), who came to power in 1783 aged only 24, is a case in point.
It has a fascinating provenance, coming from the collection of the Duke of Richmond and Gordon at Goodwood House in West Sussex. 'GOODWOOD' is branded on the stretcher along with the inventory number 119, referencing an 1877 catalogue of pictures.
Edgar Degas (1834–1917), The Rehearsal, c.1874
Digital has been used in new exciting ways in the reimagined Burrell Collection, with large-scale video screens enlivening corridors, highlighting details and makers' marks, as well as smaller-scale films, interactives and projections in galleries bringing visitors closer to the artworks on display.
The painting above, one of Degas' first of the ballet, is accompanied by a digital animation for adult audiences highlighting the artist's innovative working practice. Degas' artworks may look like snapshots of real life but were put together in the studio using multiple carefully observed sketches.
Lucas Cranach the elder (1472–1553) (studio of), The Stag Hunt, 1529
Upon buying his family home Hutton Castle in the Scottish Borders in 1916, Burrell could finally pursue his dream of living the life of a country laird. Here, surrounded by his 2,000 acres, he adopted the life of the aristocratic landowner, regularly hosting grouse shoots.
Burrell's passion for the hunt is reflected throughout his collection, and the theme is explored in the new galleries, where this work sits amongst some of Burrell's finest tapestries and Islamic carpets, as well as examples of stained glass, ceramics, glassware, falconry equipment and sculpture. A digital screen accompanying The Stag Hunt provides an animation that brings the viewer into the scene and introduces the world of the Renaissance hunt.
Frans Hals (c.1581–1585–1666) (studio of), Portrait of a Man, 1630–1635
This painting has had an exciting life, discovered in poor condition in the attic of an English country house in 1937, recognised as a Frans Hals and restored. It was purchased in 1948 by Burrell for £14,500, the most he spent on any one item in his collection of over 9,000 objects.
Visible pentimenti in the painting include a wide-brimmed hat. This inspired an interactive activity for children called Hats Off! in which families are encouraged to select appropriate headwear for this and a similarly divested Hogarth portrait. Very popular with visitors of all ages, this display sums up the democratising spirit of The Burrell Collection.
Unknown artist, Guanyin, Goddess of Mercy, Twelfth century
In early Indian Buddhist tradition, the deity Guanyin first appeared in the male form of the Bodhisattva Avalokiteshvara. Even though depicted in the male form, Buddhist scriptures refer to Avalokiteshvara as androgynous or without gender, taking any form to help others reach enlightenment.
From the tenth century, practising Buddhists in China had transformed Avalokiteshvara into Guanyin, a female goddess of mercy or compassion. Today, some trans people feel this gender-fluid figure reflects their life experiences.
For the Burrell Project, staff consulted with trans and non-binary people in the local LGBTQ+ community, who co-curated a display using depictions of Guanyin from our collection, highlighting the importance of representing trans histories and identities within museums.
Matthijs Maris (1839–1917), Grief, 1887
This poetic painting by Dutch artist Matthijs Maris hangs in a gallery examining death and mourning, for which curators worked with Macmillan Cancer Support and a local care home. The Burrell Collection is home to one of the largest collections of Maris's work, with 54 paintings, watercolours and etchings by him, and a further 13 by his brother Jacob Maris (1837–1899).
Burrell hung this painting above the fireplace in his study at Hutton Castle. Showing a woman lying prostrate at the steps of an altar, a crown discarded beside her, it is particularly poignant because Maris described it as autobiographical: 'It's my own misfortune that is in it.'
Master of Rimini, School (attributed to), Pietà, c.1430–1450
Purchased in 1955, this was one of Burrell's last acquisitions before his death at the age of 96 in March 1958. Beautifully carved in alabaster, this highly emotive work is amongst the finest medieval sculptures in the collection.
At the time of Burrell's acquisition, there was no other example of an alabaster Pietà in a UK museum. Bought for just £175, it demonstrates Burrell's remarkable and enduring eye for both quality and a bargain, and his desire to enhance the collection long after his initial gift of 1944.
Camille Claudel (1864–1943), L'Implorante, c.1898
The Burrell Collection is not fixed in time but continues to evolve, with items still acquired today by the Burrell trustees. A purchase of immense significance in 2021 was a bronze by the French sculptor Camille Claudel, the first work by a female artist to enter the collection.
Claudel began her career as an assistant in the studio of Auguste Rodin (1840–1917) and his work has often overshadowed hers. However, a sculptor of great skill, her work is now being celebrated in its own right. L'Implorante will feature in a special exhibition examining Burrell's collecting, opening in August 2022.
Henry Raeburn (1756–1823), Miss Macartney, 1794
Under the main galleries of The Burrell Collection are large, environmentally-controlled collection stores. A new central staircase, which neatly doubles as auditorium seating, now leads the visitor down to the basement level, where large windows open onto the working hub of the building.
One of the paintings on view in these new accessible stores is this portrait by Edinburgh-based painter Henry Raeburn. Burrell built up a significant collection of eighteenth-century portraits that make fascinating case studies in identity, society, taste and privilege. Now being examined with a decolonising lens, these artworks are no longer hidden from view in more sense than one, whether in gallery or in store.
Ed Johnson, Curator of Medieval and Renaissance Art at Glasgow Life Museums, Jo Meacock, Curator of British Art at Glasgow Life Museums, and Laura Bauld, Burrell Project Curator