Medusa is one of the most notorious monsters in Greek mythology, but the singularity of her story has never been questioned.
She may have weathered the gales of time as one of the genre's most ferocious predators. But a feminist lens offers refreshing interpretations of the tale. Medusa was not so much the predator, but the prey.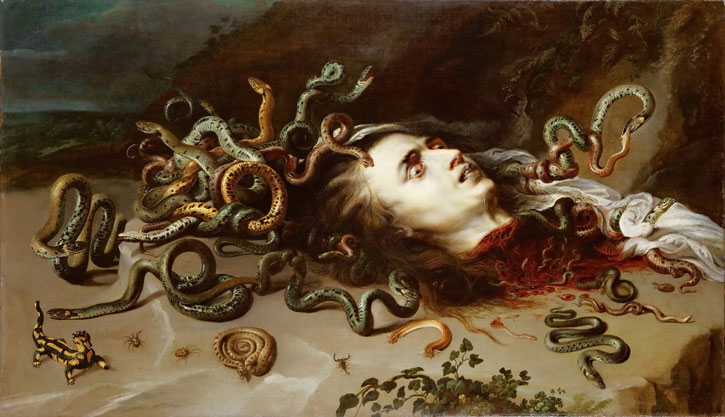 The best-known version of her story derives from Ovid's Metamorphosis. In short, a beautiful young woman was seduced by the Greek god, Poseidon, in Athena's temple, which the goddess of war did not find charming.
Another version, told by Bernard Evslin in the 1980s, recounts a more sinister narrative where the innocent woman is aggressively pursued by the god of the sea against her wishes. Anxious to escape the grip of her conqueror, she races across Athens.
Yet, in the terrible chase, Poseidon and Medusa leave a deluge in their wake as the sea's powerful waters engulf and drown the metropolis.
Unamused, the patron goddess Athena chooses not to blame her uncle, Poseidon, but the inconsequential mortal as the cause of the upheaval. Severe and ironic punishment ensues.
Thus Medusa the gorgon (as we know her), comes into being: so hideously terrifying that any man who lays eyes on her is immediately turned to stone. Powerless, angry and vindictive in her demise, she obliges.
That is until our strapping young hero, Perseus, decapitates her ugly head, quelling the city's anguish. Hurrah.
History's most lauded artists have long favoured a depiction of Medusa that glorifies her demise.
The fearsome monster is slain in well-deserved gore. In these portrayals, scant attention is ever paid to the time when her beauty and strength of character was so seductive. No trace of the soul she once was can ever be glimpsed in these instantly recognisable depictions.
The central figure in Medusa-related art is often Perseus, the demi-god hero who managed the impossible with courage and cunning (by using Medusa's weapon against her by holding a mirror to her face so she'd turn to stone). The portrayal of this victorious moment is often glaringly gleeful, smug even.
As seen in this Benvenuto Cellini sculpture, Perseus proudly displays his triumph by thrusting Medusa's decapitated head into the air. Why he would need to stand on her lifeless, naked body to do so is obvious to no one.
It is understandable that artists would depict the moment of Medusa's demise so loyally. After all, it's the story we were told at bedtime, when reinforcement of good versus evil was most necessary.
Medusa's story is inextricably tied to Perseus and, as if by eternal punishment, is always told through the young hero's eyes. She was a monster, so she deserved to die.
As the perpetual villainess of olde, she has become indispensable, a ready reminder of the comeuppance owed to vile creatures. Thus, she is a doorknob, a commuter, the subject of abstract art.
And who hasn't seen this iconic image by Caravaggio?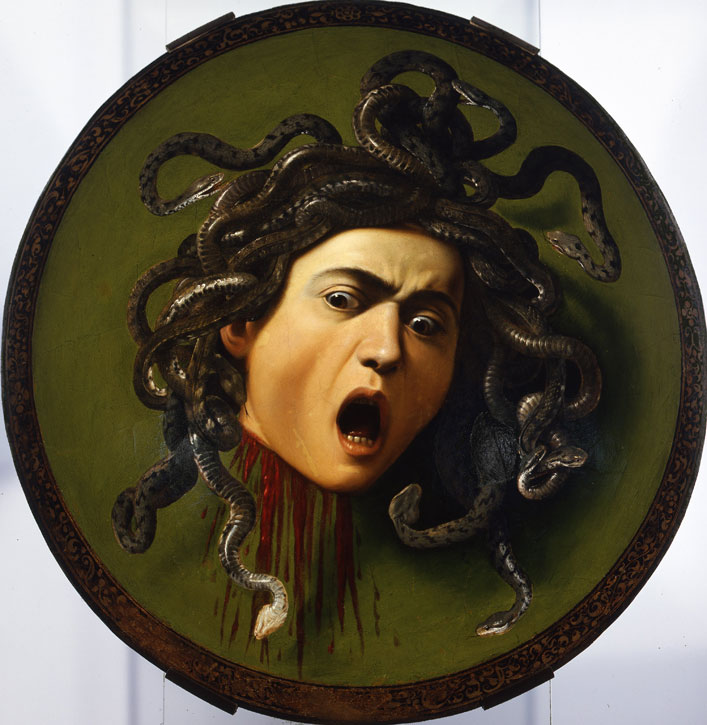 The realistic quality of the brushwork, not to mention the anguished strain of Medusa's face, aid to amplify the hero-making narrative. These techniques allow the viewer, undoubtedly aware of the moment behind the image, to stand before a dying Medusa as a Perseus of sorts; in other words, as a hero for a moment.
It's a tantalising subject matter that gets worked over and again. And, like so many others, works dramatically portray her end, but not what got her there, like this painting of the Head of Medusa from the Italian School.
Triumphant though it may be, there's something sad about this lack of backstory because of the loss of nuance that would ring true for us today.
Gripping as the story is, it also provides an interesting analogy for how women have often been blamed for the transgressions of men. Not much can be done for pre-curse Medusa, but are we, in the age of #MeToo, learning to unlearn the ugly habit of silencing – and demonising – victims of male oppression?
Medusa's tale teaches us that, even in mythology, the single-view story has problematic consequences. Imagine her tale being true, minus the mystical elements, and you have bullying and slut-shaming at a push but a total disregard for her perspective at the very least.
Moreover, recent events in our cultural zeitgeist encourage us to open our eyes to the struggles of those women who are seemingly perpetually strong.
When Hillary Clinton ran for office against President Trump in 2016, guess who was portrayed as the gorgon and which was the demi-God hero?
Even Oprah Winfrey has been linked to the image of Medusa. Oprah.
The symbol of Medusa underpins the notion of the 'nasty woman', a powerful human being whose brilliance is so unprecedented from someone of her gender that she is considered inhuman.
Such women bear the label like champions, but often at the risk of being considered too thick-skinned. Yet what we sometimes fail to remember is that tough exteriors are really just scars: the only visible trace of a neglected backstory.
I find it interesting that, within the archives available to me to write this essay, only a woman, Winifred Hope Thomson, was found to have depicted Medusa as, not a monster, but a woman.
Patricia Yaker Ekall, journalist
Further reading
Bernard Evslin, Medusa: monsters of mythology, 1987
Elizabeth Johnston, 'The original nasty woman', The Atlantic, 2016