This painting – one of the most enigmatic Rembrandt ever painted – has the peculiar honour of having been thought to represent all three women in the artist's life: his wife Saskia Uylenburgh, his son's nursemaid Geertje Dircks (or Dircx), and the servant Hendrickje Stoffels.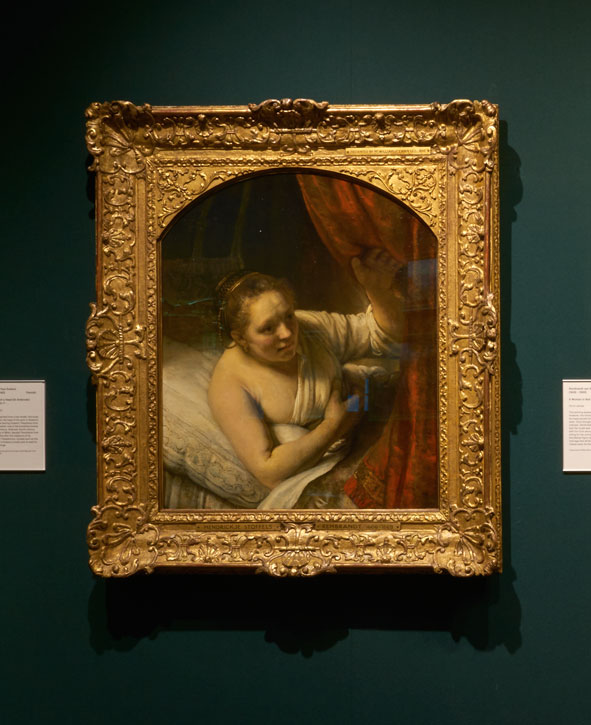 While the painting has never been doubted as an authentic work by Rembrandt, questions concerning the subject matter, the date and the model still remain. The Dutch conservator A. Martin de Wild treated the painting in 1929 and read the last digit of the date, now completely lost, as '7', that is 1647. Saskia had died in 1642 and Hendrickje Stoffels is first recorded in Rembrandt's house in 1649. The most likely model then would seem to be Geertje Dircks who lived with him from about 1642 to 1649. However, no firmly identifiable portrait of Geertje is known.
The subject matter of the painting has remained equally elusive. It is certainly not a portrait, as the intimate setting, in bed, would be inappropriate for any respectable female sitter in seventeenth-century Amsterdam. Perhaps the model posed as Sarah, the biblical figure who watches from her marriage bed while her bridegroom Tobias chases away the Devil that slew each of her seven husbands on their wedding night (Tobit 7, 1–4). The rich linen and curtain, as well as the fanciful gold headdress, would be appropriate for a bride.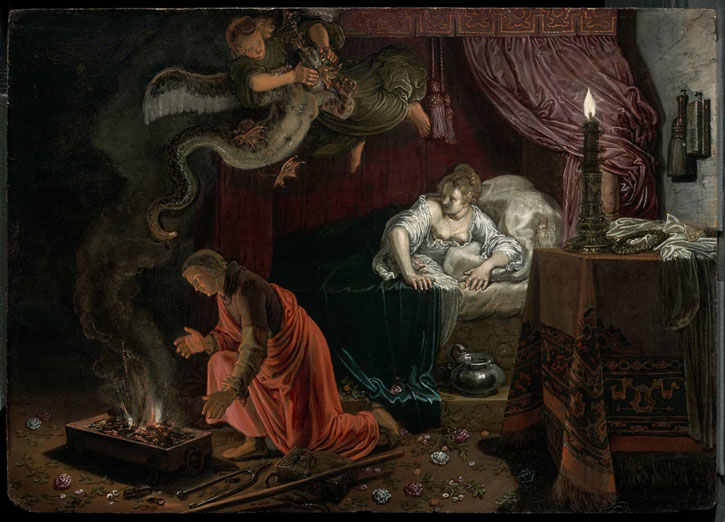 Equally, she seems to be 'looking with fixed attention at some object in her room', as a sale catalogue in 1892 noted – watching an invisible Tobias with concern, between hope and despair. Rembrandt's teacher Pieter Lastman had painted this story in 1611 (now in the Museum of Fine Arts, Boston), and Rembrandt made a drawing of this rare subject in the late 1640s (now in the Metropolitan Museum of Art, New York).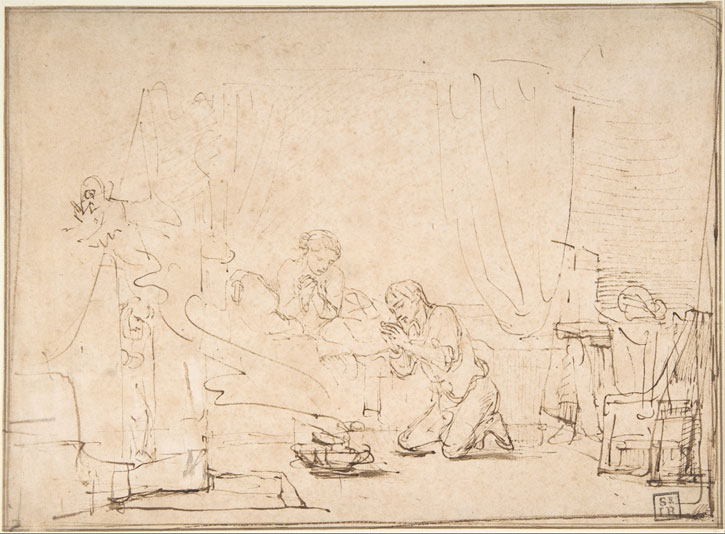 Rembrandt's painting, however, is an 'isolated subject' or 'extraction', as it only focuses on Sarah, and as such it is deliberately ambiguous. The informed viewer would have to recognise and 'read' the story from this single figure. A similar suggestion has been made for Rembrandt's A Woman bathing in a Stream. There, Hendrickje Stoffels may have modelled for the ancient nymph Callisto.
Geertje's relationship with Rembrandt ended in quarrels shortly after Hendrickje Stoffels arrived, in 1648 or 1649, aged 23. Again, no indisputable image of Hendrickje has been identified, but most scholars agree that several paintings are modelled on her features.
To complicate matters even further, Rembrandt's A Woman in Bed (Sarah) has a peculiar structure. It was painted on two pieces of canvas stuck onto panel. The panel support was removed in 1932 by De Wild, on the assumption that it was a later addition. Recent technical examination has revealed that, unusually, these two pieces of canvas had not been sewn together. Rembrandt himself is likely to have chosen this unusual structure. His painting may have been intended to be inserted into a piece of furniture, perhaps even a box bed. This would also explain why Rembrandt aimed for such a strong illusionistic effect of the painting.
It has been suggested that A Woman in Bed (Sarah) is identical to a painting that Rembrandt bartered for boat supplies. A notary document of 28th March 1647 mentions a 'minnemoer van Rembrandt' which can either have meant '[a painting of] Cupid's Mother, Venus, by Rembrandt' or '[one of] Rembrandt's nursemaid'.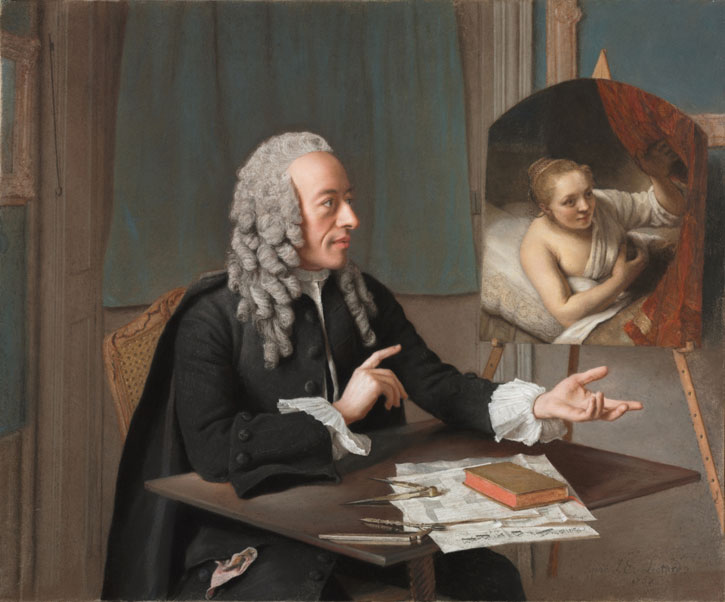 Etienne Liotard's pastel portrait of the famous Geneva-based collector François Tronchin of 1757 (Museum of Fine Arts, Cleveland) shows Rembrandt's painting unframed on an easel (and its date clearly reading 1647). By 1776, the picture was with the London art dealer Thomas Moore Slade.
It seems likely that Matthew William Peters saw it there and took inspiration from Rembrandt's picture for his Lydia, painted the same year.
The wealthy Scottish brewer William McEwan, who had given the National Gallery of Scotland a superb pair of Frans Hals portraits in 1885, presented the Gallery with A Woman in Bed (Sarah) in 1892.
It remains the Gallery's only Rembrandt.
Christian Tico Seifert, Senior Curator (Northern European Art), National Galleries of Scotland