There is something magical about Rembrandt's A Woman bathing in a Stream in The National Gallery.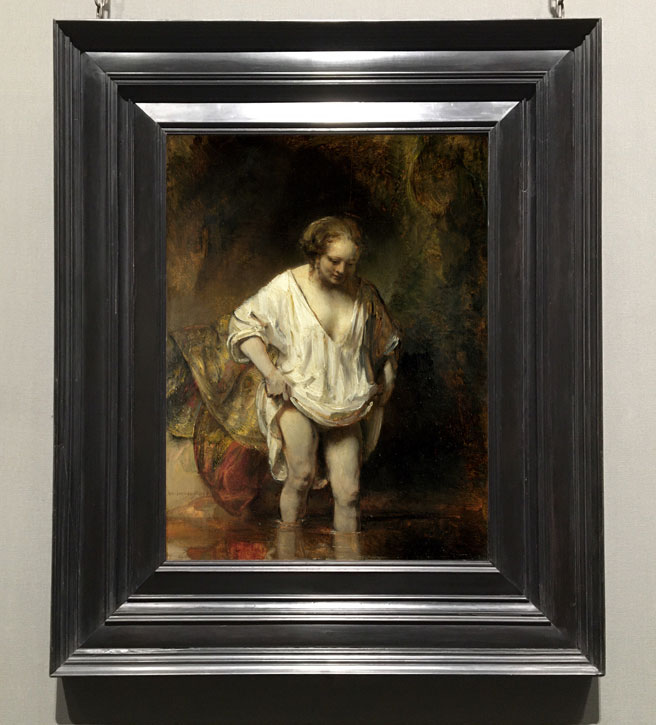 At first sight, it seems to depict an unassuming subject, while it is also a relatively small painting. And yet it often feels as if it towers over The National Gallery's collection of Rembrandt paintings. It is rightly many people's favourite Rembrandt at Trafalgar Square, and some even go so far as to say that it is their favourite painting in the entire gallery. It is certainly one of mine. But why is this painting so special?
There is a surety of touch in the picture that is wholly irresistible. Rembrandt's command of the brush, loaded with just the right amount of paint, is staggering.
Part of its attraction lies in its unassuming subject matter, which is both humble and highly evocative: this is not just a woman lifting the garment she is wearing to wade through a stream, but an unmistakably erotic picture that speaks to the imagination. There can be little doubt that Rembrandt deliberately imbued her with such qualities. But perhaps there is more to the subject? For one thing, it is pretty much certain that Hendrickje Stoffels, with whom Rembrandt cohabited when this picture was painted, modelled for the painting.
Scholars have often wondered whether they could identify a biblical or ancient story that would have inspired Rembrandt to paint Hendrickje in the way that he has. Perhaps the most convincing suggestion so far is that Rembrandt painted her in the guise of Callisto, more specifically Callisto in the wilderness – an event not described in our source for Callisto's story, Ovid's Metamorphoses, but mentioned in seventeenth-century Dutch sources retelling that story. Ovid relates how Diana's nymphs were expected to be chaste, like Diana herself. However, Jupiter managed to seduce one of them, Callisto. Diana discovered Callisto's pregnancy and punished her by banning her from her retinue.
In the seventeenth-century retelling of the story, however, Callisto took refuge in the wilderness after her exposure by Diana, and it is entirely plausible to assume that Rembrandt was familiar with this version of the story.
Could there have been a reason for Rembrandt to depict Hendrickje as Callisto?
We know that in 1654, the date inscribed on the painting, Hendrickje was summoned before the Reformed Church Council and accused of living in unwedded cohabitation with Rembrandt. There was no denying the allegation and, after her confession, she was admonished and, moreover, barred from Holy Communion.
Although one should always be very careful when trying to establish connections between artists' biographies and their works, in this case it is not unreasonable to speculate that this Dutch version of Ovid's story indeed informed the painting's subject, with Callisto's refuge in the wilderness being equated to Hendrickje's banishment from the Church's Holy Communion. Such an interpretation becomes all the more attractive when we take into account the fact that Hendrickje was pregnant in 1654, and a pregnancy under difficult and secretive circumstances is central to the story of Diana and Callisto.
But although both the picture's eroticism and subject matter clearly speak to the imagination, that is only part of its attraction. The picture's beauty ultimately derives not only from what is depicted but from how it is depicted. There is a surety of touch in the picture that is wholly irresistible. Rembrandt's command of the brush, loaded with just the right amount of paint, is staggering.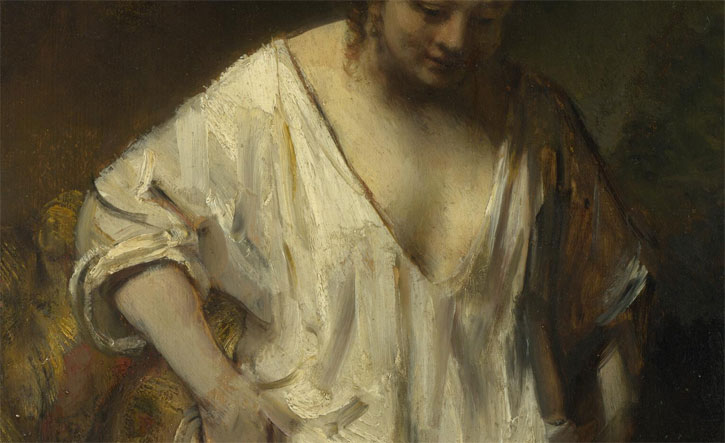 On this relatively small scale, it almost feels as if he is drawing rather than painting. It can be seen in the beautiful rendering of Hendrickje's garment, the brush strokes applied with breathtaking accuracy, creating the perfect illusion of the garment's folds but without describing them in any detail. They also give us a real sense of how the garment hangs from Hendrickje's torso. This phenomenally economic way of creating an illusion is taken to well-nigh impossible heights in Rembrandt's rendering of Hendrickje's right hand, which consists of three, perhaps four, very quick flicks of pale grey paint, which is given three-dimensional form by tiny touches of darker paint for the shadows.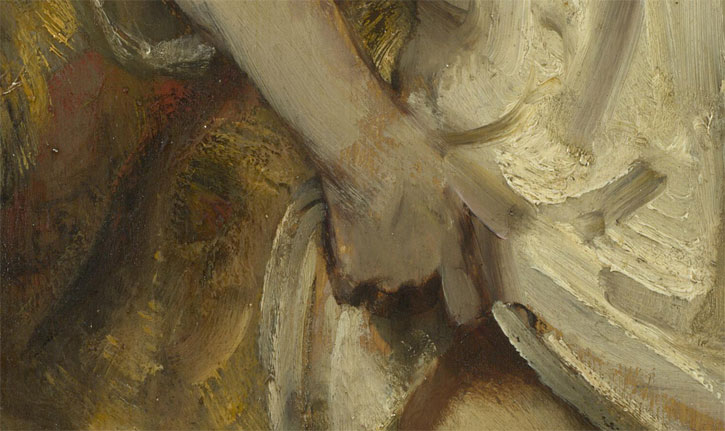 It almost defies belief that a hand can be painted so effectively with so few brush strokes. One could argue that here Rembrandt is drawing in paint. In that sense, the painting has a lot in common with Rembrandt's works on paper: observe, for example, how he conveyed Hendrickje's right hand in a famous drawing preserved at the British Museum, in which we see a similarly breathtaking economy of means.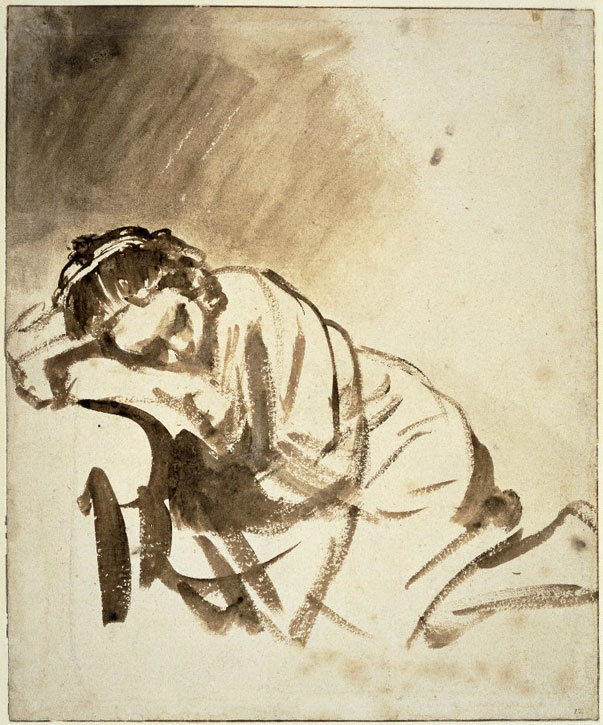 And to me, it is those aspects of the painting that truly bring what is anyhow a beautiful and intriguing scene into the realm of perfection.
Bart Cornelis, Curator of Dutch and Flemish Paintings, The National Gallery, London