One of the wonderful perks of working at The Wallace Collection is to be able to walk through the quiet, empty galleries before opening. I am often drawn to the same room on the first floor, which houses paintings by Rembrandt and his School and, in particular, to Rembrandt's magnificent portrait of his son Titus (c.1657).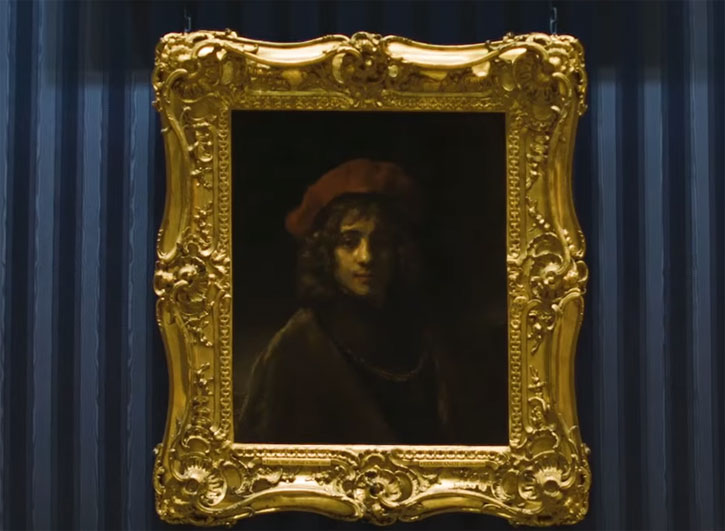 The painting hangs opposite Rembrandt's Self-Portrait in a Black Cap (1637) creating a striking confrontation between father and son, memorialised here for perpetuity in constant, visual conversation.
Rembrandt was a masterful portraitist and the first artist to make self-portraiture a genre in its own right. More than exploring his own image, Rembrandt also painted those close to him, especially members of his family. In his later years, Titus became a favourite model for stand-alone portraits such as this one and, although we don't know for sure who Rembrandt intended it for, there was clearly a keen market for such works.
Titus was Rembrandt's only surviving child with his beloved first wife, Saskia van Uylenburgh. Soon after their marriage in 1634, the couple began trying to have a family. Sadly, their first three children died in early infancy and Saskia herself died before Titus's first birthday. Titus is shown here at about age 16. His serious demeanour might be an allusion to the recent responsibility he was given to manage his father's affairs after the latter had to declare bankruptcy in 1656.
Titus wears a sixteenth-century Venetian costume adorned by a gold earring and chain. His fantastic beret beautifully complements the red highlights in his voluminous curls. Rembrandt must have had an impressive costume collection in his studio, as he often 'dressed up' his sitters in various guises. Through such tactics, Rembrandt complicated commonly understood notions of portraiture. This painting at once evokes Titus through his likeness but also represents a character created by Rembrandt. As such, Titus's image evades conventional categorisation and, instead, calls to mind thresholds between portrait, genre and fantasy figure.
A master of chiaroscuro – tonal contrasts between light and dark – Rembrandt lit the portrait from the left, casting the right side of Titus's face in strong shadow. This dramatic lighting combined with Titus's position in the extreme foreground of the picture plane, close to the viewer, makes him appear lifelike. Titus confronts the beholder with his captivating gaze, furthering the portrait's powerful immediacy.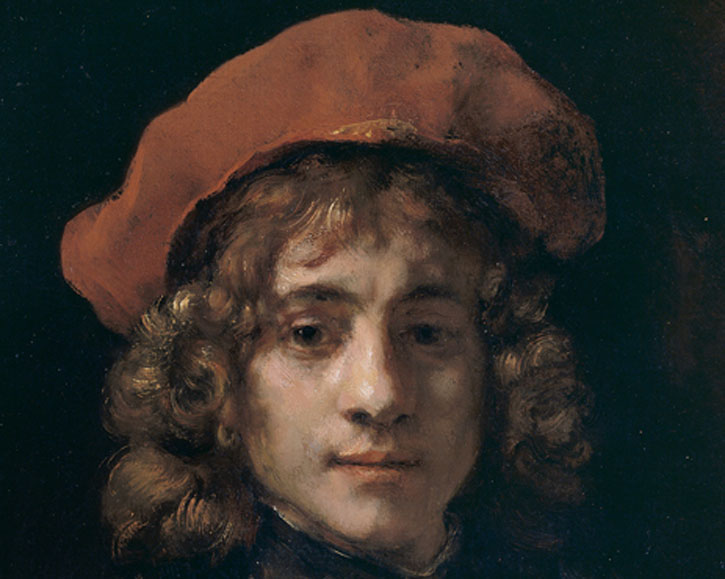 What is most striking perhaps is that Rembrandt was able to achieve all of this with limited means. He employed a reduced colour palette of shades of brown. The red in the beret, hair and lips provides striking accents that lead the eye across an otherwise monochromatic surface. A quick, single stroke of the brush to highlight Titus's right shoulder is a further testament to Rembrandt's mastery.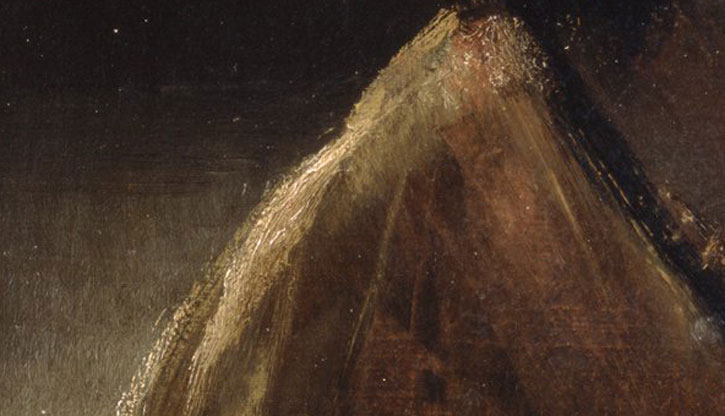 The Wallace Collection opened its doors to the public in 1900 with what were then believed to be 12 paintings by Rembrandt. Over the years, like countless other Rembrandts around the world, many of those pictures were questioned in one way or another. The authenticity and date of this work, however, have never been doubted. For me, not only does this moving portrait give us a glimpse into Rembrandt's private life, but it also perfectly showcases his supreme painterly prowess.
Lelia Packer, Curator of Dutch, Italian, Spanish, German and Pre-1600 Paintings at The Wallace Collection