I've always found seascapes calming. I enjoy the feeling of peace, serenity and vastness that artists capture so brilliantly, often in seemingly so few brushstrokes. Even those old-world paintings of doomed ships thrashing around atop mountainous waves remind me that, most of the time, things could be worse.
Browsing beautiful prints on the Art UK Shop reminds me that – at a time when our collective stress levels have never been higher – using art as a tool for reflection and meditation can really help lift our mood and provide a sense of perspective in a world of confusion. Especially now, mindful appreciation of great art is a perfect way to take a few moments out from the demands and busyness of everyday life and improve your wellbeing.
Comforting vistas abound on the Art UK Shop, so if you're in the mood to lose yourself in arty contemplation here are our top picks to help your mind relax…
Kyffin Williams
Welsh painter Kyffin Williams (1918–2006) was known for his beautiful depictions of rugged landscapes and Welsh farming life. His idiosyncratic style involved applying thick oil paint with a palette knife, a technique used to great effect in this painting. The moody greys and light breaking on the hilltop create a real sense of isolation and otherworldliness – the perfect soothing seascape for the wandering mind.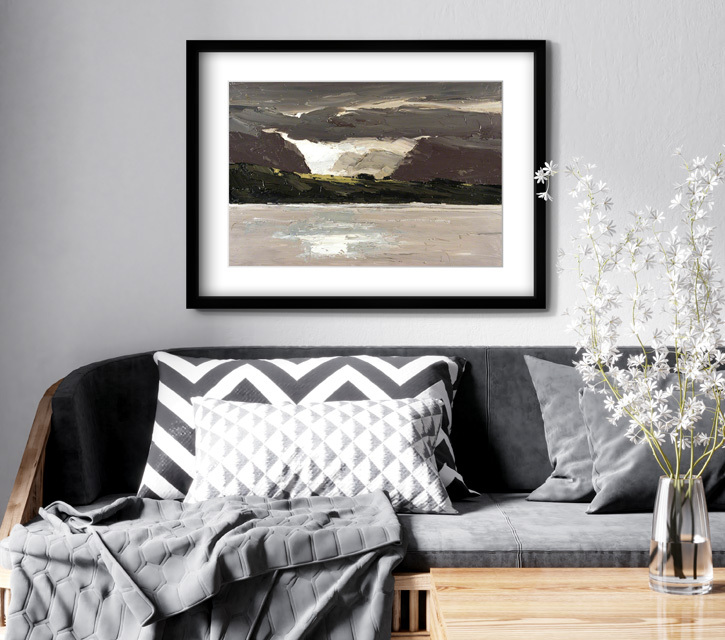 John Constable
Suffolk-born John Constable (1776–1837) is renowned and loved for his English landscapes. His studious and detailed approach saw him paint numerous observational studies of landscapes and clouds in order to perfect his technique. This painting is one such study, and yet it's also an expressive and beautifully atmospheric work. The piercing moonlight and palette of muted blues and greens draw in the viewer, creating a comforting sense of scale and nothingness.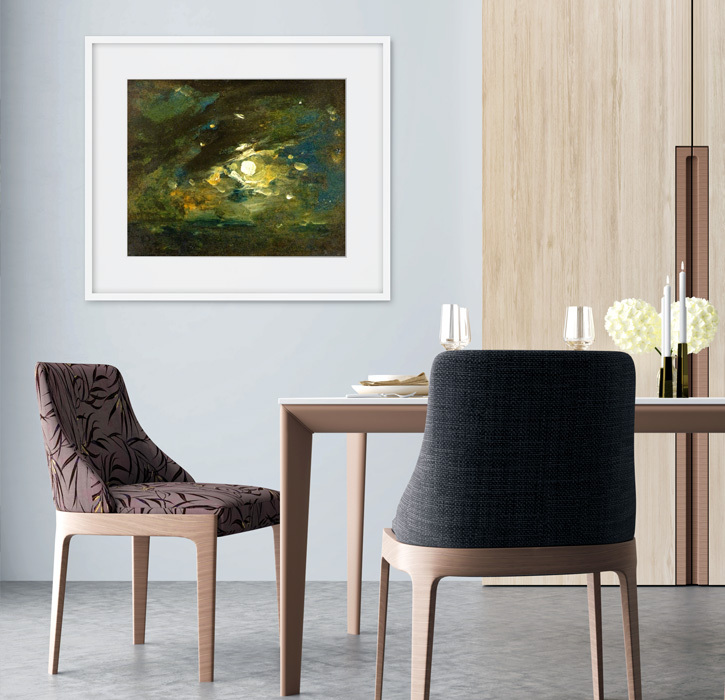 James Dickson Innes
This captivating depiction of Bala Lake in Gwynedd, Wales, typifies the subject matter and bold, primitive technique of landscape painter James Dickson Innes (1887–1914). The deep blues and remoteness of the scene give the painting a feeling of stillness and restfulness which is perfect for calming the stressed mind.
F. C. B. Cadell
Scottish Colourist painter Francis Campbell Boileau Cadell (1883–1937) spent many summers on painting trips to the island of Iona. This stunning seascape in beautiful pastel hues is the perfect setting for letting your imagination wander, from the secluded beach in the foreground, around rocky outcrops to the rolling hills beyond.
Sarah A. Doidge
The lovely bright yellows, moody blue-greys and the urgency of brushstrokes in this atmospheric painting by British landscape artist Sarah A. Doidge (c.1830–after 1900) are so evocative you can almost feel the wind against your face and taste the salty sea air. It's a wonderfully absorbing image that reveals the power of the sea and almost meditative relentlessness of the rolling waves.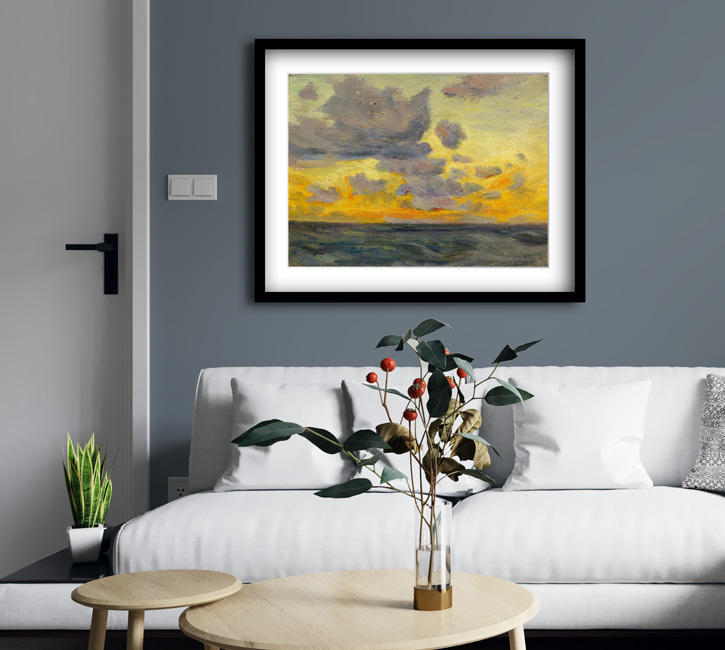 If you're encouraged by our choice of calming seascapes, our full range of meditation and mindfulness inspired prints are available to browse on the Art UK Shop. We're still open for business (while adhering to all COVID-19 government guidance and best practice) and all purchases directly support our partner museums, galleries, charities and trusts that care for the nation's art.
Alexandra Colton, Online Shop Officer at Art UK