Mirrors, like their reflections, can be ambiguous and even contradictory in their meaning. Do they show truth or illusion? Beauty or vanity? Self-reflection or shallowness? The answer is as mutable as the object itself: mirrors have been used to reflect all of those meanings and more in art.
Below are five key themes mirrors have reflected in art – and in their viewers, too.
Self
Mirrors have been around for as long as humans have enjoyed looking at themselves. Reflections could be found in polished obsidian, metal, and even water when needed, but the earliest known examples of obsidian mirrors date from around 6200 BC in modern-day Turkey. A recent analysis confirmed that the obsidian mirror used by Elizabethan advisor and occultist John Dee, now in the collection of the British Museum, was Aztec in origin.
This obsidian mirror was used for occult research by Elizabethan mathematician, astrologer and magician Dr John Dee, born #otd in 1527 pic.twitter.com/iqrgGZ7PrI

— British Museum (@britishmuseum) July 13, 2017
Though mirrors became increasingly popular and could be obtained in almost any form or price from the sixteenth century, glass mirrors remained a luxury until the industrial advent of the nineteenth century.
Regardless of the form it takes, the mirror is a crucial tool for artists to paint themselves, an important starting point when learning how to depict other features and figures. Mirrors have proved especially useful for artists who couldn't afford or gain access to models, such as women artists who were barred from traditional art academies. An example is seen in an early fifteenth-century manuscript of Giovanni Boccaccio's 1361–1362 treatise De Mulieribus Claris (Concerning Famous Women), which illustrates the ancient Roman artist Marcia using a mirror to paint her self-portrait.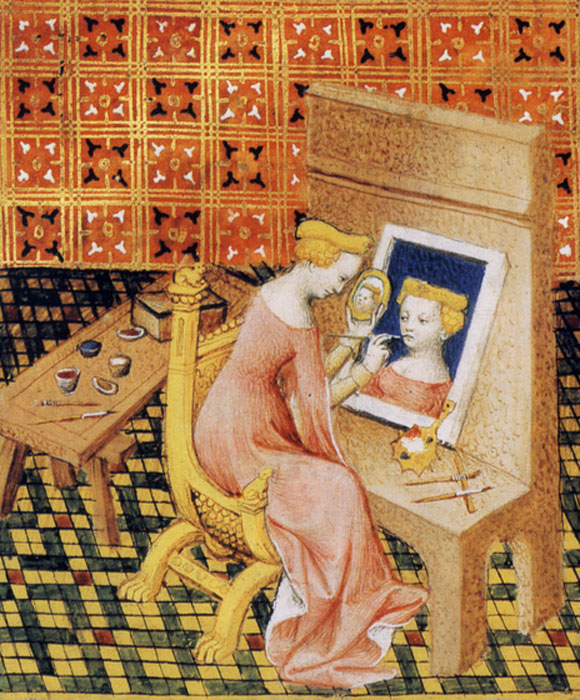 As humanism came in and respect for the artistic profession rose in the early modern era, self-portraits also became important signatures to express artists' identity and prestige. Early artists rarely showed the mirror in use, preferring to either erase or imply its presence by depicting themselves posed like any other sitter or gazing directly at the viewer. But those who did include it could pull the viewer into deeper questions about the work and what it means to look at someone's inverted image. By looking at a painted reflection, we are reminded of the painter's artistry, perspective, and power to shape what we see.
Trevor Makinson asserted his artistic identity by framing himself with the tools of the trade in In My Studio Mirror.
George Frederick Harris' 1909 self-portrait achieves a similar goal by alluding to famous works like Parmigianino's Self-Portrait in a Convex Mirror and Jan van Eyck's mirror from The Arnolfini Portrait.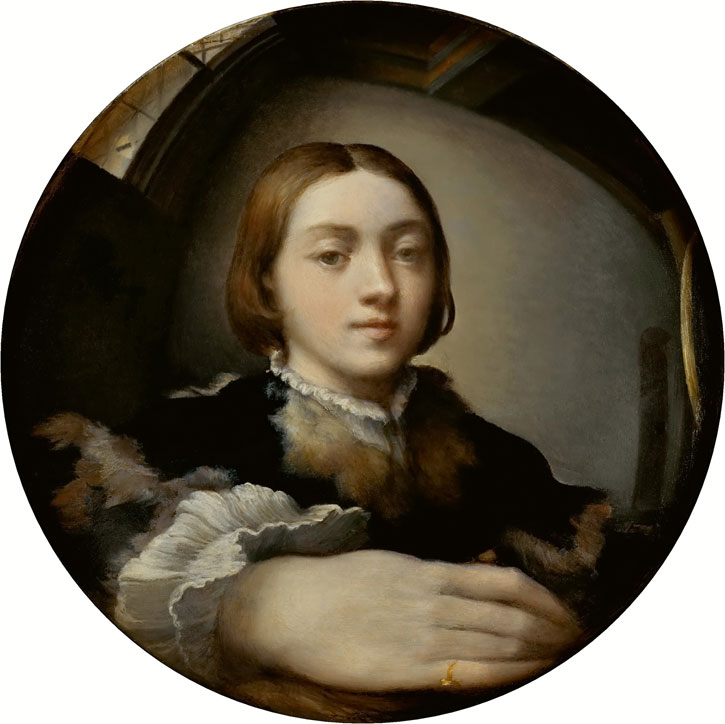 Vision
Artists have also used mirrors to look outward, symbolising sight and truth. Early modern personifications of truth often incorporated mirrors and scales, like the sombre, seventeenth-century painting of Truth Presenting a Mirror to the Vanities of the World.
The mirror's dark surface reflects the skull in front of it to show the transience of earthly life and pleasures. The same symbolism is found in allegorical images like Death and the Maiden, which depicts an old man surrounding a young woman with a skull and a mirror. The mirror shows both her and the skull looming over her shoulder, at once a heightened contrast between life and death and a vision of the inevitable future.
In Lukas Furtenagel's 1529 portrait of the painter Hans Burgkmair and his wife Anna, Anna holds a mirror that reflects skulls where their grim faces should be.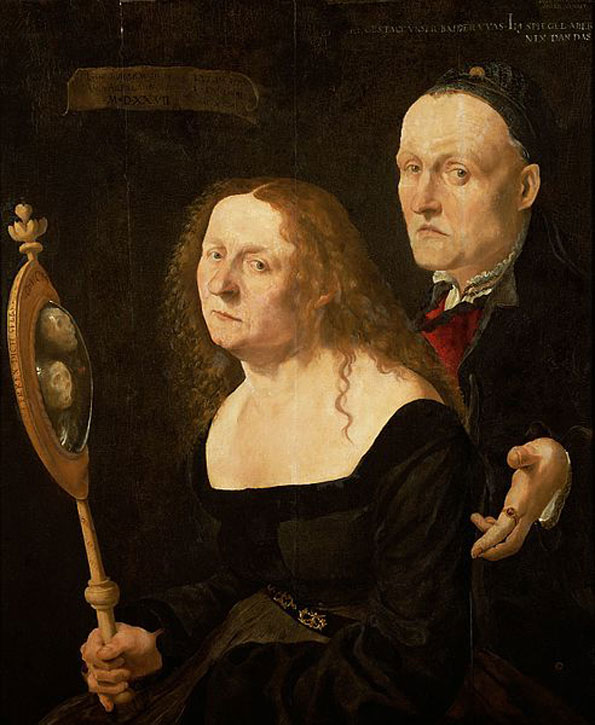 More prosaically, mirrors can show off artists' skill at capturing depth, perspective, and light, like Herbert Davis Richter's Reflections in a Silver Bell or James Cowie's The Looking-Glass.
They also add to the compositional playfulness or complexity of portraits – from a cheerful, homely watercolour of a baby...
... to the stark surrealism of John Humphrey Spender's photograph of Ben Nicholson.
As a visual device, the mirror purports to expose deeper truths about their subject not readily apparent on the surface.
Illusion
Conversely – or perhaps convexly – mirrors can be associated with deception and trickery. Cornelis de Man used one to add depth to the Dutch genre painting A Game of Cards with a Woman Reflected in a Mirror, hinting at both deception within the game and the possibility of sexual stakes.
Artists also use mirrors to play benign tricks, creating visual illusions that enthral audiences and encourage them to contemplate the very idea of seeing and the limits of reality.
Diego Velázquez's Las Meninas famously includes the Spanish King and Queen reflected in a mirror on the far wall, implying their entrance into the scene where the real-life viewer of the painting stands. This small detail adds to both the visual depth and political complexity of the work.
The Arnolfini Portrait's central mirror adds similar nuance to its depiction of a newly married couple by introducing the reflections of two visitors entering the room where they stand.
Other works use mirrors to insist that appearances are not always what they seem, like Édouard Manet's A Bar at the Folies-Bergère. The apathetic barmaid appears to both face the viewer frontally and lean towards a customer in the mirror behind her that reflects the buzzing surroundings of the bar.
Some scholars have proposed that Manet's perspective is actually an offset view, heightening the optical trick. However you look at it, the mirror's illusion reinforces the divide between internal and external realities and the barmaid's isolation within the roaring crowd.
Vanity
Allegorical images of women admiring themselves or performing their toilette in a mirror proliferated in European art, serving as a moral admonition against ego that remained popular over the centuries – especially as they often served a dual purpose by providing titillating subject matter for male viewers, too. These images embody the complex, gendered rules that demand beauty from women but punish the appearance of effort.
A figure-shaped 'dummy board', like this one, served as a life-size reminder of the vice of vanity in a seventeenth-century household, while a companion figure holding a broom promoted the virtue of industry.
In the same era, Gabriel Metsu's allegory of human frailty, A Woman at Her Mirror, warned women away from the dangers of focusing on physical instead of spiritual beauty.
Mirrors could easily reflect lust and beauty along with vanity, as in Velázquez's The Toilet of Venus and numerous idealised depictions of the goddess of love.
Velázquez's painting shows a reclining nude Venus gazing at her blurred reflection in a mirror held by her son, the love god Cupid. The sketchy brushwork in the mirror keeps the focus on her body in this scene intended for private titillation.
Similarly, the rosy-cheeked, bare-breasted woman in Paulus Moreelse's Allegory of Profane Love unabashedly points to her own reflection, symbolising material and sexual desires.
Images of women at their toilet also featured heavily in eighteenth-century Japanese ukiyo-e prints by artists like Kitagawa Utamaro, designed to highlight beauty and pleasure.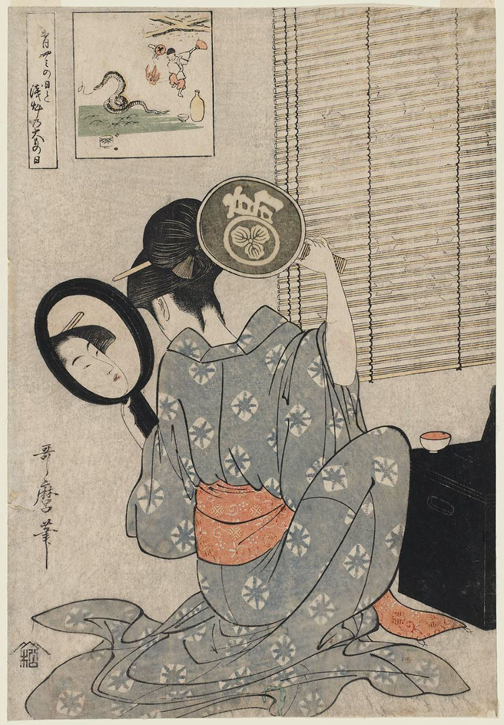 Later paintings continued to follow the conventions of 'vanity' compositions, employing their mirrors and gestures to create works that chastised women for caring for their appearance and simultaneously objectified their bodies.
This compounded sexism is apparent in works like Georges van Houten's Nude Holding Mirror Adjusting Her Hair.
However, some works by modern artists show women harnessing the power of the mirror for themselves, like Gwendolene E. Rodger's 1960s self-portrait.
Reflection
Mirrors can visualise emotional as well as physical realities, evoking deeper meanings in pensive and ambiguous scenes like David Muirhead's Girl at the Mirror.
Jane Urquhart's Britannia provokes further thought as well: the personified warrior stands draped in the Union Jack in the mirror, but beyond the glass surface we can see her crumpled newspaper wrapping, revealing the doll's wooden under-structure, and the drooping stalk of wheat she carries.
What painting reflects, and what it doesn't, are up to the audience to decide. Reflections can also be imagined – Ken Currie's portrait of physicist Peter Higgs uses a large mirror to halo his ground-breaking work on the Higgs boson behind his head.
And the surrealist René Magritte imagined a reflection as a translator between word and image in his Magic Mirror, which reveals the words 'corps humain' (human body) instead of a visual figure.
The wonder (or terror) of mirrors is that they can reflect anything and everything: their meaning is what we see and paint in them. Something to reflect on next time you glance in one.
Anne Wallentine, writer, editor and art historian