Many of my favourite memories from working on Art UK's Masterpieces in Schools programme across the past two years have involved events in schools which support young people with Specialist Educational Needs and Disabilities (SEND), referred to as Additional Support Needs (ASN) in Scotland.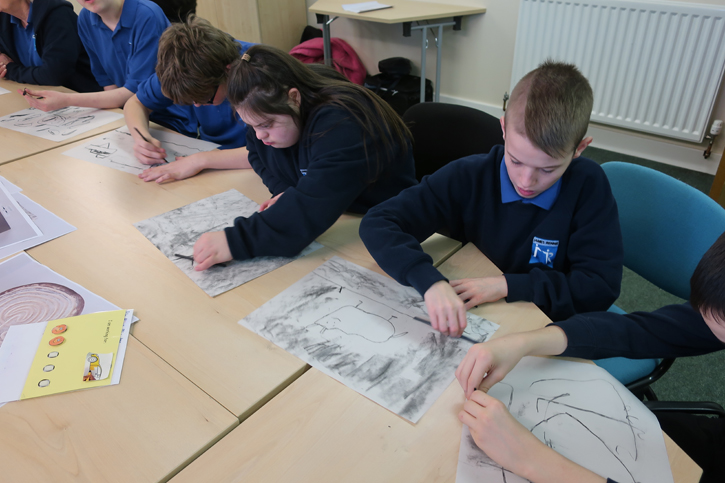 Although these events often require a bit more planning time – such as familiarising pupils with who will be present on the day and tailoring creative activities to individual learner's needs – I have found the young people involved to be some of the most engaged I've come across in terms of the effort they put into the creative activities on offer and their willingness to share insightful views on the artwork present and the purpose of art in general.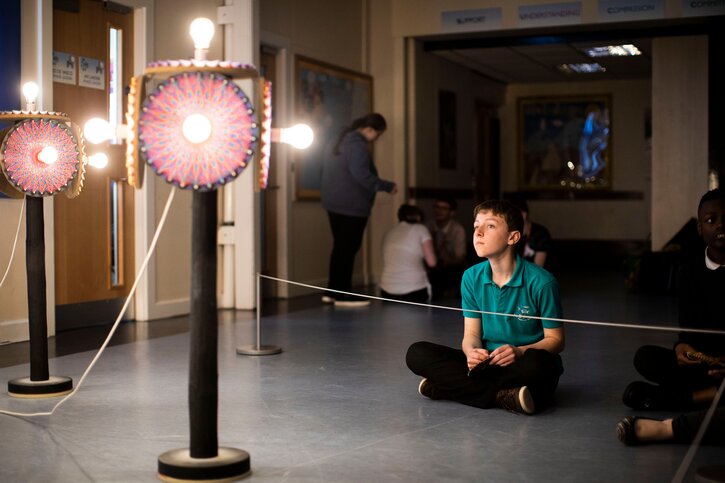 The first of these I helped coordinate was at John Jamieson Specialist Education College in Leeds as part of Yorkshire Sculpture International in the summer of 2019. Unlike our one-day Masterpieces in Schools model, pupils at this school were fortunate to have spent time in advance with the facilitating artist Bethan Hughes to explore sensory sculpture and to make their own selection of such a sculpture to visit their school from the Arts Council Collection.
They selected Something Plastic to Fight the Invisible (English Language Golem Perimeter) by Mark Titchner, which features circular panels reminiscent of 1970s style nail-and-string craft with the unexpected addition of working light bulbs!
At the start of each session, pupils spent some time viewing the sculpture and discussing their thoughts on it. There were many questions from pupils and staff about how much the sculpture would have initially cost to create versus its valuation now, which had many pupils excited about the fact they had such a valuable contemporary work of art in their school.
There was a buzz of excitement when the gym hall lights were dimmed and the sculpture's own light sources switched on, giving off a warm glow in the room. Sam Message of Yorkshire Sculpture International captured the following in his qualitative evaluation of the day: 'The first session was electric. The class had been building up to this point for six weeks. "It's here!" Leg shaking anticipation proceeded our switching on ceremony. 3... 2... 1... gasps of excitement as the bulbs illuminated faces lit up with joy.'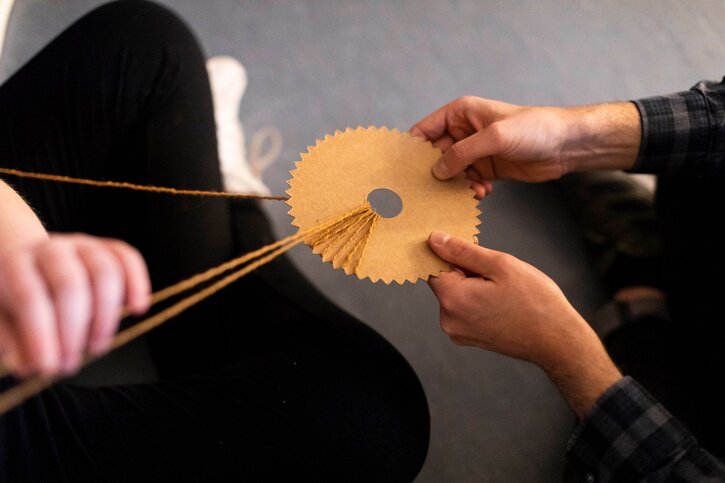 It was great fun to assist pupils as they created their weaving while learning more about them and their thoughts on Titchner's sculpture.
To explore the materials used to create the sculpture, pupils created human weavings in a circle by each holding onto one end of a length of colourful ribbon, connecting with one another across the room. They then worked on their own individual weaving using a circular cardboard loom and different colours of wool.
This allowed each of them to express their own personalities through their colour choices and patterns which led to a vibrant installation featuring their creations, added to by each class throughout the day.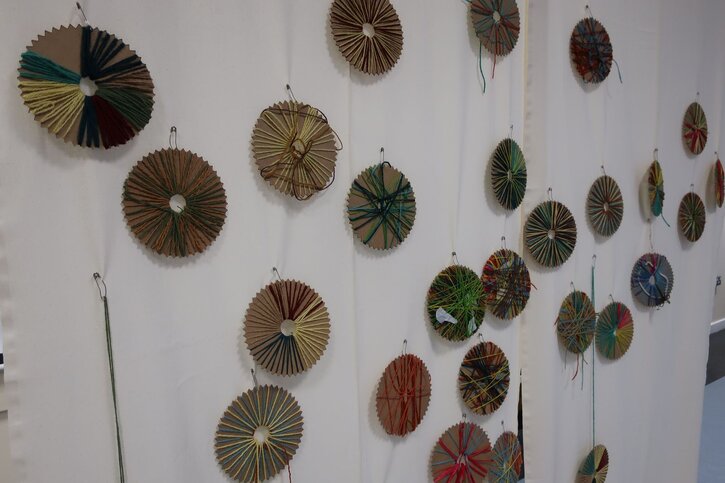 Pupils also had the opportunity to express their individuality through making at James Rennie School in Carlisle. In February of this year, a collection of small stone sculptures by the late Cumbrian sculptor Lorna Graves was loaned from Tullie House Museum and Art Gallery for a day.
Scottish sculptor Shona Kinloch travelled from north of the border to assist pupils to express themselves in clay. After studying Graves' A Box of Stones up close, the pupils learned more about Shona's practice which similarly focuses on animals and nature.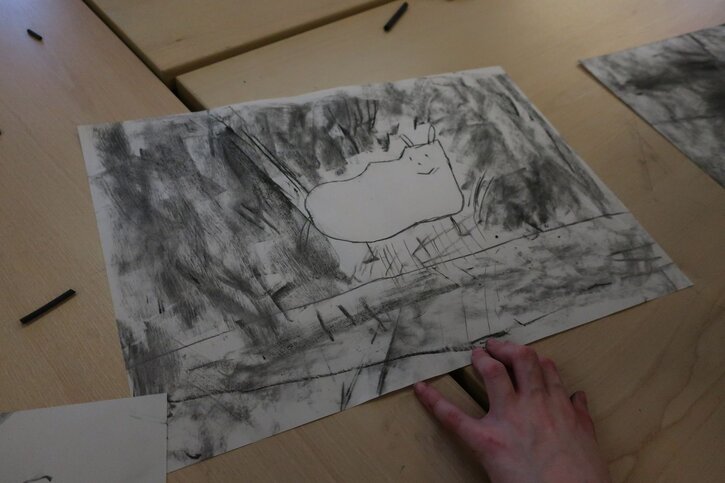 The pupils then drew something special to them in charcoal, before translating the image into a clay relief. Many of them chose to draw animals, including their own pets, having been inspired by the animal figures in Lorna Graves' and Shona Kinloch's work.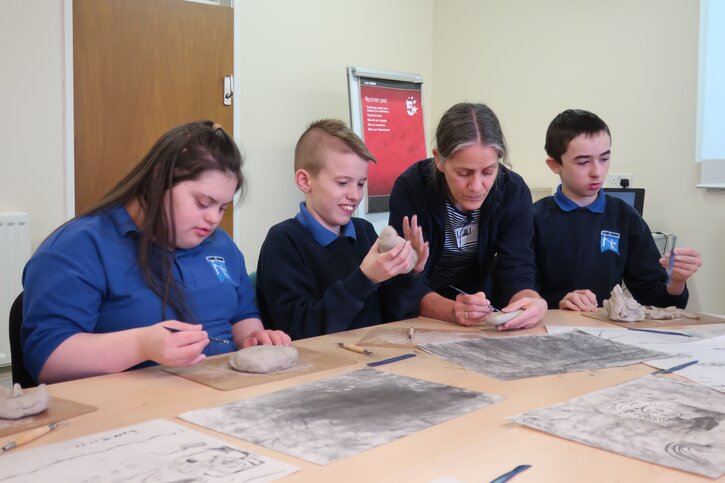 Kris Williams, Head Teacher at James Rennie School said, 'Coming into direct contact with an artist's work inspires many questions and avenues of thought; for our pupils with complex learning needs the questions are not always audible or obvious, but with the support of Art UK our young people were able to explore and respond to these questions themselves. It was quite magical to hear excitable noisy discussion followed by silent contemplation as pupils created and got lost in their own works inspired by Lorna Graves.'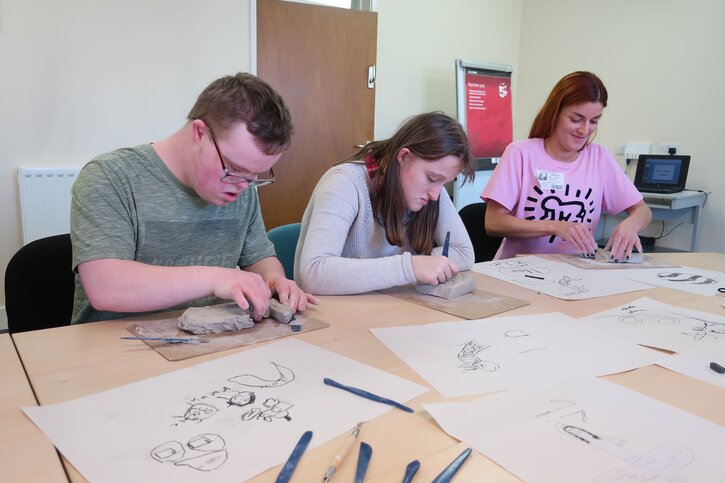 James Rennie School also took part in one of our Sculpture Near You films made with Culture Street. The four-minute film really captures the honesty and humour of the pupils, alongside insights into Lorna Graves' work.
Restrictions brought about by the coronavirus outbreak have meant that we haven't been able to deliver Masterpieces (actually) in Schools since March, but we were fortunate that Haysholm School in Irvine rose to the challenge of having a digital version of their Masterpieces event take place in November.
Staff at the Scottish Maritime Museum filmed a behind the scenes look at A Font of Flags by Arthur Watson, which is a set of signal flags painted on wooden and ceramic tiles.
Dancer and choreographer Lottie Barker explored non-verbal communication by creating a video from home outlining different movements pupils could perform inspired by the shapes in these flags.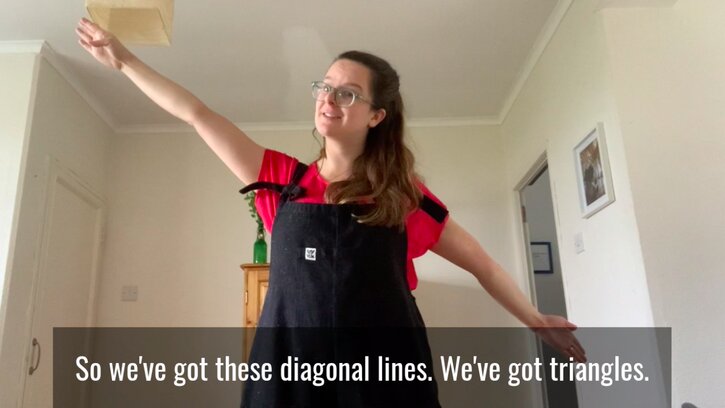 We also sent a set of fabric flags and markers for pupils to design a signal flag that represented them that they could wave around while having a go at Lottie's sequence of movements!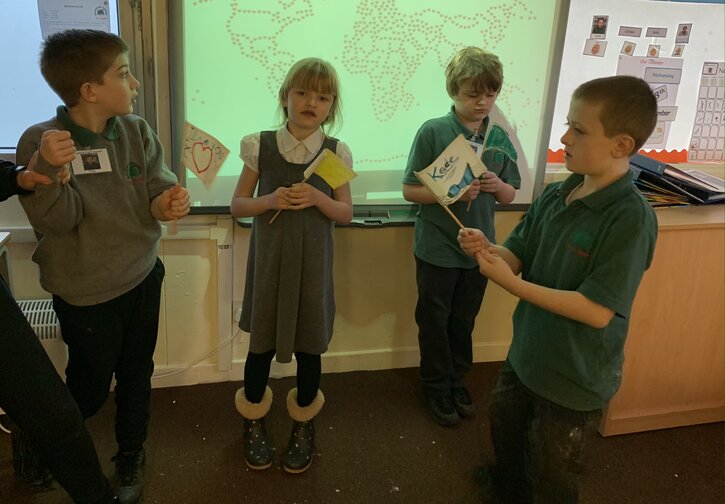 I feel very lucky that I got to coordinate and take part in over twenty in-person Masterpieces in Schools events before the coronavirus lockdown in Spring changed the course of the programme. One positive that restrictions have brought about is the time to reflect on these events and share creative ideas and activities from them through the Art UK site as part of our Home School series and now on our new Learning pages – a fitting legacy for a fantastic programme!
The Masterpieces in Schools programme was made possible thanks to the generous support of the National Lottery Heritage Fund, the Stavros Niarchos Foundation, R. K. Harrison and Hiscox.
Shane Strachan, Learning and Engagement Officer (Scotland and Northern England) at Art UK